7 Best Drones Under 50 Dollars
Cheap Starter Drones

What can you expect from drones that cost less than 50 bucks?
It's quite possible to buy capable little consumer drones for $15 or less on Amazon these days. Most of these flying robots come in the form of tiny quadcopters (four propellers). They offer a great introduction for newbie users. And experienced operators like to use them as affordable practice crafts.
You'll also hear people call consumer drones unmanned aerial vehicles or UAVs for short. They're all UAVs but they're not all the same products in terms of design, style, capability, price, and type.
Drones from $30-$50 obviously offer more than those costing $12-$30. The differences can be subtle or glaring. There are two notable upgrades in particular. One is that some drones will be bigger in size and better made. The other is a cheap camera or camera carrying capability (certain models).
| Name | | Range | Flight Time | Rating | Price |
| --- | --- | --- | --- | --- | --- |
| | EACHINE E52 | 100m | 10 minutes | | |
| | UFO 3000 LED | 300 m | Not specified | | |
| | Syma X5C-1 Explorers | 30m | 7 minutes | | |
Choose Your Budget:
About My Reviews
These are short but inclusive reviews that should answer all your questions about each product. I also add a table to the end of each review with a few of the most important tech specs, pros, and cons. I base these write-ups on personal experience, knowledge, expert opinions, and real user feedback.
The table below lists seven of the best drones available right now for $50 or less:
I've arranged the reviews below in order of Editors Best Rated first.
This is a solid little quadcopter and an Amazon Bestseller. It's not only a perfect entry-level drone but it's the kind of craft that'll prepare you well for when it's time to upgrade.
Let's take a closer look.
Best feature 1: Two charging methods
Best feature 2: Three speed modes
Plus points: Foldable/portable, altitude hold mode, one-key takeoff/landing
Minus points: May need a little recalibration after some flying
Tech Specs
| | |
| --- | --- |
| Drone dimensions: | 7.6 x 7.2 x 2.3″ |
| Weight: | 241 g (8.5 oz.) |
| Maximum flight time: | 8 minutes |
| Maximum flight range: | 100m (Xx ft.) |
| Charging time: | 30 minutes (0.5 hr.) |
| Camera: | N/A |
| Controller type: | 2.4 GHz transmitter |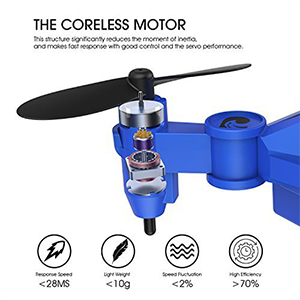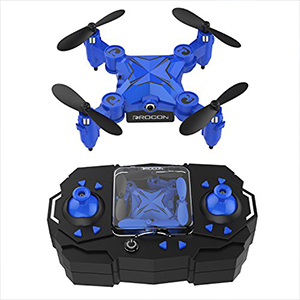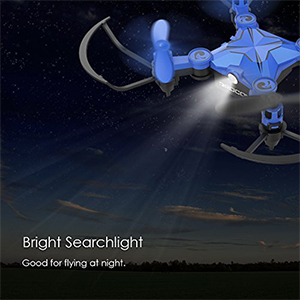 The DROCON Scouter Foldable Mini is the ideal drone whether you're a complete beginner or a seasoned enthusiast. The three speed modes offer low, medium and high settings (a lot of drones only provide two speed modes). The extra setting allows users get used to the craft in their own good time.
Kids will love the DROCON Scouter not least because it looks the part with its mean looking blue body. It also provides nice stable flight experience thanks to the precision engineering and variety of user-friendly flight modes. This drone checks all the boxes for looks, feel, and usability.
Here are the easy-operations functions at a glance:
Altitude Hold
Headless Mode
One Key Backward /One Key Take-Off/Landing
Lock and Unlock
Unique spinning function (you have to see it to believe it)
This is the perfect travel craft. You simply fold it down, slot it into the remote controller (included), and stick it in your backpack or big pocket. That's it.
Expect around 8-minutes of flying time from a fully charged battery. And the recharge time is nice and fast at just 30+ minutes. You might still want to invest in a couple of spare batteries so you're not waiting around for a single battery to recharge. The long 100 meters control range is impressive too.
The Conclusion
The DROCON Scouter Foldable Mini not only looks good it is good. In fact, it's better than good for under $50. The only reason I didn't give it 5-stars is that it might occasionally need a little recalibration between flights. Other than that this is an A+ product that I highly recommend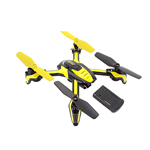 The Pros
Affordable entry-level drone
Advanced altitude hold feature
+7 more
Camera included
2 battery charging options
Great intro into aerial filming
Auto hover with altitude hold
One-key stunts – rolls & flips
Headless mode
Three speed modes
The Cons
Some new users find it takes a bit of getting used to
Not very stable in breezy conditions.
Right on the heels of the DROCON Scouter Foldable Mini is the Tenergy TDR Phoenix Mini.
Best feature 1: Advanced altitude hold
Best feature 2: 720P HD Camera
Plus points: Easy to fly, great beginner drone, aerial photography, stunts
Minus points: Not so good in a strong breeze, takes time to become familiar with the craft
What we have here is an almost medium-sized quadcopter. It looks cute, flies incredibly well, and catches the imagination of all who operate it.
Tech Specs
| | |
| --- | --- |
| Drone dimensions: | 10.4 x 7.6 x 2.5″ |
| Weight: | 340g (12 oz.) |
| Maximum flight time: | 8 minutes |
| Maximum flight range: | 40m (131 ft.) |
| Charging time: | 30+minutes (0.5 hr.) |
| Camera: | 720P HD |
| Controller type: | 2.4 GHz transmitter |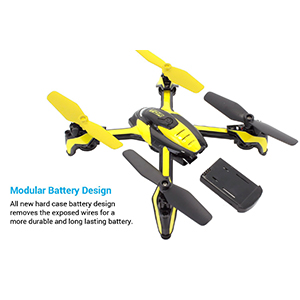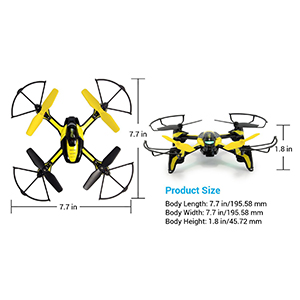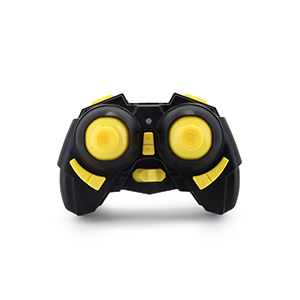 The 720P HD Camera gives new users a great introduction into aerial photography and HD video footage from the sky above. The quality isn't enough to win you any awards. Even so, it's still impressive for a camera drone that costs less than 50 bucks.
Here are some of the impressive features of this user-friendly craft:
Auto-hover with Altitude Hold (hands-free)
One-key stunts; 360° rolls, flips
Normal and Headless Flight modes
Low, Medium, High-speed modes
The 6-Axis Gyro stabilization system ensures fast recovery after the drone performs rapid movements. You can expect just under 8-minutes of fun flying time per charge in optimal conditions (order extra batteries).
The battery will recharge in around 30 minutes—that's quick. And you can fly the Tenergy TDR Phoenix Mini as far as 40m from the transmitter. That's quite a distance for a drone in this class.
The Conclusion
If you like the way this drone sounds—buy it. You won't be disappointed with the way it handles in the sky. It may take a bit of getting used to when compared to some other models, but a little patience and persistence will surely pay off. It's a great value drone, lots of fun, and makes a fantastic gift.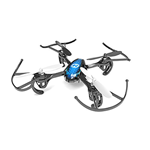 The Pros
Excellent value quadcopter
User-friendly features
+5 more
Nice looking design
Wind resistant and shockproof
Flies amazingly well
Three speed modes
Headless mode
The Cons
No clear markings on the controller for some reason
User manual is not as clear as it perhaps could be for newbies
+1 more
Can bounce around on landing
There's no doubt that the Holy Stone HS170 Predator Mini has strong likeability appeal. It's also an Amazon's Choice quad. Looking at the thousands of happy customers it's easy to see why.
Best feature 1: 2.4GHz anti-interference technology
Best feature 2: 6-Axis gyro stabilization system
• Plus points: Great design, fantastic flyer, headless mode, 3D flips and rolls
Minus points: Unmarked controller, user manual could be better
Tech Specs
| | |
| --- | --- |
| Drone dimensions: | 5.3 x 1.6 x 5.3″ |
| Weight: | 408g (14.4 oz.) |
| Maximum flight time: | 8 minutes |
| Charging Time: | 80 minutes |
| Max control range: | 50m (164 ft.) |
| Camera: | N/A |
| Controller type: | 2.4G RC |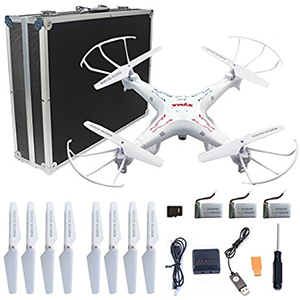 The Holy Stone HS170 Predator is not as robust as some of the other quads in this guide. It has some tiny parts too, so it's not ideal around small children unless supervised. That's the bad news. There's plenty to celebrate though, so let's look at the Predators high points.
There's the now familiar one-key flip & roll capability that comes with most UAVs. You've also got headless navigation mode to help make flying easier and less frustrating. It's a study little quadcopter as well. It may not look all that tough but it can withstand some pretty hard knocks all the same.
There are three flight settings to choose from. I have to say the craft is quite slow to respond to the lowest setting but it's still a great mode for the raw beginner. There's a notable difference in performance on the mid to high flight modes. The HS170 is great fun to fly either indoors or out. It hovers nicely, it's quite nippy in the air, and it maneuvers really well.
The 8-minutes maximum flight time is on the high side of average for a drone in this class. Battery charging time is quite disappointing at 80+ minutes. For more fun invest in more batteries. The control range is an impressive 50 meters. I doubt you'll want to venture that far out with a drone this small though. Make sure it never loses your line of sight if you do want to test it to the limits.
The Conclusion
The Holy Stone HS170 Predator is a great choice offering excellent value for money. It flies like a bird, is responsive to controls, and it's crash-resistant. The unmarked and somewhat bulky controller is the biggest let-down but you soon get used to it.

For those of you unfamiliar with Syma drones this is an upgraded version of their X5C model. It's got a lot going for it—including a little HD camera for those who want an introduction into aerial filming.
Best feature 1: Uses spectrum technology to enhance flight features
Best feature 2: Inbuilt 6-axis gyro for precision hovering
Plus points: Stable flyer, agile, easy to grasp, great fun
Minus points: Short-ish flight time, long recharging time
This is a great little drone for beginners just getting familiar with flying quadcopters. I wouldn't say it's the best looking craft out there but it's responsive and easy to fly. That's half the battle for newbies.
Tech Specs
| | |
| --- | --- |
| Size: | 12.2 x 12.2 x 3.1″ |
| Weight: | 726g (1.6 lbs.) |
| Maximum flight time: | 7 minutes |
| Charging Time: | 90+ minutes (1.5 hr.) |
| Flight range: | 30m (98 ft.) |
| Camera type: | 2MP HD 720P |
| Controller type: | 2.4G RC |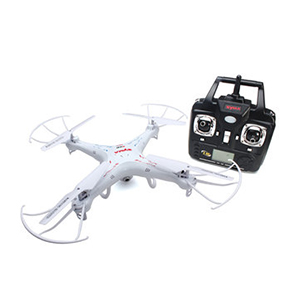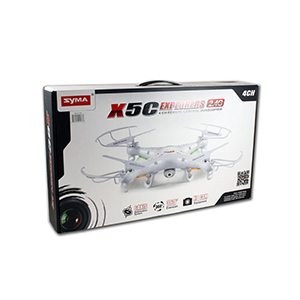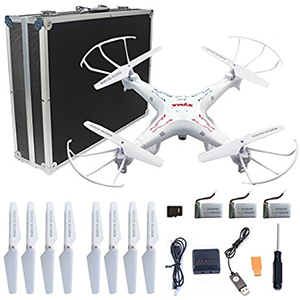 Even though there's a 2MP HD 720P camera with the X5C-1 don't buy it for the optics. The camera offers an introduction into aerial snaps and short vids, but the quality won't exactly blow you away.
The 2.4GHz remote control (RC) looks a tad overwhelming at a first glance but it's really rather intuitive. It uses the latest spread spectrum technology too. All that means is that you can fly further distances and benefit from better anti-interference capability.
The X5C camera drone is ideal for flying indoors or outside. You can enjoy fancy flying and perform the usual show-off flips, rolls, and 360-degree eversion. The 7-minute maximum flight time is about average for a quad of this type. Alas, the 90+ minutes recharge time is a little on the long side. My advice is to always keep a couple of fully-charged batteries with you. Flight range is average at 30m.
The Conclusion
The Quadcopter Syma X5C-1 may not be a striking design but it's a solid drone and a great learning craft. It has everything a pilot needs and probably a bit more on top. You should enjoy the camera but don't take it too seriously. It'll certainly let you down if you expect stunning footage from above.

Pocket drones fold down so you can carry them around easily. The Rabing Mini Foldable RC Drone is a class act and one of the best foldable quads around at the moment for less than $50.
Best feature 1: Foldable four-axis quad
Best feature 2: Real-time video/image transmission
Plus points: HD 720P camera, mobile control (Android, IOS, Google+), long flight time
Minus points: Controller not clearly marked
Tech Specs
| | |
| --- | --- |
| Drone dimensions: | 1.9 x 1.9 x 1″ |
| Weight: | 280g (10 oz.) |
| Maximum flight time: | 10 minutes |
| Charging Time: | 30 minutes (0.5 hr.) |
| Maximum Flight range: | 100m (328 ft.) |
| Camera : | HD 720P |
| Controller type: | 2.4GHz RC |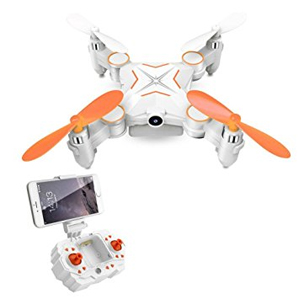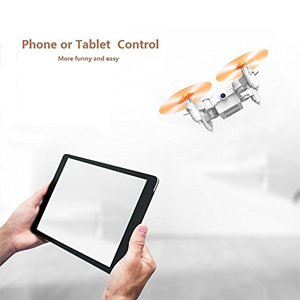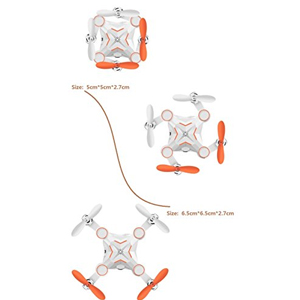 What we have here is an impressive little performer once you've set it up. Don't worry. It doesn't take much to calibrate this little flying robot—even for a beginner—so you'll be airborne in no time. It's easy to keep in the air and perform flips and other tricks. And if you do crash it—and you will—it's a comfort to know it can withstand some pretty hard knocks. There's plenty more to like too.
You can put a smartphone into the VR box or wear special VR glasses (not included) to experience a whole new perspective. Enjoy real-time video and image transmission to any compatible mobile device with the free app. The quality isn't brilliant but it's decent enough for a pocket drone that cost less than 50 bucks. The 2.4GHz transmitter gives you a control range of around 100 meters.
Another great feature of the Rabing Mini Foldable is the impressive 10 minutes maximum flight time. If you've read the other reviews you'll know how exciting that is. The battery recharge time is also impressive at just 30 minutes. You'll get hours of flying fun if you take a couple of extra batteries with you. It's always a good idea to allow a few minutes cool down time between flights though.
The Conclusion
If the Rabing Mini Foldable RC camera quadcopter checks enough of your boxes add it to your shortlist. It has a lot going for it—it really does. The remote controller could be more intuitive but it doesn't take long to work it out so that's a minor gripe. Your portable pocket drone is there for the taking.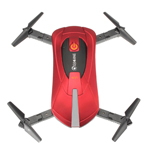 The Pros
Very portable/pocket-sized drone with folding arms
Long maximum flight time
+3 more
WiFi function
One-key return
Headless mode
The Cons
0.3MP camera is not special
Automatic land button can come down too fast according to some reports
+1 more
Flying this drone can take a bit of getting used to
The EACHINE E52 FPV is another pocket quadcopter with a camera. They call it the perfect selfie drone and it certainly takes selfie snapshots up to a whole new level.
Best feature 1: Foldable arms make this an extremely portable craft
Best feature 2: WiFi function
Plus points: Stable flyer, real-time transmission, one-key return function, LED lights
Minus points: Can take a while to get used to
Tech Specs
| | |
| --- | --- |
| Drone size: | 10.04 x 10.04 x 1.38″ |
| Weight: | 75g (2.65 oz.) |
| Maximum flight time: | 10 minutes |
| Charging Time: | 60+ minutes (1+ hr.) |
| Maximum Flight range: | 100m (328 ft.) |
| Camera : | HD 720P |
| Controller type: | 2.4GHz RC |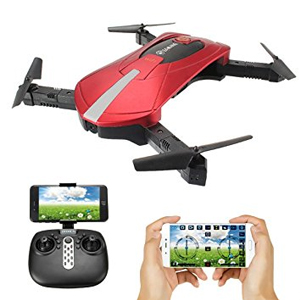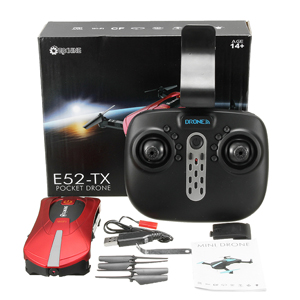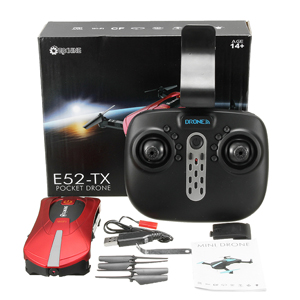 This is not the easiest quadcopter to master but it offers plenty of fun features once you do. There are multiple control modes for a start, i.e. RC, virtual stick, and smartphone. The altitude hold (AH) mode keeps the craft steady. AH is invaluable for beginner control and to stabilize aerial shooting.
You can enjoy live WiFi FPV video transmission direct to your IOS/Android phone. All images, photos, and video save directly to your mobile device. You can't expect superior quality but you shouldn't be too disappointed with the footage either—not at this price.
Other features worth a mention are headless mode (invaluable for beginner pilots) and the 3D flips and rolls. The maximum flight time is an impressive 10 minutes in optimal conditions. Charging time is around one-plus hour depending on your power source. And the control range is about 100 meters.
The Conclusion
The EACHINE E52 is the best looking and less toy-like of all the drones in this guide on top of all its other good points. It's a solid performer with a lot to offer. At just under $50 it's one of the costlier models here but it's worth every penny. Expect lots from the drone and less from its camera.

The UFO 3000 Drone has a special appeal to kids partly because of the way it lights up in the night sky. It's got more going for it than just bright lights though.
Best feature 1: Low/high-speed modes (this puppy is speedy)
Best feature 2: Ultra-bright LED lights illuminating the entire frame
Plus points: : Performs exciting acrobatics, great for night flying, aerodynamic design
Minus points: Sometimes difficult to control on high-speed mode
Tech Specs
| | |
| --- | --- |
| Drone dimensions: | 8.3 x 7 x 4.2″ |
| Weight: | 150g (5.3 oz.) |
| Maximum flight time: | 9 minutes |
| Charging Time: | 90 minutes (1.5 hrs.) |
| Maximum Flight range: | Not specified |
| Camera : | N/A |
| Controller type: | 2.4 GHz RC |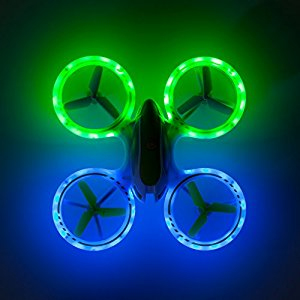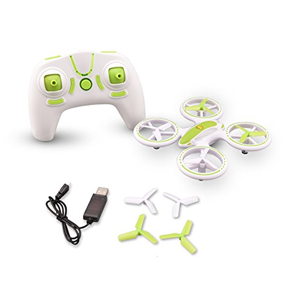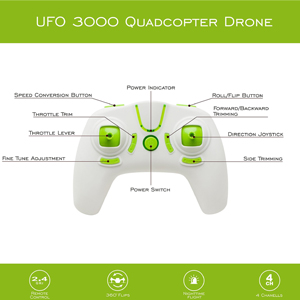 The UFO 3000 LED quadcopter has to be the coolest looking drone available right now. You've got to see it in the night sky to believe it. It's also a great entry level craft for younger kids under supervision. It's incredibly fast and agile too. This makes it good for racing other drones in its class if that's your thing. And if racing doesn't float your boat the other amazing features will.
Most other drones have a few LEDs that illuminate the front and back or on each corner. The UFO 3000 lights up its entire frame from the inside out. That's pretty unique and impressive. It means you can perform awesome stunts and 360º flips in the dark with the simple touch of a button.
This quad has a smart compact design that allows you to whizz around with impressive accuracy. The only downside is that the steering takes some getting used to in the high-speed mode. The good thing about that, though, is that you'll become a much better pilot once you do get the hang of it. The low-speed mode gives you plenty of time to practice before moving up to the next level.
The controller fits and feels nice in the hands. It's a similar style to a gamepad and has all the controls right at your fingertips. You can enjoy a long 9-minute maximum flight time and to make things even better this quad comes with a bonus battery. Alas, the long 90-minute recharge time is disappointing.
The Conclusion
Put the UFO 3000 LED on your shortlist if you're looking for a fun, safe, and durable entry-level drone as a gift. The low-speed mode and one-touch flips will give any novice lots of joy as they get familiar with this awesome flying robot. Moving onto the high-speed mode it's like getting a whole new craft.

Closing Thoughts
Are you on a different budget? Be sure to check out our other drones reviews pages.