Best Drones Under $500
3D Insider is ad supported and earns money from clicks, commissions from sales, and other ways.
The seven handpicked drones in this guide cost anywhere from $301—$500. At the higher end of this price range are some very capable medium-range camera quadcopters. Before we launch into the reviews let's look at what you can expect from these quality machines.
Budget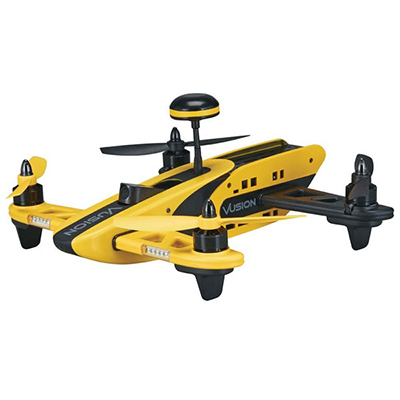 RISE Vusion 250 Extreme (RTF)
4.2/5.0
Camera 600TVL
Flight time 90 minutes
Nice looking drone even though a bit plasticky, fast & reliable flyer.
Check Amazon
Best Value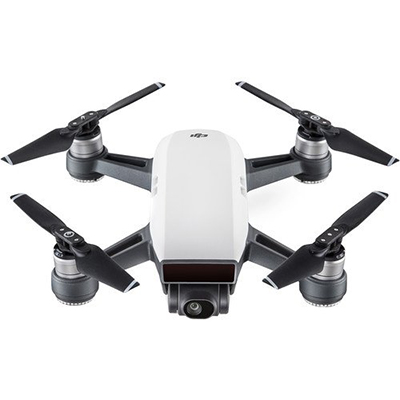 DJI Spark, Portable Mini Drone
4.5/5.0
Range 500m
Flight time 80 minutes
Mechanically stabilized camera and dual-band GPS.
Check Amazon
Top Pick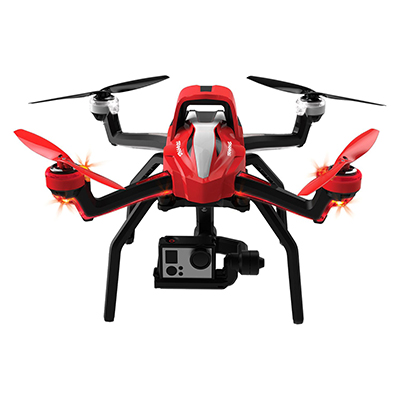 Traxxas Aton Plus Quadcopter
4.8/5.0
Range 152m
Flight time 25 minutes
Stable camera platform and number of safety features .
Check Amazon
A number of things happen with drones with each price increase. These include:
Bigger crafts (unless pocketable/foldable by design)
Better construction and materials used
Advanced technologies
Improved optics and cameras, including video and photographic quality
Enhanced flight time and flight range
Choose Your Budget:
Why Read Reviews?
You might be wondering why you should bother with reviews. After all, it's easy to go to any online store and browse through the options available. This is true, but it's not always the best way to make the best-informed decisions. The problem is that so many technology companies and startups have now jumped on the consumer drone bandwagon. The result is a market saturated with choices.
More choice is usually healthy, right. It means better products and lower prices. The issues we have now, though, is that there're a lot of unknown drones and names out there. Among them are some useless UAVs. Obviously, every product has its impressive sales spiel, and that's half the problem. You can't know whether an unknown name has over-promised and under-delivered until after purchase.
The purpose of these reviews is to separate the wheat from the chaff to save you the hassle. I've written about each product in a no-nonsense easy-to-understand format. I haven't based the seven drones under 500 bucks purely on personal opinion. Personal thoughts are a part of it of course. But I also take expert opinions into consideration along with real user feedback.
7 Best Drones Under $500 Comparison Table
Here are the seven finalists in the order they appear in this guide:
Make a Checklist of Needs and Wants
You wouldn't go grocery shopping without a list. If you do there's a good chance you end up with some items you didn't need and forget a few essentials you did. The checklist is a simple yet effective way to help you make the best buying decision. It works for drones like any other product.
Read two or three reviews before making your shortlist if you're not sure what your needs or expectations are just yet. These things differ between people. It's why I can't create a template to suit all. For example, you may be more interested in flying than videography and aerial photography. In this case, speed, tricks, and even racing capability might be more important to you than quality optics.
It's the same for features and flight modes. You don't want to pay for something you won't use. Likewise, you don't want to buy a drone only to find it's missing something you wanted.
OK, let's now get into the products. I'm sure you'll find something that interests you here.
1. Traxxas Aton Plus Quadcopter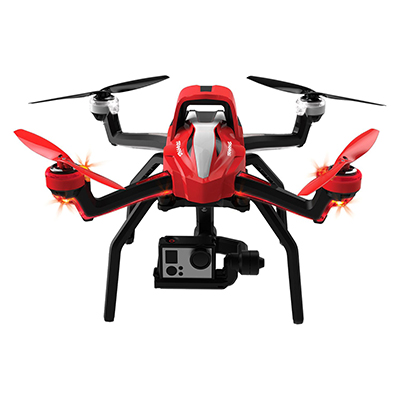 View on Amazon
Editor's Rating: 4.8/5.0
Some people only want to fly. Others like to film. Then there are those who enjoy these pursuits in equal measure. The Traxxas Aton Plus is a capable quadcopter that can deliver on both fronts.
Best Feature 1: Impressive air brake that resets the quad
Best Feature 2: Ultra-stable camera platform
Plus Points: Great craft for novice and advanced pilots, smart flight modes, customizable
Minus Points: No camera included, toy-like controller
The first thing to point out is that this quad is fast. It comes with a detachable gimbal. Take it off to experience speeds up to 50mph. With the gimbal attached, you can secure an action camera (not included) for more stable filming and sharper aerial photos. Not including a camera can be a good thing. It gives the user more control on the optics they use and thus the quality of their footage.
Three Impressive Flight Modes
The Aton Plus had three flight modes: Film, Sports, and Expert. The one you choose will depend on your skill level and what you want to do with the quad at the time. The film mode is simple to use even for inexperienced users. For more action flying the Sports Mode is the place to learn. You'll be doing impressive aerobatics at high speeds with the press of a button.
It's a comfort knowing the 6-axis gyro keeps the craft stable during flights. There are the air breaks to fall back on as well if things get out of control. You also have the one-button return to home feature. Once you've mastered all the above you have the option to move over to Expert Mode. This is where you get to show off your piloting skills and challenge yourself to the max.
Here are a few other features of interest:
Bright green LED flight-ready status bar
Dual-Mode GPS looks after return-to-home, position hold, geofence boundaries
Ultra-bright LED Lighting helps maintain directional orientation
Traxxas Flight Link app allows you to customize flight settings using a smartphone
Open source software
There's a lot going on with the Traxxas Aton Plus Quadcopter and it seems there's something for everyone. The transmitter may look a bit toy-like but it does a great job and feels nice in the hands.
It's not a good idea to fly this quad in film mode during blustery conditions so be mindful of that. In normal conditions flying—in any mode—is smooth, steady, and immensely rewarding.
The Conclusion
This quad is getting some great feedback from users and industry experts alike. If you like the way it looks and the things it offers you'll want to add it to your shortlist. Whether it's for you or a gift for someone else, there's a lot of fun flying time and filming to come out of this box.
Check the table below for a rundown of the most important specs, features, and gripes.


Tech Specs
Drone dimensions: 18.58 x 18.58 x 3.7″
Weight: 789g (1.74 lbs.)
Maximum flight time: 25 minutes
Charging Time: 90 minutes (1.5 hrs.)
Maximum Flight range: 152m (500 ft.)
Camera: Not included but camera ready
Controller type: 2.4GHz RC
The Pros
Good for beginners and experts
Stable camera platform
Upgrades often in the pipeline
Great flight modes
Number of safety features
Decent control range
Long flight time
Fast flying quad
Spare parts easy to come by
The Cons
No camera included
Need to experiment to get aerial photography right
No FPV
2. Walkera F210 3D Edition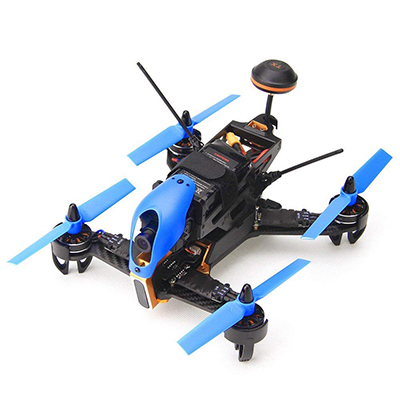 View on Amazon
Editor's Rating: 4.6/5.0
Keeping up with the fast theme we have the Walkera F210 3D Edition at the #2 slot. This is primarily a racing quad and it's a good-looking feature-packed one at that.
Best Feature 1: Optimized receiver, flight controller w/ on-screen display (OSD)
Best Feature 2: RTF racing drone right out of the box
Plus Points: Fast, stable, four flight modes, failsafe features, brushless motors
Minus Points: Fairly low-grade video stream and no video recording option
This drone is for anyone who wants to get into racing quads. Alas, I wasn't able to find an official top speed. Even so, those who race it are impressed with the craft's velocity. Drone racing is gaining in popularity and the upgraded Walkera F210 3D is a brilliant place to start. The quad is not only fast but responsive too. Best of all is that it's easy to fly and lots of fun.
A Better Quad All Round
If you've followed Walkera drones you may be familiar with the older Walkera Runner 250R. It didn't have a very good reputation and it certainly couldn't handle crashes too well. The good news is that the newer F210 3D couldn't be more different. Yes, they're from the same company but that's where the similarity ends. They're chalk and cheese as far as features, durability, and pilot experience goes.
The ability to take a crash is an essential point to consider with all racing quads. This sturdy UAV resembles a flying brick and can take quite a bit of abuse. Is it indestructible? Of course it's not—no drone is. But it can take a good beating if it has to, and that's what you want.
First Person View and Camera Capability
The major let down is with the 700TVL 120° HD FPV camera and FPV experience via goggles. Don't get me wrong, everything works fine and is perfectly watchable. It's just that the quality is not what you might call outstanding. To put that into some perspective the image is akin to non-high-def. TV.
Flight Details
Racing pilots get a lot of control over this quad. You're in full control of some mind-blowing routines and aerial acrobatics. The four flight modes let you practice at your own pace too. They are:
2D stabilizer
Intermediate
Advanced
Full Manual Flight Mode
Flight time varies depending on which mode you fly in. The longest flight time is around 9-minutes in 2D flight. 3D flying gives you a definite edge in competitive racing but it also reduces the maximum flight time down to around 5-minutes at best.
If you're new to racing then check out the Walkera F210 3D Edition. Seriously, this puppy is fast and powerful. But be prepared to take some time getting to know it. If you're already familiar with racing quads you'll know right away whether this flying robot has enough of what you need.


Tech Specs
Drone dimensions: 7.2 x 7.2 x 4.1″
Weight: 371g (13.1 oz.)
Maximum flight time: 9 minutes
Charging Time: 90+ minutes (1.5+ hr.)
Maximum Flight range: 1000m (3280 ft.)
Camera: 700TVL 120° HD FPV
Controller type: Walkera Devo-7 RC
The Pros
Good looking, robust racing quadcopter
Powerful brushless motors
Numerous flight modes
Impressive air stunts capabilities
Decent flight time (for a racer)
The Cons
Built-in battery
Mediocre video
No video recording option
3. DJI Spark, Portable Mini Drone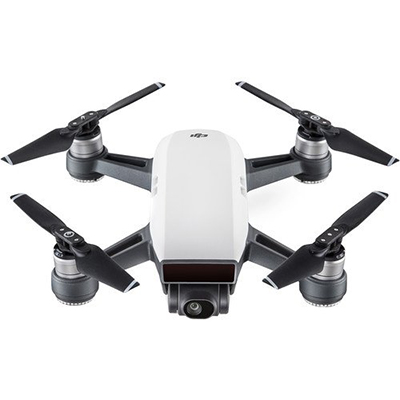 View on Amazon
Editor's Rating: 4.5/5.0
Most people who know anything about consumer drones will know of DJI and their signature technologies. The mini Spark is an affordable portable drone with a lot to boast about.
Best Feature 1: Intelligent Flight Modes
Best Feature 2: Mechanically stabilized full HD video camera
Plus Points: Tiny size, lightweight design, advanced features
Minus Points: App could be improved, controller not included
I challenge anyone not to fall in love with the DJI Spark Portable Mini Drone. It offers so much for a tiny craft. It has hand-launching, gesture controls, auto-hover, and an obstacle detection feature. That's just for starters. Younger pilots are especially fond of the Spark. This is not least because they can quickly edit videos and share them to their social media accounts right away.
Although The Spark isn't up there with the likes of the DJI Mavic it's still an incredibly capable little quad. It's certainly a far cry from cheaper camera drones out there.
Flying the DJI Spark
There are three ways to fly and control the DJI Spark:
Gesture mode (face detection allows for smartphone-free flying)
DJI Go 4 mobile app via your mobile device
Spark Remote Controller (not included)
Gesture control mode is amazing but restricted. You can only fly and take photos and video from around 20 ft. away. If that's enough then you have all you need in the palm of your hand. If you want more control and flight distance you have to download the DJI Go 4 mobile app and use it with your smartphone. This gives you more to explore with an extended flight range of around 400 ft.
You need the Spark Remote Controller (RC) for the ultimate flight experience and extra control. Flying becomes easier and video transmission covers a range up to 2km or 1.2 mi. Alas, the remote controller is an optional extra unless you invest in a bundle. The Spark bundle includes the RC, extra props and guards, two batteries, a charging hub, and a carry bag at the time of writing.
Is the bundle worth the extra? It all depends on what you want to do with your Spark Mini. If close-by flights and aerial selfies are enough then you should save your money. The drone bundle will save you money if you want to explore further. DJI reckons the saving amounts to around $154.
Camera Capability
The DJI Spark's full HD video camera is on a 2-axis motorized gimbal that ensures shake-free results. The quality aerial photos and video are pretty decent and provide enough for most people. That's unless you plan to move up to prosumer or professional level with your aerial photography and filming.
The Conclusion
There's a lot to explore with the DJI Spark Portable Mini Drone. It's a cute and competent little craft that makes a great gift as a treat for you or as a present for others. It flies well, it's easy to master, and is the perfect flying robot for folks on the go.


Tech Specs
Drone dimensions: 9.8 x 3 x 8.2″
Weight: 300g (10.6 oz.)
Maximum flight time: 12-15 minutes
Charging Time: 80 minutes (1:20 min)
Maximum Flight range: 500m (1640 ft.)
Camera: 12MP Stills / 1080P
Controller type: RC not included
The Pros
Affordable for a DJI drone
The ideal selfie drone
The perfect travel companion
Light and compact
Obstacle avoidance feature
Smart flight modes
Back to base failsafe function
Mechanically stabilized camera
Dual-band GPS
The Cons
Flight time low-average
No 4K available
Firmware upgrades can be awkward according to some reports
4. Parrot Bebop 2 FPV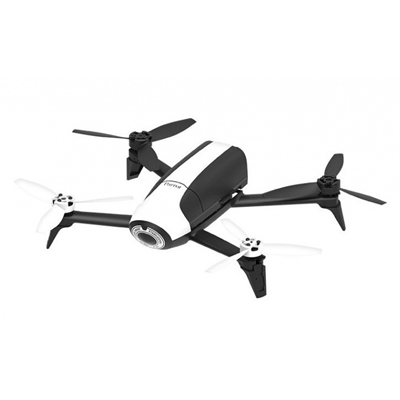 View on Amazon
Editor's Rating: 4.3/5.0
The Parrot Bebob 2 is a good looking FPV drone with an inbuilt 14MP 1080p HD camera. The drone can perform mid-air rolls & flips that you control using the flight app on an iOS or Android device.
Best Feature 1: Compact and lightweight so it's easy to lug around
Best Feature 2: Immersive flight experience with Parrot FPV goggles (included in bundle)
Plus Points: Flies easily indoors and outside, intuitive piloting control, affordable, fun
Minus Points: Camera okay but not exceptional, not so stable in blustery conditions
The Parrot Bebop is a fixed-wing quad that looks a bit more like an airplane than a drone. To fly this popular little craft you can use a compatible mobile device or the Parrot Skycontroller 2 (included). The controller gives you an amazing flight range of up to 1.9km or 1.2 mi.
The Good and Not so Good
The flying ability of this drone impresses me more than its front-facing camera capability. The quality of the 1080P video footage is kind of average. I would have expected more for a drone in this price range. You do get an immersive flight experience with Parrot's FPV goggles but again it's decent rather than excellent. The Bebop 2 stores all video and images to its internal 8GB memory.
If you're okay with passable footage from a fisheye lens then you have plenty of other things to appreciate. This flying robot can get up to speeds of 36mph (16 m/s) and gives you 24 minutes of flight time under optimal conditions. At 55 minutes the battery recharge time is a lot quicker than much of the competition too. These are all important considerations.
The Conclusion
The Parrot Bebop 2 FPV will give you plenty of fun in the air if flying is more your thing than aerial filming. If you want higher quality photos and vids then look at the other camera drones on this page.


Tech Specs
Drone dimensions: 15 x 3.5 x 12.9″
Weight: 500g (1.1 lb.)
Maximum flight time: 24 minutes
Charging Time: 55 minutes
Maximum Flight range: 1.9km (1.2 mi)
Camera: 1080p HD (inbuilt)
Controller type: Parrot Skycontroller 2
Controller type: 16 m/s (36 mph)
The Pros
Nice fixed-wing entry-level drone
Light, portable, durable
Flies well indoors and out (stable, easy to control)
Intuitive controls
FPV goggles included
Autonomous features
Powerful motors
The Cons
Average video/photos
Fixed front-facing camera with ultra-wide fisheye lens
Doesn't handle well in windy conditions
5. RISE Vusion 250 Extreme (RTF)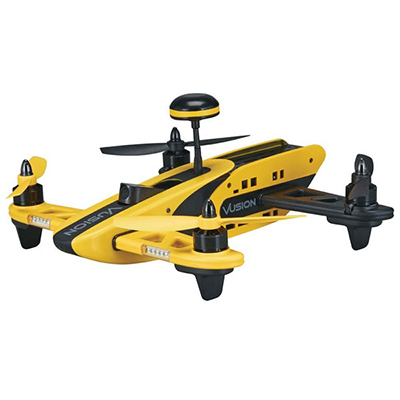 View on Amazon
Editor's Rating: 4.2/5.0
Number five on my top picks list is the Vusion 250 Extreme FPV Race Pack. There's a lot included in this pack and we'll look at what you get and whether it's worth it in a moment.
Best Feature 1: Modular construction (impact-resistant, quick to repair)
Best Feature 2: Full FPV racing pack ready to fly out of the box (RTF)
Plus Points: Three flight modes, fast flying quad, robust/crash resistant
Minus Points: short battery life, big bulky FPV goggles
Some people like to tinker with racing drones. It's certainly a good way to become familiar with the machines and build a more in-depth understanding of what makes them work. Others prefer to just get the product and take to the skies. It's this latter group that the RISE Vusion 250 Extreme appeals to.
Here's what a brand new race pack includes:
Vusion RTF FPV Racer
600TVL FPV video camera
5.8GHz video transmitter
Tactic FPV-G1 Goggles plus 40 channel 5.8GHz monitor
2.4GHz 6-channel radio
3S 11.1V 1500mAh 25C LiPo battery and charger
Spare set of propellers
4xAA Batteries
Camera Quality and First Person View (FPV)
The 600TVL camera has a micro memory card slot and accepts cards up to 32 GB. The external video quality is VGA 640x480p. The video format is AVI and the photo resolution is 2MP. For an amazing FPV experience simply fit the quality LCD display into the goggles (included). Some users find them a bit bulky a first but the immersive FPV experience soon justifies the size.
I wasn't able to find an official top speed for the RISE Vusion 250 Extreme but it's a fast and agile quad. It provides any new racers with an exceptional introduction into this increasingly popular sport. Don't worry too much about those inevitable bumps either. This is a robust crash resistant racer. And even if you do break something the modular construction makes it easy to repair.
The Conclusion
Ata round $350 it would be hard to find such a comprehensive racing pack at the entry-level. There really is everything you need to get started with this RTF package. If not for you it'd make a fantastic gift for any budding drone racer.


Tech Specs
Drone dimensions: 19 x 12.4 x 6.6″
Weight: 502 g (1.1 lb.)
Maximum flight time: 7-8 minutes
Charging Time: 90 minutes (1.5 hr.)
Maximum Flight range: Not specified
Camera: 600TVL
Controller type: 6-channel 2.4GHz
The Pros
Nice looking drone even though a bit plasticky
Fast, reliable flyer
Two colors available
Three flight modes
Tough airframe (injection-molded)
Provides immersive First Person View (FPV experience). LCD monitor and goggles included
Versatile—reasonable quality—600TVL FPV onboard camera
The Cons
FPV goggles cumbersome
Poor maximum flight time
6. Yuneec Breeze Flying Camera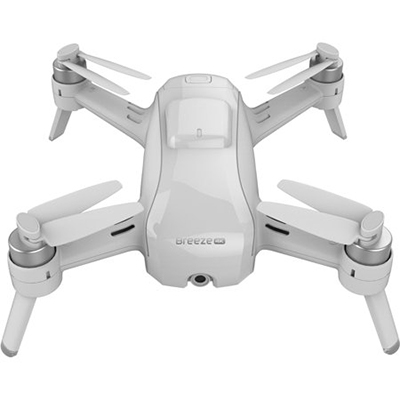 View on Amazon
Editor's Rating: 3.9/5.0
The all-white Yuneec Breeze may not be the most inspiring looking quadcopter. Despite this, it's still a quality flying camera drone. Let's look at why it's made a place in this guide.
Best Feature 1: 4K UHD video and amazing 13MP photographs
Best Feature 2: 5-automated flight modes
Plus Points: Incredibly user-friendly, safe to fly indoors, feature-packed, light and portable
Minus Points: Slow flyer, short battery life
Think affordable, portable, and powerful and you get the Yuneec Breeze. Add it to your shortlist if higher-quality video and aerial photography are important to you. This is one of the most beginner-friendly camera drones around in this price range and only one of a handful that offers 4K video. You usually have to spend a lot more to get the features.
This craft is durable and can withstand crashes fairly well. That's good news for new pilots in particular. And if you do crash and break something the replacement parts are easy to get hold of.
Flying the Yuneec Breeze
You fly the Yuneec Breeze using the free app and a compatible iOS or Android mobile device. It's easy to use and doesn't take long to navigate through the options. The automated flight modes provide step-by-step directions so you're never wondering what to do or how to do it.
With such an easy camera drone to fly—and the quality of its optics—you may question why it's not higher up on this review list. The reason is because its downsides are quite major—for some people. It's not quick in the air, the control range is not great for a camera drone, and at only 12 minutes the flight time is quite restrictive.
The Conclusion
If you're ready to upgrade from toy drones to a quality camera quad consider the Yuneec Breeze. It's a competent craft from a well-known brand and offers you plenty of bang for your buck.


Tech Specs
Drone dimensions: 3.1 x 8.66 x 11.02″
Weight: 385g (13.6 oz.)
Maximum flight time: 12 minutes
Charging Time: 30 minutes (0.5 hr.)
Maximum Flight range: 100m (328 ft.)
Camera: 4k UHD 13MP
Controller type: Smart device
The Pros
Value-for-money UAV
Nice looking quadcopter, compact and lightweight
Crash-resistant
Return-to-home safety feature
Intelligent flight modes
Easy to upload and share photos and videos
Intuitive Breeze app
The Cons
All-white color can make it hard to see in certain conditions
Slow flying quad
Average battery life (flight time)
7. AEE TORUK AP10 Pro GPS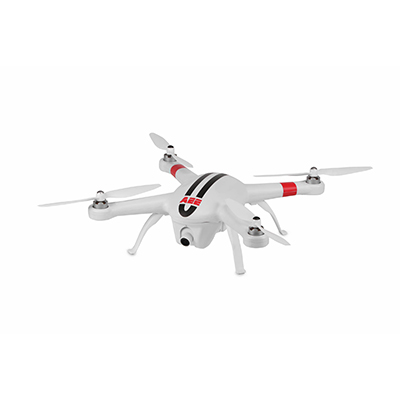 View on Amazon
Editor's Rating: 3.8/5.0
This is one of the lesser known brands of camera drones around at the moment. Don't let this put you off. What we have here is a very capable craft that offers a lot of amazing features for less than $400.
Best Feature 1: 90° vertical tilt 1080p camera
Best Feature 2: First person view (FPV) capability
Plus Points: Fast, 44mph maximum speed, crash and weather resistant, GPS
Minus Points: Long battery charging time, not as well-known as other brands
The design of the AEE Toruk AP10 is quite typical for a camera drone but it has some standout features. The transmitter comes with an adjustable holder that works with most popular iOS and Android smartphones. It won't house the bigger tablets though.
Performance In the Air
The AP10 Pro is a durable quad and will stand up to mild crashes well. The long flight range and battery life (see table) are other bonus points. It means fewer flight restrictions for keen aerial photographers and videographers who want to explore further afield. Add to this a stable and easy-to-fly drone with a camera lens that tilts and your opportunities are boundless.
https://www.youtube.com/watch?v=mruRgi6P978
The 16MP Photos and 1080p videos are impressive for a lower end mid-range drone in this class. The AP10 is also weather resistant against light to medium rain and snow. That's great news for folks who like to venture out and film in all kinds of weather.
The Conclusion
This drone with integrated camera offers a lot for the price at any skill level. It's not as impressive as some of the costlier models but it's certainly a good choice for the budget. It's earned the last place in this guide for its build, camera, speed, functions, long flight time, and flight range.


Tech Specs
Drone dimensions: 14.6 x 5.5 x 14.6″
Weight: 1406g (3.1 lbs.)
Maximum flight time: 25 minutes
Charging Time: 120 minutes (2 hrs.)
Maximum Flight range: 500m (1640 ft.)
Camera: 1080P Full HD, 16MP
Controller type: 2.4GHz RC
The Pros
Nice design, clean lines
Highly durable quad (crash resistant)
IOS and Android compatible
Long flight range
Long battery life (flight time)
Stable flyer, hovers well
Effective GPS flight control
120-degree lens
The Cons
Long 2-hour charging time
GPS tracking not always reliable