6 Best DSLR Under $1,000 in 2020
3D Insider is ad supported and earns money from clicks and other ways.
DSLRs are the way to go if you have less than $1,000 to spend on a quality camera. Mirrorless cameras at this price point generally have electronic viewfinders that lag behind the real-time performance and clarity of OVFs. DSLRs have better low-light performance and batteries with higher capacities. You're also getting a broader lens selection with legacy support.
Here are our six picks for the best DSLR under $1000 on the market. Our selection contains cameras geared towards newbies and enthusiasts as well as photographers and filmmakers. See what makes each a worthwhile choice and get a DSLR you'll love to use for years to come.
Budget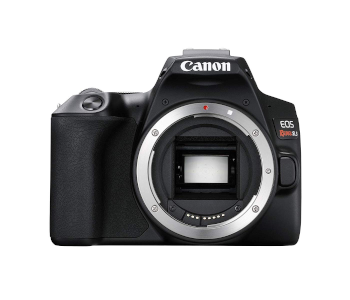 Canon EOS Rebel SL3
4.0/5.0
Sensor: APS-C
Burs rate t: 5fps
Long battery life and stable companion app.
Check Amazon
Best Value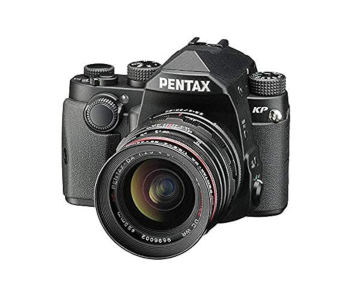 Pentax KP
4.4/5.0
Sensor: APS-C
Burst rate: 7.1 shots
Pixel Shift helps improve image quality.
Check Amazon
Top Pick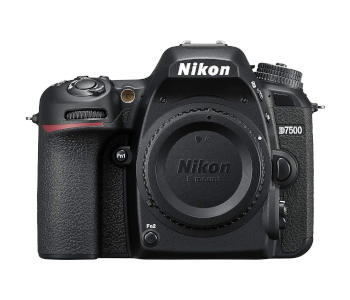 Nikon D7500
4.6/5.0
Sensor: APS-C
Burst rate: 8.2 shots
Great dynamic range and low-light performance.
Check B&H
DSLRs Under $1,000 Comparison Table
1. Best Overall – Nikon D7500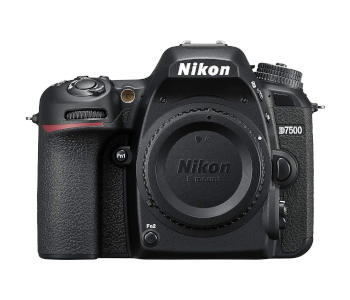 View on B&H
Editor's Rating: 4.6/5
The D7500 is a member of one of Nikon's oldest and most respected digital SLR camera lines. The D7800 supersedes it, but that's good news for thrifty photographers as they're getting a fantastic camera without hitting four digits. Its highlights include an intuitive and organized control scheme, excellent build quality, responsive autofocus, and wonderful image quality. This is as good as it gets for under $1,000, and you won't regret not spending more.
Overview of Features
First impressions of the D7500 paint it as a hefty camera with a robust and well-built body. Use it often, and you'll come to appreciate its deep textured grip and the weather sealing that allows the camera to withstand freezing snowscapes and sandy beaches. It's a hands-on camera with many conveniently-placed buttons and dials. The articulating screen is now touch-sensitive and can tilt to cover challenging angles to make shooting from the hip or over crowds easier.
The D7500 is a hands-on camera with many customization options. Several buttons pull double duty if long-pressed, and two handle any command you map to them. You can also customize My Menu with settings you use a lot and access the first one via button press. Finally, there are two U settings on the mode dial that let you select two sets of settings like exposure, aperture, etc. That feature alone will speed up working with the camera immensely, especially if you frequently switch between vastly different types of photography like landscape and macro.
Images shot with the D7500 are sharp and on point thanks to the camera's excellent autofocus. The AF system is the same as on the iconic D4, Nikon's flagship camera from a few years back. It still brings subjects into focus almost instantly, rarely has to hunt in low light, and easily keeps up with active wildlife. The latter got a boost thanks to a new group AF mode that counteracts erratic movement and makes for razor-sharp wildlife photos.
You'll love the D7500 if you're into night sky or interior photography as it does well under minimal light. Setting the ISO to 3,200 yields bright images worthy of large-scale prints, while going as high as 12,800 produces adequate noise for online photos. The camera's dynamic range is excellent, letting you take vibrant pictures of high-contrast scenes.
You can shoot 4K video at 30fps. The D7500 has zebra stripes to warn you of overexposure, and you can hook it up to an external recorder to output higher-quality video through HDMI. Both headphone and microphone jacks are present, so hook an external microphone up for the best audio results.
What We Didn't Like
The D7500's video is a mixed bag. Cropping is applied when shooting at 4K. Add to that the crop inherent to APS-C sensors, and you've got a camera that has trouble pulling off wide-angle shots at its best settings. There's a single memory card slot and no support for UHS-II cards, so expect slower writing and transfer speeds.
Tech Specs
Dimensions: 5.3 x 4.1 x 2.9 in.
Weight: 42.2 oz.
Sensor: APS-C
Burst rate: 8.2 shots
Battery: 950 shots
ISO range: 100 – 51,200
Max still resolution: 20.9 MP
Max video resolution: 4K, 30fps
The Pros
Outstanding ergonomics and build quality
Intuitive interface with lots of customization opportunities
Fast and accurate autofocus
Great dynamic range and low-light performance
The Cons
Single memory card slot with no UHS-II support
Severely cropped 4K video
2. Best Value – Pentax KP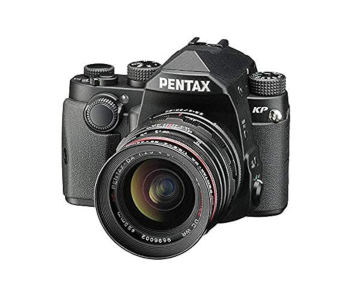 View on Amazon
Editor's Rating: 4.4/5
Do you need a compact DSLR that takes stellar pictures but won't set you back much? Pentax has the answer in form of the KP, a small and versatile camera with a slew of unique features. It has an interchangeable grip, outstanding low-light performance, and a host of fun image modes to take your creative expression to the next level.
Overview of Features
You'll notice that the KP is lighter than most DSLRs, yet that doesn't translate to poor build quality. Most of its shell is made from magnesium alloy, and more than sixty seals make it impervious to moisture and dust. An interchangeable grip is the KP's most interesting physical feature, though. You can get them in small, medium, or large depending on your hand size. All three grips are comfortable and textured to help you hold on better.
Pentax is another company that values clean and versatile controls. Buttons and dials abound on the KP. Dials are particularly useful since two of the three let you access different settings with ease. One dial has three custom positions you assign settings to like ISO or shutter speed. The right-most dial's function depends on that dial's position, making it effortless to change HDR modes and instantly switch to adjusting the EV compensation.
The KP has a large and bright viewfinder with minimal cropping. An articulating LCD augments it. The display isn't touch-sensitive, but it gives you access to a well-organized menu system that lets you quickly find any of the KP's settings. The OVF offers twenty-seven focusing points clustered around the middle of the frame. That number is greatly expanded if you're focusing through the live view, which is capable of reliably picking subjects up even if you lower the EV t by three stops.
The KP's image quality is great. Its highest ISO values rival those of an expanded D7500, while the usable ones hover around a strong 12,800, even 25,600 if you go monochrome and aren't making large prints. The white balance is excellent but tends to be on the warm side, nothing you can't fix by switching to auto or tungsten mode. Pentax cameras use Pixel Shift technology to take four photos at once, getting RGB information for each pixel to increase sharpness and color fidelity noticeably.
Videos on the KP have a maximum resolution of 1080p at 60fps. The camera has 5-axis image stabilization, so you can get usable footage even while shooting without a tripod. There's an external mic jack, but the KP's stereo microphones do a decent job if the conditions aren't windy.
What's Bad About It?
The KP has a small battery capable of snapping just 390 shots per charge. That's a disappointingly low value for a DSLR, so be sure to take spares along on extended shoots. A low max resolution already hampers video quality, but the bitrate is low as well, making for soft footage.
Tech Specs
Dimensions: 5.5 x 4.1 x 3.1 in.
Weight: 44.8 oz.
Sensor: APS-C
Burst rate: 7.1 shots
Battery: 390 shots
ISO range: 100 – 819,200
Max still resolution: 24.2 MP
Max video resolution: 1080p, 60fps
The Pros
Great value for the money
Weather-sealed body with interchangeable grips
Excellent for low-light photography
Pixel Shift helps improve image quality
The Cons
Mediocre video quality
Poor battery life
3. Canon EOS 80D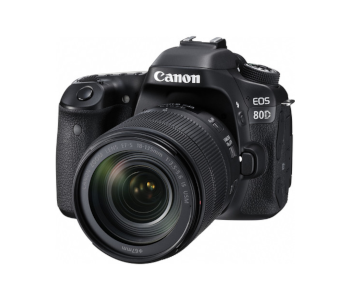 View on Amazon
Editor's Rating: 4.5/5
The 80D is our overall winner's most fierce competitor and the perfect enthusiast camera to switch to once you've outgrown the t7i reviewed below. It's a speedy shooter that delivers razor-sharp photos thanks to upgrades to both of its autofocus methods. The IDIG 6 processor ensures little noise and good low-light shots, while in-depth control and menu customization let you make the 80D truly your own.
Overview of Features
Users of the Canon 70D will be familiar with its successor's appearance and control scheme since the winning layout +t required little adjustment. There are fewer physical controls than on Nikon's camera, but the buttons, dials, and D-pad are spaced out well and perform several functions. The 80D has a bright optical viewfinder with 100-percent coverage. There's also the 1M-dot fully-articulating touchscreen vloggers and travelers will love.
Autofocus improvements are at the forefront of the 80D's capabilities. Shooting through the OVF now lets you use 45 cross-point autofocus points and track subjects either by selecting a single point or one of nine groups. The live view uses Dual Pixel CMOS AF that's faster and more accurate than the 70D's. Combine these with quick startup times and a respectable burst mode, and you've got a great camera for action shots.
Even though it's four years old, the 80D produces excellent images. White balance is on point, while its dynamic range is sufficient to preserve subtle details in shadows while keeping skies blue. JPEGs might be too vibrant for purists out of the box, but the 80D's array of effects and filters produces more subdued or outlandish results with equal ease.
The camera has got you covered whether you take long to set up a shot or frequently fire off bursts. Its buffer stores more than a hundred JPEGs or twenty-three RAW images. You'll be able to use the 80D for a day's worth of shooting without reaching for a spare battery since it can take more than 900 photos when in viewfinder mode.
Are There Drawbacks?
The 80D's automatic white balance is off under certain conditions. It veers to the warmer side in the open but overcompensates in artificial light, forcing you to adjust the setting manually to get results comparable to other cameras. Videos produced by this camera look good and are sharp thanks to its top-notch autofocus. However, we expect a DSLR close to the $1,000 mark to offer 4K, which the 80D doesn't.
Tech Specs
Dimensions: 5.3 x 4.1 x 2.9 in.
Weight: 42.2 oz.
Sensor: APS-C
Burst rate: 6.8 shots
Battery: 960 shots
ISO range: 100 – 16,000
Max still resolution: 20.9 MP
Max video resolution: 1080p, 60fps
The Pros
Excellent autofocus for photos and videos regardless of how you use it
Good battery life
Fully-articulating screen and bright, uncropped viewfinder
Deep buffer and solid burst speed
The Cons
Inaccurate automatic white balance
No 4k
4. Nikon D5600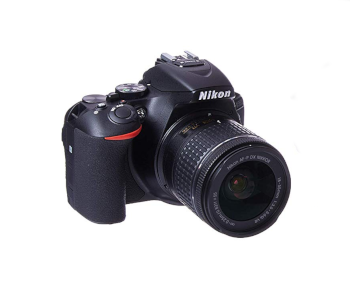 View on Amazon
Editor's Rating: 4.3/5
The Nikon D5600 is an affordable DSLR that ticks all the right boxes for casual photography and filmmaking. It produces pleasing images and 1080p footage that outclasses many of its pricier rivals. Add a clever way of wirelessly controlling it, and the D5600 becomes an all-around camera for users on a budget.
Overview of Features
The first thing you'll notice about the D5600 is its size. It's comparable to a mirrorless and as light, too. Size constraints also mean that there aren't as many controls as on other cameras, and the present ones are a challenge to pick out for people with large hands. Even so, there are two dials and a function button along with a multifunction joypad and controls for the drive, recording video, and releasing the shutter.
The camera makes up for its dimensions with a solid viewfinder and touchscreen combo. The OVF uses a pentamirror but isn't as cropped as that seen on the t7i. The screen is large and bright, with a diagonal of 3.2 inches and more than a million dots.
A 24.2MP APPS-C sensor is at the heart of the D5600. It has no low-pass filter, so expect crisp images unhampered by artificial anti-aliasing. Low-light performance is commendable both for JPEGs and RAW images. The former look good up to ISO 3,200 while you can push the latter to 6,400 and higher if you apply denoising in post.
Using the D5600 with its viewfinder is the fastest way of snapping photos as the camera is ready in less than a second. The OVF's 39-point autofocus is clustered in a flat pattern around the frame's center. It identifies subjects in an impressive 0.1 seconds, provided the lighting is good. Tracking is dependable as well, especially if you turn on 3D tracking. This lets you mark a subject by selecting an AF point, and the D5600 will keep tracking it.
Video is another of the D5600's outstanding features. It's limited to 1080p, but it's as crisp and detailed as the resolution will allow. You can adjust the shutter, EV, and aperture depending on the situation and have the autofocus react to changing scenes or when you need it to shift. The built-in microphone is surprisingly capable and records voices well. That makes the D5600 a great candidate for vlogs and documentaries, just make sure you're working in an area without background noise.
What We Didn't Like
The D5600 uses an older type of AF during video recording that relies on contrast detection. It finds focus by repositioning the lens back and forth, which is noticeable and hard to unsee in finished videos. Nikon's SnapBridge app turns your phone into a second viewfinder and lets you automatically transfer upload-ready images from the camera. It would be even more helpful if the app didn't constantly lose connection.
Tech Specs
Dimensions: 4.9 x 3.8 x 2.8 in.
Weight: 23.6 oz.
Sensor: APS-C
Battery Life: 970 shots
Burst rate: 5.1 shots
ISO range: 100 – 25,600
Max still resolution: 24.2 MP
Max video resolution: 1080p, 60fps
The Pros
Excellent image quality for the price
Large responsive touchscreen
Good and speedy image autofocus
Solid 1080p video quality and internal microphone
The Cons
App has connection issues
Noticeable lens repositioning during video AF
5. Canon EOS Rebel T7i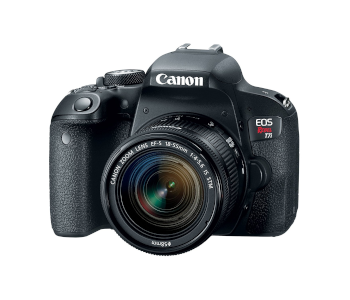 View on Amazon
Editor's Rating: 4.2/5
The DSLRs on review thus far are all geared towards experienced photographers, but what about newbies who wish to get the best possible start? In that case, look no further than Canon's rebel t7i. It's a camera that grows as you do, offering a guided shooting mode for novices along with fully manual controls for advanced users. It has class-leading autofocus, does well in low light, and produces pleasant images with good white balance and vivid colors.
Overview of Features
The t7i looks and feels like a beginner-friendly camera due to its simple control scheme. A single dial handles its various modes while a small switch close to it toggles between off, photo, and video modes. There's a D-pad in the back whose buttons control additional settings each, like autofocus and white balance. There's a pop-up flash above the OVF, and the flip-out screen articulates fully. It's perfect for vloggers and people who like to take selfies.
The biggest innovation Canon has added to the t7i is the same Dual-Pixel CMOS AF seen on the 80D. It enables you to lock onto subjects in a tenth of a second in good lighting while keeping them in focus through a series of shots. The t7i has a burst rate of 6fps, which isn't quite at sports camera level but will help you take sharp pictures of playing children and excited pets. A new group portrait mode takes advantage of face detection for multiple people and makes automatic depth of field calculations for crisp results.
The t7i has a dependable full-auto mode that produces quality JPEGs for people who don't want to fuss with settings. However, newbies keen on learning more will appreciate the t7i's guided mode. Turning it on accompanies actions like adjusting the f-stop or white balance with brief explanations and their real-world application. Turning guided mode off gives experienced users access to the Q interface. Accessing it opens a screen with several parameters you can adjust on-the-fly to have nuanced controls of what your next photo will look like.
Videos shot with the t7i are perfect for capturing family vacations, birthdays, and other events you'll want to remember. The autofocus is the same as for photos, so blurry clips won't be an issue. You can spice things up by creating time-lapses or slow-motion videos and increase sound quality by hooking up an external mic.
Are There Drawbacks?
The t7i has a pentamirror array instead of a true prism to keep its weight and price low. The array applies a 5-percent crop and makes the viewfinder dimmer, so take the extra space into account when framing shots. It also struggles to retain details when faced with contrast extremes. You'll want to keep away from harsh sunlight and strong shadows for optimum results.
Tech Specs
Dimensions: 5.2 x 3.9 x 3 in.
Weight: 26.3 oz.
Sensor: APS-C
Burst rate: 6 shots
Battery life: 600 shots
ISO range: 100 – 25,600
Max still resolution: 24.2 MP
Max video resolution: 1080p, 60fps
The Pros
Great first camera for determined beginners
Same excellent autofocus as more expensive Canon cameras
Simple control scheme
Decent video quality for a camera limited to 1080p
The Cons
Dynamic range could be better
Pentamirror array causes cropped OVF output
6. Best Budget Option – Canon EOS Rebel SL3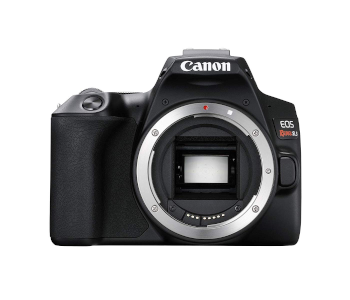 View on Amazon
Editor's Rating: 4/5
Our budget pick is yet another Canon LDSLR, the Rebel SL3. It's more expensive than the D5600 but comes with a solid $200 kit lens to help you start shooting right away. The SL3 is compact, produces decent images, and can even shit 4K video with some caveats. It's the camera to get if you're taking your first photography steps and need a dependable shooter at an appealing price.
Overview of Features
The SL3 is the smallest DSLR on review and among the most compact DSLRs in general. It weighs just 15 ounces without the kit lens, outclassing many mirrorless models. Its control scheme is cramped but well-organized. Everything except the Info and Menu buttons is located to the right of the LCD, including two dials, a power and mode switch, and a D-pad. You get a single function button and a My Menu for further customization.
This is another camera aimed at content creators since it has a vari-angle touchscreen. The screen flips to the side and makes shooting from unforgiving angles possible. It can also flip around to face the camera when retracted, which gives it added protection. Finally, the screen's touch sensitivity applies both to focus and menu selection.
The kit lens you get with the SL3 has a focal range of 18-55mm and a max aperture of f/4. It's the perfect companion since the lens is small as well and adds image stabilization along with a silent autofocus motor. It suffers from minor barrel distortion you can take care of during editing and offers a focal range fit for everything from city and documentary to portrait photography.
The SL3 can take a picture half a second after powering up. Its autofocus is even quicker than the D5600s, requiring a fiftieth of a second in bright conditions that extends to an acceptable 0.3 seconds when lighting is poor. Dual Pixel AF is present, ensuring that autofocus performance is as precise and quick in live view as when using the viewfinder.
The Canon Connect app is Canon's take on smartphone connectivity and performs better than Nikon's alternative. It maintains connection to the camera through Bluetooth while image and video transfer is done through Wi-Fi. In-camera battery charging isn't supported as you're limited to an external adapter. However, you'll have to take more than 1,000 pictures before needing a recharge.
Are There Drawbacks?
The SL3 can record 4K videos with considerable restrictions. They're cropped, limited to 24fps, and shot using contrast-based autofocus. Stepping down to 1080p removes the crop and unlocks 30 and 60fps. The camera has trouble focusing on moving subjects, especially if continuous focusing isn't on. Stick to stationary subjects or expect unreliable performance.
Tech Specs
Dimensions: 4.8 x 3.6 x 2.7 in.
Weight: 23.4 oz.
Sensor: APS-C
Burst rate t: 5fps
Battery capacity: 1,070 shots
ISO range: 100 – 25,600
Max still resolution: 24.2 MP
Max video resolution: 4K, 24fps
The Pros
A compact, capable DSLR at an amazing price
Comes with a decent kit lens
Quick autofocus for stationary subjects
Long battery life and stable companion app
The Cons
Inconsistent autofocus when tracking moving subjects
4K is cropped and limited to 24fps