Best Electric Skateboards under $500
3D Insider is ad supported and earns money from clicks and other ways.
Electric skateboards priced under $500 are also among the most popular boards in the market. They provide a higher level of reliability and quality than their lower-priced counterparts. They are powerful and speedy as well. They also have better specs and designs. When choosing an electric board, assess the features and compare them with your needs.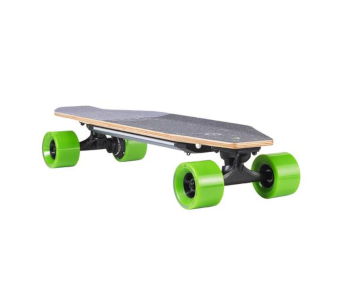 Retail Price: $449
The Acton Blink S-R is a powerful and portable electric skateboard that is perfect for students. It has a distinctive design with an aluminum case, a functional tail, and bright LED lights. The Blink S-R is very lightweight at 11 lbs, making it easy for you to pack it up and carry around the campus. The incline feature accommodates efficient hill climbing at a 15% gradient.
The Blink S-R offers improved braking and accelerating experience. It can travel up to 7 miles on a single charge and has a top speed of 17 miles per hour, which can get you around a lot on campus. The skateboard deck is made from Canadian maple wood and aircraft-grade aluminum and has a maximum weight capacity of 220 lbs. Overall, it is designed as a mode of transportation rather than an electric skateboard for tricks.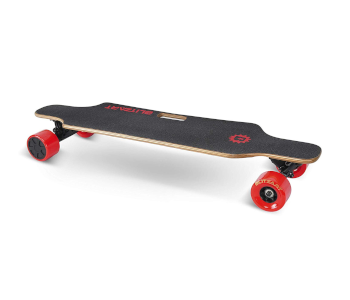 Retail Price: $299
The Blitzart Huracane is one of the fastest electric skateboards in the market. It can cruise at up to 20 miles per hour. It uses dual brushless hub motors, each with 350W of power allowing you to go fast and climb hills. Its 36V lithium-ion battery allows you to ride 10 miles on a full charge. Its deck is made of 8 layers of Canadian maple wood with bamboo plies in between to carry riders of up to 300 lbs.
The Blitzart Huracane also features an ergonomic wireless remote with 2-speed modes and reverse. It has modes for beginners and advanced riders. Accelerating, braking and reversing using the remote is easy with this electric skateboard. The wheels are polyurethane for durability and extra resistance. In general, it has some pretty impressive specs for its price range.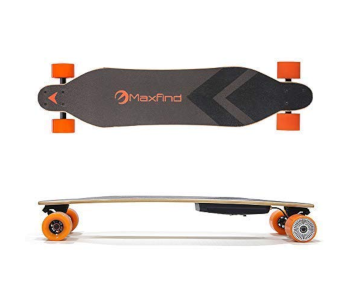 Retail Price: $350
The Maxfind electric skateboard is a high-performance board with a 1000W brushless hub motor. It can go very fast with a top speed of 23 miles per hour. It also boasts a high hill grade rating of 30% that allows you to climb steep hills. The deck is made of maple wood and bamboo, which gives the board more flexibility and sturdiness. It also features a stiff deck flex that increases stability at higher speeds.
The Maxfind has very reliable hub motors. Compared with belt-drive motors, they are quieter and less problematic. They also give the skateboard an aesthetically pleasing appearance. The remote control and 2-speed modes make it easy and safe even for beginners.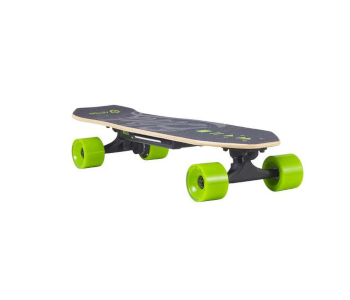 Retail Price: $299
The Blink Lite V2 is a Smartphone-enabled electric skateboard that is perfect for teens and kids. A dedicated smartphone app enables users to keep track of accomplishments and engage in friendly competitions. It is portable and lightweight at 7.7 lbs. so it is easy to pack up and carry around town and school. The maximum weight it can accommodate is 130 lbs.
The Blink Lite V2 features a Bluetooth remote control that allows you to control your board easily. It has a hill grade of 8% so it can also climb slopes efficiently. It also comes with lithium-ion batteries that allow you to travel up to 5 miles on a single charge. In addition, it has a concealed hub motor, which is capable of speeds of up to 10 miles per hour.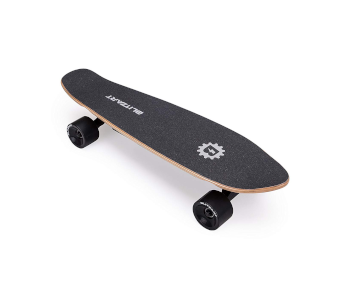 Retail Price: $199
The Blitzart Mini Flash is an entry-level electric skateboard that is perfect for beginners. It can reach a maximum speed of 12 miles per hour and has a range of 5 to 8 miles when fully charged. It also features an easy-to-hold wireless remote that controls acceleration and deceleration. It comes with a reverse capability so you can change directions with ease. A wrist strap for the remote control is included, so you don't accidentally drop it.
The Mini Flash has a deck made of 5-ply maple wood and two layers of bamboo, giving it more strength and sturdiness to carry up to 250 lbs. The deck is also outfitted with premium grip tape to keep your feet firmly on the board minimizing your chances of slipping. The skateboard also uses hub motors, which are more reliable and aesthetically pleasing than their belt drive counterparts.
The growth in popularity of electric skateboards is evident in the increasing number of sales. They are considered as one of the best gifts, head-to-head with drones. We compiled a list of electric skateboards above with excellent range and speed that are priced $500 and below.