17 Best Fitness Gadgets of 2019
3D Insider is ad supported and earns money from clicks and other ways.
Wearable trackers are the first thing that comes to mind when thinking about smart technology in the fitness world. They've become indispensable in tracking stats and helping you push yourself. However, fitness trackers shouldn't be the only gadgets to pique your interest.
Below you'll find our selection of the best fitness gadgets you can buy today. Some focus on delivering metrics that aren't part of a standard tracker's arsenal. Others improve your habits, make sure you're eating healthier, or completely change the way you train. Discover more about all of them and let technology help you transcend your limits.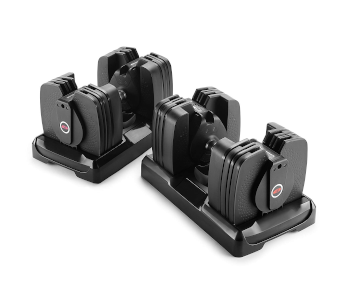 Having different sets of dumbbells is essential to tailoring your workouts and improving over time. These take up a lot of space, though, which is why the SelectTech 560 is a great space-saver as well as a connected fitness gadget. The dumbbells' design is square so they won't roll out of place and can be used as supports when you're doing push-ups. You adjust the weight by turning the handle – depending on its position you'll pick up from 10 to 60 pounds.
The companion app has a straightforward design yet offers many diverse options. There are three main ways to use it. The Six-week challenge gives you progressively harder workout routines to help develop your strength and endurance. Workouts is where you pick a specific muscle group to improve and get tailored workout suggestions. You can also do your own thing by using Just Lift which tracks reps and nothing else. The dumbbells sync to your phone through Bluetooth, and the data is then stored in the app or can be sent to your fitness app of choice.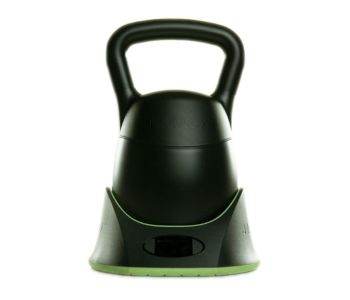 Kettlebells offer a broad range of full-body workouts, and the smart variant made by JaxJox is the perfect companion to Bowflex dumbbells. It comes with a battery-powered base with a similar weight adjustment system. Pres the minus and plus signs while the kettlebell is in the base, and weight will be subtracted or added in six 6-pound increments. The kettlebell weighs from 12 to 42 pounds, has a comfortable grip, and tracks various stats.
You get to see how much time you spent training with the kettlebell as well as the reps, sets, and rest periods during each session. The JaxJox app syncs with Fitbit as well to incorporate the data into your overall fitness stats.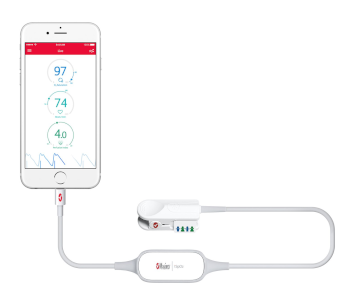 Masimo's IspO2 is a portable blood oxygenation meter that hooks up to your iPhone to deliver real-time results. Monitoring blood oxygenation is essential for both professional and high-achieving amateur athletes because it can tell you which parts of your workout are too strenuous. Knowing this, you can make adjustments and train longer without suffering ill effects. It's also wise to use the IspO2 if you suffer from respiratory illnesses or exert yourself on high altitudes.
The device is as simple as can be. It consists of a sensor that goes on your finger and connects via cable to your iPhone's Lightning port. Its app displays three metrics in bold numbers – blood oxygenation, heart rate, and PI or Perfusion Index, which gives you an idea of your pulse strength. You can access all three metrics in wave graph form and export them into spreadsheets for tracking over time.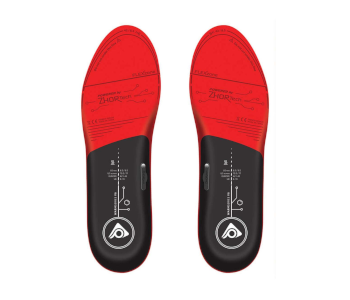 Do you love to ski or cycle during the winter but literally get cold feet? You don't need to stop your favorite sporting activities on account of the cold anymore if you buy the heated Insoles from Digitsole! These comfortable inserts keep your toes warm while offering useful insights through the companion app.
The insoles take some getting used to since they change the feel of your shoes, but a jog or bike ride later you won't feel the difference. You charge them via USB, and the first time takes eight ours. Charging them again after each use cuts down on that considerably. The insoles emit a maximum temperature of 114 degrees Fahrenheit and do so gradually.
The app is simple yet informative. Its primary function is to let you adjust the insoles' temperature with a slider. It warns you when approaching the temperature threshold, and built-in safeguards prevent you from exceeding it. Other than warmth regulation, the app tracks how many steps you've taken, traveled distance, and consumed calories.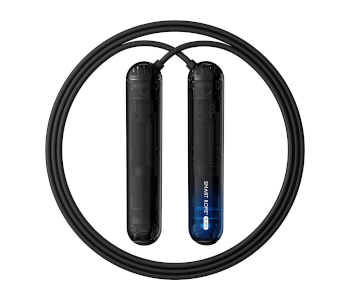 Skipping over a rope provides a vigorous and fun cardiovascular workout. Ordinary jump ropes are fine, but they don't tell you anything about your performance. Buy the Smart Rope Pure, though, and you'll gain new insights into your routine and can improve through daily challenges and friendly competition.
The Smart Rope Pure is a lightweight jumping rope set inside two handles at a 45-degree angle. That, along with built-in ball bearings, ensures a smooth skipping experience. There's also a more advanced version of the rope that has LEDs which display your current skip count. As you can see from our review, this doesn't work that well in practice, so the Pure is a better and less expensive option.
The Smart Gym app is the real reason you'll want to spend money on the Smart Rope Pure. It tracks your skipping sessions and can sync with 100 of them, so you don't have to have your smartphone nearby each time you train. It offers interval training, keeps a detailed record of your history, and rewards you with achievements if you stick with it and meet daily goals. You can even compete against other Smart Rope users and secure your place on the leaderboards.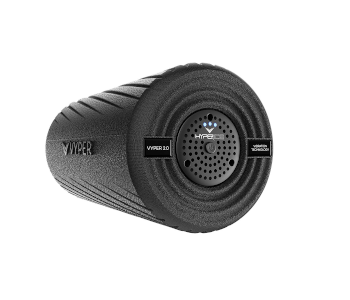 Athletes, especially runners, rely on foam rollers to speed up muscle recovery and lessen soreness. The Vyper 2.0 adds vibration to stimulate your muscles more vigorously and produces better results hand ordinary foam rollers. You can choose between three intensity settings depending on experience level and how much you've exerted yourself. The vibrations range from soothing to vigorous and won't drain the battery even after days of use.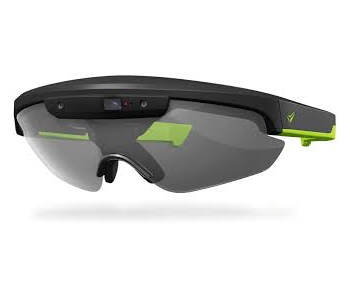 Do you want to record and track the metrics of your bike rides without constantly glancing at your Fitbit? In that case, Eversight's Raptor sunglasses are the perfect choice. This futuristic gadget uses augmented reality to bring you real-time information as you ride. The sunglasses are sleek, versatile, and as expensive as a new smartphone. However, once you put the Raptors on, you'll wonder how you ever got along without them.
The sunglasses look like any pair of sleek modern eyewear but have some heft to them you'll get used to after a ride or two. Controlling them is intuitive and involves gestures – swiping along the right handle cycles through display modes while tapping and double-tapping confirms or cancels actions. The battery lasts for eight hours if you use your phone's GPS instead of the one provided by the sunglasses.
Information is projected onto the lenses and is visible without distracting you. There's your heart rate, speed, traveled distance, power, and cadence. You can also connect to GPS and follow a real-time route. The sunglasses have a 13-megapixel camera that lets you take pictures and shoot 1-minute videos in up to 1080p, 30fps. You can even use them to read text & email messages or check your phone's calendar.
The app is streamlined and primarily used to transfer riding data and footage to your smartphone. It offers workouts designed to improve your speed and endurance. Finally, it syncs effortlessly with popular fitness apps.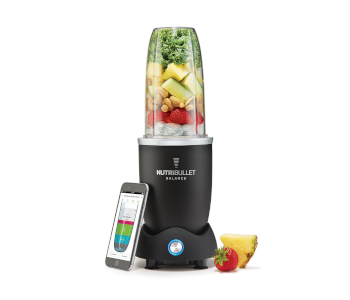 Following a healthy meal plan is the cornerstone of every successful fitness regimen. Sticking to a diet is hard, so NutriBullet designed the Balance connected blender to help you. The Balance makes short work out of ice, peanuts, or any other ingredient you throw at it. Best of all, it has a fantastic app for designing and sticking to healthy and nutritious meals.
The Balance looks like other NutriBullet blenders – it comes with the characteristic bullet-shaped cups and blades for different preparation methods. The container holds 32 ounces of liquid, enough for two people to enjoy. What sets the Balance apart are its built-in scale and Bluetooth connectivity.
The NutriBullet app is a wellspring of recipes, health tips, and information on various ingredients' nutritional values. You can follow along with hundreds of recipes or create your own with the help of the scale. You put fruit, vegetables, and other ingredients into the blender one-by-one, and the scale will tell you how much each weighs. Selecting the ingredient in the app's extensive table also tells you how rich it is in nutrients, fibers, or natural sugars.
NutriBullet Balance makes sticking to your diet easy since all you need to do is follow along with recipe instructions. Each recipe has a step-by-step guide with specific weights for all ingredients. Sticking to a recipe ensures you're eating healthy and have enough energy to tackle any fitness challenge.
Maintaining a healthy water intake is essential to performing at peak physical & mental efficiency, yet we rarely think about tracking it. The Hidrate Spark is a smart water bottle that makes this task intuitive and effortless. It has a softly-glowing LED which reminds you to sip some water or glows when you've satisfied your daily goal.
The bottle comes in a variety of colors and has a slim, chic design. Its frosted glass finish provides good grip while the internal sensors keep track of each sip you take. This information is relayed to the Hidrate Spark app and can be shared with other fitness apps too. The app asks for your gender, age, weight, and height. It uses this along with exercise data from apps like Strava to determine your required daily fluid needs.
Tracking the intake is easy thanks to the app's clean interface. You can see how much more water you need to drink to satisfy your daily needs, view an intake history, and compete against other Spark users in maintaining a perfect record.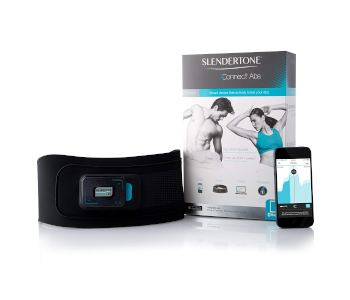 Why bother with intense exercises when a gadget can do them for you? If your goal is to have washboard abs, the only thing you need to do is commit to regular electric stimulation by the Slendertone Connect Abs.
This device is made up of a controller unit and a belt with three muscle-stimulating pads. You attach the unit to the belt and apply gel to the pads each time to make conducting smoother. Electricity then courses through the pads in regular intervals, forcing your ab muscles to contract and giving them a proper workout. You won't be able to do other things which require precise coordination since the jolt has a kick to it. However, it's entirely feasible to read a book or spend time online while your abs are being toned.
The companion app gives you a great deal of control in shaping your workouts. You get to choose from a hundred intensity settings and decide how many jolts you'll receive in a given period. The more you use the Slendertone Connect Abs, the greater the impulses your abs can withstand. Watching your abdominal muscles take shape, and gradually increasing pulse intensity is very satisfying. You'll still have to supplement the device with healthier eating habits to see the results, but they are there.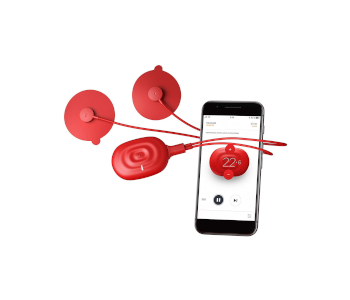 Muscle stimulation isn't only great for a hotter bod – it helps with recovery and pain too. The PowerDot 2.0 is an electrical stimulation system which focuses on healing, but you can use it to deliver an intense workout to many muscle groups in your body.
You get an activation button, two electrodes, a leading cable, and a carrying case. The wires attach to your desired muscles via a velcro-like strap and deliver soothing bursts of electricity. The stimulation helps alleviate post-workout soreness and also helps with chronic pains in ankles or your lower back. Like Slendertone Connect Abs, the intensity goes up to 100.
You need to set the app up before using the PowerDot. That involves answering a bunch of questions on your physical stats and how you'll be using the device. A routine is suggested afterward and can be configured to suit your needs. There are ten stimulation types which range from gentle pulses that loosen up muscles to intense jolts that cause more pronounced contractions.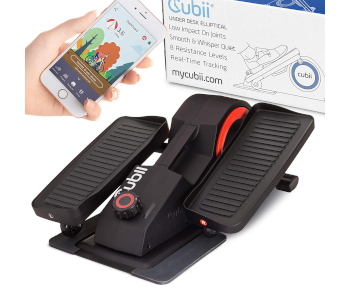 Why leave exercising for your free time when an under-desk elliptical allows you to burn calories while working? The Cubii Pro is the best of its kind! It engages your leg muscles without impacting your lower back. The elliptical comes with a neat app that makes controlling the device as well as tracking your progress easy.
The Cubii Pro has a rechargeable battery and is built from high-quality components which ensure noiseless operation. Its pedaling motions are smooth & silent, and you can set it to one of eight resistance levels in the app. That's also where stats on burned calories and time exercised are displayed. You can sync them with the Fitbit app or go online and see how you stack up against other under-desk pedallers.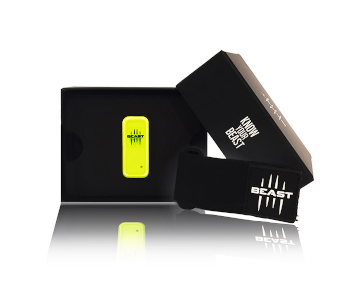 Most fitness trackers deliver valuable metrics for cardio workouts but aren't effective in the gym. Enter Monster, a company that makes sensors explicitly designed to enhance your strength training experience. The sensors are equipped with accelerometers, gyroscopes, and compasses. They adopt the principles of velocity-based training or VBT. These state that the speed at which you perform a rep tells a lot about your performance.
You can tailor the Beast to increase your speed, power, or muscle bulk. You may select among dozens of exercise routines in the Beast app and pair these with your goals. The app tracks reps, rest periods, and the speed at which you perform exercises. You then get specific recommendations based on your performance. Adapting to these ensures you'll get the most out of your workouts and start to see improvements more quickly.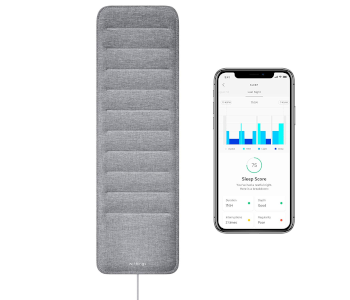 Sleeping is an integral part of the recovery process. By sleeping well and long enough, you'll be able to achieve peak results the next day. That's why tracking your sleep patterns is important, and no device is as accurate or goes into as much detail as the Withings Sleep.
Unlike wearables that chafe and are uncomfortable to go to bed with, the Sleep is a pad which goes under the mattress below where you're resting. It's thin enough not to make a difference in height and comfort, and you'll forget it's there if you tuck away its power cord.
Sleep provides you with a plethora of useful information. It can tell the difference between merely lying in bed and actually sleeping. It accurately tracks all stages of the sleep cycle and delivers a report come morning. Your sleeping "performance" is summarized with a score. You may find out more about the tracked metrics for the night or by consulting historical graphs. Along with the data mentioned above, these show your heart rate and even how loudly you've been snoring!
Sleep is a smart tracker in the true sense of the word. It uses IFTTT to communicate with other smart gadgets in your home. This means you can use its body position tracking as a cue to turn the lights on, lift the blinds, or start playing some energetic music.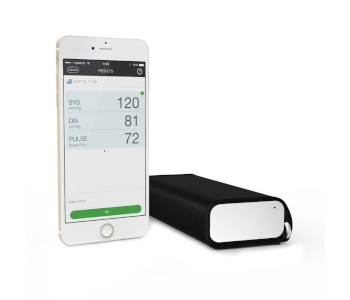 You'll want to keep accurate track of your blood pressure and see what impact your training has on it. The QardioArm is the easiest and one of the most technologically advanced BPMs on the market. All you need to do is adjust its cuff to your arm, turn on the app, and hit a big green start button. The measurement is over in thirty seconds.
The best thing about the QardioArm are the interpretations you get within the app. People who don't know what the numbers for their systolic and diastolic pressures mean will be delighted when they see the readings as part of a color-coded graph that provides context. You can store these readings and share them with others, including your doctor through Apple Health. You can set daily and weekly measurement reminders too.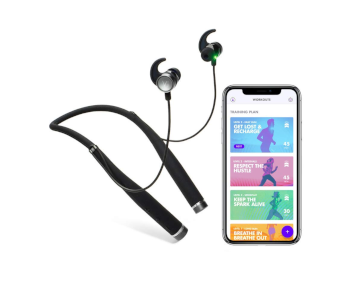 Starting to work out can be daunting, and many people lose motivation quickly. If you want to stick with it and have a personal trainer wherever you go, invest in the Vi Sense wireless earbuds! They're comfortable, last six hours per charge, cancel noise effectively, and come with an excellent virtual coach.
The headphones have a collar that goes around your neck and houses playback and microphone controls. While they do have wires that connect them to the collar, the headphones establish a wireless connection with your phone.
The app features Vi, a virtual trainer who learns and adapts as you exercise. It takes her a couple of hours to calibrate, but after that, she'll accurately tell you to ease up if you're pushing too hard or motivate you to go the extra mile if she thinks you can. As you become better, Vi gives you less encouragement and comments on your performance only occasionally. You can always adjust the frequency of her comments if you enjoy the boost.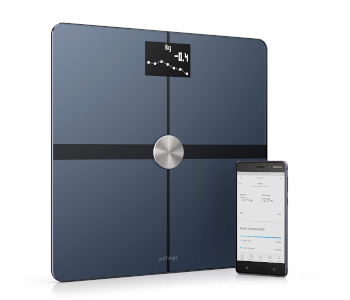 A smart scale is the best tool at your disposal to measure changes in weight over time. The Body+ does much more though – it displays your BMI, fat, water & muscle mass, and bone density. There's even a baby mode that lets new moms track their newborn's weight gain by stepping onto the Body+ with and without the child.
The scale is slim and has a dark gray surface along with a black & white LCD. It supports five people, tracks their stats individually, and knows who's on the scale based on them. The Body+ connects to Wi-Fi and transfers weighings to its app as soon as you're finished.
The app is elegant and informative. It shows your latest info in bold numbers accompanied with graphs for the last seven weighings. You can set a target weight, and the Body+ will help you achieve it with daily monitoring. Synchronization with MyFitnessPal is also supported, letting you combine weight information with detailed reports on calorie intake.