The Top 5 Best Foldable Drones of 2021
3D Insider is ad supported and earns money from clicks, commissions from sales, and other ways.
If it's your first time buying a drone in 2021 then we have one piece of advice for you – if it's not foldable, then forget about it! Ever since DJI released the first Mavic Pro back in 2016, the market has seemingly been flooded with one foldable drone after another.
While there are a lot of obvious benefits to buying a foldable drone, picking just one can be a bit difficult nowadays. To help you decide, check out our guide of the best foldable drones we can recommend.
Why buy a foldable drone?
What has made foldable drones so popular? There's just something so futuristic about a drone you can pull out of your backpack and deploy in just a few minutes. Aside from the unique form factor, what are other good reasons for buying a foldable drone?
Portable
The portability of a foldable drone is probably it's biggest selling point. No matter which model you get, carrying it around is a breeze as long it comes with foldable propeller arms. Couple this with a good carrying case and you have a drone that you can just throw inside your backpack for a walk down the park, a road trip to the beach, or a hike up the mountains. Nowadays, it's tough to imagine buying anything else but a foldable drone for casual use.
Easy to use
The foldable drone market has certainly shifted to appeal to beginners. As such, modern foldable drones have been deliberately designed to have a gentle learning curve. With features like Beginner Mode and GPS-aided stabilization, it should not take more than a few minutes for you to get the hang of drone flight. Foldable drones are excellent for those who have always been apprehensive about whether they can fly a drone or not.
Inexpensive
Even if you can't spend a lot on a drone, there's probably a foldable drone out there that fits your budget. Given how insanely popular foldable drones have become, it's really no surprise that various drone brands have jumped on this huge market. Looking for drones that cost less than $200? You might be surprised at how many options you have!
Rapid improvements
The development of foldable drone technology has not solely focused on who could make the cheapest drone. On another front, big drone brands have also been outperforming each other on who could fit as much advanced technology inside a foldable drone form-factor as possible. Nowadays, it's no longer uncommon to see foldable drones with 4K cameras and 3-axis mechanical gimbals. There are even foldable drones that are perfectly acceptable to use for professional jobs.
All things consider, there is very little reason for you to NOT get a foldable drone. Unless you're looking to buy a tiny drone or one that can do some heavy lifting, a foldable drone is almost always the best choice. That said, some models have managed to lead the pack of this crowded market.
Top 5 best foldable drones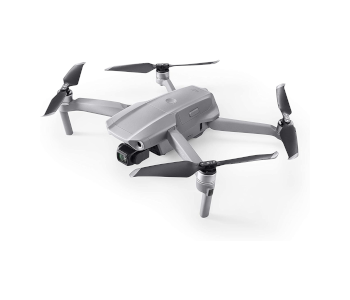 In terms of value for money, the Mavic Air 2 is still hard to beat. While it's certainly far from being the cheapest foldable drone out there, the Mavic Air 2 offers features and performance that belies its size and price tag. It also improves on its predecessor (which was a massively successful drone) in just about every way.
To run down its features, the Mavic Air 2 has a camera that can record 4K videos at 60 fps, a 3-axis gimbal, the OcuSync 2.0 transmission system, a 34-minute battery life, and an array of obstacle detection sensors. It also comes with a wide selection of automatic camera and flight modes, including an improved version of the classic Follow Me mode for automatic subject tracking.
Just for the camera quality alone, the Mavic Air 2 is also already miles ahead of other drones in the sub-$1000 price range. With a D-Cinelike color profile and support for saving in RAW format, the Mavic Air 2 can conceivably be used for some light professional photography work.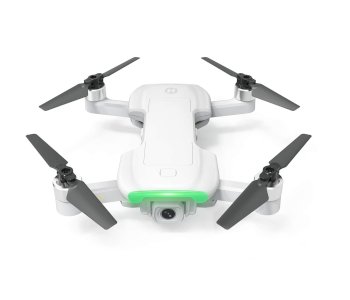 Are you looking for a drone that can capture videos in 4K resolution but costs less than $200? Look no further, as the Holy Stone HS510 has you covered.
This inexpensive foldable drone has a camera that can capture 4K videos at 16 fps and 2.7K videos at 25 fps. The framerate numbers may not be impressive so it's best to use this drone for still photography.
With a dual GPS-GLONASS receiver, the drone uses GPS positioning to help in flight stabilization. If the GPS signal is weak, the drone's optical sensing system will take over. This makes flying the HS510 quite easy even for beginners, although you may have to wait a few seconds after take-off for the drone to stabilize.
Despite being very inexpensive, the HS510 comes with the usual smart drone features such as Tap to Fly, Follow Me, Custom Path, and Point of Interest. When the signal between the drone and remote controller drops out, the drone's Return to Home function will be automatically triggered.
One thing that the HS510 does not have is a mechanical gimbal. This can make shooting smooth videos quite challenging. You also cannot control the camera when the drone is already airborne, which means you'll have to orient the camera as you wish before taking off.
3. Best lightweight drone: DJI Mini 2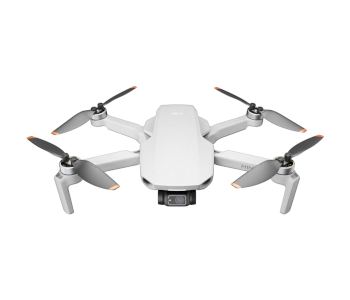 The DJI Mini 2 has one unique thing going for it – it does not need to be registered with the FAA. Weighing 249 grams, the Mini 2 falls just right under the minimum weight value for drones that require FAA registration. This is great if you want to buy a drone that you can fly right out of the box.
That isn't the only claim to fame of the Mini 2. It's also a very good drone, its weight notwithstanding. The Mini 2 can record 4K videos at 30 fps, has a 3-axis gimbal, and a 4x digital zoom function. The Mini 2 has an AEB function and can save photos in RAW format, two camera features that will certainly appeal to professional photographers.
Just like other high-end DJI drones, the Mini 2 uses the OcuSync 2.0 transmission system for maximum signal range and reliability. It also offers an expanded list of smart camera and flight modes. When compared to the Mavic Mini, the Mini 2 is an improvement in virtually all aspects.
The Mini 2 costs less than $500, which makes it a solid candidate for the best drone in terms of value for money. If you want to own a small but powerful drone, then the Mini 2 is the way to go.
4. Best for beginners: Ryze Tello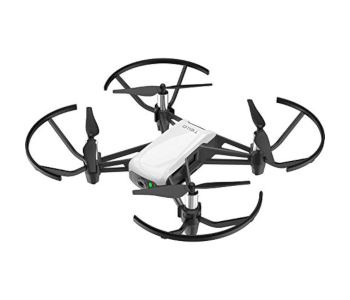 For complete beginners and those who want to give a drone to their kids, we highly recommend the Ryze Tello. An inexpensive and tiny drone, the Tello is an excellent "learning" drone.
The Tello is just tiny enough to be flown indoors, which might be ideal if we end getting stuck indoors for a long period. Its onboard camera can capture 5 MP photos and 720p – not professional-grade by any means but still quite fun for just messing around with aerial photography. With EZ Shots, you can quickly edit these photos and share them on social media.
The Tello also makes a great learning tool for kids who want to learn to code. Through a Scratch-enabled mobile app, users can program the Tello automatically through drag-and-drop coding blocks. This may be quite rudimentary but would make a great introduction for kids and students who have not done any programming before.
The Tello does not have GPS. This means that it cannot do GPS-based navigation and has no GPS-aided stabilization. If you're flying it outdoors, make sure you don't do it on an overly windy day. It's easy enough for the Tello to drift away with a strong breeze. The Tello is best operated inside a large indoor space.
The Autel Evo 2 is one of the latest in a series of foldable drones that have been designed for professional-level use. As such, the Autel Evo 2is definitely not cheap. Launched a little less than a week ago, the Autel Evo 2 is worthy of being considered one of the best pro-level drones, foldable or otherwise.
The Evo 2 can record videos at 8K resolution. This alone makes it distinct from all other ultraportable drones available today. It also comes with an extra-large battery that can support up to 40 minutes of flight time. This is ideal for professional users, as it means less time spent landing the drone to switch out its batteries.
The AI-aided obstacle avoidance system of the Evo 2 is one of the most sophisticated in the industry today. Through the use of 12 sensors to collect data on its surroundings, the Evo 2 can automatically detect potential hazards 30 meters away and map out an evasive flight path.
The biggest downside of the Evo 2 is the price – it's easily the most expensive drone on this list. The second downside is that the Evo 2 already pushes the boundary of what we would consider a portable drone.
Yes, it still has foldable propellers arms that make it easy to pack. However, it also weighs more than 1100 grams. That's still considered light for a pro-level drone but that also makes it one of the heaviest foldable drones available today. This leaves the question of whether there's an acceptable limit on foldable drones. Fortunately, that's not a question we need to answer today.
Final thoughts
For the last three or so years, the drone market has been inundated with one foldable drone after another. This isn't necessarily a bad thing. Despite not having a lot of choices aside from foldable drones, most of these drones are excellent products anyway.
Although we've come up with a list of the five best foldable drones right now, we can easily expand this list to ten or even more and still fill it with solid recommendations. There are simply a lot of really good foldable drones in the market right now.