5 Best FPV Cameras of 2019
3D Insider is ad supported and earns money from clicks, commissions from sales, and other ways.
This guide looks at the 5 best entry-level (FPV) drone cameras around. The camera is important for any drone enthusiast who wants to take their aerial photography and video to the next level. We'll look at what a quality camera can do for you in a moment. First I want to explain what a camera is not.
Whenever anyone sees a stunning photo the first thing others ask is what camera did you use? The fact is it's the photographer, not the camera, who composes an amazing picture. What a decent camera does is enhance the quality of the photo or video to make it even more outstanding. Having an eye for a good image and a quality camera produces footage everyone wants to see.
None of the budget cameras in this guide will win any awards. What they will do is help you to become familiar with aerial footage and develop your skills before moving on to more serious FPV experiences.
First Person View Puts You in Charge
First person view (FPV) puts you in the virtual pilot's seat. Whether you use an external monitor, mobile screen, or wear FPV goggles, FPV lets you see what your camera sees. You become the eyes in the sky. This has so many benefits over flying a drone in the line of sight or LOS.
The advantages for FPV include:
Your footage is no longer hit & miss (you see what the camera sees)
You can fly further away and explore new horizons
Get to photograph and film places the pilot can't reach
Control the camera settings and camera angles (with adjustable lenses)
FPV racing: a truly immersive experience that lets you compete away from the LOS
Image stabilization is another important aspect to consider too. An otherwise brilliant shot taken with a great camera will result in a poor image when spoiled by camera shake. Cheaper camera drones don't offer any effective stabilization but it's something to consider later on.
About this Camera Review Guide
Some drones come with integrated cameras. In these cases, you're stuck with whatever the maker has provided. Some are excellent while others are pretty basic and not serious. Not all camera drones offer FPV either. Some drones let you attach your own camera as long as it's compatible with the craft. The better the camera (and its gimbal) the better your FPV experience and footage will be.
I've looked through the best budget end drone cameras available right now so that you don't have to. This no-nonsense guide highlights all the key features along with any pros and cons. These mini-reviews are the result of personal thoughts, the opinions of industry experts, and real user feedback.
The table below lists my top five picks in the order they appear on this review page. Enjoy.
FPV Cameras Comparison Table
1. Wolfwhoop WT05 Micro FPV Camera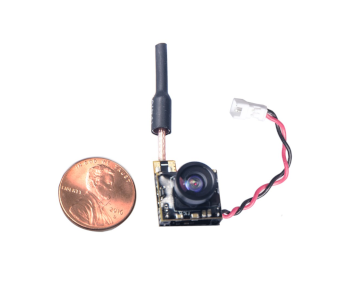 View on Amazon
Editor's Rating: 4.7/5
The WT05 Micro AIO 600TVL Camera is a bestselling product on Amazon right now for tiny drones. It's a combo consisting of the camera, the transmitter, and the antenna. All this fits into a miniature device that's not much better than a US one-dollar coin. It's hard to imagine so much technology packed into an FPV camera that weighs little more than 3.4 grams.
This amazing tiny device is pretty much ready to use right out of the box. It's easy to install and shouldn't take much longer than a minute or two. You can use it with all the major FPV goggle brands and monitors that have 5.8GHz receivers. That covers most of them.
All you have to do is attach it to your micro or mini-drone and power it up with a 1S Lipo battery. You're then ready to enjoy FPV viewing with either a compatible headset or other dedicated display.
The Conclusion
This is a cheap, capable, ready-to-use (no tinkering) FPV camera that's perfect for tiny drones. It's an ideal product for anyone who wants to dip their toe into FPV for the first time.


Tech Specs
Camera dimensions: 15X12.5 mm
Weight: 3.4g (0.1 oz.)
Camera resolution: 600TVL
Field of View (FOV): 120°
Antenna: Dipole brass
The Pros
Amazon best seller
Incredibly tiny/lightweight
Includes camera, transmitter, and antenna
Easy to install and use
Compatible with all major branded FPV goggles & monitors
Affordable and flexible camera
The Cons
Tiny and delicate
Range a little restrictive
2. Crazepony FPV Micro FPV Camera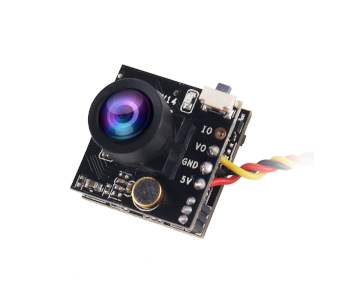 View on Amazon
Editor's Rating: 4.7/5
Here we are again with yet another tiny FPV camera combo. This time it's the Crazepony FPV Micro AIO 5.8G. This thing is so tiny you want to unbox it on a clear flat surface or risk losing it. Seriously, it's smaller than a quarter dollar coin. To give you some idea of its minuteness this baby weighs in at just 3.6 grams and has dimensions of just 47 x14.8 x12.5 mm.
Here's everything you get in the box:
FPV Micro AIO Camera
5.8G 48CH 25mW Transmitter
Micro JST 1.25 to 2 Pin Wafer Cable 1.5cm Y Splitter
Random color camera mount
The built-in power filter works really well as does everything else about this popular little camera. There're tiny buttons to change the settings controlled by short and long presses. The button at the front changes the video format—PAL and NTSC—with a long press. Short presses change the orientation of the video from inverted to normal.
It's the same short/long press procedure with the back buttons. A short press will change video channels from 1-8 and the long press changes the actual video brand from A-F (F=Raceband). I only mention these button functions because there doesn't seem to be any instructions on them in the product I received.
Viewing Crazepony FPV Micro AIO Footage
There are plenty of inexpensive ways to view your camera's FPV footage from a mini-drone. All video transmits on a 5.8 GHz band (standard) that has 40CH spacing. That means anything that says 32-40, or 48 channels should work just fine. Your options are pretty much unrestricted from there.
The Conclusion
If you've got a tiny drone that needs a tiny lightweight camera consider the Crazepony FPV Micro AIO. For the money it's a smooth operator, it's easy to tune, and it provides interference-free footage.


Tech Specs
Camera dimensions: 47×14.8×12.5 mm
Weight: 33.6g (0.1 oz.)
Supply Voltage: 2.9-5.5v
Field of View (FOV): 120°
Antenna: Exclusive dipole whip
The Pros
Excellent value for money
Incredibly small and lightweight
Includes camera, transmitter, and Y Splitter
Easy to set up and use
Decorative LED indicators
The Cons
No protective cover
Light sensitivity could be better
3. ARRIS EF-01 FPV Camera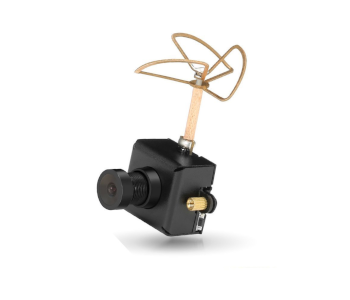 View on Amazon
Editor's Rating: 4.1/5
My third pick is the ARRIS EF-01 5.8G 40CH costing just under 33 bucks at the time of writing this review. It's another bundle which means it comes with the AIO FPV camera plus a transmitter and an antenna. It works with tiny quads and is popular with indoor drone racing enthusiasts—FPV style.
OK, let's check it out.
The ARRIS EF-01 is a 5.8GHz 5-band 40 channels product with Raceband. It takes its power from 3.7V 1S batteries. The camera works with Fatshark and other popular goggles and monitors. The durable case is a metal construction which is good but it does add to the weight. At 8-grams it's still incredibly light but not the lightest. Some pilots remove the outer casing to lighten the load and thus extend flight time and the craft's agility. This will leave the camera with less protection, though.
You can expect a clear signal up to around 100m which is pretty average for an FPV camera in its class. Overall, there are no gripes about the footage given the price tag of this affordable product.
The Conclusion
This is not the lightest FPV camera in this guide but it's not the heaviest either. You will want to consider the weight, though, when choosing a tiny camera for your mini-drone. There's plenty to like about this product especially as it comes as a bundle.


Tech Specs
Camera dimensions: 26x20x18mm (minus the antenna)
Weight: 8.5g (0.3 oz.)
Camera resolution: 800TVL
Field of View (FOV): 150°
Antenna: circular polarization clover leaf
The Pros
Great value FPV camera for indoor mini drone racing
Includes transmitter & antenna
Lightweight design with durable metal casing
Crash resistant
The Cons
May need to pre-focus the camera
Bit heavy for micro drones
4. RunCam Swift Mini FPV Camera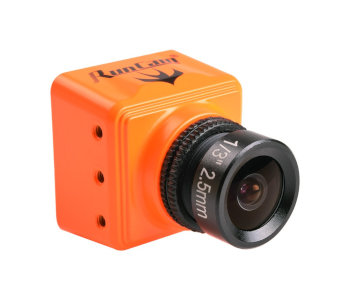 View on Amazon
Editor's Rating: 4.6/5
The RunCam Swift Mini is another tiny 600 TVL FPV camera and a smaller version of the original Swift. There's no onboard OSD (On-Screen Display) but there's an OSD cable for changing the settings. The user manual is also very clear and to the point which is a major plus point for any technical product.
The product comes with all the usual other bits to connect and attach it to a drone. The two camera brackets just slot into place and allow you to select your preferred camera angle. The lens is 2.5mm and has a field of view (FOV) of 130°. The image quality is perfectly acceptable for a camera in this class. It's certainly an amazing introduction into flying drones in First Person View.
There's a huge increase in the sale of mini and micro-drones right now. FPV cameras like the RunCam Swift Mini are perfect and affordable compliments to them. Powering this puppy is easy at it accepts anything from 5v to 36v (2S-5S battery).
The Conclusion
The RunCam Swift Mini is cheaper than the original. It's a no-nonsense miniature FPV camera that does exactly what it says on the box. It provides a great intro into FPV, hence its place in this guide.


Tech Specs
Camera dimensions: 22.3x22x27mm
Weight: 12g (0.4 oz.)
Camera horizontal resolution: 600TVL
Field of View (FOV): 130°
Antenna: 2.5mm
The Pros
Affordable well-made FPV camera
Easy to attach to a mini drone, simple to work
Power options from 5v-36vPower options from 5v-36v
No-nonsense camera
Crash resistant
Great introduction to FPV
The Cons
No OSD
Cost more than competition
5. RunCam Eagle FPV Camera
View on Amazon
Editor's Rating: 4.8/5
The Weyland RunCam Eagle 800TVL is a tiny FPV camera that's perfect for small drones and mini racers. The camera features a 1/1.8" CMOS sensor. I know that the majority of pilots prefer CCD sensors today over CMOS. Still, CMOS sensors are getting better all the time and this little camera is proof of that. It's also the most expensive mini FPV camera in this guide. Let's look at why that is.
Most who have reviewed the RunCam Eagle 800TVL agree that it exceeds all expectations. It performs well under trying conditions. That's not something all tiny cameras can claim. It works well on bright sunny days, overcast days, indoors, at twilight, and at night time. It even comes with an extra LED bar although this is more for cosmetic purposes than function.
The Weyland RunCam Eagle weighs around 16 grams. It's not the lightest camera but it's still light enough and very capable. The outer construction is durable magnesium alloy material. This makes it strong and shock-resistant. A durable camera is exactly what you want if you're into drone racing, After all, those crashes and collisions are inevitable at every skill level.
The Conclusion
The improvements on the earlier Eagle 1 are clear to an observer. The most notable are night vision optimization for flying in poor light conditions and the upgraded build. Whether the extra cost is worth it depends on what FPV experience you hope to have.


Tech Specs
Camera dimensions: 1 x 1.2 x 1″
Weight: 16g (0.6 oz.)
Camera resolution: 800TVL
Field of View (FOV): 140°
Feature: Global WDR Aluminum Case
The Pros
Amazing quality for an FPV camera costing less than $45
Works in all light conditions both indoors and out
Shock resistant metal build
Good instructions
Includes decorative LED bar
The Cons
Cost more than the competition