7 Amazing First Person View (FPV) Drones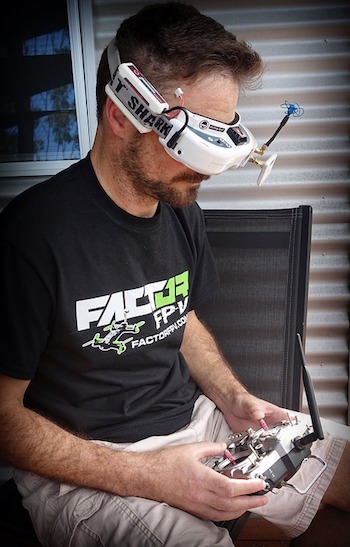 Consumer drones have become big business in recent years. Not only have these flying machines gotten better but the prices have shot down. That's great news for everyone. Some people love to just fly these things; others like to take aerial photographs and record video. Many pilots enjoy both pursuits? Even kids can take to the sky now thanks to the plethora of cheap toy drones available.
Now there's a new game in town and it's gaining momentum. I'm talking about the phenomenon of drone racing. Drone racers compete in First Person View or FPV for the ultimate experience. FPV works by letting the pilot (that's you) see what your drone's camera sees on a screen in real-time. It's not only for drone racers, though, it's a flying experience for all enthusiastic drone pilots to enjoy.
Feel free to jump straight to the reviews if you already know what FPV is and just want to view the best products available. Keep reading this short intro if it's all new to you.
How to Experience FPV
There are three ways to experience flying drones in First Person View:
Using a screen, i.e. smartphone, tablet or transmitter display
Via a monitor like a notebook computer
Through FPV goggles: this provides the most immersive experience of all
You may be wondering why not just lift your head up and keep an eye on your drone that way.
The Real Advantages of First Person View
Not everyone wants or needs FPV. All drone operators had to fly their unmanned aerial vehicles (UAV) by Line Of Sight (LOS) up until more recent times. This is still popular for the most part. But the demand for FPV increases as technology improves and drones fly further, higher, and faster.
Here are the main disadvantages of flying by LOS.
You can only fly for as far as your eyes maintain visual contact
You cannot fly your drone to places obscured by you
You can't see what your camera sees so recording footage is hit and miss
Now you can appreciate the real advantages of flying a drone in First Person View. You see what your camera sees and thus become the eyes in the sky. But you need to wear FPV goggles for the ultimate and most immersive FPV experience though. No other method comes close. A quality drone and a decent pair of FPV goggles are the nearest you'll ever get to being a flying human.
It's hard to put into words the exhilarating experience that comes from FPV and especially when racing. It's the closest you'll ever get to being a bird without actually leaving the ground. Those who experience flying quadcopters in FPV never look back.
How It Works – The Basic Setup
Before we launch into the reviews it's important to just look at the basic FPV setup and how it works. I won't go into individual products here as I have a page dedicated to accessories.
Here's a really simplified version of events:
The drone's camera captures the aerial footage
The camera sends the feed to the drone's remote controller (transmitter)
The feed is then converted or translated as a live image on a compatible display
This display is often a popular mobile device like a smartphone phablet or tablet. The quality of the display depends on the display screen itself and the quality/capability of the camera. The distance you can experience FPV will also depend on the drone and its transmitter. Those who enjoy FPV on a mobile device are soon keen to experience the real deal via FPV goggles.
As this guide is about FPV capable drones I won't get too involved about equipment here. If you want to consider FPV goggles keep these five points in mind.
Screen Resolution (the higher the better)
Field of View (FOV): the wider the FOV the more you can see
Head tracking (optional): lets you control camera movements with your head
Style: it's wise to look for comfort before design
Price: too cheap will be a letdown and a false economy
About My FPV Reviews
Although I write these reviews they're not just about me and my preferences. This is a factor but it's not the only one. To ensure I bring you the best FPV quadcopters available I take other things into consideration too. These include opinions of industry experts and also feedback from real users. Now let's get into these no-nonsense reviews and introduce you to some of the best FPV drones around.
The table below shows the seven best picks available at the time of writing. I have included FPV beginner-friendly drones at the top, followed by FPV racing drones. The picks at the end of this guide are FPV camera drones aimed at aerial photographers and videographers at the prosumer level.
Beginner-Friendly FPV Drones
This guide looks at the popular First Person View quadcopters but you can find capable hexacopters and octocopters with FPV as well. I have separate guides for these so please refer to those if that's where your interest lies. My first two picks are beginner-friendly quads. The first one is suitable for smaller kids—under the supervision of someone older of course.
Racing FPV Drones
Drone racing is growing at an exciting rate. Drones for racing are not the same as camera drones that pilots fly to take aerial photos and video. Racing unmanned aerial vehicles (UAVs) are typically quadcopters built for the purpose. If you're keen to get into FPV racing events then keep reading.
Camera/Video Recording FPV Drones
Camera drones are the most popular of them all. Holiday snaps will never be the same again. With these flying robots you can enjoy aerial photography and videography at the fun level or something more serious. First Person View lets you take filming and photography to places you may not otherwise have gotten to if it weren't for the FPV capability.