5 Best FPV Goggles in 2019
3D Insider is ad supported and earns money from clicks, commissions from sales, and other ways.
Drone flight is pretty fun on its own, but drone flight using FPV goggles is absolutely something else. If you've ever wanted to be inside the cockpit of a plane, then seeing through your drone's camera using FPV goggles might be as close of an experience as you're going to get without having to get a pilot license.
As you can imagine, FPV goggles are quite expensive, but not all of them are made equal. If you're thinking of taking the dive into FPV drone flight, then we've scoured the very best (and worst) FPV goggles out in the market today, so you don't have to. Check out our list below of the best and most highly recommended FPV goggles that you can buy in 2019!
What to look for in FPV goggles
1. Display resolution
Most drone cameras are capable of transmitting real-time video at 1080p resolution, but this may be all for naught if the display of your FPV goggles is limited at a lower value. The resolution of FPV goggles is one of the primary factors that influence its price tag, as it's also one of the more important. High-resolution FPV goggles may fetch a pretty price, but they also make the most out of your drone's onboard camera and massively enhance the FPV flight experience.
2. Aspect ratio
Drone cameras (and practically all casual-use cameras) output videos at either 16:9 or 4:3 aspect ratios. When selecting FPV goggles, the important thing is to make sure that the aspect ratio of your goggles' display lenses matches those of your drone's camera. While it's possible for different aspect ratios to adjust to each other, it results in a good amount of necessary distortion to account for the shrinkage or expansion.
3. Field of view
While the field of view of drone cameras can go upwards of 90 degrees in any axis, the field of view of FPV goggles is typically much smaller. Even high-end FPV goggles are limited to about 50 degrees or less. With this limitation in mind, it bears stressing that a larger field of view will always be better in terms of immersion.
4. IPD settings
The IPD or inter-pupillary distance indicated how far the two lenses of the FPV goggles are spaced apart according to the distance between your eyes. Since the actual distance between the eyes of different people varies, it's worth the added cost to get FPV goggles that come with an adjustable IPD.
5. Head tracking feature
While head tracking isn't an absolute necessity, it can make the FPV flight experience so much more immersive and entertaining. With a head tracking feature, your drone's onboard camera will adjust according to the movement of your head. This is a nifty little feature that can help make up for the innately limited field of view of FPV goggles.
6. Build and design
Last but not least, you need to consider how well-made the FPV goggles are in terms of design and build quality. More than choosing goggles based on how cool they look (although that's also an important factor), you'll have to consider how comfortable the goggles will feel after a few hours of wearing them.
Are the goggles pressed against your face, or are they sitting on the crown of your head? Do they come with a breathable cushion and a removable face mask? These may be minor details, but you'll be glad to have asked these questions in the long run.
The top 5 best FPV goggles in 2019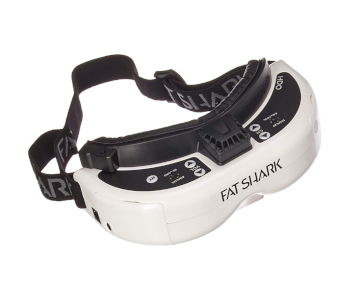 Editor's rating: 4.8/5.0
Our top pick goes to the flagship FPV goggles of the FatShark brand, which has managed to build a nice name for themselves in the field of FPV flight. The HDO FPV goggles are the first to come with super-bright OLED displays, which help deliver super-crisp videos with vivid colors and nice contrast. If you want the best video quality in your FPV goggles, then the FatShark HDO is an excellent choice.
The 720p dual display is complemented by a 37-degree field of view and an IPD that can be adjusted from 59 to 69 millimeters. FatShark goggles have a signature sporty look that helps give them a small footprint and a lightweight build. All things considered, the FatShark HDO may be some of the most comfortable FPV goggles you can get for long FPV flight sessions.
The FatShark HDO may be one of the best FPV goggles that money can buy which is a relief because it's pretty expensive. On top of the near-$500 price tag, you will also need to buy a separate receiver module to use the FatShark HDO with your drone. These FPV goggles do not come with a head-tracking feature by default. Instead, you'll have to buy a separate head-tracking module. All these add-ons make the FatShark HDO one of the most expensive ways that you can go into FPV flight.
Despite the price tag, the FatShark HDO remains a fairly popular choice because it's simply one of the best. There are few that can rival the display quality that the FatShark HDO offers. For this reason alone, the FatShark HDO deserves to be in your shortlist of FPV goggles to buy.
Tech Specs
Resolution: 720p
Field of view: 37 degrees
Aspect ratio: 4:3
Weight: 186 grams
PROS
Bright OLED screens
Adjustable IPD
CONS
Expensive
Does not come with receiver
No head tracking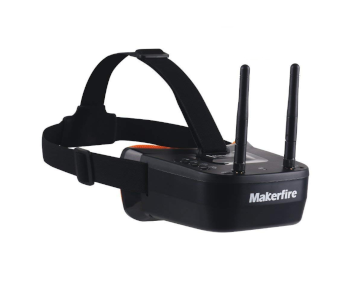 Editor's rating: 4.5/5.0
Right off the bat, we'll tell you the best thing about the MakerFire FPV Goggles: they cost less than $50. These are great entry-level goggles for drone pilots who just want to test out FPV flight but aren't willing to commit to a huge expense. It's also one of the most user-friendly FPV goggles we've seen with intuitive menus and clearly labeled buttons.
Another thing to note is that these goggles really live up to their "Mini" moniker. They are incredibly small and lightweight. The carrying case that comes with the goggles is a great added bonus, as it even offers extra space to stash more gear such as charging cables.
The 480p resolution may seem less underwhelming when viewed in the context of the MakerFire's measly price tag. It's not all bad, though, as its low-power output helps the goggles last up to 2.5 hours on a single battery cycle. This should be more than enough for an entire afternoon of drone flight.
Another minor quibble we have with these goggles is the fact that the face cushion fails to completely block out light from the surroundings. This is an immersion-breaking flaw, but we suspect it can be easily remedied with some customization.
We're willing to let a lot of the flaws of the MakerFire Mini FPV Goggles pass because of how much cheaper it is compared to the other entries in this list. While these goggles won't help you be an FPV drone racer anytime soon, they are a good option for messing around with FPV flight for the first time.
Tech Specs
Resolution: 480p
Field of view: no info
Aspect ratio: 16:9
Weight: 180 grams
PROS
Cheap
Compact and lightweight
Comes with carrying case
Long battery life
CONS
Poor resolution
Poor fit on face cushion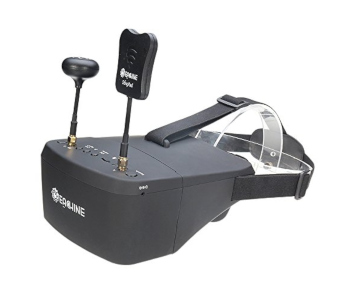 Editor's rating: 4.7/5.0
For FPV goggles that cost just a bit more than $100, the EACHINE EV800D certainly punches way above its weight class. It has a super-bright 720p LCD screen, low latency via the Diversity RaceBand 40ch Auto-Searching receiver, and the widest field of view that we have seen.
One of the more unique characteristics of the EV800D is its removable display. In case you're not up to wearing the goggles for FPV flight, the LCD screen of the EV800D can be separated and mounted on your controller. We like how this feature virtually eliminates any need for you to use your phone as a video receiver during drone flight.
The visible angle of the EV800D is an impressive 82 degrees, but the display itself spans 140 degrees horizontally and 120 degrees vertically. This exceptionally wide field of view makes the EV800D one of the most immersive FPV goggles in the market today. The ability to switch between 16:9 and 4:3 aspect ratios is also a pretty rare feature that makes the EV800D a versatile pair of FPV goggles for different drones.
The biggest drawback of the EV800D is easy to spot at first glance: it's absolutely huge. With its thick display and integrated receiver, the EV800D is easily one of the bulkiest and heaviest FPV goggles that you can get. As a consequence, wearing the EV800D for a few hours on end can prove to be very uncomfortable.
If bang for your buck is what you are after, then we can't recommend anything better than the EV800D. It's a very budget-friendly pair of FPV goggles that come with a couple of premium features. The size and weight might prove to be a deal-breaker for some, but these should not be big issues if you can manage the time spent wearing the EV800D.
Tech Specs
Resolution: 720p
Field of view: 82 degrees
Aspect ratio: 16:9; 4:3
Weight: 362 grams
PROS
Cheap
Great resolution
Wide field of view
Removable display
CONS
Heavy and bulky
Uncomfortable when worn for a long time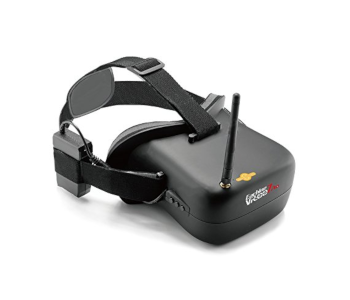 Editor's rating: 4.3/5.0
Up next is a budget option from the popular EACHINE brand. This one costs about half of the EV800D, making it a great choice for beginners to FPV drone flight or as backup FPV goggles. Despite the modest expectation we have for these budget FPV goggles, it does offer quite a few nice surprises.
The 480p video display on a standard LCD screen is nothing beyond what we expected, but we like how these goggles offer the option of switching between 4:3 and 16:9 aspect ratios. The LCD screen is made for 4:3, though, so expect a bit of cropping when switching over to 16:9.
At 217 grams, the VR-007 Pro isn't quite as heavy as the EV800D. but it is still a pretty bulky piece. EACHINE somewhat makes up for this burden by designing the VR-007 Pro with a three-point fillet that helps reduce the pressure that the goggles put on the face of the user. Through the help of the central strap and a very soft face cushion, the VR-007 Pro is a bit more comfortable compared to its heavier and more expensive cousin, the EV800D.
These goggles are far from the best and probably won't compare favorably with any other pair at a higher price range. However, if you're looking for your first pair of FPV goggles, then you can do so much worse than the VR-007 Pro. They are reliable and easy to use – just expect that you'll outgrow them pretty quickly.
Tech Specs
Resolution: 480p
Field of view: No info
Aspect ratio: 4:3; 16:9
Weight: 217 grams
PROS
Cheap
Comfortable harness
Adjustable aspect ratio
CONS
Somewhat heavy
Poor resolution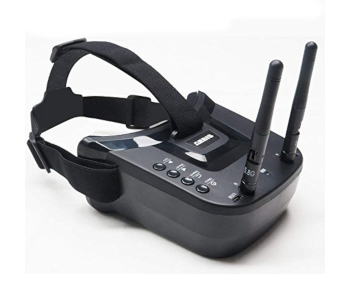 Editor's rating: 4.0/5.0
The ARRIS FPV goggles is another budget pair that costs even less than the MakerFire. Its features are nothing to write home about, but they are serviceable enough considering the price. Again, these are good for entry-level use but are a bit too basic for anything more advanced or competitive.
To start off, the 480p video resolution on a 3-inch LCD screen is decidedly unimpressive. The small screen may turn off a lot of users, as it means that you'll need to squint to see any fine details. While these goggles won't win you any drone races, the display is bright enough and can boast of brilliant colors and good contrast. The built-in RaceBand 5.8 GHz 40ch receiver also does a satisfactory job of keeping the latency of the video feed low.
The chief benefit of using a low-power, somewhat basic pair of FPV goggles such as the ARRIS is that there's a lot less hardware that you need to wear on your face. With its compact and lightweight build, wearing the ARRIS FPV goggles over long stretches shouldn't be much of a problem.
Overall, while we wouldn't describe the ARRIS FPV Goggles as impressive, it certainly is hard to beat in its price range. If you're on a really tight budget, then these FPV goggles are some of the cheapest that you can find today that doesn't completely skimp on quality.
Tech Specs
Resolution: 480p
Field of view: No info
Aspect ratio: 16:9
Weight: 183 grams
PROS
Cheap
Small and lightweight
CONS
Poor resolution
Small screen
Final thoughts
No matter what level of experience you have as a drone pilot, flying using FPV goggles will always be highly amusing. It does take a little getting used to, so we don't recommend getting high-end FatShark goggles if it's going to be your first time. Just like basic drone flight, flying well through FPV goggles takes time and practice.
The good news is that you won't need to spend a fortune to start your FPV drone flight journey. There's a bunch of affordable FPV goggles available right now, and we've provided some of them on our list.