6 Best Gaming Microphones for 2020
3D Insider is ad supported and earns money from clicks, commissions from sales, and other ways.
A comfortable mouse and responsive keyboard are a gamer's most prized tools. When it comes to multiplayer, though, even the best peripherals can't help your team achieve victory if communication isn't on point. It's easy to be misheard or ignored with all the explosions, gunfire, and maniacal laughter. Having a microphone that can cut through the noise and let you be heard is indispensable.
Gaming microphones have come a long way in the past decade. A microphone was once something you'd use for Skype calls and choppy raid coordination over TeamSpeak. Now they're as sophisticated as studio recording equipment. Modern gaming mics feature multiple polar patterns, precise controls, and noise-canceling properties that make sure the outside world doesn't interfere with your strategy talks.
We've put together a selection of the six best gaming microphone picks available today. These sophisticated sound recorders bring out the best in your voice and let your teammates experience what you actually sound like. Some help you lead a squad to victory at one moment and record an acoustic song right after, while others are lightyears ahead of stock headphone mics while costing next to nothing. Pick the gaming microphone that sounds the best and never be misunderstood again.
Budget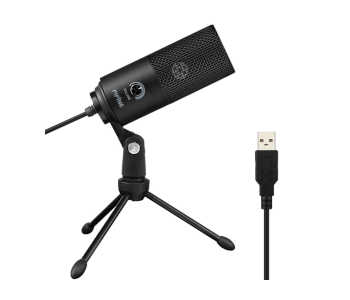 Fifine K669B
4.1/5.0
Weight: 14.1 oz.
Frequency range: 20 – 20,000Hz
This works well for voice recordings.
Check Amazon
Best Value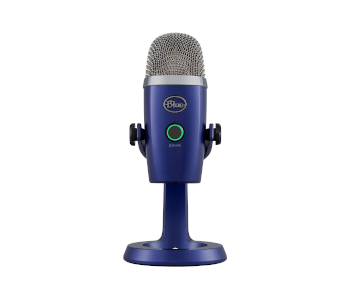 Blue Yeti Nano
4.5/5.0
Weight: 1.4 lbs.
Frequency range: 20 – 20,000Hz
As capable as the Blue Yeti but more compact.
Check Amazon
Top Pick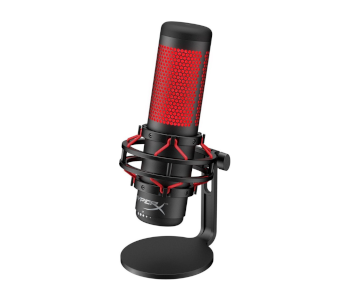 HyperX QuadCast
4.8/5.0
Weight: 1.6 lbs.
Frequency range: 20 – 20,000Hz
Exceptional sound quality and versatility.
Check Amazon
Gaming Microphones Comparison Table
1. Best Overall – HyperX QuadCast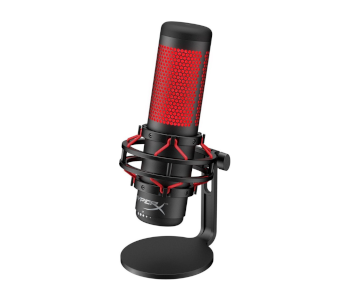 View on Amazon
Editor's Rating: 4.8/5
HyperX has been among the leading gaming peripheral manufacturers for years, and the QuadCast is its first attempt at a dedicated streaming microphone. The attempt was a resounding success as the QuadCast brings innovation, style, and versatility into an otherwise stale market. It's intuitive to use and delivers a rich, warm sound that accentuates your voice.
Overview of Features
The QuadCast's design is truly refreshing in a space where most microphones conform to tradition. Its most eye-catching element is the red pop filter encased in a honeycomb mesh. Turning the QuadCast on emits an unobtrusive glow from it that won't distract you. At the same time, you'll always know when you're on the air and can more easily avoid saying something not meant for the audience.
The QuadCast comes on a shock mount whose elastic bands do much to minimize unwanted noise. You might find it too short, though, which is why the mount can be attached to any standard boom arm.
The microphone's controls are intuitive, especially the mute button. Its upper lid is made from rubber. Pressing it mutes the sound, giving you quick access to a vital action other microphones don't handle as smoothly. There's a gain knob along with a 3.5mm jack for monitoring headphones that are indispensable for voice quality control. Better yet, the QuadCast has an audio passthrough, meaning you can route the sound Windows puts out into it and listen to a game and your voice at the same time.
Even though you'll likely depend on the cardioid pattern the most, QuadCast offers a total of four. Bidirectional and stereo are useful for interviews and guests, while omnidirectional comes in handy if there's a room full of your friends who want to be heard. You switch patterns with a stiff knob that clicks when used, so you'll never have to guess which pattern is in use.
The QuadCast's sound quality is excellent. It has a 48 kHz sample rate with 16-bit depth, more than enough for high-quality voice reproduction. The sound is warm and bass-heavy, so you'll sound even more appealing if you have a deep voice.
What We Didn't Like
The QuadCast is positioned lower than most competitors. Considering it's a side-address microphone, you'll have to either lower your head or invest in a boom arm for the best results. A dedicated pop filter is another item to consider as the built-in one doesn't completely eliminate sharp sounds.
Tech Specs
Dimensions: 5 x 4 x 9.8 in.
Weight: 1.6 lbs.
Bit and sample rate: 16-bit, 48 kHz
Polar patterns: Stereo, Omnidirectional, Cardioid, Bidirectional
Frequency range: 20 – 20,000Hz
The Pros
Exceptional sound quality and versatility
Monitoring jack with passthrough
Intuitive controls and recording indicator
Stylish gaming look
The Cons
Too short for use without boom arm
Pop filter doesn't handle sibilants well
2. Best Value – Blue Yeti Nano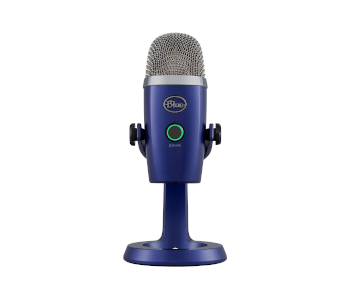 View on Amazon
Editor's Rating: 4.5/5
The original Blue Yeti remains one of the most successful gaming microphones to date, but Blue has been hard at work to produce a simpler, cheaper version to reach even more users. The Yeti Nano retains its older brother's crisp sound and straightforward use. However, it has only two polar patterns and is smaller. It's the perfect choice if you want to save a few bucks without compromising on quality.
Overview of Features
The Yeti Nano is a USB condenser mic that looks like a smaller, squatter version of the original. It's available in four colors and has an on/off switch that turns green when recording and red when you mute it. There are indicator LEDs of either polar pattern, too, meaning you'll always know what settings are active at a glance.
The best thing about the Yeti's physical characteristics is its mount. It has two side screws that loosen their grip on the microphone and allow for angle adjustment. The mount is also high enough for the Yeti Nano to be used without a boom arm. Even so, there's a standard thread on its bottom if you need one.
Unlike the QuadCast, Yeti Nano is a mic that focuses on bringing out mids and highs. You can help boost the bass by increasing the gain and speaking closer to it, though. Monitoring your voice is easy thanks to a 3.5mm headphone jack. The signal delivered to your PC and headphones is instantaneous, meaning you hear everything as you're saying it with zero latency. There's no Digital Signal Processing or DSP either, which makes your voice sound more natural while still allowing for adjustments through an equalizer.
The Yeti Nano has two polar patterns. Cardioid is focused on a narrow source in front of the microphone, while omnidirectional picks up sounds from the room better without a decrease in quality. That's because each pattern has a separate capsule instead of switching patterns digitally.
What's Bad About It?
The Yeti Nano doesn't have a physical gain button, forcing you to adjust it through the Sherpa software instead. That being said, the default gain level will do fine for most users. You might need to consider buying a separate USB cable as the one supplied with the mic is prone to disconnecting.
Tech Specs
Dimensions: 4.3 x 3.8 x 8.3 in.
Weight: 1.4 lbs.
Bit and sample rate: Omnidirectional, Cardioid
Polar patterns: 24-bit, 48 kHz
Frequency range: 20 – 20,000Hz
The Pros
As capable as the Blue Yeti but more compact
Adjustable swivel mount
Latency-free headphone monitoring
Great value for the money
The Cons
Gain is controlled via software
Comes with low-quality USB cable
3. Razer Seiren Elite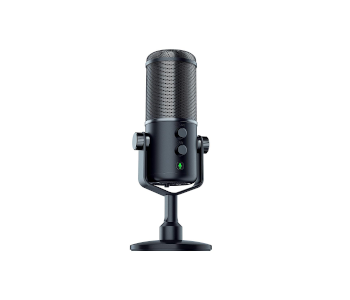 View on Amazon
Editor's Rating: 4.6/5
A quiet room is essential for quality game commentary, but eliminating background noise is impossible with the constant whir of PC fans and the AC in summer. Luckily, Razer has developed the Seiren Elite, a microphone that intelligently uses DSP in a minimalistic attempt to curb background noise. It's a stellar performer for voice recording that's just short of being too expensive for its use.
Overview of Features
The Seiren Elite sports a more traditional look than the last two microphones. It comes in black, white, or pink, and is bare in the front. You'll find two knobs on the backside; one for adjusting gain and the other for controlling headphone volume. There's an LED ring underneath the grille that turns red if you reach peak levels and is useful for gauging the gain and optimum speaking distance.
The inclusion of DSP is the Seiren Elite's stand-out feature. Purists would typically scoff at this because it noticeably alters the original input signal and trades frequency muting for quality. However, the DSP here is subdued and can be turned off with a switch. You'll want to leave it on if your environment is noisy as signal digitization eliminates both low rumbles and high hisses. In a practical sense, this means there's much less noise coming from a neighbor's subwoofers or your clacking Cherry MX blue mechanical keyboard.
Like the Yeti Nano, Seiren Elite has lag-free headphone input. It also comes with a cloth-covered USB cable that isn't prone to bending and is one of the longest we've seen supplied with gaming mics. A protective cover is another accessory you'll appreciate. It goes over the grille and helps further reduce ambient noise as well as plosives. It covers up the peak ring, but figuring gain levels out before putting the cover on makes this a non-issue.
Supercardioid is the Seiren Elite's only polar pattern. It's all you need as the pattern focuses on sounds in front of the microphone and excludes everything else. The sound it records is bright and vibrant. There's no tonal preference, so highs sound as clean as lows. Turning DSP does have an effect on lows, however, so keep it in mind if you have a booming voice.
Are There Drawbacks?
Razer's Seiren Elite is the most expensive microphone on review, and few of its features justify paying $60 more for it instead of going for the QuadCast. Turning the gain up introduces audible hissing that gets worse as the mic gets louder. This is only a problem in silent environments, and your friends likely won't notice it over the sounds of a game.
Tech Specs
Dimensions: 3.5 x 2.7 x 8.5 in.
Weight: 2.1 lbs.
Polar patterns: Supercardioid
Bit and sample rate: 16-bit, 48 kHz
Frequency range: 50 – 20,000Hz
The Pros
Excellent background noise-canceling features
Long and supple USB cable
Robust stand
Visual peaking indicator
The Cons
Expensive
Produces hissing at high gain levels
4. Rode NT-USB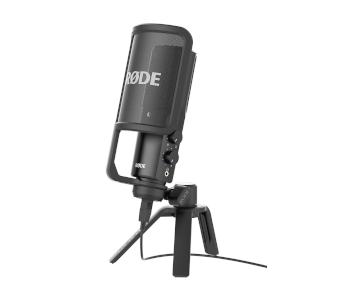 View on Amazon
Editor's Rating: 4.4/5
Rode is a name audiophiles associate with studio-level quality, and the NT-USB is its successful attempt at bringing that quality to the masses. This is the microphone to get if you're solely focused on crystal-clear input and your voice sounding as natural and rich as it can. It's a pleasure to use, looks classy, and delivers excellent results with minimal tinkering.
Overview of Features
The NT-USB is among the best-looking microphones on the list. Its slim profile and matte black exterior radiate an air of professionalism yet look cool when you're streaming your gaming sessions. The microphone is propped up by a thin tripod and comes with an effective pop filter that stops plosives from making your voice sound weird. Both accessories look spindly and frail yet are surprisingly stable.
The controls are located on the NT-USB's right side and easy for newbies to pick up. There's a headphone jack along with knobs for gain and headphone volume adjustment. The NT-USB connects to PCs, Macs, and even iPads with an excellent 20-foot cable, letting you position it away from electronics and hums if you're playing with a wireless controller.
The single cardioid polar pattern lends itself well to noise-free voice recording. It captures sound in front of the NT-USB while eliminating background noise and reducing sideways distractions into barely audible hums. People could be having a conversation in an adjacent room, and it will be muffled enough to be drowned out by sounds of gunfire or spellcasting.
The NT-USB provides some of the cleanest, most natural-sounding recordings you'll get from a USB microphone. Voices have transparency and warmth to them you'd associate with studio-grade gear. The capsule is focused, but not so much that you'll have to spend an eternity figuring out what position and distance to assume.
What We Didn't Like
The NT-USB doesn't come with a shock mount. Its tripod does nothing to reduce the impact of vibrations, so expect audible table bumps and mechanical keys if you don't get an aftermarket mount. While they're well-made, the knobs aren't notched. It's easy to get confused when handling them during a heated deathmatch since you won't intuitively know the current levels.
Tech Specs
Dimensions: 2.4 x 2 x 7.2 in.
Weight: 1.1 lbs.
Polar patterns: Cardioid
Bit and sample rate: 16-bit, 48 kHz
Frequency range: 20 – 20,000Hz
The Pros
Produces crisp, natural-sounding recordings
Effortless setup and use
Comes with a good pop filter
Slim yet sturdy
The Cons
Lack of shock mount makes bumps and keystrokes more noticeable
Hard to tell knob position without looking
5. Blue Snowball iCE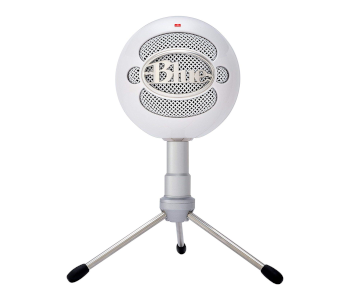 View on Amazon
Editor's Rating: 4.2/5
Blue makes another appearance on our list, this time with the more affordable version of the well-received Blue Snowball. iCE retains the original's unmistakable shape and clear sound while getting rid of polar patterns unnecessary for gamers. It's a definite step up in quality from headphone and bargain bin standalone mics, and an inexpensive upgrade your teammates will appreciate.
Overview of Features
The first thing you'll notice about the Snowball iCE is its spherical shape. The microphone could easily roll off your desk, were it not for the steel tripod thread on its bottom. There's also a superb plastic tripod with legs made from steel. It gives the iCE increased stability and helps it resist accidental bumps.
The microphone itself is simply designed. There are no dials to confuse the novice as the gain is handled through Sherpa. They lack a monitoring jack and associated volume knob, too, so you'll have to spend some time playing with the settings and figuring out the perfect position in relation to the mic. However, that comes down to preference since voices sound crisp whether you're speaking directly into the microphone or from several feet away.
Blue had to cut corners somewhere, and we're glad that sound quality was left intact. The iCE relies on a capsule with the cardioid polar pattern to deliver pleasant-sounding voices to your computer. It doesn't have DSP, meaning you'll have to take care not to shout and distort the input. On the other hand, this omission increases input quality and brings out your voice's fullness.
Snowball iCE is recognized by most voice recording software right away and is usable even without installing Sherpa. Its system and SO requirements are generous, letting you take full advantage of the increase in sound quality even if you're running older hardware. The iCE's own hardware limits its sample rate to 44 kHz, but that's a negligible drawback considering its use and price-
What's Bad About It?
The Snowball iCE should be moved as little as possible due to a fragile USB cable. Its connectors bend easily with movement and will make the cable unusable if you don't keep the mic stationary. Blue's quality control for cheaper microphones isn't rigorous. Your Snowball iCE might be just fine, or it might have low audio quality and random volume fluctuations. The warranty covers these eventualities, but getting a replacement is frustrating nevertheless.
Tech Specs
Dimensions: 2.4 x 2 x 7.2 in.
Weight: 1.7 lbs.
Polar patterns: Cardioid
Bit and sample rate: 16-bit, 44 kHz
Frequency range: 20 – 20,000Hz
The Pros
Great audio quality for its price
No DSP
Comes with sturdy tripod
The Cons
Fragile USB cable that might stop working if moved frequently
Quality control issues
6. Best Budget Option – Fifine K669B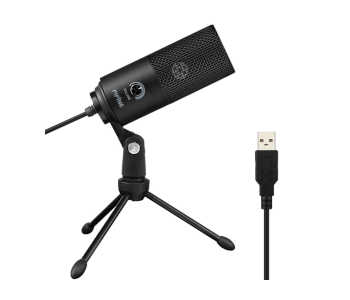 View on Amazon
Editor's Rating: 4.1/5
Dropping $100 or more on a microphone might seem ridiculous to someone who'll only be using it to communicate with friends in-game. The Fifine K669B is a condenser mic with your name on it if you feel this way too. It exceeds expectations for sound & build quality, holding its own against much pricier models.
Overview of Features
The K669B pleasantly surprises with its appearance and build. Available with either a black or dark pink finish, the mic wouldn't look out of place at a gathering of models that cost five times as much. Fifine deserves a commendation for managing to make the microphone's body out of metal while keeping its price low.
The only thing that hints at its lower price from the get-go is the fixed USB cable. You can attach the microphone to the included tripod and swivel it until you find the right angle, or use a compatible accessory if that is too low.
Using the K669B is as simple as it gets. The mic is plug & play and works flawlessly on any system built in the last decade. Its physical controls are limited to a volume dial that doubles as the on/off switch. It limits the input required to pick up sound a, and you can combine the setting with software-specific settings to reduce background noise.
Are There Drawbacks?
The 669B has a flimsy stand. It's made from cheap plastic and will need to be handled carefully to avoid breaking. This is another microphone that handles plosives poorly, leading to audible pops. You might get away with it when gaming with friends, but a pop filter is a must if you intend to stream gameplay.
Tech Specs
Dimensions: 4.9 x 2.6 x 7.3 in.
Weight: 14.1 oz.
Polar patterns: Cardioid
Bit and sample rate: 16-bit, 48 kHz
Frequency range: 20 – 20,000Hz
The Pros
Good build quality
No setup required
Works well for voice recordings
Excellent value for the money
The Cons
Needs a pop filter to mitigate plosives
Flimsy tripod prone to breaking