7 Best Hexacopters of 2019
3D Insider is ad supported and earns money from clicks, commissions from sales, and other ways.
One for Every Budget – Beginners to Advanced
Just as you're getting comfortable with quality camera quadcopters in come the hexacopters. So what's the difference between a quadcopter and a hexacopter and why should you care?
Well, for a start a quadcopter only has four motors whereas a hexacopter has six. Having six powerful propellers instead of four has some major advantages for drone pilots—but only if you need them.
I always advise readers of my guides to know their wants and needs before they buy any unmanned aerial vehicle (UAV). In other words, don't spend money on something you have no use for.
Budget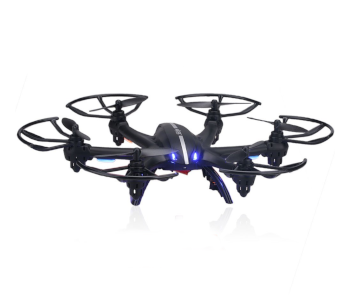 MJX X800 Mini-Hexacopter
3.9/5.0
Range: 150 m
Flight Time: 10 minutes
Faster hexacopter in the X series, handles well in wind, LEDs for night flying.
Check Amazon
Best Value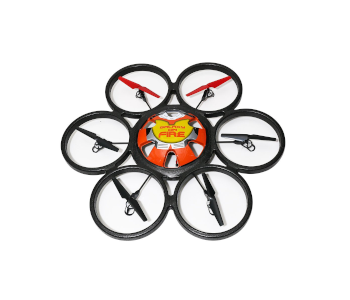 WL Toys Skywalker V323
4.1/5.0
Range: 150 m
Flight Time: 12 minutes
It's huge for a toy-grade drone, super easy to fly, and performs 360 flips.
Check Amazon
Top Pick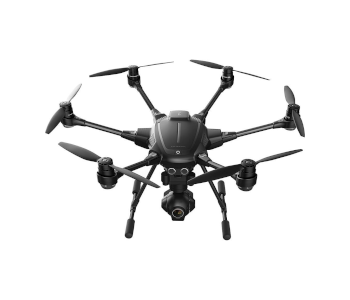 Yuneec Typhoon H Pro
4.3/5.0
Range: 1.6 km
Flight Time: 25 minutes
Wide-angle lens, can fly on five rotors if one motor fails, ST16 controller.
Check Amazon
Items by price:
More Hexacopter, More of Everything
Hexacopter vs quadcopter, what's it to be?
More motors, more propellers, and a higher price tag means there's more to go wrong (potentially) and more to lose if that happens. There are also plenty of good things to consider.
Here are some of the major advantages of a hexacopter over a quadcopter:
Hexacopters have more power and that means better elevation and faster speeds
The design of a typical hexacopter has better safety features than a quad
Hexacopters are built to carry higher payloads and are more stable
Enhanced control capabilities provide flexible flying and more stability in the air
There are some downsides too, the most notable of these are:
Hexacopter are generally more expensive than quadcopters
They're bigger, making it difficult to impossible for shooting in tighter spaces
Higher maintenance costs, especially motors
Some of you reading here will already know why you want a hexacopter and are keen to view your options. Others are here out of curiosity and will be wondering if they should make the switch.
About these Hexacopter Reviews
I write all my drone reviews in an easy-to-understand format. I don't use unnecessary jargon when there are simpler ways to explain a thing. No one—at any level—ever complains about easy reading.
I base these mini-reviews on expert opinions, real user feedback, and personal experiences with some drones. We look at flying ability, handling, photography, and video capabilities.
What we have here are seven of the best designed and value for money hexacopters at the time of compiling this guide. There's something here whether you're an amateur or prosumer/professional.
I've organized the drones in this guide by price category (cheapest to most expensive) with the editor's best rated at the top of each category. At the end of each review is a table with specs, pros, and cons.
Here are my top seven hexacopters in the order they appear in this buyers guide:
Hexacopters Comparison Table
Hexacopters Under $100
It's true that quadcopters are generally cheaper than hexacopters. Even so, I didn't have to search far before I came across some very competent six rotor crafts for under 100 bucks.
1. Top Race® Mini Hexacopter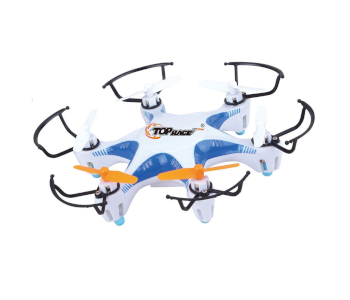 View on Amazon
This is an inexpensive hexacopter making it an ideal toy for supervised kids. It's also a lot of fun for anyone who loves flying tiny drones in tight spaces as a way to develop their piloting skills:
Best feature 1: Metal and durable plastic construction
Best feature 2: Three speed options, low/normal/high
Plus points: Well-made craft, fun and fast to fly (mode 3), crash resistant
Minus points: In-built battery, limited life expectancy
A mini hexacopter is not the most common sight but it probably should be. The Top Race® Mini has a UFO type design that flies just like a spaceship—with a little help from the user of course.
This is a tough well-made little hexacopter that survives those inevitable crashes and collisions. And the three speed-modes help new pilots to get to grips with the controls in their own time.
What you have here is a perfect flying robot for less than 30 bucks. It won't last forever, but it certainly gives plenty of joy while it holds out.
A couple of negative points would have to be the tiny size of the remote controller (RC) and the inbuilt battery. The RC is just a bit too small for some hands. The inbuilt battery means you have to wait for it to recharge before you can take back to the air. Flight time is around 10 minutes but the battery recharge time is only 20 minutes, so that's a blessing.
The Conclusion
The Top Race® Mini Hexacopter is an amazing flyer and a great gift for first-timers. It's stable and safe to fly indoors. Be careful when flying outside as it's easy to lose because of its tiny size. The prop guards and the silicone bumpers allow you to enjoy the learning experience without worrying too much about the craft. A+++


Tech Specs
Weight: 227 g (8 oz.)
Max Flight Time: 7 minutes
Battery: Inbuilt (cannot replace)
Charging Time: 20 minutes
Control Range: 20 m (65 ft.)
Camera Type: N/A
The Pros
Affordable mini Hexacopter
Sleek design
Durable/crash resistant
Beginner to advance flight modes
Fast and fun to fly (user-friendly)
Fast recharge time
The Cons
Tiny controller
Inbuilt battery
2. MJX X600 X-SERIES Hexacopter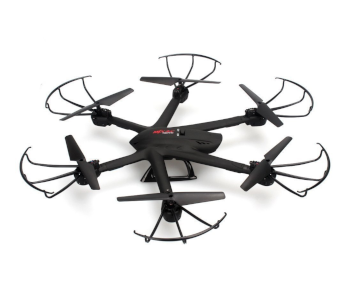 View on Amazon
If you're new to drones this little beauty will teach you all you need to know. Seriously, this is a budget-priced hexacopter that looks great and provides a lot of fun from the air.
Best feature 1: 6-axis gyro flight control system for added flight stability
Best feature 2: Three flight modes: beginner/intermediate/expert
Plus points: User-friendly features, affordable, headless mode
Minus points: No GPS which makes return to home feature a bit gimmicky
The first thing that caught my eye with the MJX X600 was the cool design. That may seem like a small point, right. But drone pilots like their hexacopters to look great as well as fly well. The six bright colorful LED lights at the bottom also add to its appeal.
What to Expect from the MJX X600
The MJX X600 has a 6-axis gyro flight control system that provides extra stability. This is especially important for a camera (not included) drone as it helps to keep aerial footage crisp and clear.
The headless feature is also great for beginner pilots. The return to home feature brings the craft back somewhere in the vicinity the transmitter. Not a precision return but pretty darn good all the same.
There's no actual GPS function and fancy flying is restricted to 3D flips. People who buy the MJX X600 Hexacopter have realistic expectations, though. They enjoy what it does have rather than protest about what it doesn't. And once you master this little baby you're ready to move on.
The Conclusion
This hexacopter is a lot of fun to fly and provides pilots with a smooth level experience. The six motors help to keep the craft steadier than quads. This helps the operator improve their aerial photography skills. It'll be difficult to find a hexacopter this capable for under a hundred bucks.


Tech Specs
Weight: 1043g (2.3 Lbs.)
Max Flight Time: 10+ minutes
Battery: 7.4V 700mAh Li-poly
Charging Time: 120 minutes (2 hrs.)
Control Range: 100 m (328 ft.)
Camera Type: Optional extra
The Pros
Fun and easy to fly
Affordable price tag
6-axis gyro flight control system
Headless mode
One Key Return function
Three flight modes
3. Best Budget: MJX X800 Mini-Hexacopter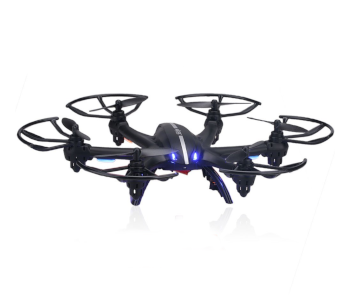 View on Amazon
Editor's Rating: 3.9/5
There's a lot to marvel over with the beautiful MJX X-800 mini-hexacopter for its price tag.
Best feature 1: Low Voltage Cutoff (LVC) alarm
Best feature 2: Slow, medium and high speeds levels
Plus points: Faster hexacopter in the X series, handles well in wind, LEDs for night flying
Minus points: Fine tuning can be a bit fiddly, difficult to remove prop guards
What to Expect from the MJX X800 Mini
It's surprisingly powerful, wind-resistant, it has a robust build, and a decent 100m flight range. It also gets quite sporty once you enter the advanced mode. The ultra-bright LEDs make the X800 idea for flying at night or in low-light conditions.
The flight time—though average for a mini-drone—is a little disappointing at just 8-minutes max. I also like to see drones come with crash protection. Unfortunately, the prop guards on this model can be fiddly to take off and put on. It's a minor point but still worth a mention for anyone with big hands.
The hexacopters headless and gravity modes make it especially appealing for beginners. Another nice feature is that it's camera-ready. That means there's an option to add a camera (not included). There's also the much loved one-key 3D roll feature that drone operators can't seem to get enough of.
There are some complaints about how fiddly it can be to fine-tune the drone. It's particularly annoying when trying to set up the MJX X800 indoors—in a tight space. For around $25, though, it's hard to find too much to gripe about considering what you get for the money.
Summing Up
Look no further than the MJX X800 Mini if you're just getting into drones or mini-hexacopters more specifically. It will give you lots of flying fun and opportunity to practice your flying skills.


Tech Specs
Weight: 544g (1.2 Lbs.)
Max Flight Time: 8 minutes
Battery: 3.7V 750mAh
Charging Time: 120 minutes (2 hrs.)
Control Range: 150 m (492 ft.)
Camera Type: Optional extra
The Pros
Affordable and fun
LVC alarm feature
Three flight speed modes
Wind/crash resistant
Decent flight range
Headless mode
Gravity mode (ideal for beginner pilots)
Bright colorful searchlight
The Cons
Awkward prop guards
Flimsy landing skids
Fiddly to fine tune
Fairly long recharge time
Hexacopters under $200
We're still in the world of beginners and hobbyists at this price range but there's change in the air (pun intended). I've included one little beaut in this section for those ready for an upgrade.
4. Best Value: WL Toys RC Hexacopter Skywalker V323 Drone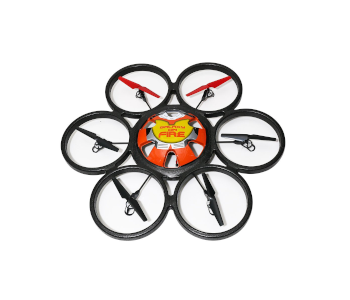 View on Amazon
Editor's Rating: 4.1/5
The WLToys V323 is the perfect choice for anyone getting serious about hexacopters. This beast is big, stable beyond belief, and lots of fun to fly. But it's not feature-packed so why is it here?
Best feature 1: 6 axis built-in gyro or gyroscope
Best feature 2: Built to withstand wind forces up to 4
Plus points: It's huge for a toy-grade drone, super easy to fly, and performs 360 flips
Minus points: Slow yaw rate, motors can get overly hot at full throttle
Some people love miniature drones, i.e. nano and micro crafts. Others like the balance of average-sized UAVs. And then we have those who think big is beautiful and far more fun. Well … the Skywalker is huge, but it's easy rather than awkward to master. It sports headless mode too.
The Skywalker V323 is ready to fly (RTF) out of the box. The flight stability of the V323 hexacopter makes it a perfect choice for the novice who's not afraid of its size. It's not much of a racer but it's certainly a good training craft. It's enjoyable to fly too—that's all most pilots ask for.
There's no camera with the WLToys RC Hexacopter but don't be too disappointed. It does have a dual clip system that allows the operator to attach a GoPro or other camera to it.
There are a few reports from users about the motors overheating when pushed too hard for too long. The solution, therefore, is not to push it nonstop at full throttle.
The Conclusion
The size and power of the WLToys RC Hexacopter Skywalker V323 impress most people. And although the short-ish flight time's a bit annoying, there's a lot more to like than to complain about. If you want to see-and-be-seen then you're ready to have some large-scale fun with this puppy.


Tech Specs
Weight: 1978 g (4.4 Lbs.)
Max Flight Time: 12 minutes
Battery: 1600 mAh 7.4V LiPo
Charging Time: 90+ minutes (1.5+ hrs.)
Control Range: 150m (492 ft.)
Camera Type: N/A (can add as accessory)
The Pros
Ready to Fly (RTF)
Easy to see, easy to fly
Headless mode
Crash-resistant
Powerful motors
Spare parts readily available
Camera ready
BIG affordable fun
The Cons
No camera included
Slow yaw rate
Motors can overheat
Hexacopters Over $200
Okay, there's quite a leap now between the other two price categories. Quadcopters seem to have something for every price increment. There's much less choice with hexacopters, though.
I have three models in this category aimed more at the serious hobbyist or prosumer. It's a major step up from what we've seen so far in this guide, with extra features and more accessories to think about.
5. Top Pick: Yuneec Typhoon H Pro Hexacopter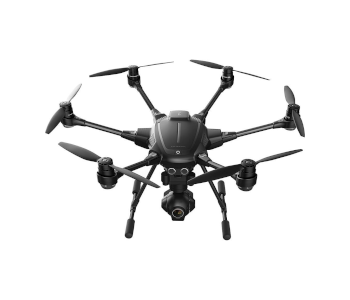 View on Amazon
Editor's Rating: 4.3/5
The Typhoon line of quality quadcopters is here. They've established a top slot on the consumer drone market. The Typhoon H Pro is no exception. Let's look at the reasons why:
Best feature 1: 360° rotating 4K-camera
Best feature 2: Fully-retractable landing gear
Plus points: Wide-angle lens, can fly on five rotors if one motor fails, ST16 controller
Minus points: Fairy long startup time, battery recharging takes a while
I chose the Yuneec Typhoon H Pro because of its popularity and advanced features. The retractable landing gear impressed me in particular as it's a rare thing for a drone in this class. The 360-degree rotating camera with its 4K video and 12MP stills is definitely worth a mention. And there're plenty of opportunities to shoot impressive aerial footage with the 25 minutes of optimal flight time.
My major gripe is the slight outer edge distortion with the wide-angle lens. It's not bad, but it's still noticeable for anyone with a critical eye. The long 2-hour charge time for batteries is another bugbear.
Overall, this is an incredibly easy hexacopter to fly. You can choose from the autonomous flight modes using the dedicated controller which has a 7″ built-in touchscreen. Modes include follow/watch-me mode, return to home, point-of-interest, journey mode, and curve cable cam.
Most who buy the Typhoon H Pro Hexacopter seem more than pleased with their purchase. They like its professional features, the price tag, and the excellent after-sales service provided by Yuneec.
The Conclusion
The Yuneec Typhoon H has everything you'd expect from a prosumer camera drone and a bit more besides. It won't check everyone's boxes but it certainly won't disappoint those who invest in it.


Tech Specs
Weight: 1800 g (4 Lbs.)
Max Flight Time: 25 minutes
Battery: 5400mAh 4S/14.8V
Charging Time: 120 minutes (2+ hrs.)
Control Range: 1.6km (1 mile)
Camera Type: 360° rotating 4K, 12MP
The Pros
Easy to fly hexacopters
Wide-angle lens
Can fly on five rotors
Retractable landing gear
Quality 360° rotating camera
Folding arms make it portable
ST16 controller with built-in Android touch-screen
The Cons
No battery indicator
Camera mount a bit flimsy
A little outer-edge distortion from the wide angle lens
Long recharging times (battery and controller)
6. DJI Matrice 600 Pro Hexacopter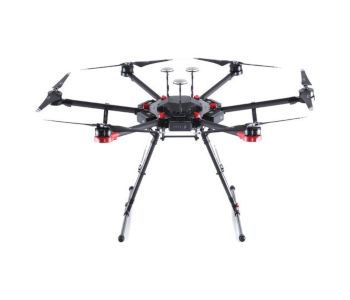 View on Amazon
This is a significant Hexacopter for prosumer and professional level pilots. It's a real workhorse of the sky too. It gives serious drone operators plenty of opportunities to be as creative as they need to be.
Best feature 1: high loading capacity (13.2 lbs., 6kg.)
Best feature 2: Sine-wave-driven intelligent ESCs
Plus points: Built to last, dustproof propulsion system, actively cooled motors
Minus points: Add-ons can prove expensive extra costs, high price tag
When you're ready for the Matrice 600 Pro Hexacopter you know exactly where you're at and where you're heading. It also looks great—but then it's not cheap—so what's with all the fuss?
Well, it's as strong as an ox—figuratively speaking of course. Its high payload capacity lets you attach an impressive range of Zenmuse cameras, gimbals, and other accessories. This really is professional aerial filmmaking at your fingertips.
The DJI Matrice 600 Pro has an impressive flight range of 5km and around 35 minutes of flight time in optimal conditions. You can expect a top speed of around 40 mph to get you to where you want to be in plenty of time. The controller is as impressive as the hexacopter. It uses Lightbridge 2, which is an intelligent long-range video downlink (DL) feature.
You can prepare this drone and the way you fly it to work pretty much how you need it to. The RC has both standard and customized button options which give the operator greater control.
The Conclusion
The cost of this drone may seem high for the hobbyist but it's all relative to the pilot who sees it as a tool of the trade. And with the DJI name to back it up, there're a lot of reasons to shortlist the Matrice 600 Pro as an effective working hexacopter.


Tech Specs
Weight: 9500g (21 lbs.)
Max Flight Time: 35 minutes
Battery: 6000 mAh LiPo 2S
Charging Time: 90+ minutes (1.5+ hrs.)
Control Range: 5 Km (3.1 miles)
Max Speed: 18m/s (40 mph)
Camera Type: Multiple options
The Pros
Huge payload capability
Modular Design
Long distance range
Excellent flight safety features
Stable reliable flyer
Decent flight time
Open app development
Customizable
The Cons
High cost
Add-ons not cheap
7. DJI Spreading Wings S900 Pro Hexacopter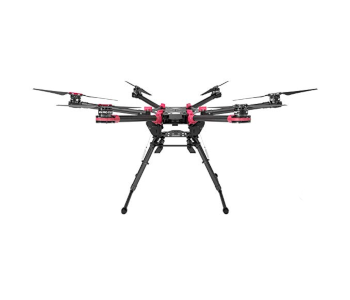 View on Amazon
My final pick is yet another higher-end professional hexacopter. It doesn't come cheap but then the demanding filmmaker doesn't want to skimp on quality features or drone ability.
Best feature 1: Improved power distribution system
Best feature 2: Low gimbal & retractable landing kit allows for multiple shooting angles
Plus points: Reliable, lightweight, robust, portable, pro-quality all round
Minus points: Need to assemble and set up before you can take to the sky
The DJI Spreading Wings S900 Professional hexacopter is a great choice for serious filmmakers. Its lugability factor, strength, and exceptional quality add further to its appeal.
If you've produced movie-quality video before you'll understand how the little things can make the biggest difference. The retractable landing gear and a low gimbal support bracket afford the filmmaker lots of creative options. Not all hexacopters sport such a wide-range of filming angles.
The minimized vibrations result in shake-free clearer footage with consistently professional video and stills. This UAV boasts great power and impressive stability when pitching and rolling the craft.
The version I point to in this guide comes with an A2 flight controller system. For the gimbal you get to choose from any of the Z15 Gimbals. So it has a large appeal among professional photographers and filmmakers. The S900 is also a popular hexacopter for search & rescue and law enforcement, etc.
The Conclusion
If you want to launch your DSLR into the skies you can do it knowing your equipment is safe and secure. The innovative DJI Spreading Wings S900 provides professional fun for the serious filmmaker.
The only downside is that it doesn't come preassembled so there's quite a bit of setting up to do. Maybe that's not such a bad thing, though. After all, the more you learn about the mechanics of the S900, the more you get to control the Hexacopter the way you want it to handle.


Tech Specs
Weight: 3.3kg (7.3 Lbs.)
Max Flight Time: 18 minutes
Battery: 6S 12000mAh
Charging Time: x
Control Range: Not specified
Camera Type: DSLR-sized cameras
The Pros
Excellent value for money
Works with a range of attachments
Steady flight/easily controllable
Programmable landing gear
Choice of batteries and controllers
Carbon fiber used in construction making a light and durable build
High payload
Amazing choice of shooting angles
The Cons
Need to assemble and set up
Not compatible with all gimbals and controllers so choose with care