11 Best Hoverboards for Adults
3D Insider is ad supported and earns money from clicks and other ways.
Hoverboards, or self-balancing scooters, are impressive devices whether you use them for pure entertainment or for more practical applications. With the technology to provide a low-effort means for rapid mobility, hoverboards have been used to move around large warehouses, factories, malls, and neighborhoods.
However, not all hoverboards are made equal. In this article, we list down the best hoverboards designed for adults that we highly recommend. These are designed with substantial weight limits that can accommodate most adults, plus some nice features such as mobile app connectivity.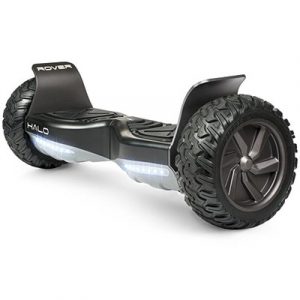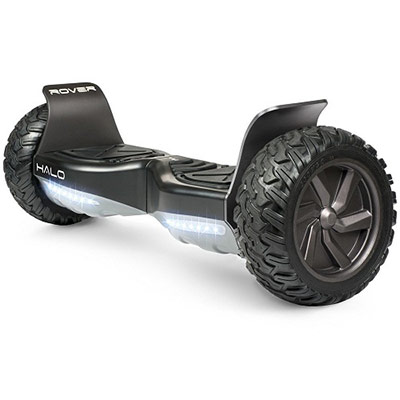 The Halo Rover is one of the most popular hoverboard brands, thanks in no small part to endorsement by famous celebrities. With powerful 400W dual motors, the Halo Rover can travel up to a maximum speed of 10 mph and carry a person as heavy as 265 pounds. As a testament to its power, it can even climb up inclines with a slope of up to 20°. A single charge of the Halo Rover's battery can let it travel up to 10 miles.
The Halo Rover is built with more durability than most other hoverboards in the market today. With a high-grade aluminum construction, the Halo Rover is virtually indestructible. Its solid 8.5-inch tires give it all-terrain capabilities. This means that you can ride the Halo Rover smoothly and confidently even over sand, gravel, grass, or mud. Having extra-large wheels means that it can adapt to common road obstacles such as bumps, cracks, or potholes.
Another noteworthy feature of the Halo Rover is its ability to connect to the Halo Rover mobile app via Bluetooth. The wealth of features you can access using the mobile app makes the Halo Rover an even better hoverboard. With the mobile app, you can adjust the steering and speed of the hoverboard to suit your skill level. You can also view real-time information such as your GPS location, current speed, mileage, and remaining battery power level.
At 32 lbs, the Halo Rover is a little on the heavy side of being portable. However, Halo provides a free carrying case when you buy the Rover, which helps make up for its weight. Despite this drawback, the Halo Rover is still one of the most reliable and easy to use hoverboards available today.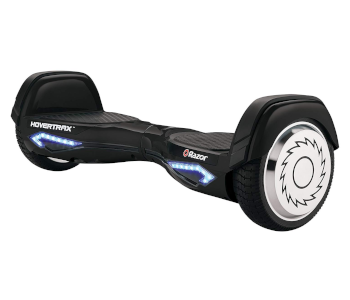 Immediately identifiable by its razor-marked wheel hubs, the Razon Hovertrax 2.0 is one of the most popular and best-selling hoverboards today. With its powerful but whisper-quiet dual 350W motors, the Hovertrax 2.0 can travel at a maximum speed of 8 mph and can carry passengers with a maximum weight of 220 lbs. Gentle hills are not a problem with the Hovertrax 2.0 as it can climb slopes of up to 15°. The 36V battery pack of the Hovertrax 2.0 gives up to 60 minutes of continuous use but can be easily switched out to extend your riding time.
Razor's trademark EverBalance technology makes it easier than ever for new users to learn how to ride the Hovertrax 2.0. Its auto level function makes for easier and smoother mounting and keeps the hoverboard balanced even on challenging terrain. Anti-slip rubber platforms make sure that you stay on the hoverboard platform with minimal effort.
The external shell of the Hovertrax 2.0 is made of shatter-resistant polymer material that is further reinforced with fender bumper protection. Two LED light arrays make the hoverboard highly visible when used at night. A LED battery indicator warns you when the battery power reaches a critical level, as well as provides an additional light to increase visibility.
All in all, the Razon Hovertrax 2.0 is a solidly built hoverboard from a trusted manufacturer. It is a remarkably stable hoverboard that is very sensitive and responsive to small shifts in weight. There is quite a learning curve to overcome to get used to riding it, but it becomes second nature in due time.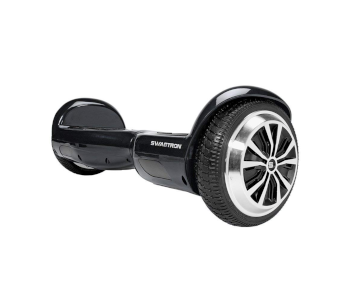 The Swagtron T1 was made for riders of all ages with a weight limit of 220 lbs. Its 300W motor allows it to move at a maximum speed of 8 mph. Although the maximum speed is capped at a modest value, the Swagtron T1 exhibits its power with the ability to climb slopes up to 30°. The lithium-ion batteries of the Swagtron T1 have enough juice for up to 12 miles of travel on a single cycle, which takes just 1 hour of charging.
The Swagtron T1 is designed to be beginner-friendly with a Learning mode that limits the speed while you are still getting used to the mechanics of riding a hoverboard. With Swagtron's Safe Stop technology, the hoverboard will slow to a stop even if you suddenly lose power so you do not end up toppling over.
The new Battery Management System installed in the Swagtron T1 protects the battery by preventing overheating, overcharging, overvoltage, and overcurrent. With these measures, riders no longer need to worry about combusting batteries, an infamous concern with hoverboards back when they first became popular. LED indicator lights will let you know when it's time to charge your batteries. With an array of ultra-bright LED lights, you won't need to stop riding the Swagtron T1 when night comes around.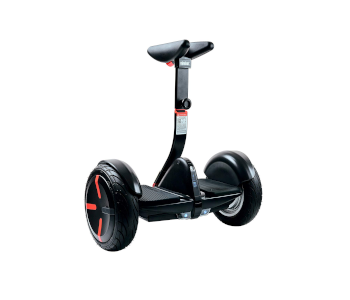 The Segway miniPRO is one of the more unique hoverboards available today, thanks to its trademark knee control bar. The max speed of the miniPRO is capped at 10mph despite its super powerful 800W dual motors. With a weight limit of 220 lbs, the miniPRO is a great choice of a hoverboard for kids and adults alike. It can climb slopes with a maximum 15° of incline and can go over obstacles that are less than 0.4 of an inch in size. A single charge of the battery of the miniPRO can give enough power to let it travel a maximum of 12.5 miles.
The large 10.5-inch pneumatic air-filled tires of the miniPRO allow it to adapt and overcome minor obstacles such as potholes and cracks. It even has off-road capabilities, albeit only on the limited side. The inclusion of automatic headlights and customizable tail lights means you can safely and reliably use the miniPRO even late at night.
The knee control bar introduces an unequaled level of control and maneuverability to the Segway miniPRO. The padded surface of the control bar makes long trips more comfortable, while a provision for height adjustment keeps a perfect fit for riders of all sizes.
The Segway MiniPRO features Bluetooth connectivity to a mobile app, which gives access to a variety of advanced functions using your mobile device. Thru the app, you can adjust the colors of your tail lights, adjust speed settings, and run vehicle diagnostics. A nifty feature of the mobile app is the ability to lock the wheels of the miniPRO or to command it to move autonomously. These are unique security features that we have not seen replicated in any other hoverboard model.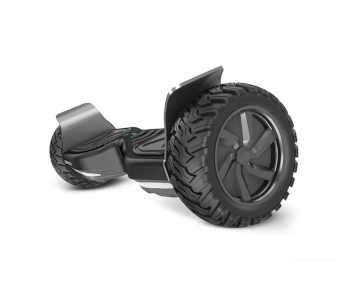 Despite EPIKGO releasing more advanced versions of their hoverboard line, their Classic hoverboard still remains one of the most popular models. It's hardly surprising considering how well the Classic stacks up its competitors. It is equipped with 400W dual motors with superior acceleration and torque, allowing it to power through slopes of up to 18°. It can travel at a maximum speed of 10 mph and has a weight capacity of up to 265 lbs. Its lithium-ion batteries can be charged to full capacity in about 1.5 to 2 hours, which is enough juice to travel up to 10 miles.
A huge advantage of the EPIKGO Classic against most of the other entries in this list is that it is an all-terrain model. With its 8.5-inch solid rubber tires and anti-slip treads, the EPIKGO Classic can ride smoothly even on unfriendly terrain such as gravel, mud, grass, or sand. Its durable ABS chassis and indestructible aluminum fender protects the sensitive electronics inside it even in the roughest conditions.
An array of LED headlights, LED turn signals, and rubber-cushioned track pads keep the rider safe even when riding in the dark or under the rain. The EPIKGO Classic is a highly durable and flexible hoverboard designed to go anywhere and do more than the usual hoverboard.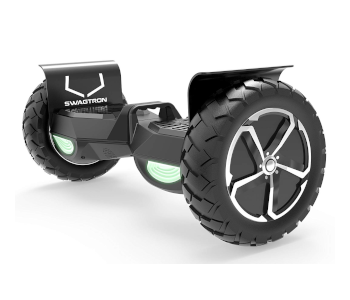 No list of the best hoverboards will be considered complete without the Swagtron T6. With the highest weight limit of 420 lbs, the Swagtron T6 is the undisputed heavyweight of the hoverboard world. It relies on the strength of its 300W dual motors for its carrying capacity, as well as in generating enough torque to move at a 12 mph max speed and to climb inclines sloped at up to 30°. With the SentryShield high-capacity lithium-ion batteries, the Swagtron T6 can travel up to 12 miles on a single battery charge. In terms of raw power, the Swagtron T6 is practically an uncontested leader.
Putting its power to good use, the Swagtron T6 is also an all-terrain hoverboard. With its 10-inch tubeless, air-filled tires, the Swagtron T6 can confidently move no matter how uneven the terrain can get. The rugged tread pattern and staggered shoulder blocks allow the hoverboard to gain traction even on loose surfaces such as gravel and mud.
A combination of ABS plastic and aluminum make the casing of the Swagtron T6 especially durable to protect its internal electronics even in rough conditions. Its construction integrates splash guards that will keep your shoes clean even when traversing muddy terrain. Like all other Swagtron hoverboards, the Swagtron 6 has mobile app connectivity via Bluetooth that can be used to view useful information such as the hoverboard's speed, mileage, and remaining battery power.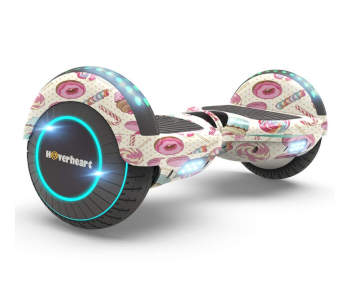 One of the first things you will notice about the Hoverheart is the vast selection of skins available for it. This selection includes plain chrome colors and other more complex skins with creative names such as Candy Land, Twinkle Star, and Unicorn. Although this feature will appeal the most to kids, there is no reason that adults cannot get a kick out of it, as well.
Beyond just looking good, the Hoverheart is also a respectably powerful machine equipped with dual 200W motors. Its weight capacity of 180 lbs maximum might leave larger adults excluded, but it should be inclusive enough for most riders. It can move at a maximum speed of 10 mph and has a maximum range of 8 miles in a single battery charge. None of these specs stand out as impressive, but they are not disappointing, either.
The 6.5-inch wheels are quite small but make up for it with a solid rubber composition. These tires get plus points for being maintenance-free, and for having limited capability to travel on diverse terrain types.
The Hoverheart takes its flair up a notch with a huge array of LED lights that cover even the top of the wheels and the tire hubs. At night, the Hoverheart is basically a rolling party of LED lights. Coupled with Bluetooth speakers, you will surely be turning people's heads when you ride around with the Hoverheart.
The best thing about the Hoverheart is that it is one of the most affordable premium hoverboards in the market. In fact, its quality is probably unrivalled in the below $200 range. Its low price tag, combined with its excellent features and workmanship, have made the Hoverheart one of the best-selling hoverboards today.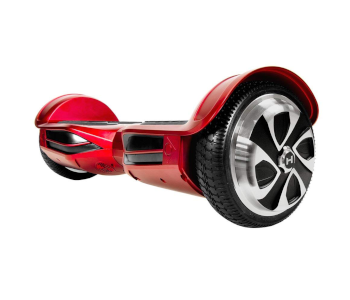 The XLS Series of hoverboards form HOVERZON seem to have been designed to appeal to as many people as possible. With a weight limit of 220 lbs, it can accommodate kids and average-sized adults alike. It can travel up to a modest maximum speed of 8 mph and has a range of 11 miles on a single battery charge.
With its practice mode, learning how to ride the HOVERZON XLS becomes an easy and safe process. Shifting between different riding modes is as simple as changing your preferences on the companion mobile app that can connect to the XLS via Bluetooth. The mobile app can also be used to view relevant system information such as the remaining battery life, mileage, and speed of the hoverboard. Even without the mobile app, a 5-level LED indicator on the hoverboard itself will helpfully let you know the level of remaining battery power.
Bluetooth connectivity can also be used to play your favorite jams on the hoverboard's 2.0 Bluetooth speakers.
Despite being designed to cater to beginners, experts, kids, and adults alike, the HOVERZON XLS does not fail to deliver on power and durability. With 250W dual motors and a durable outer shell, the HOVERZON XSL is as solid and reliable as most of the best-selling hoverboards today.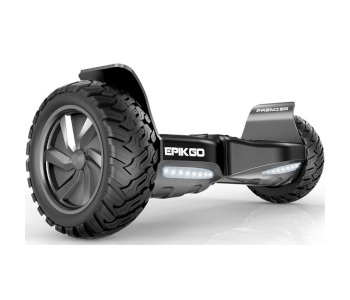 As its name implies, the Premiere is the premium hoverboard from EPIKGO. Much like the EPIKGO Classic, the Premiere is an all-terrain model. As expected, it is a little more powerful with its 400W dual motors that allow it to move at speeds of up to 12 mph and to climb up inclines with slopes of up to 30°. The Premiere loses points for the lack of a Beginner mode, which would have been a really useful feature considering how powerful this hoverboard can be.
The 37V LG Battery Pack of the Premiere allows it to travel up to 12 miles in a single battery cycle, and can be fully charged in less than 2 hours. The maximum weight that the Premiere can carry is 240 lbs, which is surprisingly slightly lower than the weight limit of the EPIKGO Classic.
The Premiere is equipped with solid rubber all-terrain tires that keep it moving smoothly even on challenging terrain such as sand, gravel, or mud. Accordingly, the board is built with water and dust resistance to keep the sensitive electronics safe in the roughest conditions. EPIKGO has not forgotten to add flair to the Premiere – it also comes with Bluetooth speakers, and super bright LED panels that light it up during rides at night.
Being the premium hoverboard of the EPIKGO line, the Premiere also comes at a premium price. This can't be helped since the Premiere is a very powerful machine loaded with all the best features of an all-terrain hoverboard. However, the EPIKGO Premiere might be in a price range that no longer appeals to the casual buyer.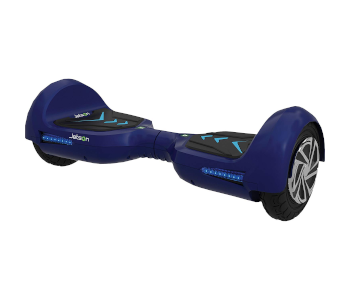 With 700W dual motors, the Jetson V6 is definitely not a hoverboard to be underestimated. It can travel at speeds of up to 10 mph and carry passengers up to a very impressive 300 pounds. The great specs don't stop there, as the Jetson V6 can also travel up to 15 miles on a single battery charge. With numbers like these, it is clear that the Jetson V6 can punch way above its weight and deserves to be more popular than it currently is.
The Jetson V6 comes with 8.5-inch durable rubber tires that allow it to travel on different kinds of terrain. With a water-resistant and flame-resistant outer shell, the internal electronics of the Jetson V6 are sufficiently protected against the elements, no matter what weather you choose to ride the hoverboard.
Despite the impressive numbers, the Jetson V6 does not forget to make itself accessible to beginners. With the Active Balance Technology, staying upright on the hoverboard and controlling it is easier and more intuitive than ever. Ride modes can be adjusted based on the rider's skill level using the companion mobile app that can connect to the Jetson V6 via Bluetooth.
The Jetson Ride mobile app that comes with the Jetson V6 is one of the most inventive we have seen. It allows you to record the speed and distance you have travelled with the hoverboard and post it on social media to compare with your friends. It also allows you to change the color and adjust the brightness of the LED lights on your hoverboard. You can even add a little more flair to your ride by playing your favorite tunes on the onboard Bluetooth speakers.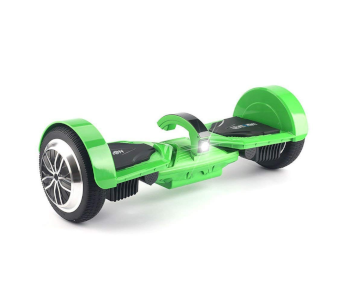 The Levit8ion Ultra is a highly durable, albeit poorly-named, hoverboard that makes a few risks on design that ultimately pay off. It has a frame made of aircraft-grade aluminum, making it much more durable than most of its counterparts. A 400W dual motor system allows the Levit8ion to move at about 9 mph maximum speed. The hoverboard features a swappable battery that can be used to extend its effective range. However, you might not need to swap out the battery considering that a single battery charge can give a range of up to 20 miles.
As a testament to how lightweight the hoverboard is, the Levit8ion has a carrying handle right at the middle. Aside from making it easy to lift the hoverboard, the carrying handle also doubles as an LCD panel that display's the hoverboard's speed, distance travelled, and remaining battery power.
The companion KOOWHEEL PLUS app that connects to the Levit8ion via Bluetooth truly elevates the hoverboard experience. Using this app, you can adjust riding modes according to the skill level. It also has a dashboard that displays the hoverboard's current speed, and a map display that tracks your GPS position while you ride the hoverboard. With dual Bluetooth speakers, you can afford to ride in style while playing your favorite tunes.
Final thoughts
When shopping for hoverboards, always keep in mind that not all hoverboards are made equal. Important specs such as the hoverboard weight limit, maximum speed, and maximum range all have to be considered. Some hoverboards are also more beginner-friendly than others, which may be important if you're giving them as gifts to people who have never been on a hoverboard before. Other features such as mobile app connectivity, Bluetooth speakers, and all-terrain wheels are also nice bonuses.
We hope that we have helped you narrow down your choice with our list of the best hoverboards for adults. Hoverboards have always been popular gifts during holiday season, and these popular models will probably be flying off the shelves soon. Grab one while you still can!