10 Best iPad Accessories That You Can 3D Print
3D Insider is ad supported and earns money from clicks, commissions from sales, and other ways.
Apple has long been known for designing products that push the boundaries of innovation and technology. Unfortunately, this also means that their products are on the expensive side. If you've already spent several hundreds of dollars on an iPad, it's quite disheartening to know that official Apple accessories will cost you a few hundred dollars more.
The good news is that you might not need to spend that much money if you have access to a 3D printer. Here are some of the best ideas we have seen for 3D-printed iPad accessories.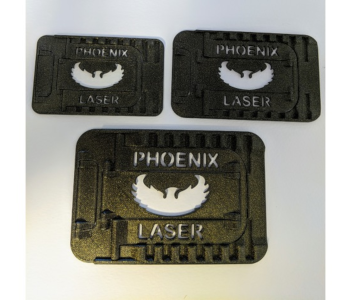 If you want to get any real work done on an iPad, the first accessory you will need is a stand. This ingenious model has you covered. This simple tablet stand is sturdy enough to support an iPad Pro. Its design allows for an adjustable tilt angle. Best of all, the stand can be folded down to a flat form factor, making it easy to stow and carry around.
When 3D printing this stand, we recommend using a filament with high rigidity and strength. ABS or PETG are good candidates. You will want to print the largest version if you are using an iPad Pro. For the base iPad model and the iPad Mini, the medium version should do just fine.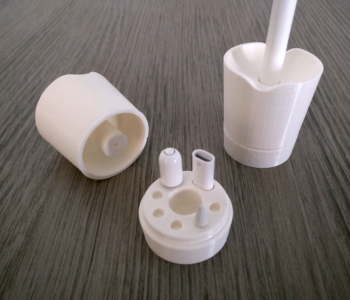 The Apple Pencil is one of the best tools for boosting your productivity when working with an iPad. The problem with the Apple Pencil is that there really isn't any place to stow it in when you have to put it down or while you're taking a break. This simple Apple Pencil holder seeks to address that problem.
This Apple Pencil holder has just about everything you will need. It has space to store the Apple Pencil either horizontally or vertically. It also has slots for the recharge piece and extra pencil tips. The cap that comes with the model fits very snugly with the holder, so you might have to do heavy sanding to get the pieces to fit together comfortably.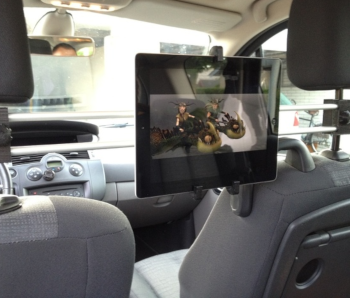 If you have kids, then you probably already know how effective an iPad is in keeping their attention. This is something you can take advantage of on long drives. This custom bracket mounts an iPad between the two front seats of a car, effectively turning an iPad into a theater for your young backseat passengers.
To make sure that the bracket is sturdy, it is recommended that you use aluminum tubes and a few metal nuts and bolts in building it. The iPad can be slid horizontally to any point along the bracket so the viewer can sit comfortably anywhere on the backseat. Make sure your kids are all wearing seatbelts while the car is moving and the iPad is mounted to the bracket – you would not want it to cause any accidents.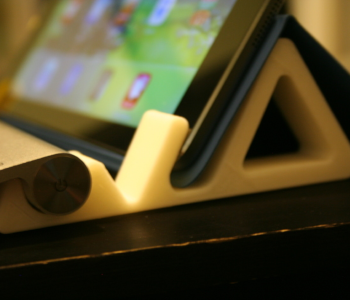 Connecting a Bluetooth keyboard to your iPad is one of the best ways to make it work like a laptop. While there is an official iPad stand that incorporates a keyboard, some people find that it lacks robustness and that it positions the iPad too upright.
This custom iPad keyboard stand positions the tablet at a much more relaxed angle, making it more comfortable to use for long hours. The stand also has a notch for the Apple Bluetooth keyboard to latch onto. This creates a working setup that feels more balanced and ergonomic. The keyboard stand is also just small enough to throw in your backpack in case you need to work on the go.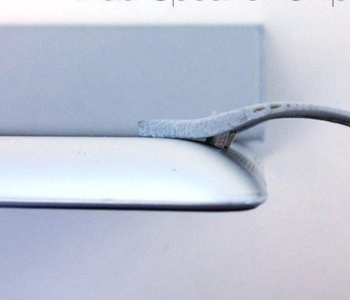 If you have ever watched a movie or played music on your iPad, you might also have been underwhelmed by the tablet's sound quality. The limited size of the speakers means that its audio coverage is quite poor especially when you're in a large room.
This speaker chip acts as a reflector for the audio, magnifying it for the audience positioned right in front of the tablet. There is some assembly required, and some magnets will have to be inserted into the build. This is a fun little add-on to your usual stash of iPad accessories.
6. Protective case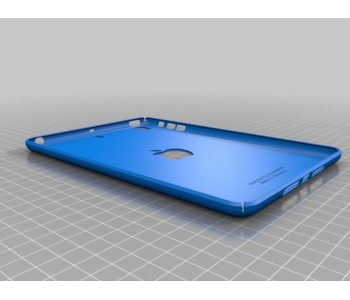 Making your own iPad protective case is just about one of the most fun that you can have with your 3D printer. There are lots of different designs out there such as this honeycomb cover for the base iPad, this "big grips" case for children, or this standard iPad Mini case with an engraved Apple logo.
If you have any 3D modeling skills, then you easily design a custom protective case for your iPad. We recommend using flexible filament like TPU for maximum impact resistance. PLA is also a good candidate with a good ratio of rigidity and flexibility. Just double-check all measurements before proceeding with a print – you want it to be perfectly snug.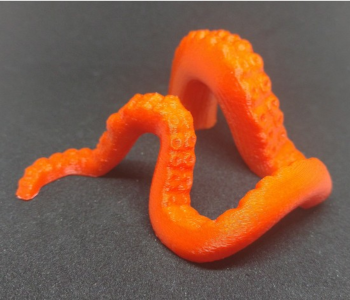 This iPad stand isn't the most practical, but it's sure fun and makes for a great conversation piece. This stand is basically a single octopus tentacle that is coiled in a shape that provides support to your iPad. The standout feature of this model is that it is very detailed in reproducing the suction cups of an octopus tentacle.
The octopus stand is quite small, so you may want to scale it up for additional reinforcement. We also recommend printing it at 100% infill to reduce the chances of it being wobbly while in use.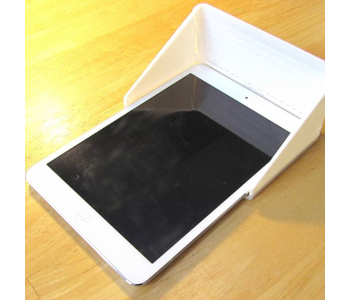 All of us are familiar with having to deal with glare while looking up things at the screens of our devices. This can be frustrating when you're trying to read an e-book on your iPad while at a park or taking notes when you're outdoors.
If this is a problem that you understand, then the solution is to just 3D print a simple sun visor or sun hood. This sun hood clips right onto an iPad Mini to shield it from the sunlight. When you're done with your activity, just fold the sun hood and keep it in your pocket. This is the kind of accessory that you did not know you needed but will end up being one of your essentials.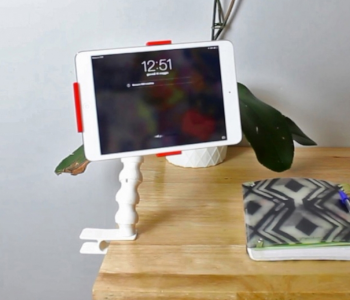 Are you tired of having online meetings where the tablet is constantly facing upwards from your desk at an unflattering angle? Unfortunately, there is not much that you can do with a standard iPad stand. This articulating arm holder will solve that problem.
This arm holder can be clipped to any thick surface such as your work desk or the edges of a bookshelf. The articulated arm can be twisted, moved, and rotated in infinite ways to help you find your best angle. With so many possible setups, this arm holder will change the way that you show up to online meetings and teleconferences forever.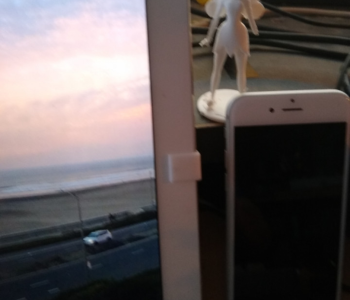 The front-facing camera of iPads is among the best, especially with its smart, subject-tracking features. However, there are times when we just aren't comfortable with having a camera constantly trained at us. If you're getting paranoid over other people and clandestine agencies spying on you, then this simple camera lens cover is a quick solution.
There's nothing fancy about this camera cover. It is just a plastic clip that snaps on one edge of your iPad, providing a barrier between the camera lens and the rest of the outside world. It also makes for a great gift for any of your privacy-obsessed friends.
Final thoughts
Buying into the Apple ecosystem can sometimes feel like you're sinking into a quicksand of having to spend more and more on essential accessories. If you have a 3D printer, then there are lots of ideas to hack the system. Make the most out of your iPad without having to spend hundreds of dollars simply by spending a few hours on your 3D printer.
Warning; 3D printers should never be left unattended. They can pose a firesafety hazard.