8 Best Joysticks You Can Get and What to Look For
3D Insider is ad supported and earns money from clicks and other ways.
For most games, the preferred input devices are the keyboard and mouse. But, when it comes to flight and space simulators, there is only one way to get full immersion from these games, and it's with a joystick.
Holding on the stick and resting your other hand on the throttle, you can easily imagine yourself in the cockpit of a Boeing 737 or the Space Shuttle. Whether you're testing your piloting skills with real-world aircraft or cruising through the galaxy with a sci-fi spacecraft, using a joystick can take your gaming experience to the next level.
Advantages of a Joystick
You can easily enjoy flight and space simulator games using a keyboard and a mouse. It will not be as tricky, but the difference when using a joystick is that all the controls are right on your fingertips. Do you want to look around the cockpit? Your joystick is likely to have a hat that will allow you to rotate your view. Gaming will be a lot easier and practical, not to mention immersive.
The joystick has become refined over the years, and every serious gamer knows that getting the right one can radically improve your gaming experience. If you are an avid gamer who loves playing flight and space-themed games, then acquiring a joystick is something that you should consider. Here are the best ones that you can get.
Our Top Joystick Picks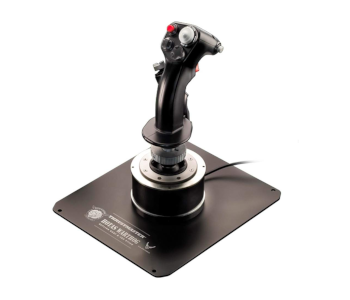 Retail Price: $279
If you are an avid flight simmer, this is the joystick for you. The Thrustmaster HOTAS Warthog is a Hands-on Throttle and Stick controller. This means that you have the stick on the one hand and a separate throttle for your controls.
Impressive Build Quality
The Warthog joystick comes with an impressive build. The stick sits on top of a removable metal plate. The plate includes holes so you can screw it onto the table or wherever you want to mount your set up.
The throttle is also mounted on a solid base that has holes so you can attach it beside the stick. There are two throttle columns so that you can control the left and right engines separately. However, you can also lock them together if you like to keep everything simple.
Here is a quick fact, the Warthog joystick replicates the actual controls of the A-10C Warthog, an attack plane. The joystick looks like the real thing, so there is a premium feel to it.
Control Options On Tap
The Warthog comes with loads of buttons and switches on both the joystick and throttle units. Nineteen action buttons and an eight-way point of view hat, to be exact. The best part of all is that they are programmable so you can map them to different functions that suit your game and play style. This means that even for the most complicated games, you will have a dedicated switch available for tasks that you always use. You can play your favorite flight and space sims without touching your keyboard.
The throttle unit also features green LED backlighting so you can quickly see the labels on the different switches. You will be able to adjust the lighting brightness using the software. However, the tags are specific to the A-10 Warthog, which definitely adds to the immersive experience but can sometimes get confusing if you are flying different types of aircraft.
Exceptional Software
Solid hardware needs software that performs just as well, and Thrustmaster's T.A.R.G.E.T is the perfect companion. It is highly programmable and allows you to build your profiles. It even allows you to use someone else's so you can jump in and start playing.
Verdict
The Thrustmaster HOTAS Warthog is a solid piece of equipment if you are into flight and space games. It is definitely on the pricier side, but if it is something that you are willing to spend for a premium joystick, this is the one to get.
PROS
Incredible build quality
Comes with enough buttons and switches
Controls allow you to control any movement
Heavy, so it does not move quickly when in use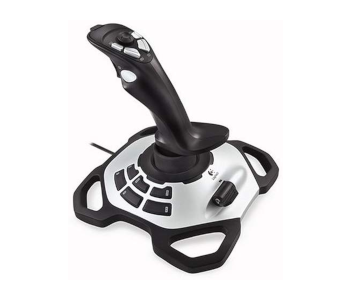 Retail Price: $39
You can consider the Logitech Extreme 3D Pro as a budget joystick, and in fact, it is. However, it does not perform like your average budget device. It has style. It is lightweight but stable enough that it holds itself up on your desk. It is undoubtedly a simple joystick but comes with all the essentials so you can use it to play flight and space games.
Solid Build
For a budget joystick, the Extreme 3D Pro has a solid build. Made with sturdy plastic, it has a weighted base that supports the stick well. The underside also has rubber pads, so it sticks on the surface of your desk as you use it.
Controls and Buttons
The joystick comes with 12 programmable buttons and an eight-way hat switch on the stick for point of view changes. It is not a HOTAS device, so that means that the throttle is not separate but instead found in the body, which is excellent for a budget device.
Gripping the joystick is exceptionally comfortable, allowing you to play for hours without any discomfort. The ergonomics on the device are sculpted precisely in the form of your hand, so you do not need to worry about injuries like carpal tunnel syndrome.
Verdict
Overall, the Logitech Extreme 3D Pro is an excellent budget software. Even as an older model, it can easily compete with other more recent ones. Understandably, it does not have the bells and whistles like LED lighting and LCD screens. It simply performs at the highest level. Stylish and inexpensive, this is a joystick for those trying out flight and space games and even for the seasoned pros.
PROS
Excellent build quality for its price
Lots of buttons for better controls
Easy to set up and use
Durable and reliable for hours of use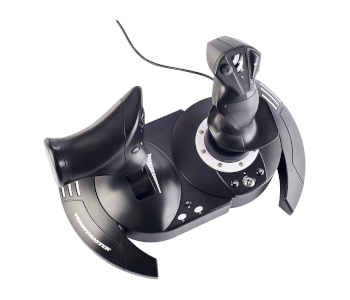 Retail Price: $79
The Thrustmaster T-Flight Hotas One is an entry-level joystick and throttle combo for both Xbox and PC. It is an affordable piece of hardware, so do not expect many luxury features on this one. However, it does come with all the essentials so you can play your favorite flight or space sim game with ease.
Design and Features
The joystick comes with a total of 15 buttons split between the two halves. The stick side has an eight-way hat for view perspectives. It also comes with a four-way hat that you can remap or configure depending on the game you are playing. At first glance, it seems that it is not enough buttons, but it can surely accommodate all the critical controls for you to enjoy your game.
A notable feature of the T-Flight Hotas One is its ability to be split in two. Depending on the space on your desk or your personal preference, you have a choice whether to join them together at the base or separated. You can quickly join them together using two screws, and it comes with its own Allen key so you can link or detach them whenever you want.
Game Performance
You can surely remap every button on the T-Flight Hotas One. It will take you a bit of time, but once you have your setup, you will be more efficient when playing your favorite flight and space games.
The controls are light, especially the stick. Even for its price, it can provide you with precise controls for your game. Designed for the Xbox, you can easily plug this into your PC, and it will work right away without needing any form of configuration.
Verdict
If you are looking to get a Hotas set up but looking for an affordable device, this is the one for you. Whether you are trying out flight or space simming or upgrading from a gamepad, this is a joystick and throttle combo that you will surely love to use all the time. It will not give you numerous premium features, but it is enough if you do not demand those things from it.
PROS
Affordable HOTAS option
Smooth controls on all axis of the joystick
Can be used as one unit or split into two
CONS
A bit tricky to remap some of the buttons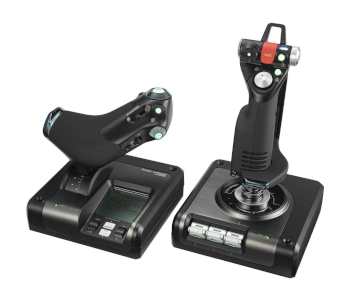 Retail Price: $199
The Logitech G X52 Pro Flight Control System is the joystick and throttle combo for you if you are looking for a more premium option for your games. This is a professional-level Hotas system that is going to meet all your precise sim commands and actions so you can fully immerse yourself in your game.
Innovative Features
A feature that you will not usually find on other Hotas systems is the X52's LCD. This gives you the information about your button configurations, so you will exactly know what's up with your controls. It also comes with illuminated buttons so you can easily spot them with your peripheral vision when the situation calls for it.
In-Game Performance
The entire device comes with many buttons. The joystick, for one, has two 8-way hat switches that you can configure any way you want. It also has all the essentials that you need in a premium flight stick like dual-action index triggers, different weapons buttons, and toggles for quick mode switches.
The set does not come with pedals. Instead, the X52 has a stick twist mechanism for all your rudder control needs. If you prefer a more traditional approach, you can lock the twisting feature via a switch and get a separate set of rudder pedals.
It does not end with the joystick since the X52 is a Hotas system, and it comes with a separate throttle module. This is where you will find the built-in LCD, where you will be able to see what control mode you are in. With the downloadable software, you can create custom profiles for your games, which you can quickly switch up on the fly.
Verdict
The Logitech G X52 is more than your usual flight stick. It has all the bells and whistles that you expect from a premium Hotas system. This device is an excellent control for your desired flight and space games like Microsoft Flight Simulator, XPlane, Elite Dangerous, and a lot more, among others.
PROS
Excellent build for a premium Hotas set
Built-in LCD for quick control profile change
Lots of buttons and switches which should be enough for your favorite games
Outstanding compatibility with a lot of games
CONS
Does not have force feedback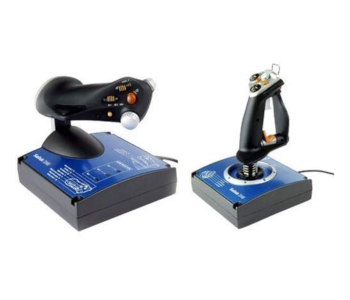 Retail Price: $99
The Saitek J24C X45 can be considered the little brother of the X52. The designs and shapes are somewhat similar, but you know that it will work well with your flight and space sim games. It is also a Hotas package, which means it comes with both the flight stick and throttle for better control.
Buttons and Controls
The X45 is a package for playing simulation games with its abundance of buttons. Its flight stick will remind you that of a jet fighter column, and you will surely have an enjoyable using this on your combat simulators.
As mentioned earlier, there are countless buttons on both the stick and throttle modules. It comes with two 8-way hat switches that you can configure however you want. The throttle also is equipped with wheels that emulate mouse controls, so you do not have to switch controls when you are navigating menus in-game.
Flight Simulator Features
Considered an older model, the X45 still has most of the flight simulator features that enthusiasts look for. The throttle has a detent feature that allows you to do several things like reverse thrust and afterburners. The stick feels tight, but the tension is adjustable so depending on your preference, you can stiffen or loosen it up.
Verdict
The Saitek J24C X45 is a Hotas system that is quick to set up, reliable, and intuitive to use, allowing you to enjoy flying your favorite virtual planes.
PROS
Built for flight sim games
Versatile Hotas operation with lots of buttons and switches
Overall excellent package for beginners and enthusiasts
CONS
Not a joystick for those with smaller hands
Tight twist rudder mechanism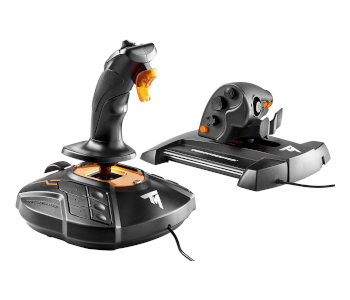 Retail Price: $159
The Thrustmaster T16000M is another Hotas setup, which means it comes with both a flight stick and a throttle controller. These come with a ton of buttons, giving you the versatility to remap them depending on the game you are playing.
Design and Features
Designed as a solo flight stick rather than a Hotas set, that's why there is a throttle slider on the stick. It also comes with a wealth of buttons on the base and the stick itself. The joystick comes with four buttons and a hat switch to mainly change your views as you play. It also comes with a twist rudder feature making the stick alone a complete package.
However, the great thing with the T16000M is that it is, after all, a Hotas set up, so you do have the throttle module to pair up with the stick, improving the immersive experience. The throttle comes with its own set of surprises, as well. To use it, you slide it forward or backward rather than pivoting about a point. It feels futuristic but works just as well, if not better. There are also buttons on the throttle handle rather than on the base, so you can easily access all of them with just your throttle hand.
Versatile Configuration
The T16000M supports most of the games out of the box, but in cases where it doesn't, you can quickly configure it using its companion software called T.A.R.G.E.T. This model is an extremely versatile tool that will allow you to remap each part of the flight stick and throttle to just about any command you want.
Verdict
The Thrustmaster T16000M is an excellent Hotas system for your flight sim needs. This is an excellent middle ground if you want something better than the budget options like the Saitek X45 or the T-Flight Hotas one but do not want to get a premium controller such as the Warthog.
PROS
The flight stick is a dependable device even without the throttle module
Loads of buttons and switches for you to use
Lots of compatible accessories like pedals
Sliding action on the throttle feels fresh
CONS
Buttons on the throttle may sometimes feel excessive
The software may take some time to get used to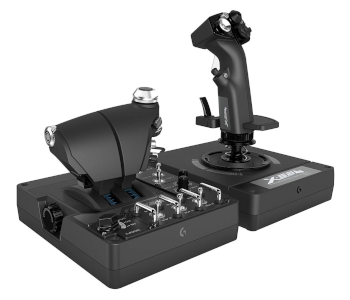 Retail Price: $249
If you are looking for a premium flight stick that has VR support, then the Logitech G X56 is what you are looking for. It is certainly a significant upgrade from a lot of other Hotas systems in the market where it can provide more immersion on your flight and space sim games.
Build Quality
The X56 is a solid Hotas system that comes with a lot of buttons and switches that will allow you to play your favorite games without searching for the keyboard. All the controls are very responsive and come with a premium feel that you would expect from a machine at this price range.
For the throttle module, the X56 comes with independent twin controls. This is ideal if you love using twin-engine aircraft of spacecraft where you will be able to control each engine differently. Of course, you can lock these together if you are using a single-engine plane. The throttle module also has lots of buttons and switches that you can program to suit your game experience.
RGB Lighting and Other Features
Everything comes with RGB these days, and the X56 does come with its take. It is a neat addition but can sometimes seem impractical, especially if you like to use the joystick with a VR headset. However, it adds a different dimension to your immersive experience when you have a chance to look at it.
The ergonomics on the X56 is impressive. It is comfortable to hold, making this one of the best flight sticks to use in VR. The wealth of buttons and switches enables you to control your virtual aircraft or spacecraft by feel.
Verdict
The Logitech G X56 is capable of giving you smooth control of your game, improving the immersion. You can forget about your keyboard since you will be able to take full control of whatever it is you are flying with the stick and throttle.
PROS
Excellent controller for an immersive VR experience
Comfortable to use and hold for keyboard-free gaming
Premium build that you can see and feel
RGB is a refreshing addition to the feature list
CONS
RGB can sometimes feel a bit impractical if you play using a VR headset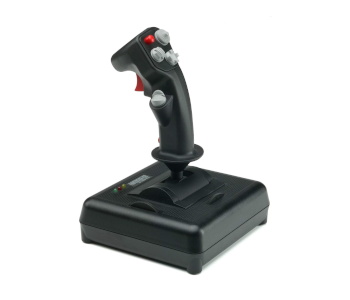 Retail Price: $120
The 200-571 flight stick from CH Products looks a lot like a classic joystick, and it is. It does show its age when compared to much newer models, but one of the reasons why nothing has changed when it comes to its design is because it just works. This joystick is not a Hotas set. However, you can get a separate throttle module for an upgrade.
Quality Components
It may not look like it on the outside, but the CH Products joystick comes with high-quality components, especially on the inside. It may seem just like it is made of plastic from the outside but its interior has tech that is comparable to modern joysticks.
Apart from the hardware, the software it comes with is impressive, as well. You can configure every button and function to suit the game you are playing and style. The stick does not come with a twist rudder features, which is excellent for most as they prefer dedicated pedals.
Verdict
The Flightstick from CH Products is undoubtedly an older model. However, it is still one of the best ones in the market at its price point. It does not have a lot of the features of modern joysticks, but it remains smooth and comfortable to operate.
PROS
You can still get remarkable value out of it
Premium internal components
Excellent software for configuring buttons and functions
Lots of buttons for better controls
CONS
Does not come with built-in throttle control
Design is a little outdated
What are Joysticks or Flight Sticks for?
Better graphics capabilities of today's machines definitely contribute to flight and space games, making a comeback. Additional, VR technology is improving at a rapid rate that you can now use it to play most of these games. These surely add a different level of immersion and using a joystick and throttle controller will significantly improve the experience.
These games call for better precision, and your keyboard and mouse will not be able to give you that. A gamepad can get you close, but nothing beats a good Hotas set up that will allow you to maneuver your aircraft or spacecraft out of situations you usually can't.
Choosing the Right Joystick for Your Gaming Needs
Several brands offer high-quality gaming controllers, especially joysticks. It is crucial that you find the right one depending on your needs and the games you are playing. There are times where a flight stick is enough, and there are instances that you want a dedicated throttle control so you can do precise movements.
Here are the things that you need to look out for when choosing the right joystick to get:
Throttle Control
One of the things that you need to look out for is throttle control. Not all joysticks are equal since there are a lot of possible configurations between the stick and the throttle. There are models where the controls are on the base of the flight stick. In some cases, they come as a separate module.
There are benefits to both setups as flight sticks with built-in throttles are usually more affordable and are for those who want to try out controlling their favorite game with a stick. A detached one, on the other hand, gives you a more natural feel and buttons for added controls. This means a lot more switches, so you can forget about using your keyboard since you have everything you need in one hand.
Setups
There a few ways that joysticks are setup. One of the more popular ones is a Hotas setup or Hands on Throttle and Stick. This allows you to put one hand on the joystick and the other on the throttle just like you are flying a plane.
There are a few other variations like using a flight stick with your keyboard or mouse, even another joystick. This all boils down to your personal preference. However, most enthusiasts prefer the Hotas setup since it closely resembles the cockpit of an actual aircraft.
Buttons and Switches
If you are playing mostly space fighter games where all you need is a way to maneuver your craft, control thrust, and shoot cannons, you will not be particular about the number of buttons and switches you have.
However, if you are a flight sim aficionado, you will want as many of these so you can control flap angles, deploy spoilers, turn on landing lights, and a lot more without reaching for your keyboard. The more buttons and switches that are available the more you can remap for different functions.
You do not need a hundred of these, but a hat-switch and about a dozen buttons on both the stick and throttle modules combined should be enough so you can play without reaching for your keyboard.
Z-Axis
This feature is a bit tricky since there are times when you need a dedicated foot pedal to control the yaw. However, some flight sticks com with this capability by twisting it. Some enthusiasts are not keen on the twist rudder feature since no real aircraft has that breaking immersion. But if you do not want to shell out a few bucks for rudder pedals, having this is an excellent alternative.
Ambidexterity
Various joysticks are mostly designed for right-handed individuals. That means your right hand on the stick and left hand on the throttle. However, there are cases where you need your left hand manning the stick. One such example is if you are left-handed. Another instance where this holds is when you are playing a flight simulator and flying an Airbus on the left seat.
If you are left-handed or fly a lot of Airbus planes on your favorite flight simulator, then getting an ambidextrous joystick is a top priority for you. You do have a lot of great choices here, like the Thrustmaster T16000M and the Logitech Extreme 3D Pro.
Compatibility
Most flight sticks are for PC gamers and their vast array of flight and space sim games to choose from. There are also some joysticks that you can use for your consoles, like the Xbox and PS4. You should make sure that the device you are getting is compatible with your gaming hardware of choice.
Notable Add-ons
A Hotas flight stick can give you that realism that you are looking for, but adding complementary peripherals on top of your setup can even improve your immersive experience. For some, the stick and throttle combo should be enough, but hardcore enthusiasts will surely look for more.
Here are some add-ons that you can get to pair with your new flight stick:
Rudder Pedals
To complete the cockpit immersion, you are going to need some rudder pedals. You will not use this every minute of your flight, but when you do, it will feel a lot different compared to when you twist your joystick.
VR Headset
Building your cockpit in real life will take you a lot of time. However, there is a quick alternative, and that is getting a VR headset like an Oculus Rift or an HTC Vive. Most flight simulator games have VR support out of the box so you do not have to make numerous changes with the settings.
Wrap Up
There is nothing like an excellent flight stick and throttle combo to make you feel you are in total control of your aircraft. Whether you are looking for a simple on or feature-packed Hotas model, there is undoubtedly one that is right for you.
If you are a gamer, simulator enthusiasts, or just like games that allow you to blow things up in space, then getting a good joystick is a device that you need in your arsenal. You can now fly to your favorite virtual destinations on a flight simulator or conquer numerous galaxies with ease.