6 Best Cameras for Kids of 2019
3D Insider is ad supported and earns money from clicks, commissions from sales, and other ways.
Is your toddler always reaching for your phone's camera app? Does your tween take pictures with her phone that would look so much better with a professional camera? It's never too early to get your kids interested in photography and video making – they just need the right tools for the job.
Cameras geared towards kids have to be easy to use. They need to inspire a love for photo & video making, and they have to teach your child best practices without boring her. Smaller children are easily distracted by other activities. Having games and fun customization options ensures they'll play with the camera longer and eventually return to using it for its real purpose. Most kids don't take good care of their belongings, so a child-friendly camera also has to be robust.
These are the six best kids' cameras to surprise your little ones! Some of them are meant for young children, while others are capable of producing top-quality images and igniting a lifelong passion for artistic expression. Take a look at their reviews, see which camera would suit your child the best, and let them express their creativity in a fun & healthy way.
Budget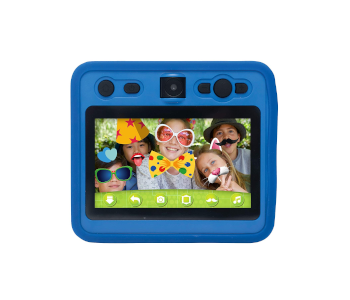 Kurio Snap
4.3/5.0
Video Resolution: 720p
Megapixels: 3
This has lots of features at an excellent price.
Check Amazon
Best Value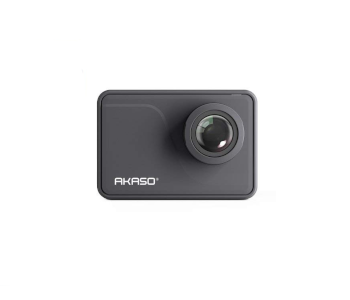 AKASO V50
4.6/5.0
Video Resolution: 4K, 30fps
Megapixels: 20
Excellent video quality for a reasonable price.
Check Amazon
Top Pick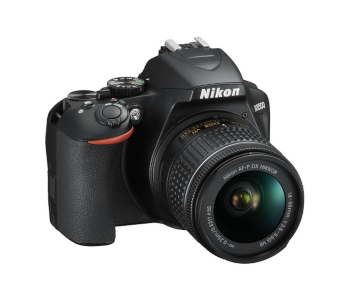 Nikon D3500
4.7/5.0
Video Resolution: 1080p, 60fps
Megapixels: 24.2
Excellent first true camera for a budding photographer.
Check Amazon
Kids Cameras Comparison Table
1. Best Overall – Nikon D3500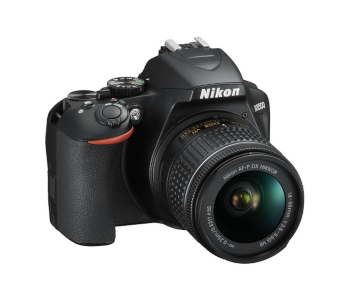 View on Amazon
Editor's Rating: 4.7/5
Nikon's D3500 should not be your child's first camera. However, if you get them a cheaper camera from the list and they develop a passion for photography, there's no better camera to take that passion to the next level. It's a full-fledged DSLR that makes fantastic photos, isn't too heavy, and has phenomenal battery life. Best of all, the D3500's Guide mode will help your shutterbug master basic photography concepts intuitively.
Overview of Features
The Nikon D3500 is a DSLR camera which weighs less than 22 oz., so a teen or older child shouldn't have trouble using it for extended time periods. The camera's sturdy ergonomic body fits well in hand. The control scheme won't overwhelm a novice but has everything they'll come to rely on. This includes mode selection and command dials, buttons for the flash and exposure compensation, and more.
Guide mode is the D3500's greatest asset for newbies. More than a simple scene selection method, Guide mode lets them choose a general shot type and then tweak it. You can choose between basic and advanced options for different shot types. For example, Moving Subjects is a basic option that optimizes the camera to track movement while Freeze Motion is an advanced option for shooting moving people or vehicles. Other than Guide mode, there's the info button. Pressing it offers detailed explanations for each of the camera's settings and menu items.
Pictures taken with the D3500 are excellent for its price. The 24-megapixel sensor and speedy processor let you take vivid photos in different lighting situations. The camera's dynamic range is decent so contrasts turn out well, and automatic white balance is spot on most of the time too. Once your child gets more familiar with the controls, they can start shooting in low light by tinkering with ISO settings or apply a variety of effects to their photos.
Nikon has made it easy to share photos through their SnapBridge pp. The D3500 uses Bluetooth to connect to a smartphone and can transfer images to it automatically as they're taken. Your child can then upload the photos to their social media account and impress friends with their art.
What We Didn't Like
The D3500 is the most expensive camera on the list. You should get it only if you're convinced that photography has become more than a fad for your kid. The camera doesn't have a flip screen, so it isn't the best option if the child likes to take selfies.
Tech Specs
Dimensions: 4.9 x 3.8 x 2.7 in
Weight: 21.7 oz. with battery and kit lens
Sensor: APS-C CMOS
Video Resolution: 1080p, 60fps
Megapixels: 24.2
ISO range: 100 – 25,600
The Pros
Excellent first true camera for a budding photographer
Light for a DSLR
Provides lots of info to help newbies understand functions and take better photos
Easy photo transfer to smartphones and social media
The Cons
Expensive
Fixed screen
2. Best Value – AKASO V50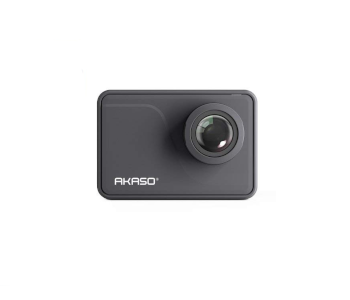 View on Amazon
Editor's Rating: 4.6/5
The D3500 is a great choice for photographers, but what about kids who like to take videos of their adventures? In that case, you need an action camera! The AKASO V50 is a budget-friendly action cam that surprises with its quality and feature set. It's super easy for kids to use, great for vlogging and selfie-taking, and waterproof to boot! Buy a large-capacity SD card along with it and enjoy your child's antics in beautiful 4K.
Overview of Features
The AKASO V50 is a small, box-shaped device that looks like many other action cams in its price range. Its design is functional rather than inspired – the housing is made from plastic, and its sides are textured for a better grip. There are only four buttons used to power it on, start and stop the recording, and navigate the menus on its 2-inch LCD screen. The camera arrives with a slew of accessories including various mounting straps, a remote, and a waterproof case. The case is particularly useful since it allows you to shoo with the V50 at a depth of 98 feet.
This action camera is a great choice for kids since using it is effortless. Press the record button, and it starts recording after a short delay. A second press turns the camera off, while the two side buttons allow for quick switching between recording modes and options. The LCD isn't a touchscreen, but it has a good enough resolution to act as the viewfinder. The child can connect the V50 to its phone through Wi-Fi and use it as the viewfinder if the screen is too tiny.
Even though the V50 can take quality photos, its main focus is video. The camera is capable of recording in 4K at 30 frames per second. Footage shot at 4K has remarkable detail – shots of kids playing in the street include recognizable street names and license plates, for example. The colors are true to nature and greens, in particular, are lush. 4K takes up a lot of space and can't match the smoothness of 60fps. Luckily, you can switch to 1080p to get 60fps or even 120fps at 720p for slow-motion videos.
Finally, there's the battery. Its 1,000mAh capacity is good for 80 minutes of recording. While this is mediocre if compared to traditional cameras, it's a respectable result in the action cam world.
What's Bad About It?
The V50 produces excellent footage when there's enough light. As soon as the sun sets or you enter a dim room though, its quality starts to go down to the point of footage being unusable. The audio quality isn't good either. It will do to capture ambient sounds or laughter, but the child should take another camera with them if planning to record a concert.
Tech Specs
Dimensions: 2.4 x 1.7 x 1.2 in
Weight: 2.7 oz.
Video Resolution: 4K, 30fps
Megapixels: 20
The Pros
Excellent video quality for a reasonable price
Lots of useful accessories
Easy to control in multiple ways
Long-lasting battery
The Cons
Poor audio quality
Bad low-light performance
3. VTech Kidizoom Duo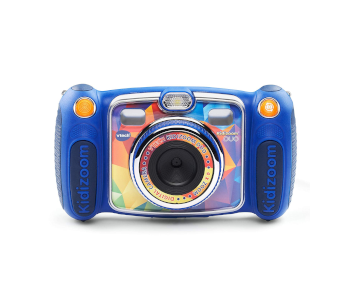 View on Amazon
Editor's Rating: 4.4/5
So far, we've only covered cameras older kids can use to their full potential. What about little children, though? VTech's Kidizoom Duo is a fun camera aimed at kids ages 3 and up. It's the perfect first camera for your toddler as it lets them take pictures while also providing games and activities to keep them busy for hours. This is the camera to get whether you need a device that gently exposes your kids to technology or a stepping stone to them developing an interest in a rewarding hobby.
Overview of Features
Everything about the Kidizoom Duo's build suggests it was made for kids. The camera is rubberized, colorful, and robust. It has two protruding grips so the child can hold the camera comfortably. There are also two "viewfinders" that serve no real purpose but teach the child how to hold the camera when shooting. Buttons include controls for power, the shutter, switching between front & selfie cameras, and menu navigation. There's also a star button which changes functions depending on the context.
The front camera has a resolution of 2MP while the selfie camera is limited to 640×480. As you'd expect, photo quality isn't stellar, yet it's not terrible either. There are no exposure settings or manual focusing, but the Kidizoom Duo does an excellent job of automatically figuring out which settings to use. The white balance is decent, and pictures are rarely out of focus. Don't expect it to do well in low light though, even with the flash.
The Kidizoom Duo makes up for in features what it lacks in actual performance. There's a rich menu system that lets your child add effects to photos, play games, and even take selfies which are then rated for silliness.
They can use You & Me Camera to alternately take pictures of themselves and their subjects which are then combined into a single photo. They can also make 10-minute voice recordings and alter them to sound like a robot, change the pitch & speed, etc. The games use the camera's built-in accelerometer as well as a directional keypad. Parents can limit playtime daily.
You power the camera with four AA batteries that are included in the package. Media is stored on the camera or externally and can be transferred to a computer through USB. You'll want to buy an SD card for the best experience, but the camera does come with 256MB of ram to get you started.
Are There Drawbacks?
The less said about Kidizoom Duo's video capabilities, the better. A paltry 320×240 is unacceptable in this day and age, even for a kids' camera. The LCD is made from cheap plastic, which scratches easily. Active kids who are careless with their toys might quickly damage it.
Tech Specs
Dimensions: 6.4 x 3.6 x 2.3 in.
Weight: 13.6 oz.
Video Resolution: 320×240
Megapixels: 2 for front camera, 0.3 for selfie camera
The Pros
Perfect as your child's first camera
Lots of effects and games to keep kids entertained
Two cameras in one
Ready to shoot out of the box
The Cons
Abysmal video quality
Screen scratches easily
4. Olympus Tough TG-6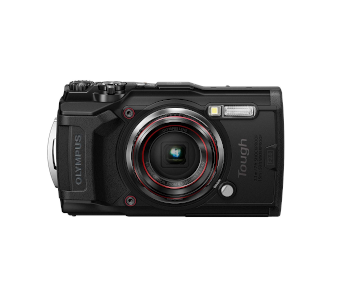 View on Amazon
Editor's Rating: 4.4/5
Kids aren't known for their delicate handling of expensive gadgets. If your child has butterfingers as well as a penchant for photography, you can't go wrong with Olympus' Tough TG 6. It's a camera that can take a severe beating and still produce awesome photos or record video in 4K. Take it to the beach or give it to your 5-year-old to play with – the TG-6 will come out unscathed every time.
Overview of Features
The newest in Olympus' line of Tough compact cameras looks the same as its predecessor and performs equally well in harsh environments. Neither water nor sand or dust can get into it. You can even take photos during winter as it withstands temperatures as low as 14°F. The camera is shockproof up to 6.5 feet and can withstand 200 pounds of pressure. This makes it ideal for accident-prone kids as nothing short of intentional destruction will put a dent in it.
The TG-6 excels at action photography. Its autofocus hones in on subjects in the fraction of a second and lets you snap photos of bike races or basketball games with crystal clarity. A burst mode of 20 pictures per second as well as 6-photo prebuffering ensure you'll always have ample quality shots to choose from. The sensor has fewer megapixels than the TG-5's but performs better in low light.
The TG-6 is especially good at taking underwater photography. It has a dedicated underwater setting as well as a macro lens that lets you get as close as 1cm to a subject. This allows for photos of tiny sea creatures but is also useful for shooting flowers or insects.
The TG-6 shoots 4K videos at 20fps. Kids will be more interested in the drastic frame increase on lower resolutions, however. 1080p has a maximum of 120fps while 720p ramps it up to 240fps! That means you can take smooth video and slow them down eight times. The applications for slow-motion are endless – sports action sequences, capturing fast-moving fish, or dropping water balloons on unsuspecting passers-by are just some of them.
What We Didn't Like
While its LCD screen is durable, it scratches easily. Expect it to lose visibility if your kids use the TG-6 outdoors a lot. The camera is adequate for beginner photographers but offers little room to grow. There are no manual settings, and the menu system it does have is convoluted.
Tech Specs
Dimensions: 4.4 x 2.6 x 1.3 in
Weight: 8.9 oz.
Sensor: APS-C CMOS
Video Resolution: 4K, 30fps
Megapixels: 12
ISO range: 100 – 12,800
The Pros
Phenomenal build quality
Excellent burst and slow-motion modes
Great for underwater photography
Good low-light performance
The Cons
Screen scratches easily
Unintuitive menu system with no manual options
5. Fujifilm Instax Mini 70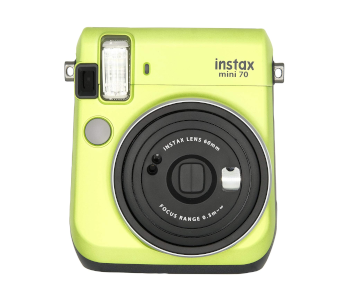 View on Amazon
Editor's Rating: 4.1/5
There's something to be said about owning meaningful physical photos instead of browsing endless digital ones on a phone. Waiting for a film to develop is boring, which is why kids of all ages will get a kick out of the Instax 70! This film camera blends eye-catching design with basic yet functional settings and the joy of watching your photo take shape in front of you. It's ideal for selfies, nature shots, and capturing any fun moment your little ones experience.
Overview of Features
The Instax 70 looks different from other cameras on the review since room needed to be made for its physical film. The camera comes in a slew of fun color options and has a plastic build. It isn't made poorly, but it's wise to tell your kids to be careful when using it. There's a small selfie mirror in the front for help with assuming the perfect pose, and the back is home to an informative monochrome LCD.
This is the easiest camera to shoot with we've tested. After inserting the film, all you need to do is select a mode and press the shutter button. The photo pops out from the camera's top and takes two minutes to develop. It's important to tell your kids not to pull on the photo as it's ejected since that could harm the film or the Instax 70.
There are no manual controls, but the camera does well when determining the focus and needed flash brightness for a scene. The film has an ISO rating of 800 and a color temperature of 5,500K which corresponds to white daylight. It produces beautiful pictures in photo mode, but they tend to turn out overexposed in bright sunlight.
You can adjust how photos will turn out with timer and mode settings. Modes involve a dedicated selfie preset, Hi-Key which brightens up darker scenes, and Fill-in Flash that forces flash activation regardless of brightness. There's also a dedicated landscape mode even though the Instax 70 shoots in portrait.
What's Bad About It?
While the Instax 70 is reasonably priced, the same isn't true for its film. One pack contains enough film for ten shots and costs as many dollars when not on sale or in a bundle. The camera needs two CR2 lithium batteries. These are harder to find than AAs and need to be fully charged when inserted into the Instax 70 for the first time. On the plus side, two batteries are enough to take 300 pictures.
Tech Specs
Dimensions: 4.5 x 3.9 x 2.2 in
Weight: 9.9 oz.
Photo size: 2.5 x 1.8 in.
Film ISO: 800
The Pros
Effortless shooting experience
Few yet impactful shooting modes
Film develops shortly
Long-lasting batteries
The Cons
Film is expensive
Batteries are hard to find
6. Best Budget Option – Kurio Snap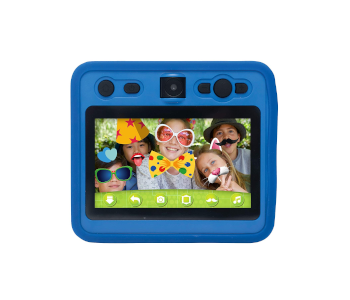 View on Amazon
Editor's Rating: 4.3/5
Our budget pick is a camera-tablet hybrid younger kids will love. Designed for children four and up, the Kurio snap excels at switching from standard photos to selfies as well as entertaining your little ones when they get bored of pictures and videos. Best of all, it has a rechargeable battery, a convenient feature you wouldn't expect given the price.
Overview of Features
Kurio Snap is a large, tablet-shaped camera with rubberized edges and a prominent 4.3-inch touchscreen. Its lens is located above the screen and can rotate 180 degrees. That way a single lens acts as a front-facing and a selfie camera without compromising picture quality. You get a USB cable with which to charge the 1,000mAh battery. Charging takes three hours, and the battery lasts from ten days while on standby to a couple of hours if the Snap is under heavy use.
Like with the Kidizoom Duo, you can't change any photo settings before shooting. What you can do is customize the photos in countless fun ways after the fact. There are lots of stickers, backdrops, and frames for your kids to experiment with & create the perfect picture. There's also a freehand drawing tool that lets them scribble notes or draw mustaches to create genuinely unique pics.
Kids fed up with photography can use the Kurio Snap as an MP3 player and listen to songs from an SD card through headphones. There are also three games they can try which star them as a hero if they take a picture before starting. They can either chase flies, use hand motions to create tasty meals, or get a virtual makeover complete with different hairstyles and colors.
The 3MP camera isn't top of the line, but it takes serviceable pictures. Video is miles better than that seen on the Kidizoom Duo, but worse than a budget smartphone's. Kids can also create boomerang shots, which are short GIF-like videos that loop to the beginning. All three media types can be shared with other Kurio Snaps as well as smartphones if you install the corresponding app.
Are There Drawbacks?
Kurio Snap is another camera you'll need a lot of light to use. It behaves poorly in dim light, especially if you're making videos. Even though the body is rubberized, the materials the camera is made from feel cheap. Tell your kids to pay attention when using it as it won't survive a fall.
Tech Specs
Dimensions: 7.9 x 2.4 x 6.7 in.
Weight: 13.1 oz.
Video Resolution: 720p
Megapixels: 3
The Pros
Lots of features at an excellent price
Takes decent photos
Many photo customization options
Has rechargeable battery
The Cons
Poor low-light performance
Mediocre build quality