6 Best Label Printers of 2019
3D Insider is ad supported and earns money from clicks, commissions from sales, and other ways.
When your business is finally starting to pick up and customers are ordering like crazy, relying on an old inkjet and a pair of scissors to make mailing addresses just isn't an option anymore. Even if you've only got a pantry to reorganize and need a way to tell apart pickles from prunes, the best thing to do is to get a reliable label printer!
In this guide, we take a look at the best label printers that you can buy in 2019.
Budget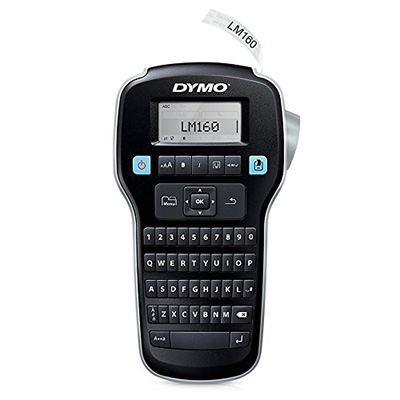 DYMO LabelManager 160
4.2/5.0
Max resolution 180dpi
Max label width 0.5 in.
Live label preview and power-saving feature.
Check Amazon
Best Value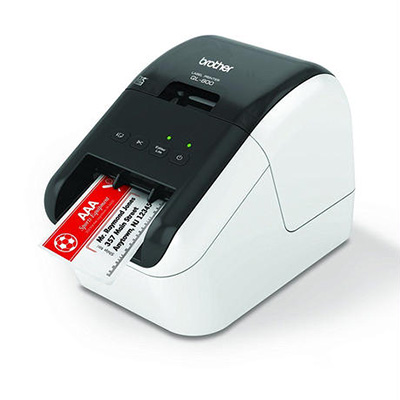 Brother QL-800
4.6/5.0
Max resolution 300dpi
Max label width 2.4 in.
Quickly produces labels and supports two-color tape.
Check Amazon
Top Pick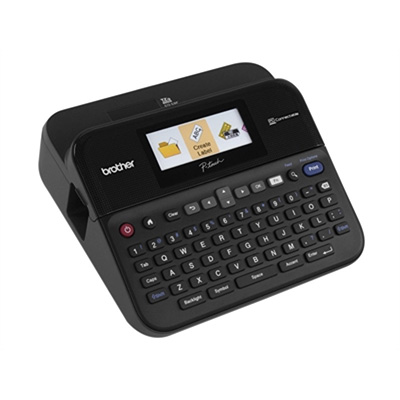 Brother P-touch PTD600
4.7/5.0
Max resolution 360dpi
Max label width 1 in.
Great mobility. Can print up to 7 lines of text.
Check Amazon
Label printers are compact and handy devices that use special cartridges or cassettes. Rather than relying on ink which can dry out or leave unseemly blotches, label printers use heat to precisely mark only the part of the tape that corresponds to your design. Best of all, they print in a handful of smaller formats ideal for producing barcodes, labeling folders, or creating durable shipping addresses.
The market isn't exactly overflowing with label printer models and is dominated by a few well-known brands. Even so, there are those that stand out, and we're taking a closer look at six of them. Whether you need a good printer for occasional use at home or can't function without one at the office / job site, the selection we've put together is sure to cover all your labeling needs.
6 Best Label Printers in 2019 Comparison Table
1. Brother P-touch PTD600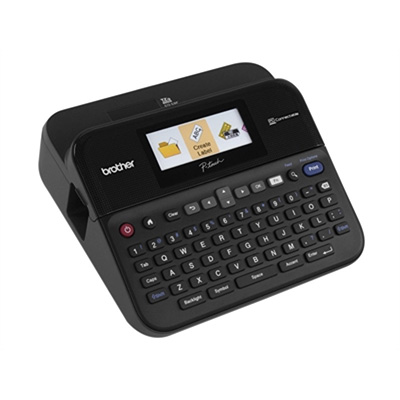 View on Amazon
Editor's Rating: 4.7/5
You'll see us talking about Brother's excellent line of label printers a lot in this article. Even though it seems like they've managed to come up with a model for every occasion and environment, they really outdid themselves with the PT D600! Portable, versatile, and capable of producing top-quality prints, it's our go-to label printing solution, and here's why it should be yours too.
The Portable Printing Powerhouse
When designing the PT D600, Brother wanted to make absolutely sure that you can use it anywhere on its own. It has a fully functional QWERTY keyboard that's very responsive to the touch, and a color LCD screen which lets you see exactly how your labels will turn out without needing to be hooked up to a computer. Best of all, it is powered by either an AC adapter or through 6 AA batteries, so even if you're in a large warehouse with no outlets nearby, you can take full advantage of it.
Labels are created with Brother's proprietary TZe tapes, which you can get in a variety of dual color options The tapes are laminated and depending on the material they're made from can even be ironed onto clothing. The printer supports a number of different widths, 1 inch being the widest. This is big enough for seven lines of text to be printed at once.
Using the PT D600 to design and print labels is simple – the LCD display lets you see what the end result will look like as you type, and customizing the label by adding different border styles or symbols can be done on the spot as well. There are 14 fonts and 8 sizes to use, making each print you design unique. Hooking the printer up to a PC or Mac allows you to design labels even quicker with the editor and store popular designs for later use.
What We Didn't Like
By far the biggest issue you'll run into when using the PT D600 is its tape-wasting print method. Every time you start to print a label, a 1-inch long strip of tape will be wasted before the actual label is made. This can end up costing you a lot on tape replacement in the long run. When using the built-in keyboard, you have to press both the print and OK buttons to start a printing job. It would be quicker if you could just hit print and be done with it.


Tech Specs
Dimensions: 7.9 x 7.6 x 3.4 in.
Powered by: AC adapter, batteries
Maximum label width: 1 in.
Max resolution: 360dpi
Supports color printing: Yes
Has QWERTY keyboard: Yes
Connects to: Computers
The Pros
Color LCD
Responsive built-in keyboard
Great mobility
Lots of font and style options
Can print up to 7 lines of text
The Cons
Tape gets wasted with each print
Two keys need to be pressed to initiate print job
2. Brother QL-800 High-Speed Professional Label Printer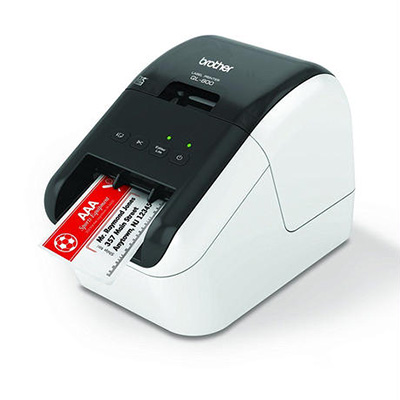 View on Amazon
Editor's Rating: 4.6/5
For an office environment which depends on shipping to stay in business, a quick and reliable label printer is one of the most essential tools. Brother knows this, and apart from versatile models like the one reviewed above, they offer professional label printers like the QL-800 which churn out clean, legible prints with astonishing speed. If volume and quality are more important to you than frills and customization, look no further.
The Speedy Workhorse
You'll find that the QL-800 is highly utilitarian – there are no keyboards or screens to make use of, just its elegant housing, four buttons, and two status lights. It works by connecting either to your computer or smartphone, producing as many as 93 standard-sized shipping labels per minute, more than enough to accommodate any small to mid-sized business.
Pressing its "Editor Lite" button will boot up the built-in editing software on any computer. This gives you a barebones environment in which to design professional-looking prints. The model is also compatible with the excellent P-Touch editor which introduces more fonts, designs, and other options. From one-line barcodes to shipping addresses taking up the maximum label width, prints are detailed and easy to read. Even pictures or postage stamps are great quality at the printer's highest resolution.
Two-color paper is another interesting feature – Brother sells 2.4-inch wide tape that prints in either red or black, or both! With it, you can create labels that unmistakably warn whoever handles a package about the fragile things inside, and it can add a little color to an otherwise stale monochrome design.
What are the Drawbacks?
Tape refills don't come with their own spool, so you'll have to use the one you got with the printer each time or get extras. This doesn't sound like that big of a deal if you use the same-sized tape all the time, but if you need to switch from one size to another frequently, it can be annoying. We also hope that Brother will consider offering the red & black tape in a smaller size in the future.


Tech Specs
Dimensions: 4.9 x 5.6 x 8.4 in.
Powered by: AC adapter
Maximum label width: 2.4 in.
Max resolution: 300dpi
Supports color printing: Yes
Has QWERTY keyboard: No
Connects to: Computers, smartphones
The Pros
Quickly produces lots of labels
Very easy to set up
Great value for money
Supports two-color tape
Versatile editing software
The Cons
Refills don't have their own spools
Red & black tape only comes in one size
3. DYMO LabelManager 280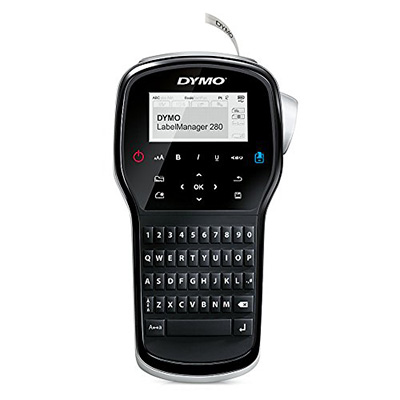 View on Amazon
Editor's Rating: 4.5/5
When you're undertaking the monumental task of organizing your attic or work in a company's shipping department, you can't rely on outlets or computers to keep the labeling going. DYMO's elegant solution to labeling efficiency is the LabelManager 280, a printer powered by rechargeable batteries you can work within any environment.
Label Making on the Go
One look at this printer's design is enough to tell you that it's meant to be used in a dynamic way. The lower part houses its keyboard and is narrower than the upper one where the screen and controls are, making it easier to hold onto the label printer with one hand and type away with the other. The keys are small but nicely spaced, and there's even a number row so you can type addresses or inventory entries more easily.
On its own, the LabelManager 280 provides a basic set of customization options. You get six fonts to play with as well as eight box styles and over two hundred symbols. The layout is visible on the built-in screen and changes as you add or edit the label, leaving no room for error. If you connect the LabelManager to a computer, you also gain access to that computer's font library and can potentially unlock an unlimited number of designs.
All of this would be of little use if the printer had to be tethered to one place or at the mercy of ordinary batteries. In an ingenious move, DYMO has opted to use rechargeable batteries instead. You'll use up more than a full cassette's worth of tape before needing to recharge, making the LabelManager 280 quite cost-effective.
What Should Be Improved?
The screen lacks a backlight, so you'll need to work in a fairly bright environment to see it properly. While letters and numbers are easy to get to, locating even elementary symbols like commas and exclamation marks requires searching through the symbol menus. Making multiple copies of the same label won't be affected, but writing different ones with symbols in them may become tiresome.


Tech Specs
Dimensions: 8 x 2 x4 in.
Powered by: Rechargeable battery
Maximum label width: 0.5 in.
Max resolution: 180dpi
Supports color printing: No
Has QWERTY keyboard: Yes
Connects to: Computers
The Pros
Highly portable
Fits well in the hand
Decent style options
Aability to access other fonts via computer
Long-lasting rechargeable battery
The Cons
Screen isn't backlit
Accessing symbols is complicated
4. Brother P-Touch Cube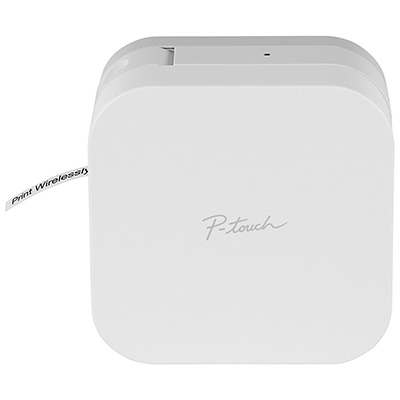 View on Amazon
Editor's Rating: 4.5/5
So far we've mostly discussed label printers that are perfect for work, but what about models tailored more towards creative use? Wouldn't it be great if moms or teachers had a no-fuss label printer they could hook up to their smart device and start designing right away? It seems that Brother is on top of every eventuality as they have a perfect printer for the casual user too – the P-Touch Cube.
Simple on the Outside, Capable Within
Arguably the most visually appealing of the bunch, the P-Touch Cube is just that – a cube-shaped label printer with minimal interventions to its pleasant design. Its ports and buttons are unobtrusive while the TZe cassette tape and 6 AAA batteries are hidden away. You even get to choose between white and sky blue!
Pretty looks don't mean that its performance is shabby though. While it will never outpace the QL-800, the Cube can printout a label with 2-3 words on it on the widest 0.5-inch tape in less than 10 seconds. Since you'll be designing each label through a mobile app, producing different prints is more streamlined than that of models with built-in keyboards.
The ability to connect to and work with your smart device is the Cube's biggest asset. Bluetooth recognition is quick and simple, while the app used to shape and print your creations has a lot to offer. You can either choose among themed presets (kitchen, special occasions, storage etc.) or use the library to make your own border and symbol layouts. The app integrates flawlessly with your smartphone's keyboard, taking full advantage of its built-in spellchecker. Text-to-speech is supported too for maximum convenience.
What's Bad About It?
The Cube doesn't have a USB port, meaning that you can't connect it to a PC/Mac. The software it comes with is great if you mostly stick to the presets, but limiting when you want to design your own labels with anything more than a single symbol. Lastly, you'll need to pair your device with the Cube each time you activate it. This can take upwards of half a minute and is annoying if you just want to print straight away.


Tech Specs
Dimensions: 4.5 x 2.5 x4.5 in.
Powered by: AC adapter,batteries
Maximum label width: 0.5 in.
Max resolution: 180dpi
Supports color printing: Yes
Has QWERTY keyboard: No
Connects to: Smartphones and tablets
The Pros
Can be used anywhere
Clean, beautiful design
Useful label presets for different situations
Supports wide array of TZe tapes
Makes good use of built-in smart device features
The Cons
Can't connect to computers
Custom-made designs are limited
Needs to recognize phone / tablet each time
5. Brady BMP21-PLUS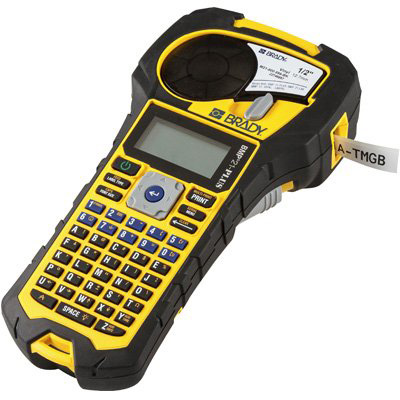 View on Amazon
Editor's Rating: 4.4/5
Factories and laboratories call for a label printer that can keep up with rigors and hazards most models are never likely to face. Brady delivers on this! They're known for creating highly robust and specialized label makers. Both they and the labels that come out of them are designed to last a good while in the toughest conditions. If you're an engineer that needs clearly-labeled circuits and wires no matter how gritty the job site is, the BM 21 will never disappoint you.
The Rugged Specialist
Since it's likely that your work day involves bumping into things and less than careful coworkers, it's great that Brady has designed their label printer to be so tough. It has rubberized bumper guards that mitigate fall and shock damage, and a manually-operated cutter that holds on to the label. There's a versatile attachment dock located on its back that houses either a flashlight, a magnet, or a belt strap.
The LCD display is backlit and filled with useful information like the battery's status, whether bold is on or not etc. The keyboard has caps lock and shift functions which toggle capitalization and give you access to general as well as specialized engineering and electrical symbols. If you get the Lab version instead, the printer comes with more symbols used in science and can format the labels to suit test tubes.
Monochrome prints in a couple of resolutions are available, the maximum being 180dpi. There's only one font, but the numbers and letters are all clearly distinguishable. Each label can be serialized and printed along with its own barcode in either Code 39 or 128 formats. The printer has enough internal memory to store 12 different print designs, and a single one can be copied up to 99 times with the choice of continuous or single output.
What Could Have Been Better?
After a time the prints might start to fade and become hard to read if dirt accumulates on the print head. If you print only one line of text, it doesn't get centered even if you turn on the corresponding setting. Clip-on magnets and batteries are a great idea, but you can only use one or the other.


Tech Specs
Dimensions: 9.9 x 4.5 x 9.5 in.
Powered by: AC adapter, rechargeable battery
Maximum label width: 0.75 in.
Max resolution: 203dpi
Supports color printing: No
Has QWERTY keyboard: No, ABC instead
Connects to: N/A
The Pros
Rugged and shockproof
Long-lasting labels
Comes with useful clip-on accessories
Has rechargeable battery
The Cons
Print head needs to be cleaned occasionally
Can't use magnet and flashlight simultaneously
Expensive
6. DYMO LabelManager 160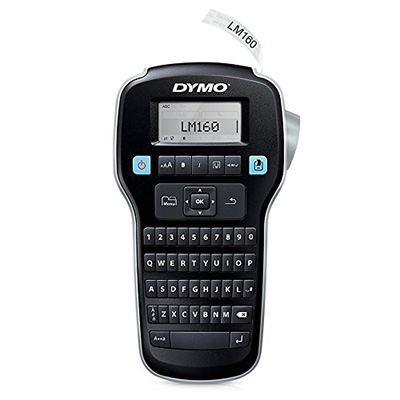 View on Amazon
Editor's Rating: 4.2/5
Are you keen on imposing some order on the chaos that is your home or office, but don't want to spend much money on a label printer? In that case, give DYMO's LabelManager 160 a shot. It's the 280's less versatile little brother, but the appealing price makes missing out on things like more borders and font styles a fair tradeoff.
Your New Inexpensive Organization Tool
In appearance, the 160 looks very much like the model we've reviewed above. There's the same black & gray plastic housing with its narrow bottom part, a one-line LCD screen you can preview the label on, and a QWERTY keyboard without symbols. The controls are easy to grasp and you'll likely start printing without consulting the manual.
Everything about the LabelManager 160 is geared towards saving you time and money. When cutting, it is much more precise than most of Brother's models and leaves less wasted tape. The tapes themselves are cheaper to buy, and a refill can last you a while. The printer is powered by AAA batteries and has an auto shut-off function that prevents it from draining them.
Font and design options are rather sparse as you can't connect the printer to a computer, but they will do for most people's organizational needs. There are six fonts as well as eight styles to accent them with like underlining and text reversal. Two lines can be printed with a maximum font size of 12 each.
Are There Drawbacks?
Apart from the clunky symbol selection we've mentioned earlier, the 160 has a tendency to jam when you change cartridges. Printing a short label containing just a letter or two first will fix the problem, but issues like this shouldn't be present in the first place.


Tech Specs
Dimensions: 8 x 1.9 x 4.7in.
Powered by: Batteries, optional AC adapter
Maximum label width: 0.5 in.
Max resolution: 180dpi
Supports color printing: Yes
Has QWERTY keyboard: Yes
Connects to: N/A
The Pros
Great value for the money
Live label preview
Fair amount of customization options
Power-saving feature
The Cons
Frequently used symbols are hard to get to
Fresh cartridges need to be walked in
What to Look for in a Label Printer
Portability
Scope& Connectivity
Print Sizes & Resolution
Refil Options
Operating Costs