6 Best Mechanical Keyboards in 2020
3D Insider is ad supported and earns money from clicks, commissions from sales, and other ways.
The keyboard is your primary means of communicating with a computer, so why settle with a cheap, mushy one that turns typing into a chore? Mechanical keyboards are where it's at, and once you've experienced the delight of typing on one you'll never want to go back!
Switch design is the main difference between mechanical and other keyboards. Mechanical switches are superior to rubber dome and scissor alternatives in terms of accuracy, responsiveness, and durability. Using a mechanical keyboard lets you raise your WPM and productivity in general since you'll be making fewer mistakes. Going mechanical gives you an edge in gaming too since the split-second reaction boost they offer can mean the difference between dodging an attack and getting caught in the crossfire.
We've already covered cheap models elsewhere. This time we're pulling out all the stops and bringing you the six best mechanical keyboards for when money is no object. All of them feature vivid RGB lighting, are built to last, and can be minutely tweaked. Some even take customization to the next level, turning your keyboard into a smart controller and status monitor. Read up on what makes each of our picks worthwhile and get the finest typing experience money can buy.
Budget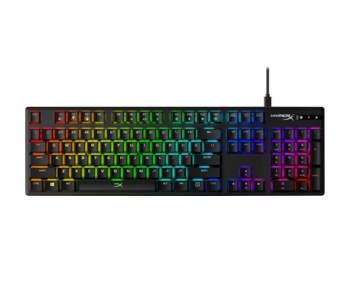 HyperX Alloy Origins
4.4/5.0
USB pass-through: No
Has wrist rest: No
Straightforward companion software.
Check Bestbuy
Best Value
Razer BlackWidow Elite
4.6/5.0
USB pass-through: Yes
Has wrist rest: Yes
This has excellent media controls.
Check Amazon
Top Pick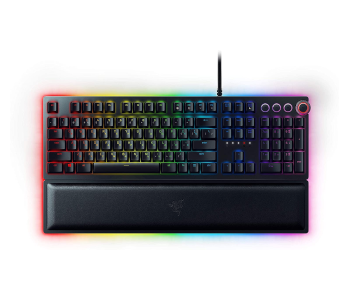 Razer Huntsman Elite
4.8/5.0
USB pass-through: No
Has wrist rest: Yes
Beautiful design and clever layout.
Check Amazon
Mechanical Keyboards Comparison Table
1. Best Overall – Razer Huntsman Elite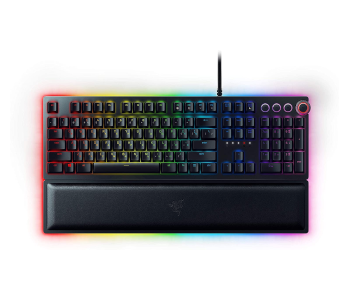 View on Amazon
Editor's Rating: 4.8/5
Do you need a keyboard that types documents or executes complex commands at the speed of light? Look no further than the Razer Huntsman Elite, the fastest, most responsive keyboard in existence. It offers instantaneous feedback thanks to unique optomechanical switches, has pleasant RGB lighting, and is one of the best-looking keyboards around. We also highly recommend the regular Razer Huntsman you can get for considerably less if you don't mind missing out on the wrist rest and media keys.
Overview of Features
The Huntsman Elite is among the finest-looking keyboards we've ever had the pleasure to use. Its frameless design combined with a clever layout and anodized aluminum top is understated yet highly functional. We especially liked the media keys and perfectly-placed volume knob that let you control playback and loudness intuitively. The lock indicator lights that Razer placed above the arrow keys are another minor feature that makes a big difference. It's a simple way of utilizing the otherwise barren space more manufacturers should adopt.
While the Huntsman Elite's outward appearance is impressive, it's what's underneath that makes it unique. The keyboard uses optomechanical switches that register keystrokes thanks to lasers while keeping the tactile feel and clickiness of traditional mechanical switches. They respond instantly and have the same 42g pressure requirement as Cherry MX Red switches while matching or exceeding the speed of the Silver variety.
The speed boost translates into noticeable gains in real-life scenarios. Expect your WPM to soar after an initial adjustment period. Likewise, your game performance is sure to improve due to increased actions per minute potential and more precise input.
Lighting on the Huntsman Elite is fantastic. The individual LEDs are clean and subdued, illuminating each letter while providing a soft underglow that isn't distracting. The Huntsman Elite's sides and comfortable wrist rest have RGB bands too. A volume knob changes illumination to increasingly brighter white the louder your sound setting, adding to the audiovisual experience
You can fine-tune everything about the lighting and input through Razer Synapse. Programing the Huntsman Elite to string together multiple effects is possible but not always easy as there are many screens to traverse. You might want to load up custom lighting profiles for many popular games like Overwatch or StarCraft 2 and have the keyboard change colors depending on the character or side you select.
What We Didn't Like
The Huntsman Elite draws a lot of power and hogs two USB ports to run its contingent of lights and lasers. This wouldn't be an issue if a USB pass-through existed, but the Huntsman Elite surprisingly lacks this feature commonly seen on keyboards of its caliber. Macro keys are absent too. We once again draw your attention to Synapse's intrusive practices. You'll have to register an account and provide a valid email to configure the keyboard, which is a practice only Razer uses.
Tech Specs
Dimensions: 1.4 x 9.2 x 17.6 in.
Weight: 3.8 lbs.
Switch style choices: Optomechanical switch
USB pass-through: No
Has wrist rest: Yes
The Pros
Exceptionally responsive
Beautiful design and clever layout
Excellent RGB lighting
Potent configuration software
The Cons
Takes up two USB slots without having a pass-through
Razer Synapse requires account registration to be used
2. Best Value – Razer BlackWidow Elite
View on Amazon
Editor's Rating: 4.6/5
Are you a Razer fan but can't justify spending close to $200 on a keyboard? In that case, the BlackWidow Elite is your best option. Its Elite version has the same media controls as the Huntsman Elite, along with a leatherette wrist rest. However, the basic version is as responsive and customizable yet costs even less. It's not as lightning-fast as the Huntsman, but the BlackWidow is a top-tier mechanical keyboard nevertheless.
Overview of Features
Razer's been sticking to a tried & true design for its BlackWidow keyboards for years until the Elite version came along. It now finally features dedicated media keys identical to the Huntsman Elite's. They're round and tactile, so they're much easier to find than having to identify and press the right function key on ordinary BlackWidows. The volume control protrudes slightly and is easier to control for it. You may use it to adjust lighting as well.
The BlackWidow Elite comes in three flavors of Razer's proprietary MX switches. Green is the standard option and delivers a tactile, clicky sensation akin to Cherry MX Blue. Orange is quieter yet retains the tactile feel while Yellow is linear and best suited for quiet gaming and office work. All three switches need little force to activate and have short pre-travel distances. That translates into quicker response times and accurate control execution every time.
Unlike its more expensive cousin, the BlackWidow Elite has a USB 2.0 pass-through along with a 3.5m jack for your headphones. It also supports HyperShift, a feature that lets you instantly access a key's alternate function. You first have to designate a HyperShift key and then map out layouts for it in Synapse. Pressing the HyperShift and another key combined results in a new action. This is a fantastic feature for gaming and work alike as it lets you fire off multiple abilities without moving your hand or gives quick access to frequently-used macros.
The BlackWidow Elite is lit by Razer's Chroma lighting and configured through Synapse, so expect comparable results and capabilities with the Huntsman Elite. You can also save five profiles to the keyboard's onboard memory and use it on PCs that don't have Synapse installed.
What's Bad About It?
The BlackWidow elite's shortcomings all have to do with Synapse. The profiles it can store internally only apply to macros and HyperShift; you'll still have to install Synapse and log into your account to also access lighting profiles. Synapse also doesn't work on Mac or Linux, making most of the keyboard's advanced features exclusive to PC users.
Tech Specs
Dimensions: 1.7 x 9.2 x 17.7 in.
Weight: 3.8 lbs.
Switch style choices: Razer Green, Yellow, or Orange
USB pass-through: Yes
Has wrist rest: Yes
The Pros
Versatile and responsive keyboard at a reasonable price
HyperShift makes accessing multiple commands and macros easy
Excellent media controls
Quality proprietary switches
The Cons
Onboard profiles don't save lighting configuration
Lacks support for Mac and Linux
3. SteelSeries Apex Pro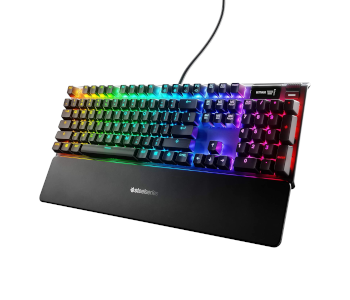 View on Amazon
Editor's Rating: 4.7/5
Finding the right key actuation point is a crucial part of buying a mechanical keyboard. Keys that register as soon as you press them are preferred for fast-paced gaming, while those that work only when pressed all the way down are better at fast typing and general productivity. Why not have both? That's the philosophy behind the SteelSeries Apex Pro, an innovative mechanical keyboard with adjustable key actuation.
Overview of Features
The Apex Pro is a beautiful RGB keyboard with few of the usual suspects you'd associate with gaming gaudiness. It uses a highly visible, bold font that helps the light shine through. The brushed aluminum top plate is elevated just enough to give each key a warm underglow that's fun to look at but doesn't distract when it's time for serious tasks.
The keyboard comes with one of the most comfortable and best-designed wrist rests out there. The accessory is magnetic, so attaching and removing it is a breeze. The top is thin rubber instead of leather but supports your wrists well. A small OLED screen on the Apex Pro itself is another unique feature. It shows settings changes as you make them and can store an image or gif to make the keyboard truly your own.
Adjustable actuation is the Apex Pro's star feature. It works by adjusting a magnetic field under each keycap; the stronger the field, the less force is needed for a press to register and vice versa. You can choose between ten presets, the first being a hair-trigger 0.4mm, and the last a deep 3.8mm. Best of all, you can set up multiple profiles and even set up different actuation points for each key. That could be useful in games like Overwatch or Valorant, where you'd want movement to happen instantly but still require a deliberate press to activate abilities.
You access all the Apex Pro's capabilities through SteelSeries Engine 3. It's a clean and well-organized config utility with comparatively few options. However, the lighting effects and presets it does have are all well-thought-out and more original than most. Unlike Razer's keyboards, the Apex Pro's five onboard profiles store every change you make.
Are There Drawbacks?
The Apex Pro is the most expensive mechanical keyboard on review, and you'll have to decide whether its outstanding feature is worth the premium. We'd say it is, with a caveat. Pressing down on a key feels the same regardless of your actuation point setting, so there's no difference in feel between profiles.
Tech Specs
Dimensions: 1.6 x 5.5 x 17.2 in.
Weight: 4.2 lbs.
Switch style choices: Omnipoint adjustable
USB pass-through: Yes
Has wrist rest: Yes
The Pros
Configurable actuation points make this one of the most versatile keyboards ever
Excellent font and visibility
Comfortable wrist rest
Simple and effective companion software
The Cons
Expensive
Changing the actuation point doesn't affect the keyboard's feel
4. Das Keyboard 4Q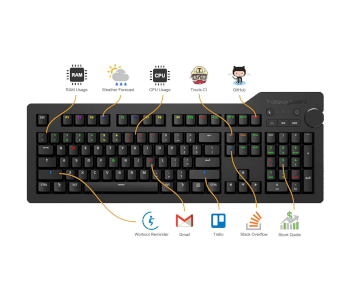 View on Amazon
Editor's Rating: 4.6/5
All the mechanical keyboards we've reviewed so far are excellent performers, but none of them brings anything revolutionary to the table. Not so for the 4Q by Das Keyboard, a smart typing tool with the potential to vastly increase the use you're getting from staring at rows of keys. Innovations aside, the 4Q is a productivity-focused, high-quality keyboard you'll love to game on as well.
Overview of Features
Das Keyboard has always had a flair for design, and the 4Q is another feather to add to their cap. It's rock-solid, has pleasantly beveled edges, and a set of well-placed media controls. The top right is home to two more unique keys. Sleep puts the computer in sleep mode without prompting, while Q opens the configuration software and works with other keys we'll mention shortly. There's also a USB 2.0 hub that offers ports for two portable drives or other essentials.
RGB lighting is a recent addition to Das Keyboard's products, and its implementation is excellent. The keyboard uses special Cherry MX RGB Brown switches featuring a transparent housing that lets more light through each laser-etched letter. The lighting is dim during the day, and its glow is subdued. The tactile yet silent Brown switches ensure you can type away without angering your colleagues. These make the 4Q an excellent choice if you're working in an open office.
The Q software is the brains behind the 4Q and does the basics like macro and light setup well. However, applet integration makes it immensely more useful and versatile. Applets integrate with keys and their colors to produce unique effects when certain conditions are met. For example, there's one that monitors CPU usage and displays the results in the number row. The corresponding numbers light up to represent ten-percent increments in colors from green to red to represent increasing stress levels.
The core software offers several of these useful applets, like one that flashes when it's time to sit up from the desk and exercise, or one that does the same when someone mentions you on Facebook. The selection expands tremendously once you add support for services like IFTTT and Zapier. You can then set the 4Q up to notify you when eBay auctions of interest are posted, when you're assigned a new Trello card, or when there's breaking news on your favorite channel.
Pressing the top right Q together with an assigned key can briefly open notifications, making it easier to keep abreast of your Twitter feed or take a peek at current stock prices. As if that wasn't enough, 4Q lets you control and monitor smart home devices. This includes Phillips Hue lights, the Nest Learning Thermostat, LG washing machines, and more.
What We Didn't Like
The 4Q's applet and smart home integrations are impressive, but it's uncertain how many people will find them necessary. You can do everything the 4Q has to offer from a desktop screen or your smartphone without having to change habits and get a cheaper Das Keyboard 4 with the same build quality. The Q software isn't the most stable and introduces as many issues as it fixes with new updates. There are no onboard profiles either, so you always have to keep it running in the background.
Tech Specs
Dimensions: 1.3 x 6.8 x 18 in.
Weight: 2.8 lbs.
Switch style choices: Cherry MX RGB Brown
USB pass-through: Yes
Has wrist rest: No
The Pros
Offers an innovative take on what a keyboard can do
Solid build quality
Excellent subdued RGB lighting
Supports smart home control
The Cons
Applets and smart features might not be enough to make you change habits
Buggy and unstable software
5. Corsair K95 RGB Platinum XT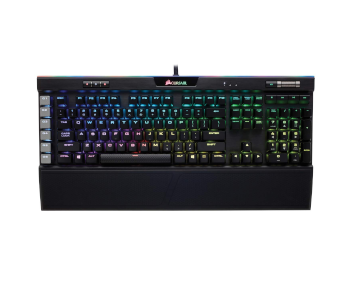 View on Amazon
Editor's Rating: 4.5/5
The K95 RGB has been a staple of mechanical keyboard greatness for several years now, and its updated XT version delivers even more value for gamers and content creators. Its main new feature is an integration with the Elgato Stream Deck, allowing you to fine-tune your live-streaming experience more easily. Apart from that, the keyboard features superb build quality, Mac support, and one of the best configuration tools on the market.
Overview of Features
Design-wise, the K95 RGB Platinum XT is a blend of durability, functionality, and style. Its new keycaps are made from double-shot PBT; they're thicker and more durable than ones on older K95 versions. The lighting rivals Razer's in vibrancy and brightness, while an aluminum top plate and strong metal base ensure the keyboard can withstand a lot of punishment.
Corsair doesn't skimp out on additional controls either. There are three buttons on the left used to switch between profiles, lock the Windows key, and change brightness. The first is especially useful since it quickly toggles between profiles and can change color to indicate which one is active. You'll find media control keys and a textured volume roller above the Numpad. Finally, six dedicated macro keys occupy space left of the regular keyboard layout.
You may choose between original Cherry MX Blue, Brown, and Speed Silver. The last one is particularly interesting since it's an upgrade to standard Red switches. Their linear, silent action ensures maximum efficiency when gaming or typing while keeping noise down.
Corsair's iCue software is excellent. Most of its features are easy to find and set up, and it has even become fully compatible with Mac towards the end of 2019. Running it parallel with the Elgato Stream Deck also lets you assign the macro keys to various streaming functions. For example, they can start or stop the stream, turn background music on and off, or open your Twitter account to let followers know you're about to go live.
Are There Drawbacks?
The K95 RGB Platinum XT is a fine keyboard, but it's placed so far down because of quality control issues. Some units come with faulty pass-throughs, while others develop an annoying problem over time where a single keypress registers multiple times. You'll get a replacement if it's still under warranty, but be prepared for a lot of back and forth with Corsair's slow and unresponsive customer service.
Tech Specs
Dimensions: 1.4 x 6.7 x 18.3 in.
Weight: 4.8 lbs.
Switch style choices: Cherry MX Blue, Brown, Speed Silver
USB pass-through: Yes
Has wrist rest: Yes
The Pros
Excellent build quality and durability
Well-placed and useful media & macro keys
Seamless integration with Elgato streaming hardware
iCue is easy and pleasant to use
The Cons
Poor quality control
Frustrating customer service experience
6. Best Budget Option – HyperX Alloy Origins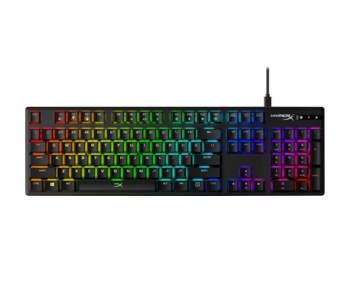 View on Bestbuy
Editor's Rating: 4.4/5
All the extra doodads our top picks feature are great for tinkers, but what if you just want a dependable keyboard that looks and feels fantastic? HyperX has the answer in the form of the Alloy Origins. This unassuming keyboard delivers everything you'd want from a basic RGB mechanical keyboard and cranks the quality up to eleven. It's built to last, comes with straightforward configuration software, and is a pleasure to type or game on. What more could you need?
Overview of Features
The first thing you'll notice about the Alloy Origins is its superior construction. It's among the smaller and lighter keyboards on review, but nothing about its all-aluminum body signals poor quality. Further examination reveals subtle yet welcome details like a braided detachable cable and feet adjustable to three positions. Coupled with three onboard profiles, these make the Alloy Origins an ideal choice for tournaments and general gaming on the go.
HyperX uses proprietary mechanical switches that go toe to toe with Cherry MX originals. The Red version compares to the eponymous Cherries, delivering a linear feel with slightly shorter travel distances and actuation points. The newly-introduced HyperX Aqua switches mimic the silent yet tactile response of MX Browns and are a good fit for productivity. Both switches are marginally faster than their Cherry MX counterparts while delivering a slight boost in precision and accuracy.
You can set up multiple profiles, assign macros, and design cool light patterns through the NGenuity software. It has an intuitive tab-based layout with quick access to all aspects of tweaking. There's even a tab where you can select game-specific profiles. Speaking of lighting, the Alloy Origins has strong RGB lights you might want to turn down in an otherwise dark room. Fortunately, they're highly configurable. We especially liked a setting that keeps them off when you aren't doing anything and dims them after every keystroke.
Are There Drawbacks?
Some users may think that HyperX has gone overboard with its barebones design. After all, you can find much cheaper keyboards with pass-through, media, and macro keys this keyboard omits. Lack of responsiveness is a more serious problem. The Alloy Origins may occasionally ignore a keypress. This rarely happens at first but increases with use. It's not a universal problem, though, and contacting HyperX while the keyboard is under warranty will get you a replacement.
Tech Specs
Dimensions: 1.5 x 5.2 x 17.4 in.
Weight: 2.4 lbs.
Switch style choices: HyperX Aqua or Red
USB pass-through: No
Has wrist rest: No
The Pros
Excellent value for the money
Superb build quality and convenient compact format
Straightforward companion software
Good proprietary switches
The Cons
No dedicated media or macro keys
Might become unresponsive with use