6 Best Mirrorless Cameras of 2020
3D Insider is ad supported and earns money from clicks, commissions from sales, and other ways.
It's never been clearer that mirrorless cameras are equal to if not better than DSLRs in most respects. Each year sees the introduction of new models with better specs and DSLR-level performance in much smaller bodies. Even older mirrorless models are getting cheaper while delivering top performance for people on the lookout for their first real camera.
There are many reasons to get a mirrorless. They are more compact and lighter than DSLRs yet do not suffer a loss in quality because of it. Electronic viewfinders have advanced to the point that they're indistinguishable from optical ones when tracking is concerned but offer a live preview of every adjustment you make. Some models even have batteries that come close to DSLRs and can take almost a thousand photos before needing to be recharged.
In this guide, we're taking a look at the six best mirrorless cameras on the prosumer market. Our aim wasn't to go for professional models that would set you back thousands of dollars. Rather, we've assembled a selection of versatile cameras both enthusiasts and pros love to shoot with no matter the challenge. Take a look at our extensive review and upgrade to a top-quality mirrorless camera today.
Budget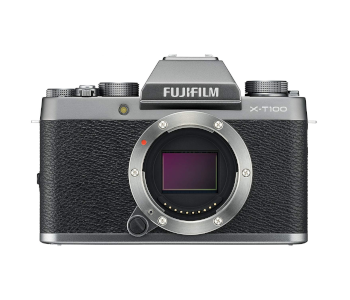 Fujifilm X-T100
4.1/5.0
Sensor: APS-C
Burst: 6fps
It has a dependable Auto mode.
Check Amazon
Best Value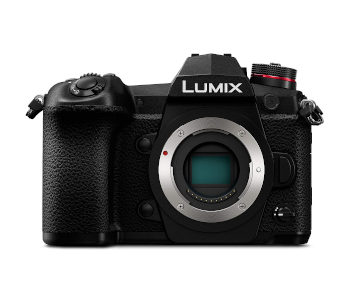 PANASONIC LUMIX G9
4.6/5.0
Sensor: 4/3
Burst: 60fps
Has in-depth control customization options.
Check Amazon
Top Pick
Nikon Z6
4.8/5.0
Sensor: 35mm
Burst: 12fps
This has a quick and versatile autofocus.
Check Amazon
Mirrorless Cameras Comparison Table
1. Best Overall – Nikon Z6
View on Amazon
Editor's Rating: 4.8/5
The best mirrorless camera has to score high marks in photo quality, quick focusing, and burst shooting. There were many expectations in anticipation of Nikon's Z6, and we're glad that all have either been met or exceeded! It's a wonderful all-around powerhouse both photographers and filmmakers will love. The autofocus and in-camera stabilization systems are robust. Its performance in low light is excellent, and the detail its full-frame sensor puts out is remarkable in spite of its seemingly small megapixel count.
Overview of Features
Nikon designed the D6 to resemble a DSLR in terms of build and control layout. It's certainly got the heft of one along with a quality magnesium alloy finish and rubberized handgrip. The camera is also weather-sealed, ensuring flawless operation even in challenging conditions. The control scheme will be familiar if you've shot with a mid-to high-range Nikon camera before, but newcomers to the brand will quickly get their bearings too due to clear labeling and a logical layout.
The Z6 has three screens. The first is a small monochrome display that shows relevant shooting information when you need a quick lookup. The second is its excellent viewfinder. It boasts a resolution of over 3.6 million dots and has a 0.80x magnification. Its refresh rate is 60p, which makes for a smooth viewing & framing experience coupled with subtle information displayed along its edges. Lastly, there's the 2-million dot touchscreen. It responds to touch instantly and lets you access the Z6's menus and make tweaks as you shoot.
The camera's autofocus is excellent and keeps evolving. There are 273 autofocus points at your disposal, easily selected with the joystick. The Z6 snaps onto subjects in an instant and can even compensate for unfavorable lighting with an AF guiding beam. Focus isn't lost as subjects move either since Dynamic and Eye AF modes keep the Z6 glued to subjects with adjustable precision. The latter was added with a firmware update in 2019, so the camera might become even more feature-rich in the future.
Photos shot with the Z6 are among the best we've seen. Its backlit full-frame sensor allows lots of light to pass through, delivering bright images at any aperture setting. You'll love using the Z6 as a sports or wildlife camera since its 12fps burst mode can keep up with the speediest of subjects. Best of all, the camera manages to retain both focus and sharpness throughout the frame regardless of shooting speed. Colors are well rounded, and you need minimal EV compensation since the Z6 manages to retain lots of detail in high-contrast environments.
Filmmakers will appreciate the Z6's abundance of video modes. The maximum is 4K at 30fps, but you can also switch to FullHD and crank the framerate up to 120 for smooth slow-motion sequences. There's also built-in 5-axis image stabilization along with a feature that reduces vibration and makes filming without a tripod viable.
What We Didn't Like
The Z6 has a buffer of just 46 images. Action shooters will need to carefully time their shutter release to compensate. The battery is rated at only 330 shots. While you can get away with more if you don't use the LCD, you'll need to bring a replacement when shooting all day.
Tech Specs
Dimensions: 5.3 x 4.0 x 2.7 in.
Weight: 41.4 oz.
Sensor: 35mm
Burst: 12fps
Battery capacity: 330 shots
ISO range: 100 – 51,200
Max still resolution: 24.5 MP
Max video resolution: 4K, 30fps
The Pros
Fantastic all-around performance
Quick and versatile autofocus
Backlit 35mm sensor ensures outstanding low-light performance
Steady photos & videos thanks to IBS and vibration reduction technology
The Cons
Mediocre battery life
Small image buffer considering its top burst speed
2. Best Value – PANASONIC LUMIX G9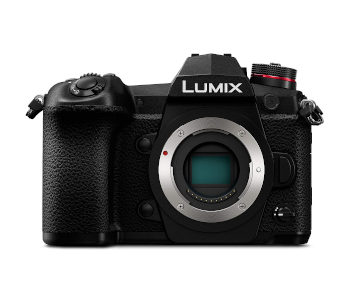 View on Amazon
Editor's Rating: 4.6/5
Even though it's two years old now, Panasonic's Lumix G9 remains one of the best and most advanced four-thirds mirrorless cameras on the market. It's another all-rounder, boasting specs like double-digit burst shooting and advanced image stabilization on the one hand and 4K 60fps videos on the other. Best of all, you can often find it on sale at a price that rivals the newly-released yet slightly weaker Panasonic Lumix G95.
Overview of Features
The G9 is more compact than Nikon's Z ad weighs less. Its build quality is comparably high, however, since each button and dial is weather sealed. We especially enjoyed the deep rubberized grip. It gives you a lot of room to hold the camera securely, and its ergonomics allow reaching most of its controls with the right hand. Speaking of controls, they're numerous and geared towards the professional user. There are three dials, a focus joystick, and five customizable buttons, among others. There's also a lever in the front you can set to one of seventeen functions, each with different effects depending on the toggle.
The G9 has one of the finest and biggest EVFs on a four-thirds camera to date. It boasts a 3.8-million dot resolution, 0.83x magnification, and behaves flawlessly in all but the dimmest conditions. The LCD is no slouch either. It articulates fully, making the G9 a good choice for social photographers and influencers. Its touch aspect is refined and supports pinch or swipe commands you're familiar with from using a smartphone. You can access the menus with touch and populate a separate one with frequently-used features.
The best thing about the G9 is its versatility. You can use it as a sports camera since its maximum burst speed when switched to the electronic shutter is 20fps. Coupled with a shutter speed of 1/8000 of a second, this makes for sharp and accurate freeze-frames of anything from baseball to Formula 1. Need even more speed? How about shooting at 30fps in 6K or 60fps in 4K? The image buffer is limited to 50 in such extreme cases and for RAW files. You can also snap continuously until space runs out if you switch to JPEG and a more than adequate 9fps.
Landscape photographers might be put off by the G9's relatively small 20.3-megapixel output. However, it has a high-resolution mode that takes four pictures in rapid succession and stitches them together. The result is a beautiful 80MP image with striking detail perfect for billboards.
The G9 uses an advanced version of autofocusing based on contrast detection. You'd think this would be inferior to hybrid AF, but the results are both accurate and reliable. The camera has no trouble distinguishing subjects from the background and staying with them if they're on the move. Focusing receives help from image stabilization present in both the G9 and its lenses.
As for video, the G9 records oversampled clips at 4K, 60fps. It doesn't have many advanced features like V Log profiles, but zebra stripes and focus peaking did make the cut. The autofocus doesn't let up for video either and accurately tracks subjects. Finally, you can improve audio quality by attaching an external microphone and listen to the input thanks to a dedicated headphone jack.
What's Bad About It?
Even though it's textured and easy to use, the AF joystick isn't as responsive as we'd like. It only moves in four ways and can't select AF points diagonally, causing you to lose precious seconds when setting up shots. There's no way of disabling the LCD's touch function. That may lead to you inadvertently changing an autofocus point with your nose when looking through the viewfinder.
Tech Specs
Dimensions: 5.4 x 3.8 x 3.6 in.
Weight: 23.2 oz.
Sensor: 4/3
Burst: 60fps
Battery capacity: 400 shots
ISO range: 200 – 25,600
Max still resolution: 20.3 MP
Max video resolution: 4K, 60fps
The Pros
Excellent all-around camera that's frequently on sale
In-depth control customization options
Versatile burst shooting modes
Above-average video quality
The Cons
Clunky AF joystick
Touchscreen can't be turned off
3. Fujifilm X-T3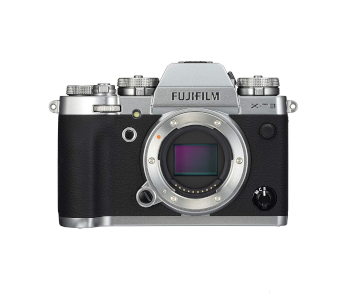 View on Amazon
Editor's Rating: 4.7/5
Do you prefer a hands-on approach to your camera but want a reliable touchscreen as backup? Are you the type that records videos and takes pics in equal measure? If so, there's no better mirrorless camera for your needs than Fujifilm's X-T3. It features a retro control scheme newcomers will embrace too. It lets you switch from video to photo mode and vice versa without overriding your preferences for either. Most importantly, it takes stunning pictures that need little to no work in post.
Overview of Features
Old-timers and users used to working with modern cameras alike will appreciate the X-T3's classic aesthetic. You'll notice that the camera is chock-full of dials. These are both great-looking and allow you to adjust shutter speed, ISO levels, and aperture size manually. While this means there's no traditional mode dial, it speeds up your workflow since there's no need to use the touchscreen.
There are plenty of reasons you'd want to take advantage of the screen, though. It offers a structured menu system that lets you access features you don't often use more efficiently. You can't flip it all the way out like the G9's, but the screen does tilt upward, downward, and to one side. The screen is very sensitive to touch, so much so that you'll want to consider disabling the feature if you accidentally keep switching settings.
This is another camera that excels at delivering clean photos of fast-moving subjects. Its EVF contributes much to the rapid shooting experience as it has a refresh rate of 100p and can keep up with hectic movement even while you're panning. 91 AF points keep subjects centered. You can use individual ones but also switch to clusters to ensure consistency for small or far-away subjects.
We were thoroughly impressed with the X-T3's image quality, especially given its sensor size. 26.1 megapixels is at the upper limit of what a backlit APS-C sensor can put out, and a new processor further enhances quality. Combine that with a lack of anti-aliasing and exceptional dynamic range, and you've got a camera that consistently delivers photo journal-worthy pictures.
The X-T3 is a natural sports shooter as it has an 11fps burst mode if you're using the mechanical shutter, 30 when you switch to electronic. However, it's a great choice for street and artistic photography as well. You have dozens of effects and filters to choose from. Whether you want to achieve the perfect color balance or add more depth to your Black & white cityscapes, there's a setting that's sure to enhance the beauty and artistic flair of your photos.
The X-T3 is no less capable when it's time to shoot video. It delivers 4K at a smooth 60fps, in 10-bit color no less. Upgrading from eight to ten bits improves color gradation and allows for many more subtle tones. Zebras and focus peaking are there to help you prepare a scene, and video autofocus is no less responsive than its photo counterpart.
Are There Drawbacks?
The biggest issue with the X-T3 is the lack of any internal image stabilization. You'll have to get a sturdy tripod and rely on Fujifilm's lenses to do their job instead. Selecting 60 or 50fps as your video resolution induces a slight crop. Keep this in mind when framing scenes.
Tech Specs
Dimensions: 5.2 x 3.7 x 2.3 in.
Weight: 30.7 oz.
Sensor: APS-C
Burst: 11fps
Battery capacity: 390 shots
ISO range: 160 – 12,800
Max still resolution: 26.1 MP
Max video resolution: 4K, 60fps
The Pros
Responsive, hands-on control scheme that simplifies setup
Responsive autofocus
Has slew of photo enhancement options and filters
Outstanding video quality with 10-bit color depth
The Cons
Lacks internal stabilization
Applies crop factor to videos shot at high framerates
4. Sony Alpha A6600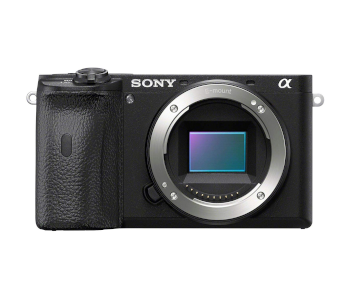 View on Amazon
Editor's Rating: 4.6/5
Mirrorless cameras aren't usually renowned for their battery life, as evidenced by the specs of the models we've reviewed so far. Sony's A6600 aims to challenge the stereotype; its new battery has a capacity of 810 shots, allowing you to let loose on the shutter and capture anything that takes your fancy. It also has one of the most sophisticated autofocus systems in its class and is perfect for shooters interested in human subjects.
Overview of Features
Design-wise, the A6600 is at odds with Fujifilm's model. There are only two dials, and the physical control scheme is sparse in general. The designers made up for this by including a d-pad dial combo that adopts multiple functions based on the mode you're using. Even though it isn't light, this is one of the smallest cameras on review. Setting it up is a breeze since excellent internal stabilization removes the need for a tripod.
The A6600 excels at subject tracking thanks to Sony's patented Real-Time tracking. It employs more than 400 AF points spread out evenly across the frame to find and stick to a target. The camera's AI is adept at isolating subjects and looking for their distinct features. It goes from a general focus to honing in on one's face and, ultimately, the eye. Once either eye is found, you can expect sharp photos even under trying lighting conditions or when the subject is moving erratically.
Image quality is high and remains so under challenging lighting. The A6600 has a top native ISO value of 32,000 and produces noiseless images up to ISO 3,200. It's no slouch when it comes to color, either. Both dreary and vibrant colors are captured faithfully, with emphasis on keeping saturation levels natural while creating pleasing contrasts. Once you've found a fast subject worth tracking, you'll be glad that the A6600 has a large image buffer. You can snap 44 images in RAW or 99 in JPEG before the buffer runs out. Not bad considering a respectable burst rate of 11fps.
Video isn't the A6600's focus, but it isn't neglected either. 4K is there as a matter of course, albeit at 30fps. You can let the camera handle color grading or choose among a handful of log profiles to retain a better dynamic range. These require work in post but make video footage pop. Lastly, the A66000 has headphone and mic inputs for superior audio quality.
What We Didn't Like
The buffer's size comes at a price. It's slow to empty once full and partially disables some of the camera's controls for as long as 40 seconds until empty. The controls are cramped and might be problematic for people with large hands. We were especially annoyed with the REC button as it's awkwardly placed and tiny.
Tech Specs
Dimensions: 4.7 x 2.6 x 2.7 in.
Weight: 29.2 oz.
Sensor: APS-C
Burst: 11fps
Battery capacity: 810 shots
ISO range: 100 – 32,000
Max still resolution: 24.2 MP
Max video resolution: 4K, 60fps
The Pros
Exceptional battery life
Large buffer
Class-leading autofocus
Makes quality videos you can enhance even more in post-production
The Cons
Buffer cleaning causes some controls to become unavailable
Tiny and cramped controls
5. Canon EOS M6 Mark II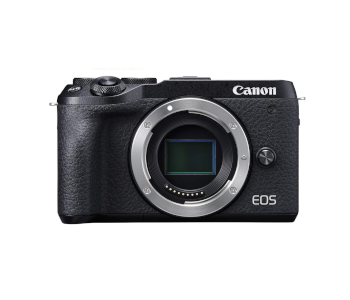 View on Amazon
Editor's Rating: 4.4/5
Many mirrorless cameras are still too clunky for travel despite being smaller and lighter than DSLRs. If you want one to take along on vacation or an informal wildlife shoot, The M6 Mark II from canon fits the bill. It's one of the most compact mirrorless models out there. Don't mistake its size for lack of features though; this camera gives even pricier models a run for their money when it comes to image stabilization and photo quality.
Overview of Features
One of the M6 Mark II's main selling points is its diminutive size. The camera is both small and light enough to fit inside a travel bag and be carried around all day without causing fatigue. Its control design is thoughtful, as well. Three dials take center stage and let you manage most of the Mark II's settings. There's the standard manual dial, one that you can use to access custom settings quickly, and another that changes function based on the current context.
This camera doesn't have a viewfinder. Some users might consider this a deal-breaker, but it doesn't have to be. On the one hand, its touchscreen LCD is bright and true to life. It tilts upward and flips out fully for selfies, and you can use it in strong sunlight as well. On the other, Canon sells a separate EVF you can attach to the Mark II if you can't go without one.
Keeping a subject in focus is effortless since the Mark II has more than 5,000 AF points. You can basically press anywhere on the LCD, and it will snap to that spot instantly. The alternative is to leave focus to the camera, in which case it will target one of 143 areas. Detection applies to faces as well as eyes and stays active in between shots when burst mode is active.
The Mark II is capable of producing 32.5MP photos! Better yet, the resolution bump isn't accompanied by an equal increase in noise. Rather, the camera delivers detail-rich images at ISO 3,200, while 6,400 and even 12,800 are usable if you don't mind the occasional speck of noise. You can take pictures in JPEGs along with RAW and C RAW formats. The latter is a slightly compressed version of RAW that saves memory card space. Still, S RAW lets you bring more colors and contrast out using photo editing software.
Video hasn't been given as much attention as the Mark II's photography side, but it offers a substantial selection of modes, framerates, and enhancement options. You can shoot slow-motion videos at 1080š, 120fps, or give your clips a touch of cinema magic by recording at 24fps. You may even record them in one of several flat log profiles for higher detail retention.
What's Bad About It?
Some settings are hard to reach and hidden away behind arbitrary mode dial positions. For example, you can neither access slow-motion nor 4K unless the dial is set to Movie. The Mark II is another camera with a weak battery. It's good for 305 shots, so carry a spare when traveling.
Tech Specs
Dimensions: 4.7 x 2.8 x 1.9 in.
Weight: 19 oz.
Sensor: APS-C
Burst: 14fps
Battery capacity: 305 shots
ISO range: 100 – 25,600
Max still resolution: 32.5 MP
Max video resolution: 4K, 30fps
The Pros
Strikingly detailed images with little noise
Intuitive controls
Excellent LCD
Intelligent autofocus
The Cons
Controls can be convoluted
Battery runs dry quickly
Lacks internal EVF
6. Best Budget Option – Fujifilm X-T100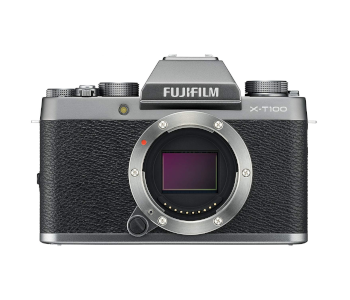 View on Amazon
Editor's Rating: 4.1/5
Not all mirrorless cameras are aimed at pros and enthusiasts. The X-T100 is an excellent choice if you've never owned anything more powerful than your smartphone camera and want to start out strong. It has newbie-friendly controls and delivers images of exceptional quality, given its price. Moreover, the X-T100 has enough advanced features that you won't toss it aside once you've figured out the basics.
Overview of Features
The X-T100 is similar to the X-T3 in appearance. It is slimmer and lighter, though, and is made from aluminum instead of magnesium alloy. The base camera has a shallow grip made stronger by rubberized padding. This might not be enough, so it's great that you get a grip extender as part of the package.
There are noticeably fewer controls than on the X-T3, but many of the remaining ones are still dials. There are four of these, three on the top plate and a vertical dial on the X-T100's back. The mode dial always behaves the same, while the right and vertical dials control either shutter priority, aperture size, or EV compensation depending on whether you're in full manual or one of the auto modes. You can customize the top left dial's function or leave it as a dedicated selector for Film modes.
Unlike the M6 mark II, the X-T100 has a viewfinder. It doesn't have the best resolution or magnification, but it gets the job done even in dim light. The touchscreen has an elaborate tilting mechanism that allows you to snap pics from an elevated position and turns around 180 degrees for selfies and vlogs.
Since it's geared to newcomers, it's no wonder that the X-T100 performs well when left in Auto mode. Its 256-point metering system recognizes high-contrast environments and underexposes the shot to salvage details. You can bump the EV values up when processing and get vibrant images without blown-out colors. The white balance remains pleasingly consistent regardless of light source, so expect nature as well as indoor photos to look natural.
Are There Drawbacks?
The X-T100 has a 91-point phase-detect autofocus system. While not slow per se, it does occasionally hunt for the subject. The likelihood of this increases dramatically with worsening light, so keep the scene lit or risk losing the perfect moment. Video isn't the X-T100's strong suit. The camera supports 4K but can't go over 15fps, and its 1080p mode is nothing special either. However, you can use it to make oversampled 8K images at 15fps.
Tech Specs
Dimensions: 4.8 x 3.3 x 1.9 in.
Weight: 20.6 oz.
Sensor: APS-C
Burst: 6fps
Battery capacity: 430 shots
ISO range: 200 – 12,800
Max still resolution: 24.2 MP
Max video resolution: 4K, 15fps
The Pros
Above-average overall performance given its price
Accessible for newcomers without being too stripped down
Dependable Auto mode
Respectable burst speed at the cost of photo resolution
The Cons
Sluggish autofocus
4K limited to 15 fps