Best Octocopter Drones in 2019
3D Insider is ad supported and earns money from clicks, commissions from sales, and other ways.
Most of us are familiar with consumer drones but there's change in the air. Quadcopters have dominated the public drone market for as long as most can remember—but not anymore.
I've put this buyer's guide together because of the growing popularity of octocopter drones. Before we get into the reviews let's look at the differences between the three. There has to be a reason or a bunch of reasons why you might prefer one over the others.
If you already know that you want an octocopter you can jump straight to the reviews. Keep reading this short introduction if you want to learn about the differences between the three types.
Budget
Tarot X8 8-Axis
4.2/5.0
Charging Time: 120 minutes
Flight Time: 15 minutes
Lightweight, includes carbon fiber in construction, plugin-in design base.
Check Amazon
Best Value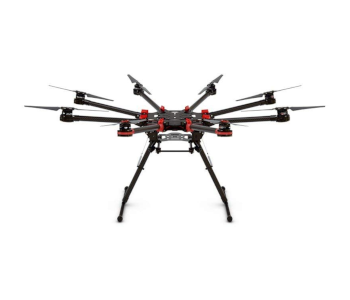 DJI S1000 Spreading Wings
3.9/5.0
Charging Time: 60+ minutes
Flight Time: 15 minutes
This drone is weather resistant, fast, agile, powerful, safe and stable.
Check Amazon
Top Pick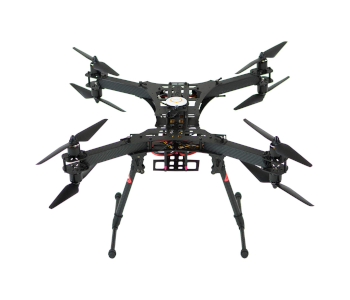 xFold Rigs SPY X8
4.0/5.0
Charging Time: Unknown
Flight Time: 15 minutes
Folds up to 30% of original size, easy to fly, easy to lug, built in the USA.
Check Amazon
The Still Popular Quadcopters
Quadcopters are—and continue to be—the most popular drones around for good reasons. They've stood the test of time, they're fast, and they've become easy to produce for drone enthusiasts at all levels. There's something for everyone, i.e. raw beginner, hobbyists, prosumers, and professionals.
Quadcopters have four propellers attached to four motors making most designs rectangular or square. These 4-prop designs create an even distribution of power so they can do more, go faster, fly longer, and carry heavier payloads than tricopters (3-motor drones). You can see where this is going.
Quadcopters at a glance:
Relatively cheap to make
Offer lots of maneuverability/flexibility
Carry heavier payloads (accessories)
Improved thrust and overall power
Will always have a place at the hobbyist level
There's a lot to love about quads and they're going to be around for a long time. There is, however, a drawback. Quadcopters are not as powerful or as versatile as either hexacopters or octocopters.
The Rising Popularity of Hexacopters
The hexacopter has six motors and propellers or propeller-propulsion units. They're bigger because of the extra props. They're also more powerful and versatile. Although you can buy smaller toy-like hexacopters, the real benefit is their ability to carry heavy payloads.
Prosumers and professional aerial photographers and filmmakers will want to launch bigger, heavier cameras. They may also need longer transmission ranges and flight times. A quality hexacopter like the Yuneec Typhoon H Pro or DJI Matrice 600 Pro hexacopter are two prime examples.
In short, a hexacopter is similar to a quadcopter but offers a little more of everything.
Hexacopters at a glance (compared to quadcopters):
More power overall, faster speed, and better elevation
Two extra motors provide additional stability and safety in the air
Can carry higher payloads than quads
Longer flight times and transmission range
The reason to buy a hexacopter is if you need what it has to offer over the cheaper quadcopters. Buying any unmanned aerial vehicle (UAV) is pretty much a box-checking exercise.
Who Needs an Octocopter?
If you've read down this far you'll already have a good idea what an octocopter offers over a hexacopter and quadcopter. That's right, they have more of everything. They're not cheap, though, so that means the makers target them at professional aerial photographers and videographers.
Another appeal is the safety aspect. If you're high in the sky carrying some expensive camera equipment it's nice to have extra protection. If one or two motors fail—for whatever reason—you can still land the craft and its cargo safely to the ground with the remaining working motors.
Octocopter at a glance (compared to quadcopters and hexacopters):
Incredibly fast and agile
Reach higher altitudes
More powerful and reliable
Capable of lifting heavier camera equipment
Extra safety features
Very stable flyers, handle better in adverse weather conditions
The downsides are that each model gets bigger, heavier, and less luggable. The price tag goes up and the battery life (flight times) can go down because of the extra weight and increased power.
These are the main differences between quadcopters, hexacopters, and octocopters. The reviews here focus on the best octocopters available at the time of putting this guide together.
The comparison table below lists the drones in the order of reviews:
Octocopters Comparison Table
1. Best Budget: Tarot X8 8-Axis Octocopter
View on Amazon
Editor's Rating: 4.2/5
This flat multi-axis copter from Tarot is an affordable introduction into the world of 8-propeller drones. It's ideal for the prosumer or hobbyist who wants to dabble with an aerial photography kit like this:
Best feature 1: Electric retractable landing gear
Best feature 2: Easily carry 5D level aerial photography equipment
Plus points: Lightweight, includes carbon fiber in construction, plugin-in design base
Minus points: Falls short on the costlier octocopters, not pre-assembled
The Tarot X8 comes in two colors, black or red. It's a good looking craft once assembled even though it's quite simplistic in design. It's a lot stronger than it looks too. The Tarot X series airframe is capable of carrying heavy equipment like a 3-axis gimbal and quality DSLR camera.
Although it's a kit project it doesn't need a lot of complex construction. This is a well-thought-out kit to ensure fast and hassle-free assembly. Cabling is easy thanks to the integrated PCB board. The arms of the Tarot X8 fold up—without the need of tools—to make the octocopter more portable.
The motorized retractable landing gear is a huge bonus. The pilot controls this with by the simple flick of a switch from a remote controller (not included). Folding landing gear is a godsend for serious photographers and videographers. It means they don't have to worry about the undercarriage obstructing and spoiling 360-degree wide-angle footage. The landing gear also has reverse-power protection and a vital failsafe function. These are all important features when sending expensive camera equipment into the skies above.
The Tarot TLX8 8-Axis propulsion system is both economical and reliable. It can take to the sky with an all-up-weight of around 10+ kilograms. That equates to about 1.25kg per arm.
Flying the Tarot X8
The people who this drone will appeal to are serious aerial photographers and First Person View (FPV) enthusiasts. The gimbal will easily carry a quality Canon 5D DSLR camera. Most important of all is that the X8, 8-axis drone provides a fun and stable flight experience. Maximum flight time is around 15-minutes. That's quite average for a drone with this much power and capability.
The Conclusion
This is an excellent choice of octocopter kit with FPV support for the more budget conscious user. It's a kit project, though, that needs other parts. That means you have to purchase extras to build the octocopter to a drone that matches your precise needs and expectations.
It's lightweight, has retractable landing gear, and sports 5-degree umbrella-type folding arms which makes it extra luggable). Consider this craft if you need to carry a heavy payload.


Tech Specs
Weight: 2.5kg (5 lb. and 8.2 oz.)
Max Flight Time: 15 minutes
Battery: 15C, 22.2V, 10000~20000mah
Charging Time: 120 minutes (2 hrs.)
Control Range: Not specified. Depends on transmitter used
Camera Type: Not included. Can carry quality DSLR
The Pros
Affordable octocopter kit
Strong and lightweight
Umbrella type folding frame
Retractable landing gear
FPV ready
Metal GPS mount
Can carry a heavy payload
Failsafe function
The Cons
Not fully-assembled
Optional extras needed
2. Top Pick: xFold SPY X8 U3 RTF Octocopter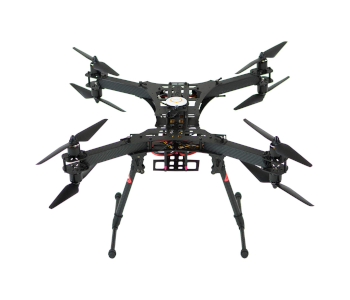 View on Amazon
Editor's Rating: 4/5
The xFold™ is something quite unique in the world of octocopters. It's an industrial-type drone aimed at the pro-level. It even comes in four different sizes. The one here is the x12 configuration:
Best feature 1: Can configure frame to Quad, Hexa, x8 octo, and x12 Dodeca
Best feature 2: Carbon fiber construction
Plus points: Folds up to 30% of original size, easy to fly, easy to lug, built in the USA
Minus points: Restricted payload, high price
We expect anything with "spy" in the name to be unobtrusive. But this is still an octocopter so it can't be too low key. It also needs to be able to carry a realistic payload like a GoPro action camera or a small DSLR. The drone is compact and light yet boasts a lot of strength thanks to its carbon fiber construction. It's foldable too. You can reduce its size down to 13.5 x 8.7″ so that it fits neatly into a medium-sized bag or small backpack.
Who Needs the SPY X8 U3 RTF Octocopter
This is a serious UAV aimed at aerial videographers and photographers who demand quality. It's also for those who want professional results without having to haul heavy bulky equipment around. Some octocopters can be seriously huge but this one is the more portable solution for prosumers and professionals. That means there'll be a few drawbacks, but not many.
The SPY X8 can easily manage GoPro and other action-type cameras. There are alternative choices in quadcopters and hexa-rotors that can carry the same payloads. But those crafts don't provide the same lift and overall performance of an octocopter.
Professional Footage Assured
The SPY X8-U3 Ready-To-Fly (RTF) octocopter comes with an anti-vibration system. Its 3-axis brushless gimbal ensures smooth footage. You'll need a 5.8 GHz video transmitter (not included) with 7″ FPV monitor for optimal control and full HD live downlink (DL). The Spy X8 is compatible with all the major commercial-grade flight controllers.
You can also operate the drone with a mobile iOS device that has Bluetooth LE-support.
Here are some of the built-in functions:
Various autopilot modes
Improved fail-safe feature
Low-voltage protection
Receiver support (S.Bus)
Receiver support (PPM)
Independent Power Management Unit (PMU) module
Gimbal support
The flight is steady, safe, and smooth. It offers the added stability that comes with eight motors. There's also peace of mind knowing you can safely land the craft if one of its motors fails.
The Conclusion
The SPY X8 U3 RTF Octocopter is not cheap, but it offers value for money for those who want a quality compact, octocopter drone. It's a little workhorse that just happens to look cute. The 15 minutes flight time won't keep you airborne for long, though, so always factor the cost of extra batteries in with the price. If you don't have a compatible camera you'll need to consider that too, and a transmitter.
There's plenty to like about this puppy, especially if BIG, heavy-duty drones are not your thing.


Tech Specs
Weight: 1.5kg (3.5 lbs.)
Max Flight Time: 15 minutes
Battery: 3300 mAh LiPo
Charging Time: Not specified
Control Range: Not specified. Depends on transmitter used
Camera Type: Not included. Can carry small DSLR, GoPro, and other action cameras
The Pros
High-quality octocopter
Foldable/easily portable
Robust, carbon fiber construction
Easy to fly/operate
Smooth, steady flyer
Carries a variety of camera types
Frame designed and constructed in the USA
Effective payload distribution
The Cons
High price tag
Limited payload compared to larger octocopters
Limited user feedback
3. Best Value: DJI S1000 Spreading Wings Octocopter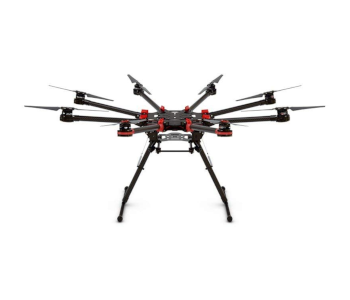 View on Amazon
Editor's Rating: 3.9/5
This octocopter is for those who demand nothing less than major torque and serious power. DJI Spreading Wings S1000 is a reliable workhorse for high-level aerial cinematography and photography.
Best feature 1: Unique Power Distribution System
Best feature 2: Multiple Flight Controller Compatibility
Plus points: Weather resistant, fast, agile, powerful, safe and stable
Minus points: Short flight time, big size restricts usage
It's hard not to be amazed at the sight of this professional octocopter once it's assembled and ready for takeoff. This is an incredibly safe and stable flying robot despite those big arms and legs protruding out from the main body. It has plenty of propulsion with improving power efficiency.
You might be thinking so what? There are plenty of quadcopters and hexacopters that offer these features too. And it's true, they do. But they're not the same in terms of quality, capability, and flexibility, and there lies the difference. This beast can fly high and fast up to 45 mph.
The Spreading Wings S1000 is quite portable despite so many arms. You can easily fold each of the eight arms down and tuck them neatly away making the craft more luggable. It only takes about 5-minutes to lock them back into place and take to the skies.
Flying the Spreading Wings S1000
This is where the S100 comes into its own. Without carrying anything the drone weighs around 4kg, but it can take cameras and accessories to a payload of 11kg. Let me give you some idea of how useful that is. A Canon EOS 5D Mark III DSLR Camera—for example—wouldn't be any problem at all.
Another great feature is the low-mounted gimbal attached to a special bracket. This low position and the retractable landing gear is a godsend for aerial filmmakers as it guarantees clear shooting angles.
You can fly the S1000 with any of DJI's Zenmuse gimbal range and enjoy the following:
Superior camera/image stabilization
Guaranteed smooth footage
Precision control from the ground
Video downlink (DL) compatibility so the pilot can see what his camera sees
DJI's new damping design enhances footage still further. These special dampers fit between the frame and the bracket that accommodates the battery and gimbal. What this does is reduce the high-frequency vibrations by a significant amount. The result is even clearer sharper footage.
Transmitter Not Included!
There's not a transmitter included with this product. This is a good thing because it gives more choice and flexibility to the user. Most pilots will choose the A2 flight controller for this craft. It will enhance the flying experience and reinforce reliability and stability in the air.
The A2 controller is as professional as the Octocopter. Operators can use it to get a DJI video downlink. It's also compatible with iOSD. Another RC worth considering is the DJI WKM flight controller. The point is you have options. The extras you choose reflect personal preferences and meet unique demands.
Alas, there is a price to pay for the size, power, and payload of the DJI S1000 Spreading Wings. You only get 15 minutes of flight time per charge even in optimal conditions. As this is a serious flying robot, savvy operators will always have a couple of fully-charged spare batteries with them on a shoot.
The Conclusion
Prosumers and professionals choose an octocopter like the DJI S1000 Spreading Wings because they need it. They need its power, its reliability, its flexibility, and its guarantees.
There's not a camera with this product, though. But then the whole point is to attach a camera of your choice to its gimbal and do your own thing.


Tech Specs
Weight: 4kg (8 lb. and 13 oz.)
Max Flight Time: 15 minutes
Battery: 6S 15000mAh
Charging Time: 60+ minutes (1+ hr.)
Control Range: Not specified. Depends on transmitter used
Camera Type: Not included. Can carry quality DSLRs
The Pros
Safe, stable flier
Fairly portable for size
Easy to operate
Sparkproof plug
Low Gimbal Mounting Position
ZENMUSE Z15-5D Gimbal
Retractable Landing Gear
Innovated damping design
Advanced frame/arm design
The Cons
Large size
Costly maintenance
Short-ish flight time