15 Best Places to Fly a Drone in America
3D Insider is ad supported and earns money from clicks, commissions from sales, and other ways.
Drone photography is a great way to show off what your drone can do. It's also a new and unique way of showing your friends the places you've been to or the outdoor activities you've done. In many cases, it is the place that makes the perfect drone shot. Whether it's a clean sandbar, interesting rock formations, or a lush man-made forest, the perfect location is an elusive but worthwhile element of good drone photography.
In this article, we list down the very best drone photography spots in America. We've picked places that are legal to fly over. Of course rules change all of the time, so make sure to do your own research and fly at your own risk.
1. Prince William Sound, Alaska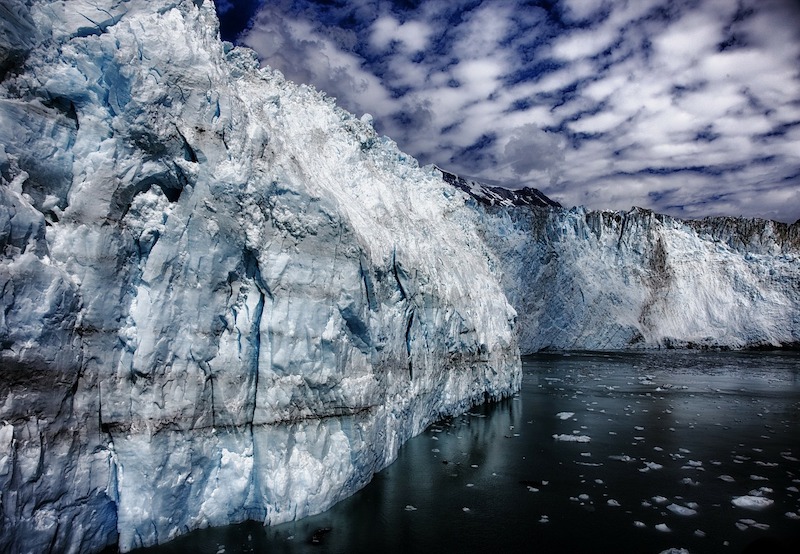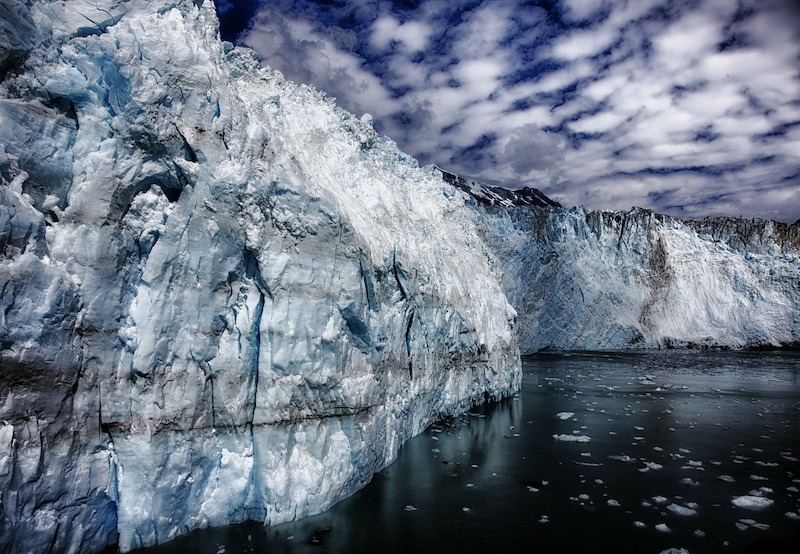 Prince William Sound, off the Gulf of Alaska, is a popular spot for marine wildlife viewing. The abundance of marine and coastal life here is astounding, with hundreds of types of birds, land mammals, and marine mammals who consider the Prince William Sound their home. For drone pilots, the Prince William sounds offers a rare opportunity to catch aerial footage of Humpback whales and follow them as they go on their feeding trips. Compared to other animals, whales seem to be less bothered by the presence of drones.
Aside from whales, you might be able to capture footage of other interesting wildlife such as brown bears, sea lions, and sea otters. Just be careful and always keep you drone within line of sight, as the Prince William Sound also hosts bald eagles and hundreds of other bird species.
If you're not so lucky to catch footage of wildlife, the landscape of the Prince William Sound is still worth the trip. With more than 3000 miles of coastline surrounded by glaciers and snow-capped mountaintops, you will not run out of amazing subjects for drone photography.
2. Mount Evans, Colorado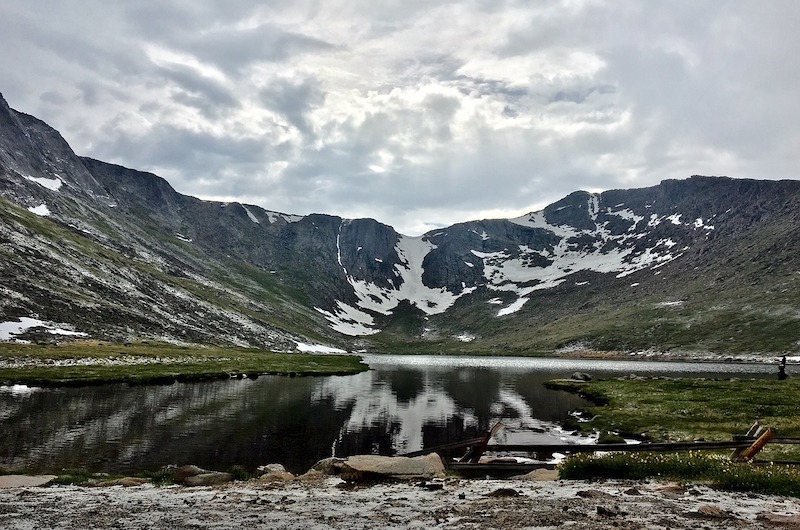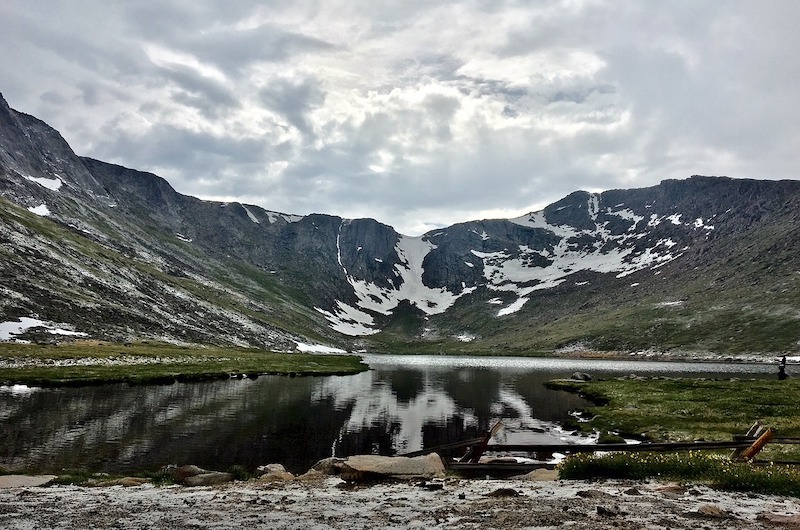 Mount Evans is one of the most prominent peaks in the Rocky Mountains and is accessible via the Mount Evans Scenic Byway, the highest paved road in Northern America. Before taking off on a trip to Mount Evans, you need to check for road closures as they typically do not allow entry in weather or in other bad weather conditions.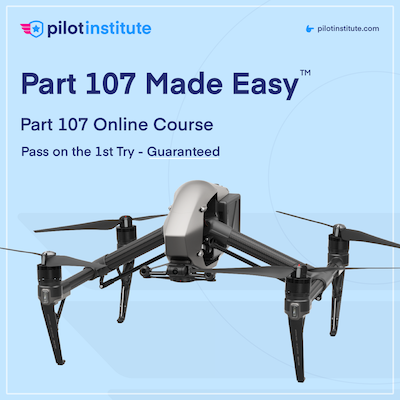 The drive may be long, but the trip is worth it. Along the way to the top, you will pass by Echo Lake, a magnificently clear lake surrounded by thousands of pine trees. Near the top is the Denver Botanic Gardens which is best visited from spring to summer so you can see and experience their flowers in full bloom. The summit area offers one of the best views overlooking Colorado and is one of the grandest panoramas you can capture with a drone camera.
3. Key Largo, Florida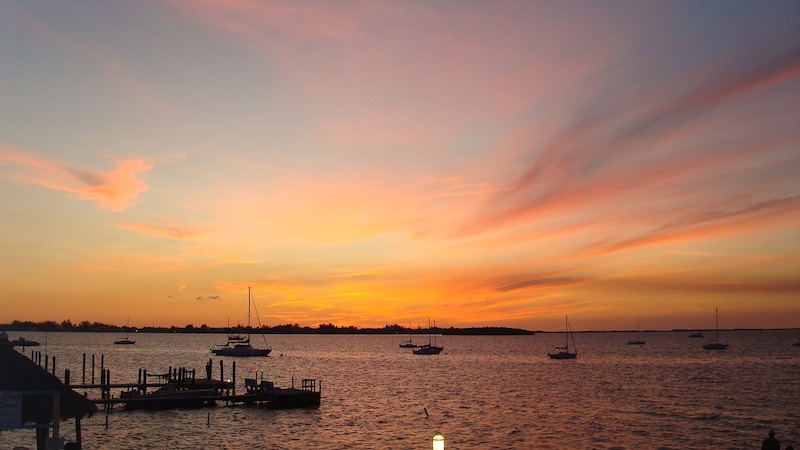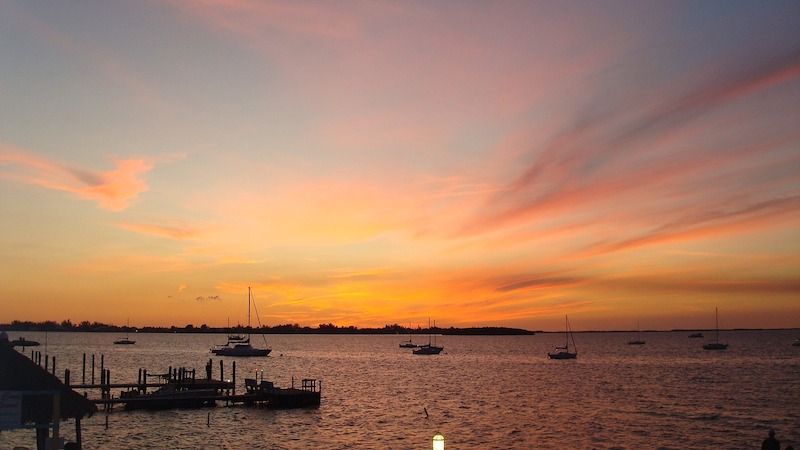 Florida hosts a lot of small airports and national parks, making it an inherently difficult place to fly a drone. Fortunately, the Key Largo island in the Florida Keys is a perfectly fine spot for drone flight. Being a top tourist destination, you can probably launch your drone off the port at any time and catch boats and yachts setting off into the horizon. Catching the sunset over the Gulf of Mexico is a surreal experience and one of the best moments you can capture with a drone.
The island itself is surrounded by sprawling estates surrounded by lush greenery. Whether you're looking for horizon shots, footage of people doing various water activities, or just want to do a time-lapse video of a gorgeous sunset, Key Largo has a lot of photography opportunities to offer you.
4. Chagrin Falls, Ohio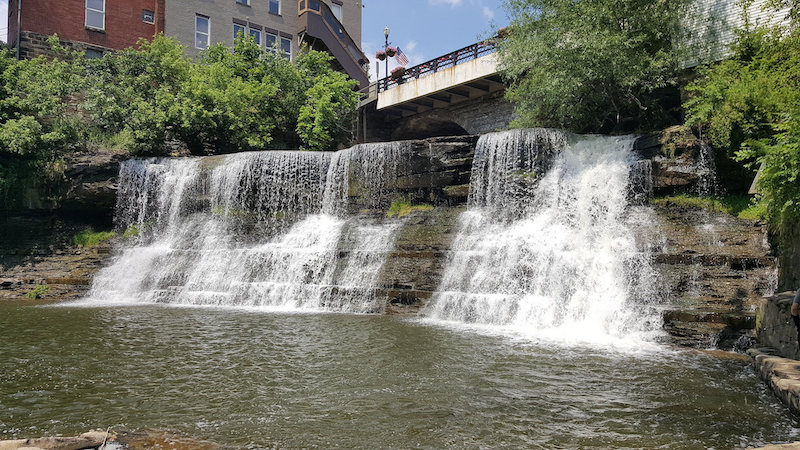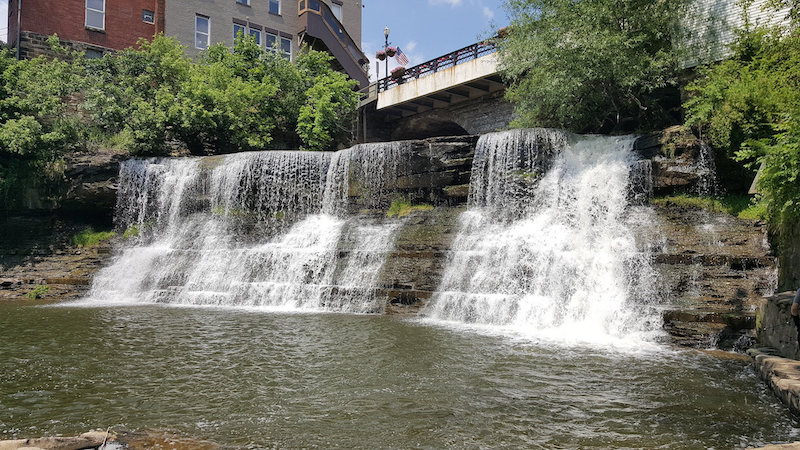 For a subject of a little lower scale, you may opt to catch footage of the eponymous Chagrin Falls in Ohio. The namesake of the town of Chagrin Falls, the natural waterfalls of the Chagrin River is a rather small feature located near the center of the town. Despite its small size, its vertical drop-off and beautifully eroded rock formations gives it grandeur worthy of drone photography.
If you're not feeling up for an adventure, then Chagrin Falls is a conveniently located and easily accessible spot to satisfy your drone flight needs.
5. Thunder Bay Marine Sanctuary, Michigan
Thunder Bay, located in the northwestern end of Lake Huron, has a history of being one of the most treacherous waters in the Great Lakes. This has earned the Thunder Bay the moniker "Shipwreck Alley". True enough, this marine sanctuary has a peculiarly high number of preserved shipwrecks. Best of all, the crystal-clear waters of Lake Huron make it possible to see the shipwrecks from above the surface. This massive collection of easily visible shipwrecks makes the Thunder Bay Marine Sanctuary one of the most unique spots for drone photography.
6. Fort Rock, Oregon
Fort Rock, located in the desert of Oregon, is a one-of-a-kind rock formation that was the result of an eruption of magma into an ice age lake bed. Hardening of the magma underneath the lake resulted in the formation of "walls", making the whole structure look like a fort. Rising up to 200 feet and with a diameter of more than 4000 feet, the scope and grandeur of Fort Rock can only be captured with a drone camera.
Being situated in a desert makes it exceptionally easy to capture footage of Fort Rock. With few people or property to worry about, you can have your drone approach Fort Rock from a distance and fly around its perimeter.
7. Zephyr Cove, Tahoe
Zephyr Cover, located along Lake Tahoe, is away from airports and other restricted areas to fly your drone. With miles of coastline and more than one hundred paddle boats carrying tourists at any given time, you will have no shortage of interesting subjects to shoot. Just keep an eye out for the odd parasailer, and steer clear until the airspace is free of potential obstacles.
Lake Tahoe is surrounded by thousands and thousands of beautiful pine trees, giving a serene contrast to the busyness of the lake. Zephyr Cove is an excellent spot for drone photography, where you can also kick back and relax at the end of the day.
8. Ozark Mountains, Arkansas
The Ozark Mountains have it all – beautiful rolling hills, thick foliage that change colors depending on the season, interesting rock formations, sparkling rivers and waterfalls, secluded cabins, and stunning vistas. It is a great spot for drone photography any time of the year, but the beauty of the Ozark Mountains is really emphasized during fall due to the beautiful colors of the leaves of thousands of trees.
The natural features of the Ozark Mountains can serve as a backdrop to all the outdoor activities you can find in this place. From water boarding in the lake, to horseback riding along the rugged trails, the Ozark Mountains are always alive with interesting movement. If you're looking for gorgeous nature shots with a sprinkling of human elements, then the Ozark Mountains is the perfect photography spot for you.
9. Pop's Restaurant, Oklahoma
A modern roadside attraction, Pop's Restaurant along Route 66 is best known for its huge soda bottle neon sign. The sign is 66 feet fall tall and weighs almost 4 tons. Although the sign looks like it is made from the classic neon lights, it actually consists of more energy efficient LED lights that periodically change color, making for a mesmerizing light show every night. Despite having opened only in 2007, Pop's Restaurant has quickly become an important landmark in Route 66.
Capturing a video using a drone over the iconic soda bottle captures just how big the neon sign is. It bears mentioning that the best time to capture a video of the Pop's neon sign is when it gets dark. In the absence of a Part 107 waiver, this means flying a drone during twilight – within 30 minutes before sunrise or 30 minutes after sunset. The contrast of the super bright soda bottle sign and the lights of the passing cars against a dark background makes for a very unique and captivating drone shot.
10. Stone Mountain Park, Atlanta
The Stone Mountain Park in Atlanta is popular not only for the massive Stone Mountain pluton, but also for the carving of three Confederate figures on its north face. This carving has been the subject of controversy for years but is still widely-recognized as the largest bas-relief carving in the world.
With more than 5 miles in circumference at the base and a peak of more than 1600 feet, Stone Mountain is a huge place where you can go wild with your drone. Most of the mountain, especially the upper areas, is composed of bare rock and rock pools. The vegetation of the surrounding area is also a bit desolate. This means that you have to find the beauty in its emptiness – probably an aesthetic quality most drone photographers do not go for.
11. Winslow Meteor Crater, Arizona
The Winslow Meteor Crater was created by the impact of a meteor crash that occurred approximately 50,000 years ago in the northern Arizona desert. More than 170 feet deep and about 3900 feet in diameter, this meteor impact crater is a grand and stunning subject for a drone video. It's especially interesting to show the contrast of the size of humans compared to the size of the crater, showing just how small and insignificant we are to the ways of the universe.
The meteor crater is now a private tourist area owned by the Barringer Crater Company. It is pretty popular, so you'll have to fly away from the pack of tourists that flock this area frequently. If you end up developing an interest in astronomy, the Winslow visitor center might be just the place for you to learn more about meteors and asteroids.
12. The International Car Forest of the Last Church, Nevada
For a photography spot that is much weirder and also slightly creepy, we recommend the International Car Forest in Nevada. This is actually an art installation inspired by the religious beliefs of two artists, Chard Sorg and Mark Rippie. The 'park' consists of more than 40 automobiles including cars, trucks, and vans in various states of disuse. All of them are precariously balanced or stacked on top of each other. Probably as an expression of how delicate human lives are? We're not entirely sure.
In any case, the colorful spray-painted cars contrast well with the desolate Nevada desert. With a drone, you can take your audience on a virtual tour of this truly unique installation.
13. Albert the Bull, Iowa
Further venturing into the realm of the strange is Albert the Bull, a 28-foot tall bull statue found in the streets of Audubon, Iowa. Built as a replica of the Hereford bull, Albert the Bull claims to be accurate down to its toenails. He even has a pair of giant gonads.
If you're looking for an attention-seeking subject for your drone video, then look no further than Albert the Bull. Showing the statue right beside humans will highlight just how big this bull is. Take note that Albert the Bull is located right beside a somewhat busy street and that tourists routinely flock this attraction. However, it is located inside a spacious park so you should have ample space to fly your drone.
14. Royal Gorge Bridge, Arkansas
If you want to shoot a video that highlights the beauty of human architecture, then we suggest taking your drone to the Royal Gorge Bridge that crosses the Arizona River. Suspended almost 1000 feet above the river and with a length of 1200 feet, it is interesting to show just how grand in scale both the bridge and the gorge are. After taking in the bridge, you can fly your drone down the Arizona River, showing just how strong and powerful the currents of this river are.
The Royal Gorge Bridge also has a few interesting activities for tourists such as a skycoaster and a zip-line ride. These attractions are subject to weather conditions and may be closed at a moment's notice due to strong winds or rains. When the weather is perfect, just make your way to the Royal Gorge Bridge with your drone and capture a beautiful combination of natural and human creations.
15. Shoshone Water Falls, Idaho
Even though we already have a waterfall in this list, we cannot help but include the Shoshone Waterfalls along the Snake River in southern Idaho. Its moniker as the "Niagara of the West" should give you an idea of its scale and level of grandeur. The Shoshone Falls have a vertical drop of 212 feet and a rim that extends for nearly 1000 feet. This gives you ample room to fly your drone around.
The Shoshone Falls has a gorgeous overlook which is the perfect place for your drone to take off. From there, you can fly your drone anywhere and face any angle and you're still bound to capture breathtaking views. Just be careful not to fly too close to the waterfalls as it's easy to underestimate how far the spray from them can reach. You probably will not retrieve your drone if you lose it in the rapid Snake River.
Final thoughts
Restrictions on drone flight can make it a little difficult to capture drone shots on many of the country's most popular tourist destinations. The fact that you cannot fly a drone over National Parks, over crowds or moving vehicles, and near airports automatically eliminates a lot of areas from your list of potential drone photography subjects. However, a little research goes a long way. We carefully hand-picked the entries in this list as places where you are legally allowed to fly a drone. They also provide captivating views, no matter what aesthetic angle you are looking for.