25 Best RC Drones for Sale Now
3D Insider is ad supported and earns money from clicks, commissions from sales, and other ways.
With the holidays coming up, we expect drone sales to start picking up once again. Drones have always been very popular gifts whether they are meant for beginners, for children, or for hardcore drone photographers and racers. With new drones being released every few months, the choice of which drone to pick can be overwhelming. In this article, we pick the best RC drones from every category to hopefully help you decide which new drone to buy for this holiday season.
If you are planning on doing some early holiday shopping, then this list is the perfect guide for you. For ease of selection, we have helpfully divided the most popular drones into distinct categories according to skill level and desired applications.
What are RC drones?
There was a time when remote controlled (RC) airplanes were the popular toys that both kids and adults can enjoy. In the recent years, their spot in the hobby world was overtaken by RC drones. Not only are drones more compact and easier to fly, but they can also be equipped with more sophisticated technology which makes them useful beyond just recreation. Most of the time, these drones are controlled using a remote controller, but more advanced models come with autonomous flight functions aided by obstacle avoidance and GPS technology. Unmanned flying machines have truly come a long way from the classic RC airplanes. With their superior technology and versatility, RC drones are here to stay.
Best Toy Drones
Toy drones are mini or nano-drones that are perfect gifts for children, although adults may find them entertaining as well. Being very small drones, they are more appropriate for flight indoors where no gusts of wind can knock them down. Toy drones are usually very fast and easy to fly and come with pre-programmed tricks such as flips and barrel rolls. They are also cheap enough so you will not feel bad when they eventually break. They have just enough technology to keep them responsive and stable so don't expect toy drones to have top-of-the-line cameras or obstacle avoidance systems.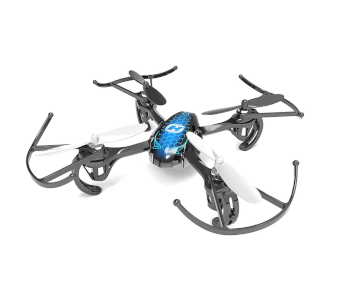 The H170 Predator was made to withstand minor bumps and crashes. With a hard-plastic body, springy landing gear, and built-in propeller guards, the H170 Predator is a min-drone that was built to last. The controls of the H170 are remarkably responsive, and the headless mode is perfect for kids who are just learning how to fly. It has all the usual toy drone features such as tricks and a 6-axis gyro that keeps it stable.
The mini R010 comes with ducted propellers that maximize propeller safety – a very thoughtful feature for a drone that is geared towards kids. The solid frame that incorporates the propeller guards give the R010 a nice level of durability. There are two speed modes – high and low – which can be adjusted according to the skill level of the pilot. At max speed, this drone is incredibly fast and agile. A single battery cycle gives about 5 minutes of flight time, but the package does come with an extra battery.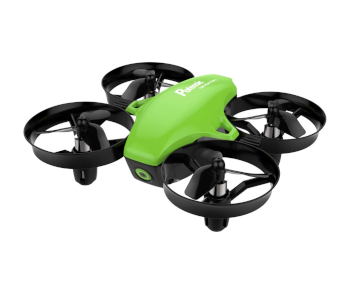 The PotensiC A20 has new drone pilots in mind with its one-button take off and landing functions. This is a very small drone that is great for flying indoors, as it also has ducted propellers to keep it from injuring small kids. To make flying the A20 easier, it has a headless mode and an altitude hold function. With a range of only 15 meters and 6 minutes of flight time, there is not much else outside of indoor flight that you can accomplish with the A20. Still, the A20 is a cheap drone that can provide hours of entertainment.
For a long time, the CX-10 from Cheerson held the title of being the smallest quadcopter in the market. It has since been unseated, but the CX-10 still remains as one of the most popular mini-drones even today. With its size, the CX-10 can be flown indoors with no fear of causing significant damage. It has a provision for propeller guards, but these have to be bough separately. There are three flight modes corresponding to the pilot's skill level: beginner, intermediate, and advanced. This is a very good feature for beginner drone pilots, and partly one of the reasons for the staying power of the CX-10.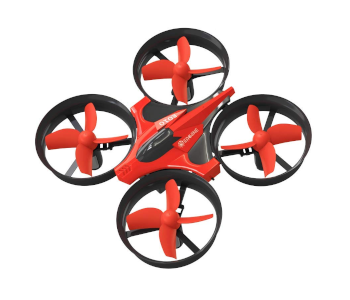 The E010 Mini UFO comes with ducted propellers and a small enough size to make it safe for indoor use. It can do one-button tricks such as flips and barrel rolls, which is a standard feature of toy drones. A headless mode, combined with 6-axis gyro technology, makes the E010 extremely easy to fly even for beginners. With a return to home function, as well as one-button take off and landing, the E010 has just about all the features that a beginner drone pilot could be looking for.
Best Drones for Beginners
Beginner drone pilots will crash often as part of the learning process, so it is important that beginner drones are able to withstand all these crashes. The drones we recommend for beginners combine three things: ease of use, durability, and an affordable price tag. Beginner drones need not be expensive, as frequent crashes may mean that they will break down rather quickly.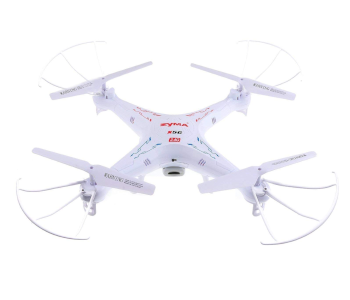 The Syma X5C is only slightly larger than a toy drone but comes packed with more advanced features. It's one of the cheapest drones that you can get that has an onboard camera, although the camera far from impressive with the ability to capture 2MP stills and 720p video. What makes the Syma X5C a great beginner drone is its small learning curve. Within the first 30 minutes, a beginner drone pilot can learn to fly the Syma X5C with precision and ease. Although it does not have GPS functions, it still has a 6-axis gyro that keeps it stable in most conditions and makes flying the Syma X5C intuitive and easy. This quadcopter package comes with everything you will need for several hours of flying: propeller guards, extra propellers, a few tools, and a remote controller.
Technically, the F181 is a mini-drone that is just a little more advanced than the usual toy drones. It has a mounted 2MP camera that can record 720p video at 30fps. However, the camera does not provide a live video feed, which means you will be taking photos and videos blindly. With a hard ABS build and built-in propeller guards, the F181 was designed with durability in mind. The F181 is a smaller drone compared to other beginner drones, but it also handles easily and has very responsive controllers.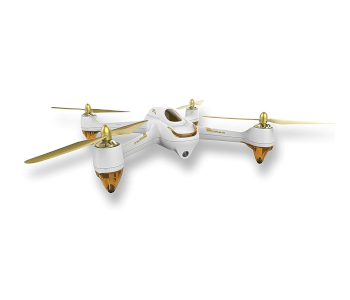 Although Hubsan is more well-known for producing toy drones, its line of more advanced drones is perfect for beginners who are just learning how to fly. One such drone is the H5010S, one of the larger and more complex offerings of Hubsan. The H5010S comes with brushless motors, GPS technology, and a 1080p camera, clearly putting at a league above the Hubsan toy drones. Its controller comes with a built-in 3.7" monitor which provides a live video feed from the onboard camera. With its compact size, the H5010S can fly for up to 20 minutes on a single battery cycle. Despite the seemingly impressive camera specs, the H5010S is no camera drone, as the lack of stabilization results in wobbly and jittery videos. Still, the H5010S is perfect for beginners who want to experience of flight with a live FPV video feed.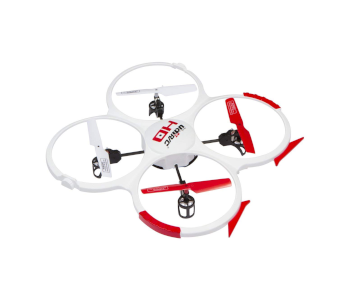 The UDI 818A seemingly sacrifices aesthetics for durability with its built-in thick propeller guards. However, this is a feature that beginners will appreciate for allowing the drone to fly right back up after a crash. This drone is only slightly bigger than most toy drones, which apparently gives enough room for an onboard 2MP camera. The camera takes high saturation photos and videos, but unfortunately does not offer a live video feed. The UDI 818A comes with Mode 1 and Mode 2 flight settings, which differ in terms of speed and controller sensitivity. The more stable Mode 1 should help new drone pilots learn how to control the drone before moving on to the faster and more sensitive Mode 2. However, the increased stability promised by Mode 1 fails to materialize- the UDI 818A is very prone to drifting, and easily gets carried away by strong winds.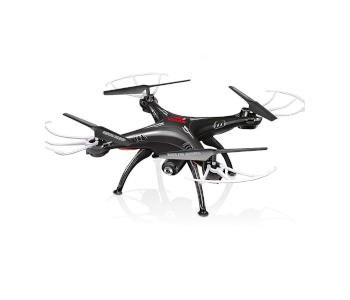 The Syma X5SW is a beginner-friendly drone that seems to be just one notch lower than advanced hobby or camera drones. It comes with a 3MP camera that can record 640 x 480 videos at 30 fps. This drone also comes with FPV video feed capability via WiFi transmission. Flying the X5SW is made easy with its 6-axis gyro stabilization system and headless mode. Despite its modest appearance, the X5SW is a very durable drone that can withstand several crashes. It does not offer much in terms of range, which peaks at only 50 meters. The drone also only has a flight time of 5 to 6 minutes per battery cycle. Overall, the Syma X5SW is far from being a top-of-the-line drone, but it is very accessible for beginners and is a perfect starter drone.
Best Drones for Hobbyists
The drones we picked for hobbyists combine powerful features with ease of use. They are not specialized enough to be considered camera drones but come with the technology to provide room for creativity and innovation. All in all, these are just incredibly fun drones that you will not have to break the bank for.
The F100 Ghost Pro is easy enough to fly for new drone pilots but has enough features to satisfy even the more experienced ones. With brushless motors a camera mount that is specifically designed for GoPro Hero cameras, the F100 Ghost Pro is a great starter drone for aspiring drone photographers. Its lightweight body and double LiPo batteries allow a longer than usual flight time of 15 minutes. The F100 Ghost Pro has intuitive and responsive controls, making the flight experience relatively simple and straightforward. While there is nothing about the F100 Ghost Pro that immediately stands out, it is still a very good choice for drone photographers who want to start learning the craft.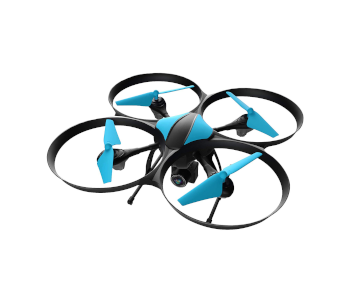 The Blue Heron is a small and interesting drone that comes with a few flight options and an above average camera. It comes with a dedicated landing gear that protects the onboard camera, not to mention the rest of the drone, when landing on uneven surfaces. This drone has an interesting Trim function that allows you to customize how your drone moves on the left and right directions. The Trim function balances lateral motion speed and overall stability and playing around with it gives the drone pilot a unique opportunity to learn the dynamics of rotary wing drone flight. The Blue Heron comes with a 720p camera that transmits live video with surprisingly low latency. Overall, the customization options of the Blue Heron is a good gateway to more advanced drone customization and adjustments.
The DJI Spark has long been the darling of casual drone pilots for being a feature-packed but affordable offering from DJI. With a low price tag and a remarkably portable build, the Spark remains one of the most popular drones today. The Spark comes with a 12MP camera that can shoot 1080p video. The camera specs on their own are nothing to write home about, but the Spark truly shines in its autonomous camera modes and flight modes. It is the perfect entry-level drone for aspiring drone photographers.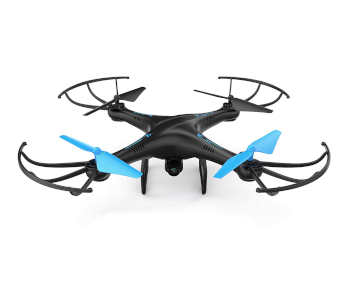 The U45 Blue Jay from Force 1 is a small but solid drone that delivers value way above its price tag. It comes with a 2MP camera that can shoot 720p high definition videos which is stored in the included 4GB SanDisk microSD card. At 30fps, the videos shot by the Blue Jay can be a little jittery, especially considering the the Blue Jay does not come with a gimbal. Through WiFi transmission, the Blue Jay can provide a live video feed to a mobile device that is connected to the dedicated controller. Best of all, the video transmission of the Blue Jay has VR headset capability. For the relatively modest price of the U45 Blue Jay, having true FPV capability is a very good deal.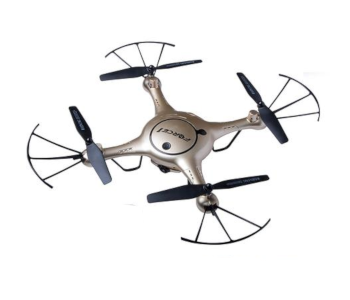 The Thunderbolt is an all-in-one drone package that combines all the features of many hobby-level drones in an affordable bundle. It comes with a detachable 720p camera that saves all captured images and videos in an included microSD card. The Thunderbolt offers several flight options such as one-key take off and landing, tricks such as flips, an altitude hold or hover function, and headless mode for easy control. The inclusion of GPS technology allows the pilot to direct the drone using the Custom Route function. The drone was designed with due consideration for durability and safety, with sturdy and well-constructed propeller guards and landing gear.
Best Camera Drones
Camera drones rely on the strength of their cameras. However, the game is not won with just sensor size and the resolution of videos. The degree of stability that is offered by its accompanying gimbal, plus the ease of flight with the drone, are also important factors. Professional photography gigs usually involve some level of travelling, so portability can also swing how a camera drone is assessed.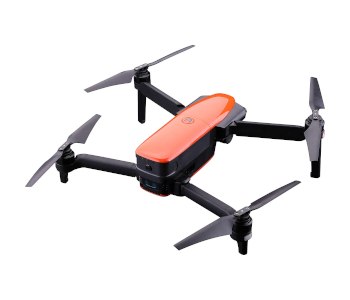 The Autel EVO was expected to be a close rival to the Mavic drones at the time of its release, and it somehow llived up to the reputation. Equipped with a camera that can capture 4K video at 60gps and 1080p video at 120fps, the Autel EVO was one of the most advanced camera drones of its time. It also had an ultra-portable design with folding arms, similar to its rival drones. Although better drones have been released since then, the Autel EVO still deserved to be discussed in the same league as other professional-level camera drones.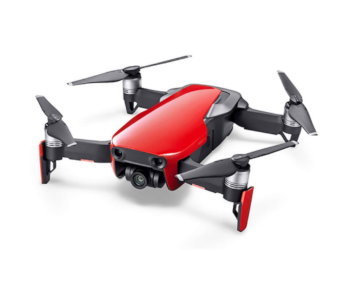 The Mavic Air is the low-cost member of the DJI Mavic product line. Despite being the smallest and lightest of the Mavic drones, the Mavic Air does not skimp in the camera department. It comes with 12MP camera that can capture 4K video. It even performs exceptionally well at capturing slow motion videos with 1080p resolution at 120 fps. Its compact design compromises on flight time and maximum range, but the Mavic Air is still one of the best value for money drones in the market today.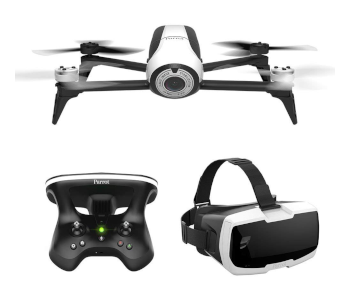 As a successor to the original Bebop, the Bebop 2 improves in practically all aspects. The build of the Bebop 2 seems more robust and has a much larger battery capacity that gives up to 20 minutes of flight time. Despite its small size, the Bebop 2 is remarkably stable even in strong winds, in no small part due to its powerful motors. The basic Bebop 2 package includes no controller, but instead you will have to pilot the drone using a mobile app. For the full experience, you may opt to buy the optional FPV package which includes the Parrot Skycontroller 2 and Parrot Cockpitglasses headset. The Bebop 2 comes with a 14MP camera which can capture 1080p videos using a fish eye lens with a 170° field of vision. Communication between drone and controller seems to drop off periodically, which hurts the rating of the Bebop 2 a bit.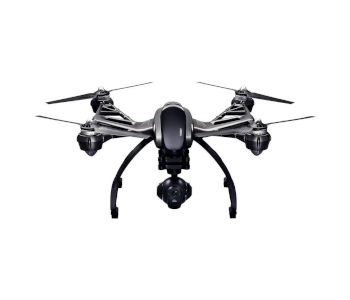 The Typhoon Q500 4K is the solution for drone photographers who are looking for a drone that can shoot 4K videos but does not cost an arm and a leg. Yuneec manages to achieve this by cutting corners on the drone's build: the Typhoon Q500 has a light plastic chassis that probably will not survive a serious crash. Yuneec makes up for this by providing the drone with the ST10+ Ground Station controller, which provides highly precise and responsive control of the drone. The light frame also helps the Typhoon Q500 stay up in the air for up to 25 minutes in a single battery cycle. All things considered, the Typhoon Q500 is a true camera drone that seems to sacrifice all of its other parts for a camera that delivers 4K videos at an affordable price.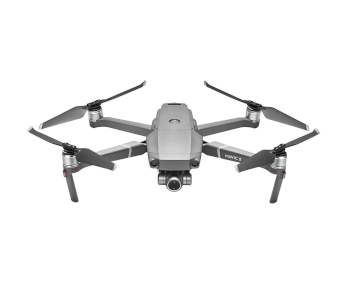 Half of the Mavic 2 drones released just recently, the Mavic 2 Zoom offers 2x optical zoom and 2x digital zoom capabilities. The camera specs are still top-notch with 1/2.3" CMOS sensor that can capture 12MP stills and 4K video. The zoom capabilities of the Mavic 2 Zoom open up a lot of photography possibilities with this drone. It also comes with unique camera modes such as Dolly Zoom and Super Resolution. This drone appeals to creative photographers who can make full use of the zoom technology.
Best Professional Drones
Professional drones are the heavyweights of the RC drone world. They come loaded with so much technology that they have effectively made jobs across several industries redundant. Many professional drones are also designed with enough lifting power to carry payloads – usually some sophisticated camera or sensor used to do highly technical jobs.
The Inspire 2 is pretty much the ideal professional drone. It retains the form factor and retractable landing gear of the original Inspire, but now comes with an aluminum composite body and carbon fiber arms. This is an incredibly fast drone that can go from 0 to 50 mph in just five seconds. You have the choice of equipping the Inspire 2 with either the Zenmuse X4S or X5S. Either one is a great camera – the X5S can capture 5.2K video at 30 fps while the X4S is limited to 4K video. In addition to the photography camera, the Inspire 2 also has a separate, front-facing FPV camera. This implies that the Inspire 2 is meant to be operated by 2 people: one to fly the drone, and one to operate the camera. With the use of Lightbridge technology, the Inspire 2 has a range of more than 4 miles – way farther than any drone pilot could practically want to fly a $3000 drone. The Inspire 2 truly feels like a polished and well-engineered product that is good enough to herald the next generation of professional-grade drones.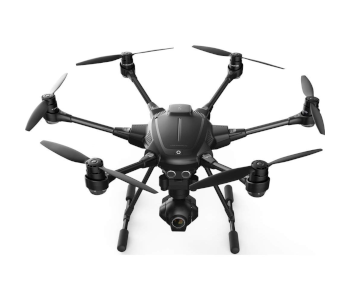 The Typhoon H Plus is the latest upgrade to Yuneec's line of professional-grade photography drones. Its six-rotor design provides remarkable stability in the most unideal conditions, with a redundant rotor that gives the drone some allowance for rotor damage during flight. The Typhoon H Plus has a camera that can go head to head with the very best in the industry: a 1-inch CMOS sensor that can capture 20MP stills and 4K video at 60fps. The Typhoon H Plus also comes with a slightly larger frame, and this supposedly contributes to a 40% reduction in noise level during flight. With the latest upgrades that the Typhoon H Plus brings to the table, it truly deserves to be placed among the top professional photography drones.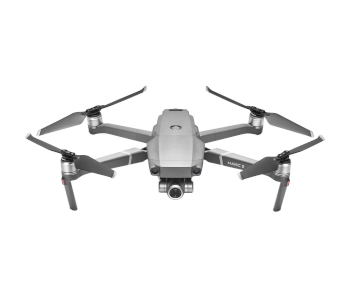 The Mavic 2 Pro holds the title for having the best camera among all ultra-portable drones. Its onboard Hasselblad camera comes with a 1" sensor that can capture 20MP stills and 4K video, perhaps making it the only ultra-portable drone that can rival professional-grade heavyweights such as the Phantom 4 Pro. The combination of a high-quality camera and the portability of the Mavic 2 Pro allows for tight shots in places that huge drones cannot access. As a professional photography drone, there are very few drones that can rival the Mavic 2 Pro.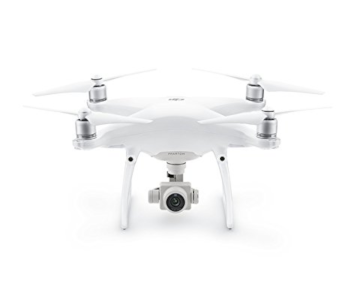 The Phantom 4 Pro is the old reliable: for a time, it was the standard for affordable drones with a professional level of quality. It comes with a 1-inch CMOS sensor that can capture 20MP stills and 4K video, and it was among the first drones to offer this level of camera specs. The form factor of the Phantom 4 Pro is also a classic, with its dedicated landing gear that is deliberately designed to fall outside of the camera's field of view. The Phantom 4 Pro also has an obstacle avoidance system supported by an array of auxiliary cameras and infrared sensors. Better drones have been released since the Phantom 4 Pro, but it is still a solid choice for a professional-level drone at its price range.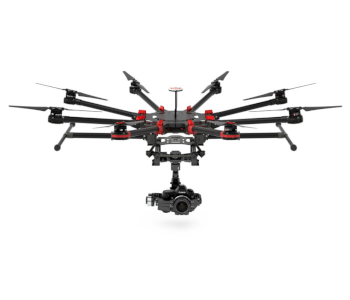 The S1000+ looks like an absolute beast of a machine. With a total of 8 rotors, this octocopter is able to generate a lift of up to 44 lbs. With this much power, the S1000+ is clearly designed to fly stable and to carry a payload. For professional photography, the standard payload recommendation is the Zenmuse Z15 camera with a 3-axis gimbal. The retracting landing gear of the S1000+ makes sure that they do not interfere in any angle that the camera can shoot. The Z15 gimbal does an exceptional job of keeping video footage stable even at very high speeds, which is an essential feature for the S1000+ that can travel at speeds of up to 45 mph. The S1000+ is definitely in the upper range when it comes to price, but there is also nothing like it in the consumer market. If you need a drone that can do some heavy lifting, then you have to go for the DJI S1000+
Final thoughts
The RC drone market has expanded so much in the past several years that it has reached a point where there is enough diversity of products to appeal to people with different inclinations. There are the toy drones that are mainly meant for children but can also give hours of entertainment to adults who have never played with an RC drone before. Beginner drones are perfect for people who do not have any experience yet but are eager to learn with drones that are easy to fly but can also take a beating.
Hobbyist drones are a little more powerful, with more advanced features such as FPV compatibility. Camera drones, as their name implies, excel primarily on the strengths of their high-quality cameras. Finally, professional-level drones have top-of-the-line cameras, flight systems, and safety features.
Whatever level of interest you may have regarding RC drones, there is probably an RC drone product out there that fits both your skill level and budget. This coming holiday season, drones will probably be as popular gift items as bicycles and hoverboards used to be back in the day.