Best RC Submarines of 2019
3D Insider is ad supported and earns money from clicks and other ways.
Radio-controlled toys have given us plenty of fun in the air, over land, and on the sea. Now we can take this amazing hobby beneath the waves with the incredible range of RC submarines. You don't have to jump in at the deep end if you're a novice either. Your first remote control sub can be an inexpensive toy that you can captain inside a bathtub or pool.
Budget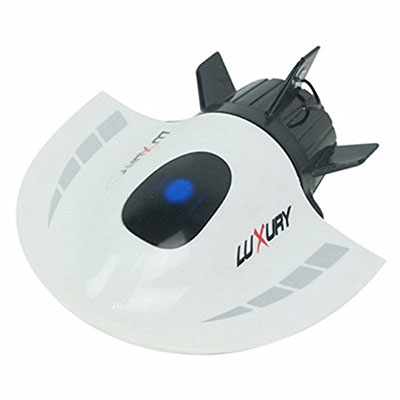 SZJJX RC Mini Submarine
4.2/5.0
10.6 oz.
RC distance 5 meters
Safe and easy for kids. 5m control range.
Check Amazon
Best Value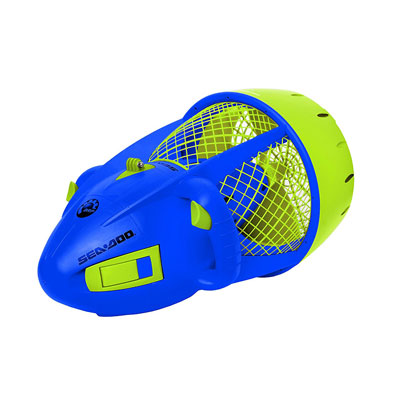 Sea Doo Dolphin
4.5/5.0
12 lbs.
Charging time 12+ hours
GoPro camera mount. Good 15ft. depth range.
Check Amazon
Top Pick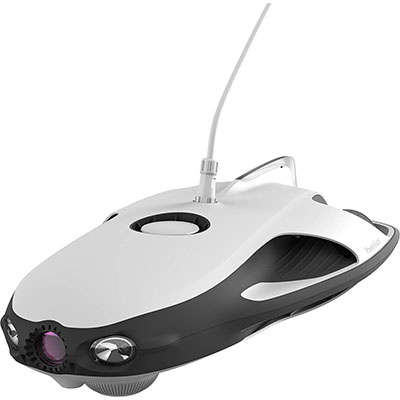 PowerRay PowerSeeker
4.6/5.0
14.2 lbs
RC distance 32.8 ft.
4K UHD video and 1080p real-time streaming.
Check Amazon
An Old Idea with New Technology
There's nothing new about remote-controlled submarines. But the technology, quality, and capability of these crafts have come a long way in recent years. Today's submarines for hobbyist look better and offer more. They can also sail faster on water and cruise deeper under it.
There are some technical terms to learn and skills to develop, but nothing is overly complicated.
The Real Attraction of RC Submarines
Radio controlled models have never been as popular. We have RC boats, RC cars, RC helicopters, planes, drones, and others. Drones have helped to take the world of remote control products to new heights—pun intended. Taking cameras to places the average person could only dream of becoming a reality. Now it's time to go down instead of up, and that's where the RC sub comes in.
Yes, they look great and are fun to use, though one of the main attractions is underwater photography. Some come with built-in HD cameras, and others have camera mounts. The benefit of the latter is being able to choose your own camera setup, thus giving you more control.
About My RC Submarine Reviews
These no-nonsense reviews won't confuse you with needless jargon or technicalities. I simply review some capable RC subs and highlight their key features, usability level, pros, and cons. There's an option at the end of each mini-review to read more in-depth details of the tech specs if you want to. The purpose of this guide, though, is simply to introduce you to a few of today's amazing vessels.
5 Best RC Submarines Comparison Table
The table below shows my five RC submarine picks as they appear in this guide.
1. SZJJX RC Mini Submarine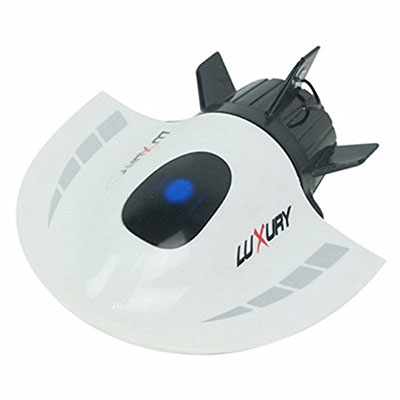 View on Amazon
Editor's Rating: 4.2/5
My first pick is the perfect mini-submarine for kids to play with in bathtubs, pools, and ponds, etc. It's affordable fun for anyone who wants an introduction to underwater remote-controlled crafts.
Best feature 1: Safe for kids
Best feature 2: Multiple propellers
Plus points: 1m depth, 5m control range, built-in rechargeable battery, easy to use
Minus points: Tiny, plasticky, limited power/use
The SZJJX RC Mini Submarine really is tiny. It's safe for smaller kids to use under adult supervision. It's small enough to play with indoors, which doubles its appeal as a practical toy. You can even cruise in a moderate sized fish tank or in the tub at bath time. The multiple propellers give it enough thrust to dive down to one-meter depth. It's easy to use at any level too.
The 5m control range doesn't sound much, but it's plenty for a mini-submarine. Any further and you'd lose sight of it. There probably wouldn't be enough power to bring it back either. I'd say the range is perfect overall. The battery takes about 20 minutes to charge, so there's never long to wait between underwater adventures.
The Not so Good
I don't want to pick too many faults because the SZJJX RC Mini Submarine is only a toy. It is small and plasticky, though, which is both good and bad. It's good because you can play with it in tight spaces. It's bad because it's easy to step on or break by accident. And you won't be able to use the SZJJX RC for much more than five minutes at a time between charges.

Tech Specs
Dimensions: 4.3 x 3.1 x 1.6″
Product Weight: 10.6 oz.
Max runtime: 5-7 minutes
Charging time: 20 minutes
Speed: 2.49 mph
RC Distance: 5 meters
The Pros
Safe and easy for kids
Affordable fun
Multiple propellers for effective diving and maneuvers
1m depth range
5m control range
Rechargeable battery
The Cons
Tiny size (also a pro)
Plasticky construction
Limited power/use
2. eMart Kids Mini RC Boat Submarine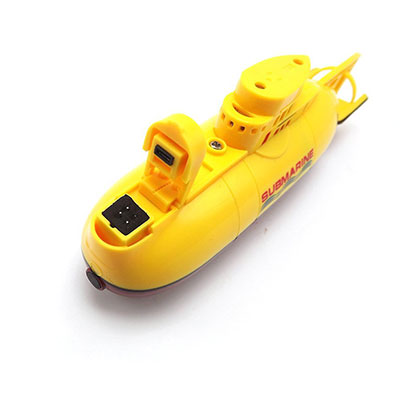 View on Amazon
Editor's Rating: 4.1/5
My second pick is another great mini-submarine for youngsters. The eMart Kids Mini looks more like a conventional submarine than the previous pick. OK, let's see what it does.
Best feature 1: Good running time
Best feature 2: Easy to use
Plus points: Well made, bright yellow color, LED lights, fast charging time
Minus points: Underpowered, shallow depth
The built-in lithium battery gives an impressive 20 minutes run time. That's a huge advantage over the first pick. The yellow color of the Mart Kids Mini RC boat-submarine makes it easy to use and see from a distance. This is no small detail as tiny crafts like this can be easy to lose sight of in outdoor spaces. The maximum depth is unspecified, but you can expect at least 2.5 feet in calm waters.
The eMart kid's mini RC submarine has a quality build despite being a toy. The sub comes with some colorful LED lights that let you use it in the dark. Bright lights have always been a big attraction on kid's toys. The charging time of this puppy is another bonus at just 30 minutes.
The Not so Good
It's a toy aimed at young kids so you don't want it to be too aggressive or too powerful. Even so, it's probably a tad underpowered. The slow speed of this sub will see some kids lose interest quite quickly. It won't go down too far either. That will disappoint the kids attracted to deeper cruising.

Tech Specs
Dimensions: 5.9 x 1.9 x 2.7″
Product Weight: 10.4 oz.
Max runtime: 15–20 minutes
Charging time: 30 minutes
Speed: Slow (not specified)
RC Distance: 7 meters
The Pros
Well-made craft
Excellent run time
Bright color, easy to see
Simple to operate
Bright LED lights
Good range
Fast charging time
The Cons
Underpowered
Shallow depth range
3. Sub-Mariner Camera Submarine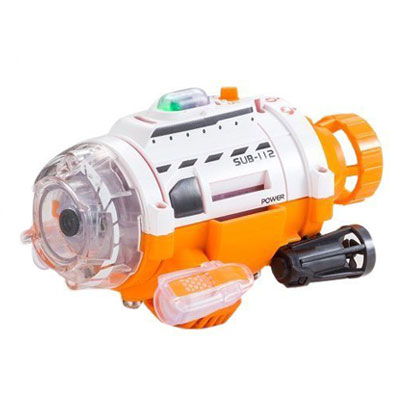 View on Amazon
Editor's Rating: 4.7/5
My third pick is the Sub-Mariner camera, and it takes us to the next level. Compared to the toys above, it's bigger, more powerful, and has filming capabilities. Let's see what else it offers.
Best feature 1: 3 channel control
Best feature 2: Built-in camera
Plus points: Agile, well made, built-in memory, LED spotlights
Minus points: Small memory, tiny size, short ranges
This versatile yellow submarine targets an older audience with more serious intentions. It's still small and toy-like, but it's not a bathtub plaything like the first subs on this page. This agile beauty is well built and so at home in the water. It floats, dives, climbs, reverses, and turns with grace and ease.
The built-in camera has 1280 X 960-photo quality and 640 X 480 VGA video. There's also built-in memory to capture all your underwater footage. Another nice touch is the two front-facing powerful LED spotlights to illuminate the way ahead.
The Not so Good
Captains of this sub don't expect to take award-winning, feature-length video or prize photos. That's just as well with only 256MB of inbuilt memory. The camera's capability still offers a great introduction to underwater photography and videography. This sub is also tiny, a lot smaller than the advertising portrays it. It's still excellent value, but make sure you know what to expect.
The final gripe for the Sub-Mariner camera sub is its distance and depth ranges. The control range is supposed to be 5m, but that's wishful thinking. I wasn't able to find the actual depth range, but it too is disappointing. It's a great vessel if you don't want to go too deep or too far. The instructions are all in Japanese, which is why some of the finer details are missing.
You do have other options if you want to submerge deeper and cruise further.

Tech Specs
Dimensions: 13.5 x 8.2 x 3.5″
Product Weight: 18.4 oz.
Max runtime: Not specified
Charging time: Not specified
Speed: Not specified
RC Distance: 5 meters
The Pros
Three-channel control
Built-in camera
Built-in 256MB memory
Agile craft, easy to operate
Bright LED spotlights
The Cons
User manual Japanese language
Small internal memory
Tiny sub
Short ranges (depth & distance)
4. Sea Doo Dolphin Personal Dive Submarine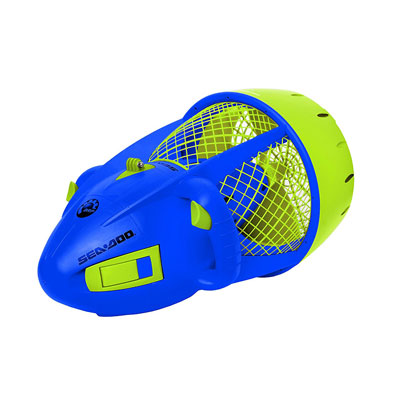 View on Amazon
Editor's Rating: 4.5/5
Next up is the Sea Doo Dolphin, which is a personal dive submarine. It uses hands-on human control, not remote control (RC). It's still worth a place in this guide as a very capable underwater craft.
Best feature 1: GoPro Camera Mount
Best feature 2: Excellent safety features
Plus points: Lightweight design, easy to handle, good maximum depth, long runtime
Minus points: Price, underpowered, long charging time
The Sea Doo Dolphin propels the operator above or below the water. It's incredible fun for all the family, but especially the youngsters—under supervision. The newest version comes with a GoPro action camera mount so you can catch all the family fun and save it for posterity. It's safe too. It sports a plethora of safety features like positive buoyancy, protective grilles, and auto cutoff.
The lightweight materials and careful design make it easy to handle with only a small learning curve. The Sea Doo Dolphin Personal Dive Submarine can reach a depth of 15 ft. The impressive 90 minutes runtime is another welcome feature. It's still a good idea to invest in an extra battery and keep it fully charged if you're out for the day.
The Not so Good
This personal dive submarine is not cheap at around 300 bucks (at the time of writing). It's a great investment for anyone who spends lots of time in the water, though. Some folks—and especially older kids and adults—may find the maximum 2mph speed underwhelming after a while. The only other gripe is the long battery charging time. It's an overnight job and possibly longer for the first charge.

Tech Specs
Dimensions: 10.3 x 19.4 x 10.3″
Product Weight: 12 lbs. (5.5 kg)
Max runtime: 1.5 hrs. (90 minutes)
Charging time: 12+ hours
Speed: 2 mph (3.2 km/h)
RC Distance: N/A
The Pros
Quality build and materials, safe lightweight design
Easy to use, fun for all the family
GoPro camera mount
Good 15ft. depth range
Long runtime per charge
The Cons
Quite expensive
Underpowered
Long battery charging times
5. PowerRay PowerSeeker Underwater Drone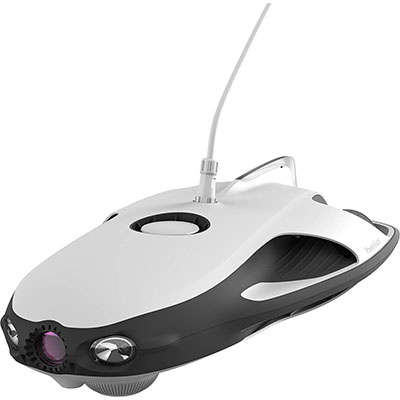 View on Amazon
Editor's Rating: 4.6/5
My final pick is the PowerRayPowerSeekerWizard 4K submarine, though they call it an underwater drone. It's a futuristic craft and light years ahead of the toy subs at the top of this page.
Best feature 1: Powerful underwater photography and video craft
Best feature 2: 4K UHD Video, 1080p real-time streaming
Plus points: PowerSeeker, FPV, deep diving, 3 pilot modes, bright LED lights
Minus points: High price
It's a fishing drone because of its unique PowerSeeker and fish-finder mode, but it's a lot more besides. The PowerRay is also a powerful underwater photography and video platform. Some of its many uses include treasure hunting, exploration, studying marine life, and mapping. You can even use it to record high-quality film projects with a little practice. It's fun, flexible, and incredibly capable.
This amazing underwater robot comes with 4K UHD Video. There's even 1080p real-time streaming so the captain can see what the camera sees—as it sees. It's a different experience to other submarines where operators watch the vessel from above as it cruises underwater.
Seeing Is Believing
The PowerRay can go out of your line of sight (LOS) without you losing sight of it. The First Person View (FPV) capability means it becomes your eyes beneath the waves. It can go down as far as 98 feet, and that's a long way for a small vessel. The three operating modes are low, medium, and high speed. These modes make it a great entry-level submarine with expert-level capability.
Unlike the other submarines on this page, this puppy is at home in the ocean. Its wide-angle lens ensures you capture plenty of close-up footage as the bright LED lighting illuminates the way. As with flying drones, this underwater craft also lets you view the world as you've never seen it before.
There's so much going on with the PowerRay underwater drone that it really deserves a page of its own. Follow the link at the end of this review if you want to expand on the highlights above or discover all the features this remarkable product has to offer.
The Not so Good
The not so good has to be the price tag. This is a serious underwater vessel, and although it's great fun, it's not a toy. The price is fair for anyone who can put the product to work for him or her. It's also a good price for those with a recreational budget to match. Alas, for most others the price makes it unobtainable or unjustifiable for what they need.

Tech Specs
Dimensions: 23.3 x 15.5 x 12.8″
Product Weight: 14.2 lbs. (6.4 kg)
Max runtime: High Speed: 1 hour, Medium Speed: 2 hours, Low Speed: 4 hours
Charging time: 2 hours
Speed: 4.5 mph
RC Distance: 32.8 ft. (10m)
The Pros
4K UHD Video
1080p real-time streaming
12MP photos
First Person View (FPV)
Three pilot modes
PowerSeekerFishfinder
Depth 98 feet
Bright LED lights
Good run time
Reasonable charging time