7 Best RC Toys of 2019
3D Insider is ad supported and earns money from clicks, commissions from sales, and other ways.
Radio-controlled (RC) toys are in high demand today among kids, teens, and adults. There were only RC boats, planes, and cars in the past, but there's much more on offer now. We have construction trucks, drones, rock crawlers, RC animals, and all kinds of robots to name a few. Whatever exists in real-life now exists in the RC world. This guide looks at 7 of the best RC toys around this year.
Budget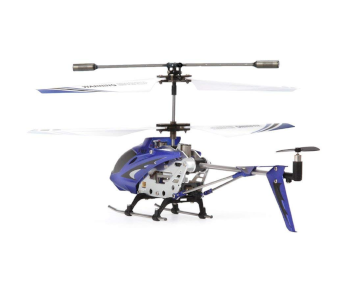 Syma S107G Mini RC Helicopter
4.5/5.0
Grade: Toy-Grade
Model Type: Aircraft
Easy to control, stable, and agile. 3-channel tri-band technology
Check Amazon
Best Value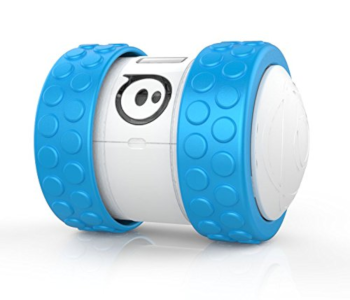 Sphero Orbotix Ollie App-Control
4.6/5.0
Grade: Toy-Grade
Model Type: Rolling Robot
Bluetooth connection, glowing LED lights, easy to use
Check Amazon
Top Pick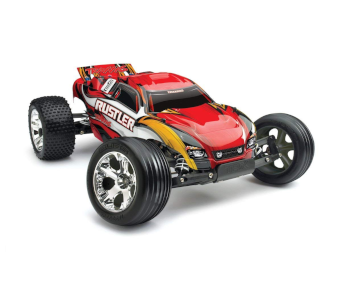 Traxxas RTR Rustler 2WD
4.7/5.0
Grade: Hobby-Grade
Model Type: 2WD Truck
Fast top speed. Waterproof electronics
Check Amazon
Choosing Your RC Model
The great thing about RC toys and models is that there's something for everyone at every level. The radio-controlled toy you choose depends on age, preference, ability, and budget. The industry categorizes their products as toy grade and hobby grade. Most RC toys are much cheaper and simpler to use than hobby-grade models. Toys come ready-to-run (RTR), and drones arrive ready-to-fly (RTF).
You can buy RTR and RTF hobby-grade radio controlled models as well. They're also available as Bind-N-Fly (BNF). You get everything in the box except the transmitter with BNF. There are also options to buy hobby grade RC models in kit or part kit form. Kits tend to be cheaper, but that's not their only attraction. RC enthusiasts enjoy assembling their models. I haven't included any kits in this guide.
How to Make the Best Buying Decision
Consider the points below before you buy your next RC toy:
Age range and experience level
Maximum budget
The model class: 2WD, 4WD cars, trucks, boats, aircraft, robots, etc.
The RC grade: toy-grade or hobby-grade
Operating ranges: how far you can control the toy from the transmitter
Battery life: aka playing/running/flying time
Needs and expectations: think carefully about what you want from the toy
The simple list above is sure to help you make a better buying decision. One final thing to note is that the cheapest RC toys don't last forever. The low-cost materials may break easily. The 'breakable' factor is something to think about with boisterous youngsters. And the small motors are going to burn out at some point. It's a good idea to buy one or two spare batteries if they're removable.
Tip: Always allow time for the RC motor to cool down between battery swaps. That's the best way to prolong a model's life. Read the makers recommendation for cooling down times.
About My RC Toy Guide
This guide includes some exciting RC toys from different groups. There are a helicopter and Nano drone for the flying category. I've also added RC animals, a gesture-based RC robot, and one surprise model. You'll have a much better grasp on all RC toys by the end of this simple, no-nonsense guide. The seven picks are the result of personal choice, opinions of industry experts, and real user feedback.
The table below shows the toys as they appear in this guide. The top three are the editor's choice for the best budget, best value, and top pick, in that order. The ones below those are by price order, starting with the least expensive first.
RC Toys Comparison Table
#1 Syma S107G Mini RC Helicopter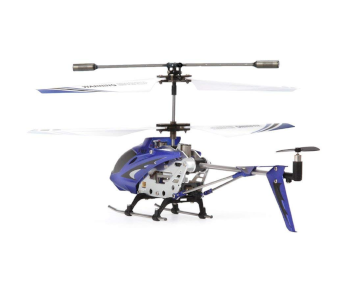 View on Amazon
Editor's Rating: 4.5/5
The Syma S107G is a fantastic mini RC helicopter that looks the part and flies like a bird. This toy grade RC aircraft is also budget-friendly, costing less than 35 dollars at the time of writing.
Best feature 1: Durable metal body frame
Best feature 2: Three motors
Plus points: Easy to control, stable, agile, 3-channel tri-band technology, LEDs, fast charging
Minus points: Short playing time
The recommended age range for this mini helicopter is 14 years. It's still a great little RC gift for younger kids under supervision. The quality metal body frame surprised me for a model in its class. It stands up to mild crashes and collisions remarkably well for a toy. The S107G comes with three motors. The one in the tail is what helps to stabilize the craft and makes it agile and easy to fly.
Safe, Intervention-Free Flying
Syma has equipped the craft with 3-channel non-intervention tri-band technology. That means you can fly up to three helicopters at the same time without radio interference. The bright front-facing flashing LED is a nice touch too. It lets you take to the air after dark if night flying's your thing.
The soft rotor blades shut off right away if they strike an object. It's a neat safety feature that protects both the craft and the controller. It's little touches like this that makes the S107G ideal for beginners.
The Not So Good
The 5-6-minute battery life (flying time) is poor though not unusual for a toy. Short battery life is the bugbear of electric radio-controlled models, even at the higher end. The way to extend the fun is to buy one or two spare batteries. The good news is the fast charging time of just 25 minutes via USB. You can also charge the battery using the remote controller, but it takes a while longer.

Tech Specs
Dimensions: 16.9 x 6 x 2.6 inches
Product Weight: 12.3 oz.
Age Range: 14 years
Battery: 3.7V 180mah Lithium-Polymer
Running time: 5–6 minutes
The Pros
Durable metal body frame
Three motors
Easy to control at any level
Stable and agile
3-channel tri-band technology
Front-facing LED
Fast charging time
The Cons
Short flying time (battery life)
#2 Sphero Orbotix Ollie App-Control Robot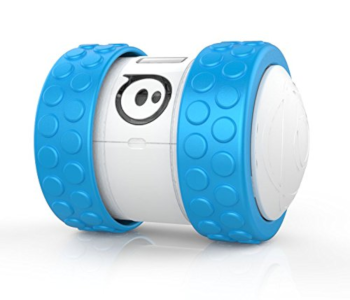 View on Amazon
Editor's Rating: 4.6/5
Meet Ollie, the fun-loving app-controlled robot. You can control this electrically propelled toy from any Smart Bluetooth enabled device. It's great fun for anyone at any age and level.
Best feature 1: Fast top speed
Best feature 2: Off-road capable
Plus points: Bluetooth connection, glowing LED lights, easy to use, long play time
Minus points: Trick mode difficult for younger kids, long charging time, price
Warning! This thing is addictive—in a good way. The real competition begins when you pit two or more of these puppies against each other. The max speed of 14mph (6m/s) is one heck of a lot faster than it sounds. It's an easy robot to use but harder to manage at the stunt level. Still, mastering Ollie is half the fun. Adrenaline junkies love the fast speed, quick acceleration, and rapid turns.
Oh, and the colorful glowing LEDs add to the fun when whizzing around in the dark.
Pushing the Limits
What's so exciting about Ollie is where you can take it. Seriously, it's as tough as they come and no terrain is too difficult. The polycarbonate shell stands up to plenty of hard knocks, and the smart design easily repels water. You WANT obstacles in the way because that's your challenge. Hurdles let you perform those gravity-defying tricks. And by the way, you have 100s of trick combos available.
The good news for beginners is that you can adjust the machine's handling, speed, and acceleration. Swap the drift wheels for the grip tires and go off-road once you develop your skills. There a few RC toys that offer so much fun and ways to operate as Ollie.
The Not So Good
Under-8s will want Ollie, but they may also get frustrated and bored quickly. That's because it's difficult for younger minds to learn the tricks they want to perform. Another disadvantage is the long 2+ hours of battery charging time. The playing time, though, is an impressive 45 minutes. You may get more or less battery life depending on how hard you push Ollie.
The final gripe is the highish price tag for a small toy.

Tech Specs
Dimensions: 10 x 4.3 x 4.8"
Product Weight: 1.31 lbs.
Age Range: 8 years and above
Battery: Built-in Lithium Polymer
Running time: 45 minutes
The Pros
Non-stop fun
Easy to use (harder to master)
Fast top speed
Off-road capable, tough build
Bluetooth connection and control via a smart device
Long running time
Colorful, glowing LEDs
The Cons
Trick mode difficult for under-8s
Long battery charging time
Pricey for a small toy
#3 Traxxas RTR Rustler 2WD Stadium Truck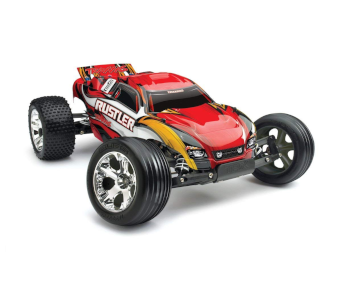 View on Amazon
Editor's Rating: 4.7/5
No RC toy guide would be complete without a truck. The Traxxas ready-to-run (RTR) Rustler is a 1/10 scale 2WD stadium truck. It looks mean, sells well, and enjoys high ratings. Let's see why.
Best feature 1: Titan 12-Turn 550 Modified Motor
Best feature 2: Rustler's oil-filled Ultra Shocks
Plus points: Fast top speed, waterproof electronics, 6-color ProGraphix body, upgradeable
Minus points: Some stock parts break easily, car cigarette lighter charger
This RC truck has the wow factor right out of the box not least because of its 6-color ProGraphix body. The guts are equally as impressive. A powerful Titan 12-turn 550 modified motor drives this beast off-road and on, up to a top speed of 35mph. There's even an internal cooling fan to maintain lower temperatures and thus prolong the motor's life. It's a vehicle with heaps of all-around oomph.
The Traxxas RTR Rustler 2WD Stadium Truck is not toy-priced. It is excellent value for those serious about their hobby, though. It's a particularly good choice for enthusiasts who love to tinker.
Powerful Protection
The Rustler's oil-filled ultra-shocks ensure smooth performance and more confident control. The waterproofed parts and electronics allow for all-weather driving. That's a significant point. Take the model out into the rain, wet mud, and even snow, it's all possible thanks to the professional sealing. When you break the occasional part—and you will—spares, and upgradable parts are easy to source.
The Not So Good
Hobbyists expect stock parts to break easier than upgraded aftermarket parts. But some say this model breaks too easily and there are no metal parts where it matters. They have a point. Still, RC hobbyists expect to upgrade certain parts to make their model unique to them and their style of racing. It's not the right model for anyone who doesn't want to get involved in upgrades and maintenance.
The other downside is that there's no wall charger in the box. You can buy one separately but it adds to the cost. The battery charger is the cigarette lighter type. Having to charge from a vehicle is a joke, and I'm not sure why Traxxas skimped in this area. There is some good news in that the battery charging time takes less than 60 minutes.

Tech Specs
Dimensions: 17.5 x 13 x 7.5"
Product Weight: 7.01 lbs.
Skill level: Beginner
Age Range: 14 years
Battery: 7-cell NiMH battery
Running time: 10–15 minutes
Operating range: 150+ ft. (60 yards)
The Pros
Stunning design, impressive 6-color ProGraphix body
12-Turn 550 Modified Motor
Fast top speed
Oil-filled Ultra Shocks
Waterproof electronics
Easy to upgrade parts
High current connectors
High-performance bellcrank steering system
Fiber Composite Arms
Excellent customer support
The Cons
Stock parts break too easily
Car cigarette lighter charger
Price
#4 Holy Stone HS190 Foldable Nano RC Drone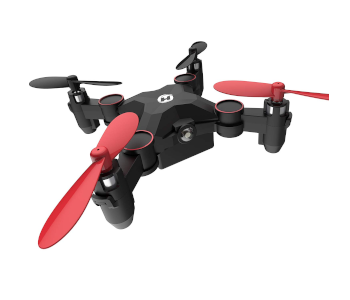 View on Amazon
Editor's Rating: 4.6/5
Next up is a Mini Nano RC Drone by Holy Stone. The HS190 is a foldable little quadcopter that fits easily into a pocket. That makes it a brilliant gift for kids right off the bat.
Best feature 1: Portable pocket quadcopter
Best feature 2: Altitude Hold function
Plus points: Simple to fly, headless mode, one key return, three speeds, LED lights
Minus points: Built-in battery, short flying time
The recommended age on the box is fourteen. It's a fun toy for much younger kids too, with a little supervision of course. The portability factor and user-friendly features are HS190's biggest appeal. The altitude hold function kicks in at the moment you let go of the throttle stick. Don't let the tiny size fool you. Young pilots can perform all manner of stunts with this puppy to impress their mates.
Flying spectacles include 3D flips, high-speed 360° rotations, and rolls in all directions. The headless mode is another welcome feature. It means pilots don't have to worry about the direction (orientation) the craft faces to fly it. The 1-key return, LED nighttime navigation lights, and three speed modes also add to beginner confidence. It's incredible how much Holy Stone has packed into such a tiny quad.
The Not So Good
It's not fair to be too critical for a toy quad at this price range. There are a couple of things to mention that may affect some people's buying decision, though. The flight time is an average of 5+ minutes. That's not so unusual for a lightweight toy drone. The problem is the built-in battery. There's no way to swap it with another to continue the fun. Five minutes is not long when you're having a good time.
The good news is that recharging the battery only takes around 40 minutes. There are two ways to charge the HS190 foldable Nano RC drone, USB and via the controller.

Tech Specs
Dimensions: 4.5 x 4.5 x 1.2"
Product Weight: 0.96 ounces
Age Range: 14 (younger with supervision)
Battery: Built-in
Running time: 5+ minutes
Operation Range: 30–50m
Charging time: 40+ minutes
The Pros
Portable and pocketable
Simple to fly
Two charging options
Altitude Hold function
One button takeoff/landing
Headless mode
One key return
Three speeds
High-speed rotation
3D flips
LED navigation lights
The Cons
Built-in battery
Short flying time
#5 Parrot MiniDrone Jumping Sumo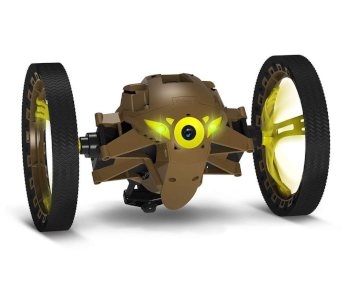 View on Amazon
Editor's Rating: 4.2/5
And now for something completely different. This is Parrot's MiniDrone Jumping Sumo that you must see in action to believe. It's fast, agile, and sturdy—it needs to be.
Best feature 1: On-board wide-angle camera for live streaming and photos
Best feature 2: Impressive app-controlled acrobatics
Plus points: User-friendly, fingertip control, excellent grip, flicks, light & sound effects
Minus points: Shortish battery life, long charging time
Turn any space into a playground with the Parrot MiniDrone Jumping Sumo. More obstacles mean more fun, and that's the beauty of this app-controlled robot. There's no need to run after the Jumping Sumo either. The onboard wide-angle camera streams live video straight to your screen. You get to see places and things as you've never seen them before. And yes, you can save all your adventures.
Controlling the MiniDrone Jumping Sumo
The Jumping Sumo doesn't only race around on the floor. The acrobatic potential is what makes this RC toy so much fun. Best of all is that you get to control everything from the Free-Flight 3 app on your Wi-Fi (wirless) device. It's nippy, sturdy, and incredibly agile in the right hands. The user-friendly fingertip controls give you limitless opportunities. There are spins and jumps (2.5 ft.) up or sideways.
One of the most exciting moves is the forward hover. This little robot flicks objects out of its way using powerful springs. There are also LED lights and special sound effects that add to the excitement. Seriously, every adventure can be different from the last.
The Not So Good
When you have this much fun you never want it to end. That's where the Parrot MiniDrone Jumping Sumo lets us down. The battery only lasts for about 15 minutes. You might not even get that if you go on a jumping frenzy. The second con is the battery charging time of 1.5–2 hours. Make sure you buy extra batteries if you decide to get this awesome toy.

Tech Specs
Dimensions: 7.6 x 5.1 x 8.1"
Product Weight: 3.36 oz.
Age Range: 10 years
Battery: 550mAh Lithium Polymer
Charging time: 1.5+ hours
Running time: 15 minutes
Distance range: 20 ft.
The Pros
Great looking robot drone
User-friendly, fingertip control
On-board wide-angle camera
Intuitive Free-Flight 3 app control for smartphone or tablet
Excellent grip
Springs flick obstacles away
Lights & sound effects
Jumps up to 2.5 feet, spins
Road plan mode
The Cons
Disappointing battery life
Long battery charging time
#6 WowWee – MiP the Toy Robot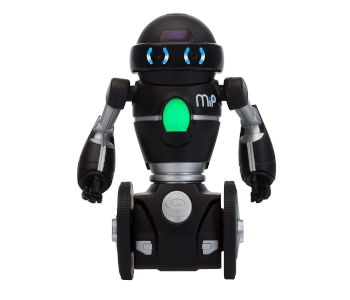 View on Amazon
Editor's Rating: 4.4/5
I can remember my first robot as a child. It was nothing like this one. The MiP™ is more than just a Robot—it's a toy friend. That's because of the way kids get to interact with this unique machine.
Best feature 1: Hand gesture control
Best feature 2: Self-balancing robot
Plus points: App control, strong and sturdy, fun, personality, reacts to noise, self-balancing
Minus points: Eats batteries, batteries not included, no volume or mute control
Kids can control this little robot with hand gestures to make the relationship more interactive. Some of the gesture-based interactions include claps, swipes, touch, and a few others. How cool is that? There's also a free app to connect and control MiP from a smart device. App control lets you design a path for the robot to follow. You can even go into boxing mode and battle against other MiPs.
Why MiP Sells Well and Ranks High
MiP is no wimp. It can carry its weight and still move around. It has a personality too, albeit a strange one. Feed it mood chips from the app and see what happens. Heck, it can even react to noise. The Dual-Wheel Balancing makes sure MiP always stays upright. That's one less frustration to worry about. Consider this autonomous RC android if you want a unique multi-functional robot.
The Not So Good
MiP eats through batteries like there's no tomorrow, and there's none with the product. My suggestion is to buy rechargeable batteries, otherwise it's going to cost a lot to play with this thing. The other gripe is one that's going to bother parents more than kids. The noise—though not deafening—becomes irritating after a while. And there's no way to turn down the volume or mute the sound.

Tech Specs
Dimensions: 1 6.8 x 5 x 10.2"
Product Weight: 10.6 oz.
Age Range: 8+ years
Battery: Not included. Requires 4 x AAs
Running time: 20+ minutes
The Pros
Android personality RC robot
Hand gesture control
Self-balancing (dual-wheel)
App control
Strong and sturdy
Reacts to noise
Bluetooth Low Energy
The Cons
Eats batteries
Batteries not included
Noisy (no volume or mute control)
#7 WowWee Roboraptor the Robotic Dinosaur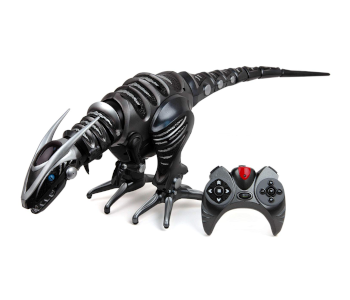 View on Amazon
Editor's Rating: 4.3/5
This special-edition Roboraptor is the last RC toy on the list of best picks. It's a robotic dinosaur that's ready to roam out of its box. That makes it an excellent gift for impatient kids who just want to play.
Best feature 1: Moveable parts, biomorphic motions
Best feature 2: Reacts to sounds and visual commands
Plus points: Big, lifelike stride, fun sound effects, good size controller, Sonic & touch sensors
Minus points: No option to turn down the volume or mute, batteries not included
The Roboraptor is big which adds to its appeal. It seems rigid at a first glance though it's more flexible than it looks. The prehistoric roar, moveable parts, and biomorphic motions bring this robotic creature to life. They've nailed the walking stride to resemble that of a real predator of the past. Other moveable parts include the swiveling head, sweeping tail, and bone-crushing, chomping jaw.
You can expect some autonomous behaviors as well as direct control. Artificial intelligence has given this dinosaur a wild and sometimes unpredictable personality. There are lots of moods and different reactions to play around with. Just let the giant reptile go off and explore on its own. The smart use of touch and sonic sensors help it to interact well with the surroundings.
The Not So Good
Parents may find this toy on the loud side, especially if they're trying to relax. There's no option to turn the volume down or off either. It's a common problem with RC toys like this. The other disadvantage is the battery use. It uses six rechargeable AAs in the toy and three AAs in the controller (not included).
Final thoughts: I'd say this is a brilliant toy for children aged 5–8 years. According to user feedback, kids older than eight tend to get bored with it after a short time.

Tech Specs
Dimensions: 32 x 8 x 10.5"
Product Weight: 4 lbs.
Age Range: 5–8 years
Battery: 6 x AA rechargeables (not included)
Running time: Depends on battery and play
The Pros
Awesome looking RC beast
Large size
Moveable parts, biomorphic motions
Reacts to audio and visual commands
Fun sound effects
Sonic & touch sensors
Good size controller
The Cons
No option to turn down the volume or mute the sound
Batteries not included
Kids over eight likely to get bored quickly