Best Resin Printers of 2017
Entry Level to Advanced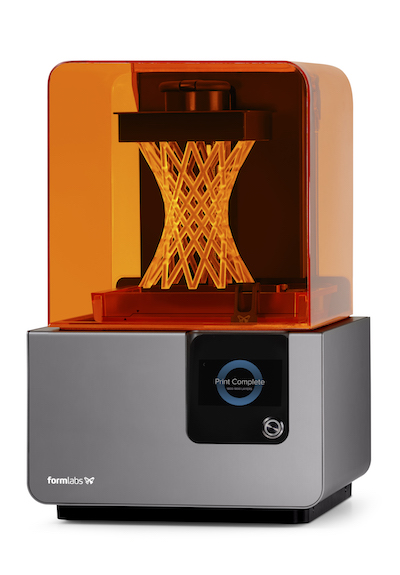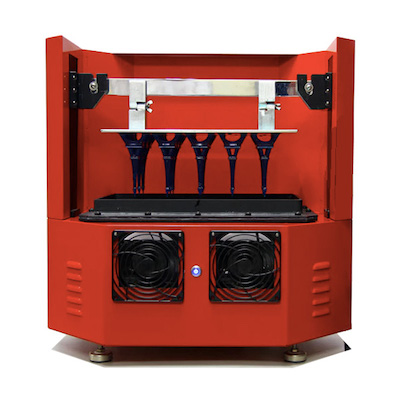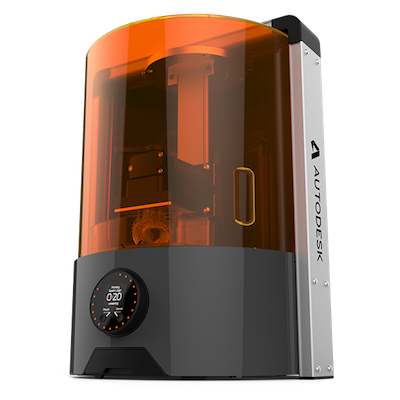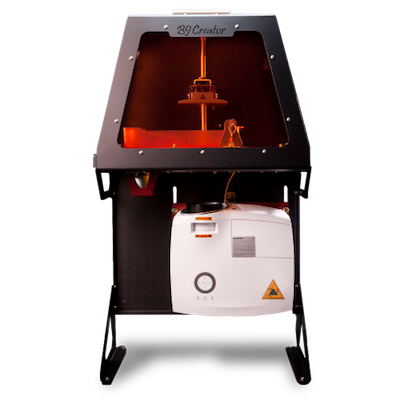 Welcome to our no-nonsense 3D printer guide. Here we walk you through the best SLA/DLP printers available in 2017. Although there are fewer choices compared to FDM printers, the options are still impressive. Below we list value-for-money printers that deliver high-quality results.
So who are these reviews for? This guide was written to help beginners and advanced users alike. Don't worry if you are new to the world of 3D printing. You're not going to find unnecessary jargon or overly technical details on this page.
Quick Recap
Why Resin Printers?
Why choose SLA/DLP over a FDM (Fused Deposition Modeling) printer? That's a good question. Fortunately deciding between the two is easy once you know the pros and cons of each technology. We're going to simplify things so that you have a clearer understanding of your options.
FDM printers are more popular than SLA and DLP. That doesn't mean FDM printing technology is better. It just means they sell more machines. You'll see why in a moment. The sales gap between them has begun to narrow recently.
How We Chose Our Top SLA 3D Printers
The way we select our best picks of SLA 3D printer is contingent on the following conditions:
Personal, hands-on reviews
Consumer reviews
Opinions of experts
We will update the guides when necessary to keep pace with changes.
Ok, let's now take a look at the top 10 resin printers. We include all the pros and any cons, along with the printer's overall capabilities. We also include the most important tech features of each model.
The Price Range
You generally get better quality the more you pay. Resin printers are no exception. Since not everyone needs all of the latest and greatest features, we have sorted this guide by price to make it easier to find a printer.
Choose Your Budget:
SLA/DLP 3D Printers Under $3,000
A few years ago it would have been impossible to find resin printers under $3000. Today, more options are becoming available to consumers. This is in large part thanks to crowd-funded models.
The XYZ Printing Nobel 1.0A is great resin (SLA) printer. It's an upgrade on the previous model, the Nobel 1.0. Major improvements include better printing performance and improved accuracy. It also boasts higher resolutions and it has an enhanced laser.
Although this printer is not cheap, it is cheaper than the Formlabs Form 2. That means it's going to fall short in some areas. The Nobel 1.0A XYZPrinting 3D printer is a good deal for the money though.
Tech Specs
| | |
| --- | --- |
| Technology: | SLA |
| Build Size: | 128x128x200mm |
| Resolution: | 130 Micron |
| Dimensions: | 280x337x590mm |
| Connectivity: | USB 2.0 |
| File Format: | .stl, .3w |
| OS: | PC only, Windows 7 and above. |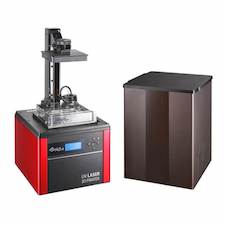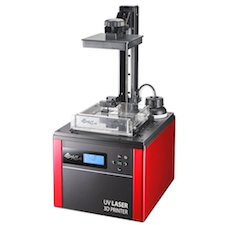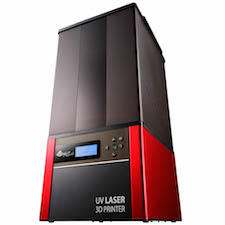 Who is the XYZprinting Nobel 1.0a SLA 3D Printer for?
This is a great choice of 3D printer for professionals, solopreneurs, and hobbyists. It's especially useful for anyone who needs versatility in their 3D projects. For example, you can print using a range of various materials. This includes castable resin, flexible resin, and a choice of multi-colored acrylic resins.
Jewelers, designers, and architects can all get good use of this printer's versatility. It is one of the more affordable high-performance 3D printers available today.
How easy is this printer to use?
There's a lot of smart integration with this 3D printer by XYZPrinting. It comes equipped with plenty of hassle-free operations at your fingertips.
The Nobel 1.0A monitors the entire printing process for you. It lets you know how much resin remains at any given time. It has resin-filling functions too. That means no manual interference is necessary. In other words, the printer works out optimized laser parameters so you don't have to.
The XYZware Nobel software is smart and reliable. During the printing process it automatically analyzes the unique features of the 3D model. It then adds the right amount of support structure to the proper place at the exact time necessary. This helps to produce the best possible end product.
Anyone, at any level is able to achieve superior printed parts at an affordable cost thanks to these features.
What are the key attractions of the Nobel 1.0A?
This is a plug-n-play 3D printer with a USB port. One of the key attractions is that you can simply insert an USB drive and then press the 'PRINT' button. Another attraction of the Nobel 1.0A is that it gives you high resolution printing at a reasonable cost. The auto refill feature and other hassle-free operations are all good selling points.


Next up is the Form 1+ by Formlabs. This is an older model and more affordable option than the Formlabs Form 2. There are still plenty of these machines around for sale.
The Form 1+ is a very capable printer. The prints it produces have excellent detail. Since the launch of the first Form 1, the 1+ enjoyed some notable upgrades. For instance, a faster and more powerful laser was a welcome change.
The Form 1+ is a consistent printer that users can print high quality parts with time and again. This is a fairly compact and quiet machine, which is something home users appreciate.
Tech Specs
| | |
| --- | --- |
| Technology: | SLA/DLP |
| Build Size: | 12.5×12.5×16.5cm |
| 3rd Party Material? | No |
| Open source: | No |
| Connectivity: | USB |
| Min height:? | 25 microns |
| Max height: | 100 microns |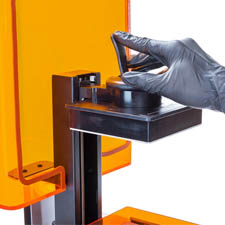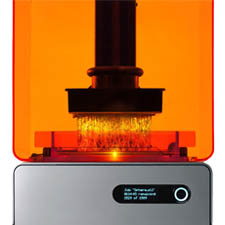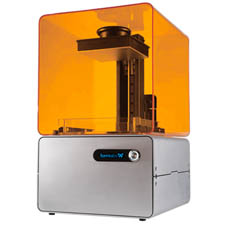 Who is the Form 1+ 3D printer for?
The Form 1+ is an affordable 3D printer compared to some of the others mentioned in these reviews.
This is a printer geared towards professionals and prosumers. It's a good choice for product designers and engineers who need a reliable and tried-and tested machine. We don't recommend this model for entry-level users just getting started because it's not the easiest printer to setup and use.
Novices, schools, and hobbyists might want to focus their attention more toward the Ultimaker 2. We suggest you skip this review if you're the type of person who doesn't like to tinker much. For everyone else, keep reading because this could be the printer you've been looking for. After all, it's been a good seller for a reason.
How easy is this printer to use?
If you're familiar with 3D printing then setting up and using the Form 1+ will not be a problem. For everyone else it could prove fiddly. There's quite a steep learning curve with this machine.
It's vital to read all the instructions that come with it. You need to know how to keep the resin tank clean. Additionally, you will need to keep the mirrors free from dust. You'll need to understand the importance of the printing angle, and the correct location of parts on the tray.
Missing out on a few minor details will have a negative impact on the finished part. If you do get stuck there is a large community to support the Form1+.
What are the key attractions of the Form 1+?
Despite the fact that a lot of people look to the Form 2 nowadays, there're still plenty of good reasons to consider the Form 1+. The price will be a key attraction for many. Another important appeal is the easy-to-use software, which sets up the supports necessary to print. The excellent support surrounding this machine – should you need it – is second to none.


SLA/DLP 3D Printers Between $3000 – $5000
Most resin printers are in this price range. You can get a good bang with your buck at this price. The Morpheus is the most promising printer, but since it's still launching there is a lot that is unknown performance wise.
SLA/DLP 3D Printers Over $5,000
A lot more options have popped up for high-end resin printers. Most notably, Autodesk came out with their first ever branded 3D printer.
The Ember is an open source, professional 3D printer manufactured by Autodesk. The technology they use is DLP stereolithography. The printer has a build volume of 64x40x134 mm.
Although this printer is easy to use, you can also tinker with its settings if you need to be more creative with the designs. Autodesk is passionate about their first ever hardware project. You can see that enthusiasm in the updates and focus on usability and output quality.
Tech Specs
| | |
| --- | --- |
| Technology: | SLA/DLP |
| Build Size: | 6.4x4x13.4cm |
| Min height: | 25 microns |
| 3rd party materials? | Yes |
| Connectivity: | USB/WiFi/Ethernet |
What makes the Ember stand out from the pack is the technology it uses. It has a rotatable head that crystallizes a special kind of open source resin material. There are reasons why this resin is so impressive. It makes the printing process faster and with no sacrifice to quality.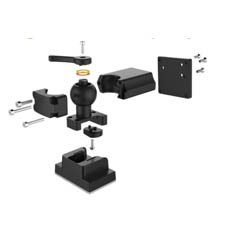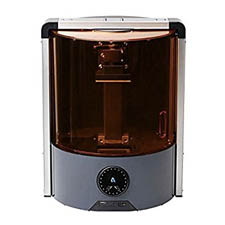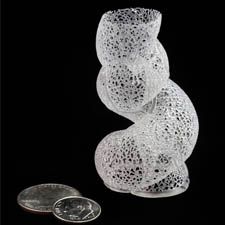 Who is Autodesk's Ember Resin 3D printer for?
Ember is a user-friendly 3D printer, capable of producing high-quality 3D parts. This means those at the entry-level can now jump in and produce professional results with little experience. It's also a very capable printer for professional use. It's a particularly good choice for castable component work, especially jewelry.
Despite its user-friendly appeal, the Ember's still a little on the pricy side for all but the most enthusiastic home consumer. It's inexpensive as a professional tool though.
How easy is the Ember 3D desktop printer to use?
Despite the advanced technology, this printer is really easy to use at any level. It's also a machine that users can tinker with if they want or need to be more creative with their 3D parts.
What are Ember's key attractions?
The key attraction for Autodesk's Ember 3D printer is that it offers a new way of printing. It's faster than other types of 3D printer but it doesn't sacrifice quality for speed. Improved speed and high-quality are the aspirations of all 3D designers, and it looks as though Autodesk have nailed it with the Ember.
Production is another key attraction for the Ember. Thanks to the DLP technology, it's able to print parts simultaneously, thus maximizing the user's throughput. Finally this is a good looking printer too – at least in the opinion of many enthusiasts. Although appearance is not something that impacts results, aesthetics do matter to people if the printer is highly visible.


If we had to sum the MoonRay Desktop 3D Printer up in three words it would be fast, precise, and wireless. It has everything you could wish for in a decent machine. For example, it's high quality, accurate, truly functional, and flexible. This printer is consistently durable and reliable too.
Excellent resolution and user-friendly operation makes the MoonRay a winner. It's a big hit with both professionals and enthusiasts who need what this machine offers.
Tech Specs
| | |
| --- | --- |
| Technology: | SLA/DLP |
| Build Size: | 12.7×8.1×22.8 cm |
| Printer Size: | 38.1×38.1×50.8cm |
| DLP Projector: | UV LED 405nm |
| XY Resolution: | 100 micron |
| Z Resolution: | 20 micron |
| Print Speed: | 25.4 mm or 1″/h |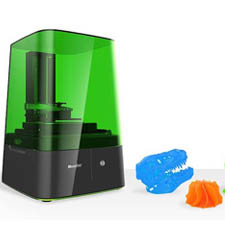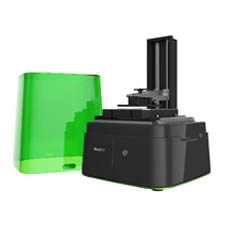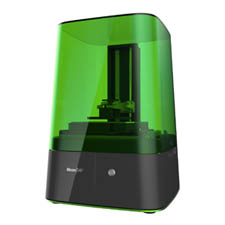 Who is SprintRay's MoonRay 3D printer for?
The MoonRay 3D printer by SprintRay is an attractive printer for those who need a decent sized build area. It's an ideal choice for dentists, designers, and engineers. More generally, it's a great 3D printer for anyone who insists on fine detail, high accuracy, and an impressive surface finish.
How easy is this printer to use?
The ease of setup right out of the box is impressive. The software connects wirelessly, so even a novice can be creating detailed 3D parts in minutes. The no-fuss, durable resin tank means less maintenance and more uptime. A lot of the clutter that comes with some 3D resin printers has been stripped away to give the MoonRay a more minimalistic appeal.
What are the key attractions of the MoonRay 3D printer?
Reviewers comment on how the cool and quiet the MoonRay is. It's certainly quieter than a lot of the competition.
From a more technical standpoint, one of MoonRay's key features has to be the custom-built projector. This projector guarantees printing 3D parts with very fine details. The printer also boasts perfect light spectrum, allowing for 100 micron resolution.
Another of the main attractions is the long lifespan of the bulb, which lasts for 50,000 hours. That means you won't have to replace the bulb anytime soon, if at all. Another point worth a mention is the printer's revolutionary resin tank, which SprintRay designed to last. This is great news because it means you won't have to mess around replacing the resin tank or have hassles changing the PDMS layer.


This is another quality 3D printer aimed at professionals. The XFAB is by Digital Wax Systems (DWS), an Italian manufacturer with a good reputation in SLA printers.
Since the early introduction of the XFAB, there have been a number of impressive improvements by the time of its official launch. It's a good looking printer for one. That may seem like a trivial point, but some people care about the aesthetics of a product. The latest XFAB boasts faster build speeds, along with higher resolution and surface quality. Other plusses are the intelligent cartridge system and the Nauta XFAB edition software suite.
With the XFAB comes a range of high grade materials for creative printing. These printing materials come in convenient and easy-to-use 300 ml containers.
Tech Specs
| | |
| --- | --- |
| Technology: | SLA |
| Build Size: | 180×180mm |
| Printer Size: | 420x638x590mm |
| Laser: | Solid State BlueEdge® BE-1300X |
| Slice thickness: | 10-100 microns |
| Connectivity: | USB |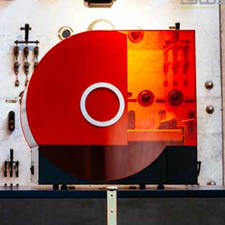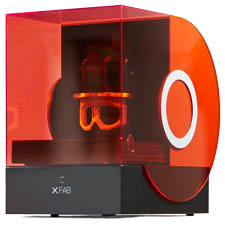 Who is the XFAB 3D printer for?
This is a 3D printer suited to the jewelry and dental markets in particular. Having said that, people are finding it to be a great machine for a lot of other applications. It's also a good choice for the enthusiastic hobbyist who wants to invest in a high-end 3D machine – someone we call the prosumer.
It's a printer for those who need a broader choice of 3D printing materials than the competition can offer. This is a machine that will award users with much greater precision than most other high-end consumer 3D printers on the market. In short, the DWS XFAB stands out for its impressive print range and choices in pintable materials.
How easy is this printer to use?
The manufacturers have been on a mission to make their technology easy to use for the end user. There's no calibration needed with the BlueEdge® laser system and zero maintenance. Thanks to DWS's proprietary Nauta software, the simplicity of operation gets even smoother. The software even creates quick-to-remove supports using the minimum amount of material possible.
What are the key attractions of the XFAB® 3D printer?
There's plenty to get excited about with the DWS XFAB 3D SLA printer. The large building area is certainly welcome. There's also something called the TTT (Tank Translation Technology) system. This allows the printing of taller objects without the fear of collapse.
Having a vast range of material is something that definitely benefits some industries and prosumers. This printer also sports the highest, professional standard, surface quality. It also has fast build speeds. The well thought out software suite is a welcome feature too. Finally, the XFAB intelligent material cartridges are amazing. There's no leakage at all, making them clean to use even without gloves.


Closing Comments
Right now there's a battle going on between the 3D printing technologies. Not all 3D printers and operators are equal. End users have different budgets, ideas, and expectations. There's no such thing as the "perfect" 3D printer that suits all purposes.
There are, however, 3D machines that are perfect for some people. The way to choose a model that's ideal for you is to understand the strengths and weaknesses of the technology. You then have to look at the individual 3D printers and see how much of what they offer meets your expectations.
SLA and DLP technology is fast becoming the choice of 3D printing for offices, schools, design shops, and research labs. Serious prosumers, entrepreneurs, designers, artists, and architects favor StereoLithoGraphy. Engineers and educators are also among those taking advantage of the latest choices in 3D resin printers.
With the help of this guide choosing your new resin 3D printer will now be a lot easier. You'll have a better understanding of why resin (SLA & DLP) 3D machines are increasing in popularity.
Although they still cost more than FDM printers they offer more too. Today, desktop-style 3D printers are easy to buy. They're also more economical to use compared to the costlier older models. SLA/DLP printed parts are of a higher quality than those produced by FDM machines and that's a key selling point.
We hope this guide has helped you pick a printer. Leave your comments and questions below.