6 Best Ring Lights of 2019
3D Insider is ad supported and earns money from clicks, commissions from sales, and other ways.
People are visual creatures. You can have interesting things to talk about or document and do so in crisp high detail, but if the lighting is off your audience will still be disinterested. Proper lighting makes all the difference between an amateurish photo and pro-level portrait, or a dull vlog and one that engages your audience. If you plan on actively pursuing a vlogging, streaming, or photography hobby and maybe turn it into a career, you need a good ring light.
Ring lights are an essential part of photo and videography lighting equipment. They emit diffuse light which illuminates the subject evenly, eliminating contrasts and toning down undesirable features. Content produced with the enhancement of ring lights looks more pleasant and professional. This translates to greater engagement and more people wanting to enjoy your creations.
These are the six best ring lights you can get. Some are large and come with tall stands while others are meant to be used close up and have holders for your smartphone. Whatever your ring lighting needs may be, at least one among them is sure to drastically improve the quality of your next stream or photo.
Budget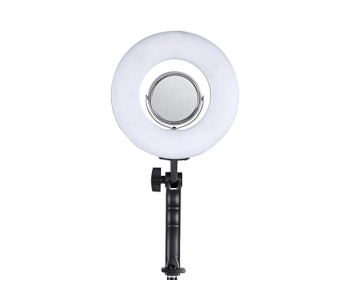 Trumagine Selfie Ring Light
4.0/5.0
Diameter: 10 in
Maximum brightness: Not specified
Has lots of mounting and phone placement options.
Check Amazon
Best Value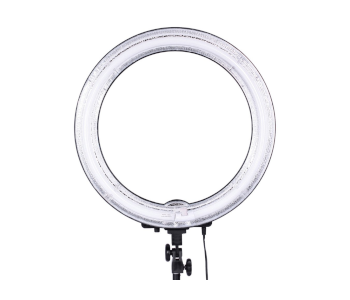 Neewer Ring Light Kit
4.5/5.0
Diameter: 18 in
Maximum brightness:
75 Watts
Comes with lots of accessories and has an adjustable bright light.
Check Amazon
Top Pick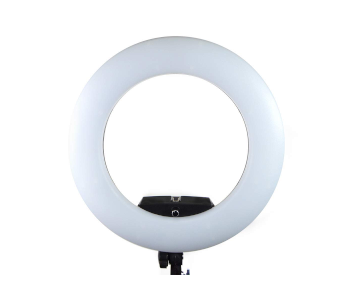 Savage Luminous Pro LED
4.7/5.0
Diameter: 17 in
Maximum brightness: 5,300 lumens
Portable and produces highly adjustable soft light.
Check Amazon
Ring Lights Comparison Table
| Make and Model | Rating | Diameter (inches) | Color temperature (degrees Kelvin) | Price |
| --- | --- | --- | --- | --- |
| Savage Luminous Pro LED Ring light Plus | 4.7 | 17 | 3,200K – 5,500K | Check Price |
| Neewer Ring Light Kit | 4.5 | 18 | 5,500K | Check Price |
| Smith Victor LED Ring Light | 4.4 | 19 | 5,500K | Check Price |
| Ledgo LGR320C | 4.4 | 12 | 3,200K – 5,600K | Check Price |
| Diva Ring Light Super Nova | 4.1 | 18 | 5,400K | Check Price |
| Trumagine Selfie Ring Light | 4.0 | 10 | 3,200K, 6,500K | Check Price |
1. Best Overall – Savage Luminous Pro LED Ring light Plus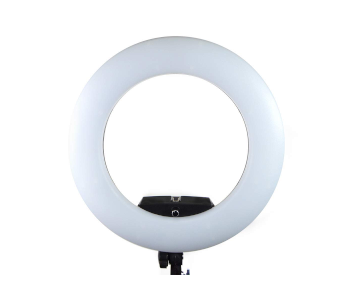 View on Amazon
Editor's Rating: 4.7/5
To create the perfect portrait or lighting for your streams, you need a backlight that's easily adjustable, portable, and whose light doesn't produce a glare. Savage's Luminous Pro Plus is without competition when it comes to all three. The ring light can be precisely set to the desired color temperature or brightness with a remote. It also comes with 2 rechargeable batteries and it has a mount in the middle for optimum lighting in relation to your camera.
Overview of Features
The first thing you'll notice when unpacking the Pro Plus is are the many welcome accessories you get. Everything arrives in a sturdy tote with neat compartments for the light, its remote, and its power sources. The Pro Plus comes with a standard AC adapter for continuous studio use, but you get two rechargeable batteries along with two chargers. Each battery can power the ring light for 75 minutes on its most power-hungry settings. The batteries aren't proprietary, meaning they're easy to replace if lost.
The Pro Plus has a ball mount at its base for attaching cameras. It also has two sets of controls, on the front & back, as well as a small LCD screen with information on the current brightness and color temperature. All of these can also be adjusted via the remote, which is great if you need to make changes without moving out of your camera's view.
The light the Pro Plus emits is diffuse and softens rough shadows while eliminating glare. Its brightness can be adjusted in 10-percent increments while the color ranges from a warm 3,200K to bright daylight at 5,500K. The lumen output tops off at 5,300, which should be enough for most professional streamers and photographers. The ring light is ideal for close-up shots as it rounds facial features out well and can be adjusted on-the-fly.
What's Bad About It?
While the Pro Plus itself is fantastic, the ball head used to mount cameras onto it isn't. It is poorly made and might not be able to support heavier cameras. If you're used to shooting with DSLR-s and heavy lenses, you'll be better off not relying on it. The camera doesn't come with a stand. You can buy one separately which further adds to its cost.

Tech Specs
Diameter: 17 in
Maximum brightness: 5,300 lumens
Color temperature: 3,200K – 5,500K
Power source: AC adapter, rechargeable batteries
The Pros
Produces highly adjustable soft light
Portable
Easy to control remotely
The Cons
Low-quality ball head
Stand sold separately
2. Best Value – Neewer Ring Light Kit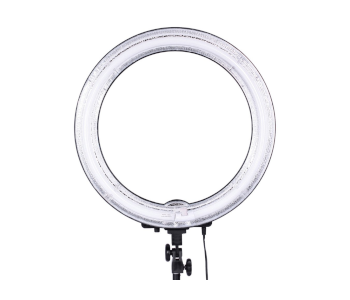 View on Amazon
Editor's Rating: 4.5/5
You can get the brightest ring light with a huge diameter and still get poor lighting if it doesn't have the proper accessories. A good stand, for example, is essential to lighting placement, and filters come in handy to diffuse the light or create memorable black & white scenes. Neewer's Ring Light Kit provides you with a capable light, sturdy accessories, and a nice bag for easier transportation. It's an amazing value since you get everything you need to start using the ring light effectively in one comprehensive package.
Overview of Features
This kit consists of a ring light, a 60-inch foldable stand, a phone holder, two plastic light filter sets, a ball head, and an adapter. Neewer has provided in-depth assembly instructions for the stand so it's easy to set up in minutes. The light is available in white and black and you can also choose between a stand made from either aluminum or stainless steel.
The ring light has an inner diameter of 14 inches which lets you mount even larger cameras into its middle with the supplied hot shoe ball head mount. It has 240 evenly-spaced LEDs that glow with a pleasingly white temperature of 5,500K The lights are dimmable down to 1 percent of their brightness and further customizable with two kinds of light filters. The white one makes the light more diffuse and lowers glare. The orange filter creates warner light suitable for black & white photography.
The light is very bright and puts out the equivalent of a 600W light bulb. This makes it effective at medium and long range when on its max settings. Up close, this ring light delivers a flicker-free, bright glow which makes facial features stand out while getting rid of sharp shadows.
Are There Drawbacks?
Since it is so bright, the light might start to irritate your eyes after long exposure if the diffusion filter isn't used. The phone attachment is flimsy and won't hold larger phones without stretching out.

Tech Specs
Diameter: 18 in
Maximum brightness: 75 Watts
Color temperature: 5,500K
Power source: AC adapter
The Pros
Excellent value for the money
Comes with lots of accessories
Adjustable bright light
The Cons
Flimsy phone holder
Not suitable for long-term use
3. Smith Victor LED Ring Light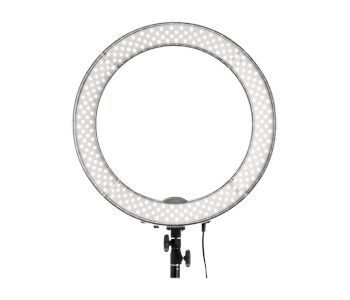 View on Amazon
Editor's Rating: 4.4/5
Color accuracy is a major factor to consider when buying lighting equipment. The higher it is, the more natural the light looks. The Smith victor LED Ring Light has a color rendering index (CRI) of 95, meaning it simulates daytime conditions accurately. It also has two color temperatures, a solid set of accessories, and is light enough for easy transportation to location shoots. It's a solid alternative to our overall winner if you've already got a stand.
Overview of Features
There aren't as many accessories with this ring light as with the other two, but they all work well. First, there's the carrying case that allows you to pack everything up neatly. Then there are two diffusers that create either a milder white or a sunset orange. Finally, there's an adapter with a long power cord which gives you a lot of room to work with before needing an extension cable.
The ring light's large 19-inch diameter helps create even and pleasant lighting. The power switch is also the dimmer and stars the ring light off at 10 percent brightness. As you turn the dial, the brightness seamlessly increases all the way to a solid 4,800 lumens. You'd think that this draws a lot of power, but the ring light only uses 55 watts which is less than most single incandescent light bulbs.
Setting up a camera on the light's cold shoe mount is straightforward. It is of good quality and will support any combination of camera & lens without stability issues. Tilting the light once it's secured to a stand is easy as well.
Are There Drawbacks?
Like the model from Neewer, Smith Victor's ring light is unpleasant to look at directly for longer time periods. You shouldn't be using it for longer vlogs or streaming session as the adapter gets uncomfortably hot after a while.

Tech Specs
Diameter: 19 in
Maximum brightness: 4,600 lumens
Color temperature: 5,500K
Power source: AC adapter
The Pros
High CRI
Good balance of price and quality
Portable
The Cons
Not suitable for long-term use
Power adapter gets hot after a while
4. Ledgo LGR320C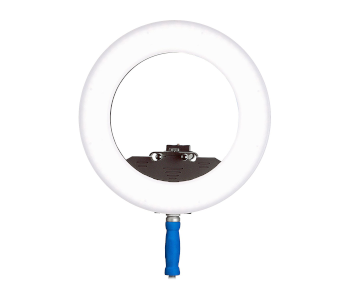 View on Amazon
Editor's Rating: 4.4/5
It's important that a ring light delivers a flicker-free experience. Ledgo's LGR320C delivers continuous light of varying brightness and color temperature. The 12-inch diameter makes it easy to transport while backup battery power ensures you won't run out of juice during location shoots. This is a well-made, albeit expensive piece of professional photo & video equipment you should definitely consider if you're aiming for outstanding close-up results.
Overview of features
Nothing beats the LGR320C when it comes to portability! The light is mountable onto light stands and tripods. You can also carry it since there are handles in the back, perfect for ensuring optimum lighting during a dynamic vlog. The light runs on AC power or two batteries for even more flexibility. Speaking of which, the blue handle under the hot shoe mount is bendable.
The LGR320C has bi-color LEDs. One set has a temperature of 3,200K while the other's is 5,600K. Together they create a temperature of 4,400K at a maximum brightness of almost 4,400 lumens. This is a respectable amount for such a small ring light, but you might need to keep it close to your subject for best results. The light's CRI is 95, so balancing in post will rarely be needed.
This light's portability and color adjustment make it ideal for work on the go. It's easy to mount and adjust its lighting profile to the conditions you encounter on location. Its light output is excellent and the intensity can be tolerated for long stretches. Wrinkles and imperfections disappear when subjected to the LGR320C's soft glow and one's natural beauty is captured vividly.
What We Didn't Like
You'll need to take care not to damage this ring light if you transport it a lot because it is fragile. Most of its parts are made from plastic and won't survive a fall or bruising. Batteries need to be inserted into both ports for the LGR320C to work on battery power. This isn't explained anywhere though.

Tech Specs
Diameter: 12 in
Maximum brightness: 4373 lumens
Color temperature: 3,200K. 5,600K
Power source: AC adapter, batteries
The Pros
Compact and portable
Adjustable color temperature
Soft, pleasant light
The Cons
Fragile
Needs batteries in both ports to work off of battery power
5. Diva Ring Light Super Nova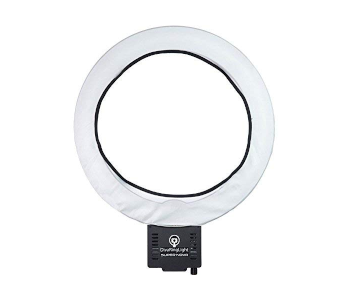 View on Amazon
Editor's Rating: 4.1/5
Diva Ring Light caters to beauty bloggers and YouTuber who specialize in makeup & makeup tutorials. Don't let the branding fool you though – Diva ring lights are an excellent choice for streamers and photographers too! The Super Nova is their premium fluorescent ring light with adjustable brightness and an 18-inch diameter. It puts out even light, has a variety of mounting options, and is built to last.
Overview of Features
The best thing about the Super Nova is its various mounting options. You get a six-foot light stand and a universal gooseneck arm that attaches to it or any other model. You can also attach the ring light to a tripod with the included Z bracket. Apart from mounting accessories, you get an AC adapter and a diffusion cloth to make the light softer.
The Super Nova emits light at 5,400K. If you need a darker orange tone, 3,200K bulbs are sold separately. It has a CRI of 90 and needs only 65 watts of power per hour to run, making the Super Nova both a realistic and cost-effective light source. It's easy on your eyes too – since there's a continuous fluorescent ring rather than lots of small LEDs, the light is more even and softer. Most people will have no trouble looking directly into it even without the diffusion cover.
This is a versatile light that can act either as your main light source for close-up shots or as a backup studio light when a scene's lighting needs a finishing touch. The glow is natural and soft. It gets rid of sharper shadows while keeping the contours and volume of your face intact.
What's Bad About It?
This is an expensive light which comes with fewer accessories and adjustment options than Savage's model. The gooseneck arm used to attach the light to a stand gets easily worn out if you tilt the light frequently. This might cause it to break, so you should keep the light in an upright position just in case.

Tech Specs
Diameter: 18 in
Maximum brightness: 500 watts
Color temperature: 5,400K
Power source: AC adapter
The Pros
Diverse mounting options
Diffuse light people can work under a long time
Good light accuracy
The Cons
Expensive
Low-quality gooseneck arm
6. Best Budget Option – Trumagine Selfie Ring Light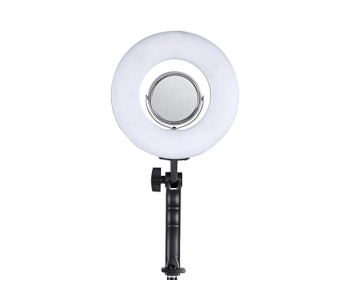 View on Amazon
Editor's Rating: 4/5
Do you create most of your content with a smartphone or action camera? If so, you need a small ring light that's easy to move and which adapts to any lighting challenge. The 10-inch ring light by Trumagine is perfect for active vloggers and selfie addicts! It's easy to reposition, can hold your smartphone in various positions, and toggles between warm and cold light. It's also an affordable model and a fine entry-level solution for anyone who's just starting out in their creative career.
Overview of Features
Trumagine's selfie ring light has an impressive array of accessories given its price. It comes with a 17-inch stand, AC adapter, smartphone holder, and makeup mirror. The stand has a versatile clamp that attaches to a smartphone, camera, tablet etc. and can be rotated 360 degrees. The smartphone holder is mountable anywhere on the ring and supports both landscape and portrait modes. The mirror has a regular and a magnified side useful for last-minute touch-ups.
This light was designed to excel in diverse lighting conditions. It can be switched from a warm 3,200k to a bluish 6,500K and used either on its own or in combination with other light sources for greater effect. Brightness is easily adjustable thanks to a large knob. There's a big LCD screen on the lamp's back which shows the current color temperature and brightness level. The ring light operates on either AC or battery power. You don't get a battery with it, but any model compatible with Sony F, FM, or QM chargers will do.
What We Didn't Like
The light's stand is flimsy and unstable. Its rubberized legs wear out quickly so it may start to slip too. The small diameter forces you to put your face really close to the light. After a few months of use, the light starts to flicker when you change its brightness settings. Choosing one setting and sticking with it will keep this from happening.

Tech Specs
Diameter: 10 in
Maximum brightness: Not specified
Color temperature: 3,200K, 6,500K
Power source: AC adapter, batteries
The Pros
Has both warm and cool light
Lots of mounting and phone placement options
Affordable
The Cons
Flimsy stand
Light starts to flicker with use