6 Best Robots for Kids (Coding and More)
3D Insider is ad supported and earns money from clicks, commissions from sales, and other ways.
The world is moving forward faster than ever before, all thanks to technology and automation. While some of us still fear a Matrix-style takeover of the Earth by our new robotic overlords, the risk of robot domination is still a distant fear.
In the meantime? Robots are, frankly, cool!
Not only are these toys a great way to excite and entertain your kids, but many robot toys also teach critical skills. You can get robots geared toward targeting everything from spacial understanding to critical thinking and problem solving, to coding and robot design.
Sure, a store-bought robot probably won't be as cool as the robo-fighting competitions in Big Hero 6, much less Baymax. They're still a fantastic way to entertain your kids and foster the foundational skills that will help them be successful in our new modern world.
In this article, we'll discuss the benefits of buying a robot toy for your kids, what you should look for to make sure you've found a good robot, and a shortlist of the best robots you can get right now. Let's get started.
Bargain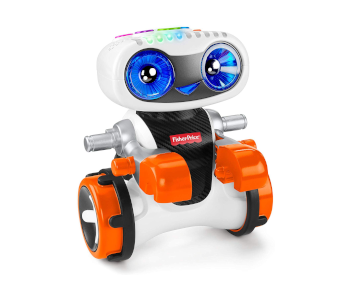 Fisher-Price Code N' Learn Kinderbot
4.5/5.0
3 basic game modes
10" x 10" x 8"
Teaches early coding and problem-solving skills.
Check Amazon
Best Value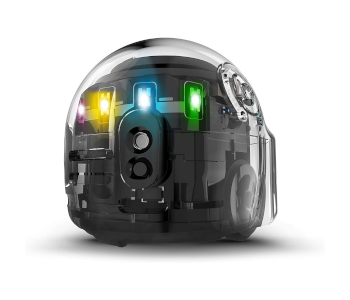 Evo App-Connected Coding Bot
4.7/5.0
Bluetooth 4 enabled
USB charging
Great for social play and coding competitions.
Check Amazon
Top Pick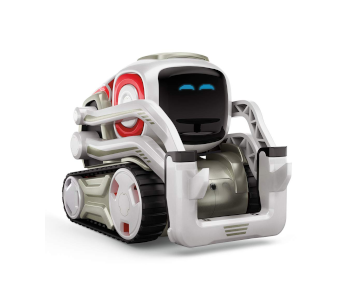 Anki Cozmo
4.9/5.0
3 pounds
Free app
Builds coding and critical thinking skills.
Check Amazon
Why Get Your Kid A Robot?
It's hard, as a parent in today's digital age, to decide what kinds of toys and entertainment your kids should have access to. When should your kid get a smartphone? How much screen time should you allow? Is it fair to restrict computer access when your kids will probably need as many computer skills as they can acquire?
With all the digitization of entertainment, and kids spending more and more time interacting with technology instead of other kids, or even you, adding another high-tech toy into your home may be a hard pill to swallow.
We get it. It's understandable to want to buy your kids board games, sports equipment, and other toys that foster social engagement and activity.
But, robots aren't like other digital era entertainments. Or, at least, they don't have to be.
Many robots are best enjoyed in a group environment. You can spend time experimenting with your children as they experiment with their new toy's abilities. Many robots are designed to challenge your kids, to get them to think and experiment and try new things. Get a second robot for yourself, and you can challenge each other to come up with new innovations and solutions.
More than that, robots can also offer valuable learning opportunities. If your children are a little older, you can select a robot that teaches basic coding skills. As they advance, so can their robots. The ability to create custom code and directly influence what their robot can do is an incredibly empowering experience for kids.
Even if your children aren't destined to fall in love with robotics and become famous robot engineers, a great robot toy can be a safe, healthy, and educational way to make their life more interesting and fun. You may even see your kids spending less time on their computers and more time exploring new challenges with their robot!
What to Look for in a Good Robot
Of course, if you're going to give a robot to your kids you want to know that the toy is safe and durable enough to survive just about anything they can throw at it. A good robot is a combination of form, function, materials, and engaging features.
Materials
Flexibility
Age Range
Reviews
Does It Develop Any Skills
Quick Robot Comparison
We'll spend more time on the individual robots later, but, if you're rushing to buy a good toy for a birthday or special occasion you can be confident in any of the robots on this list. Read on if you want to learn more about what makes a good robot, and the specifics of the robots we've selected.
The Robots
Target Age Range
Features
Skills Developed
Price
Sphero Bolt
6+
Coding app, directional control,
programable display +
Coding, problem-solving,
critical thinking, and
spatial awareness
Check Price
Fisher-Price Code N'
Learn Kinderbot
3-6 years
Coding basics, interactive
design, movement, color and
lights for engagement
Coding, Spatial awareness,
problem solving, kindergarten
prep
Check Price
Evo App-Connected
Coding Bot
9+ years
Award-winning coding bot that
lets kids explore the limits of
what they can do
Coding, problem-solving,
color sense, out of the box
thinking
Check Price
Sphero Battleworn BB-8
Droid & Force Band
5+
Straight from Star Wars, this
robot has basic coding, a Force
Band, and several interactive
modes
Concentration, focus, mild coding
Check Price
Anki Cosmo
8+
Balanced robot between learning
and skills building and emotive
interaction
Coding, empathy, problem-solving
, spatial awareness, understanding
different perspectives
Check Price
Fisher-Price Think &
Learn Teach N' Tag Movi
3-6 years
Programmed with early learning
basics like the ABC's, as well as
developing emotional awareness
ABC's, Colors, animals, and
other kindergarten prep, spatial
awareness and physical dexterity
Check Price
The Best Robots for Kids
1. Sphero Bolt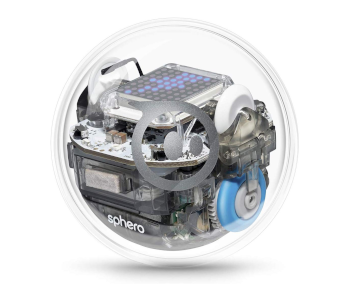 View on Amazon
Editor's Rating: 4.8/5
The Bolt is one of the more versatile toys on our list. We already mentioned it in our buying guide because this is an example of a toy that looks simple but packs in a lot of versatility. About the size of a fist, the bolt combines a controllable robot with learning and coding functions.
The app this robot uses for coding and controls is compatible with most major operating systems. It's also surprisingly adaptable to your child's age. Once they're old enough to be trusted with a tablet or other smart device, they're old enough for this robot.
Different game modes will keep your children entertained for hours at a time. Design and guide the Bolt through an obstacle course. Program the LED display to show different graphics and characters. Program the Bolt to respond to light with specific behaviors, and more.
The outer shell is plastic, but surprisingly durable. It's also seamless and not designed to open. While your kids may be tempted, it's unlike they'll be able to open the Bolt and take it apart. You'll get 2 hours of continuous playtime on a single charge, and it maxes out around 4 mph. That's slightly more than average adult walking speed, 3 mph.
Pros
Highly versatile
About fist-sized, hard to lose
2 hours of playtime
Teaches critical thinking, problem-solving, and coding
Different modes let younger and older kids have fun with Bolt
Cons
No way to fix broken parts, if something internal gives out it needs to be replaced
Doesn't have a 'face' or any other features to encourage empathy or care
Specs
2-hour runtime on 1 charge
Bluetooth smart connect to nearby devices
Compatible with Windows, Mac, Android, iOS, Kindle, and Chrome
UV coated plastic shell
Infrared communication allows multiple Bolts to communicate with each other
2. Fisher-Price Code N' Learn Kinderbot – Best Bargain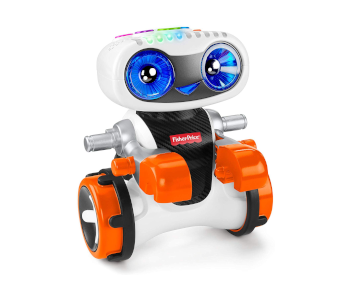 View on Amazon
Editor's Rating: 4.5/5
It shouldn't be a surprise that a robot coming from Fisher-Price is targeted toward younger children. Perfect for kids about 3-6 years old, the Kinderbot expands on the learning another Fisher-Price robot, Movi, starts. (read more about Movi later in our list)
Believe it or not, Kinderbot will start teaching your youngest kids coding basics. It's designed with 3 primary play modes.
In free play, your child just experiments with how the Kinderbot works and what it can do. There aren't any specific goals other than what your child sets for themselves.
In learning mode, the Kinderbot helps your child explore its functions and learn to do more with its basic programming.
Once your kids are more used to the Kinderbot and how it works, challenge mode offers fun games with specific goals. These goals will push your kids' coding, critical thinking, and problem-solving skills, helping them develop.
Kinderbot's cute design and bright colors and lights will also keep your kids visually entertained and engaged. Kinderbot even has a face to encourage your kids to connect with the toy and look forward to spending time with it.
We recommend this toy for kids and parents getting ready for kindergarten and early school challenges. It's a great way to help your kids engage with their world while building important life skills and interests.
Pros
Colorful with lights and a face for better engagement
Teaches early coding and problem-solving skills
Multiple play modes from free play to challenge modes
Suitable for younger children
Includes 'secret codes' for your kids to discover and unlock on their own
Cons
Kids will probably outgrow this robot within a few years
Housing is plastic and not designed for rough play
Specs
About 2 lbs, 10" x 10" x 8"
3 basic game modes
Bright primary colors
Requires batteries (first set included)
3. Evo App-Connected Coding Bot – Best Value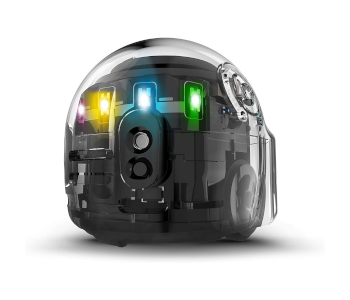 View on Amazon
Editor's Rating: 4.7/5
The Evo Coding bot is one of the best robots on this list for building skills and problem-solving.
Like Bolt, this is a smaller mobile robot with several different coding functions. Use the Ozoblockly code editor, an app that works directly with Evo. Or, you could use the color-coded markers to program the Evo.
It's also got frequent updates that add new abilities and coding opportunities. That means that even after your kids have mastered some of the basic functions, they'll still have new content and abilities to look forward to.
This robot is an award-winning toy and perfect for amateur coders and engineers in training alike. However, it is a very small toy.
It's not suitable for kids under about 9 years old, or children prone to losing small items and toys.
If you're looking for a slightly more advanced kit, there's also an educator's version of this robot with more instruction and a few more accessories.
Pros
Teaches coding in easy and highly understandable ways
Award-winning robot, multiple awards in toys and robotics
Plays music, can be trained to follow, evade, and other tricks
Multiple LED colors
Great for social play and coding competitions
Cons
Very small and easy to lose
Requires a Bluetooth 4 device to connect to the app and additional features
Specs
USB charging
Comes with a protective skin and a carrying pouch
App iOS and Android compatible
Bluetooth 4 enabled
App and color coding
4. Sphero Battleworn BB-8 Droid & Force Band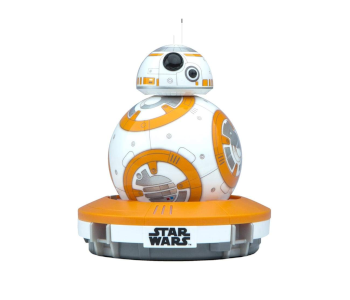 View on Amazon
Editor's Rating: 4.3/5
If you're looking for something a little less educational and a little more fun, this little BB-8 Droid might be a great option. It's specifically designed for young Star Wars lovers. The latest little droid in the Star Wars franchise was an instant success with adult and child fans alike.
While we do think that this is a robot more focused on fun than learning, it's still a programmable device. From the same makers as the Bolt, this BB-8 can accept a variety of coding tasks.
This version also comes with the Force Band, which provides the illusion that you're controlling your new Droid with the Force.
Disclaimer: The Force Band is hard to use. It doesn't accept input very well and you need practice to get at all good with it. But, most kids, especially younger kids, seem to be up to the challenge. Maybe it's difficult, but it's a challenge worth the rewards, apparently.
This robot is only about 4 inches tall, so it's a good bit smaller than you'd expect BB-8 to be in real life. Still, the smaller size makes it less likely your kids will damage the robot, furniture, or themselves while they experiment with the Force Band.
We chose the Battleworn version of this bot since it's a little more visually interesting. But there are undamaged pre-battle versions available as well.
Pros
Great for Star Wars fans
Good introductory toy for kids who aren't sure about robotics
Helps build focus and other high attention skills
Fun for kids and adults both
About an hour of playtime on a single charge
Cons
Fewer learning functions than other robots
Small enough to lose easily
Specs
About 4 inches tall
Comes with limited edition battle station storage
Force Band wireless control
Interfaces with an app for easier movement and control
Combat training mode and free play modes
5. Anki Cozmo – Top Pick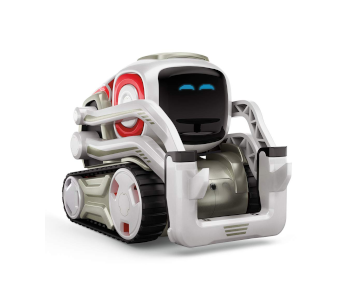 View on Amazon
Editor's Rating: 4.9/5
Cozmo is more in line with what we think of when we think robot. It's a smaller machine, almost dog-like in appearance. It has multiple expressions, a lift bar, and cubes for Cozmo to lift and interact with.
It also has an explore mode that perfect for kids who are learning about the world and how other people interact with it. Since Cozmo is designed to be sympathetic and inspire empathy in your kids, seeing things from Cozmo's perspective can help your kids learn to take other's experiences seriously.
It's also a fun way for them to learn more about their environment, seeing it from an entirely different perspective.
Anki also releases new games and updates regularly. While this won't be true forever, Anki has promised to continue server maintenance and support for outmoded products even after they stop updating them. This is an interactive robot that, in theory, will never run out of things to do.
Cozmo's lab uses brightly colored blocks to teach simple coding principles. There are three different coding levels, from free experimentation to challenges suitable for intermediate coders.
Cozmo also has his own personality. He can recognize you, and his behavior will change the more time he spends with someone. He's a great balance between coding and interactive bonding behaviors.
Pros
Builds coding and critical thinking skills
Designed to be emotive and interact with your kids directly
Several different game modes and ways to interact and play
Can learn to recognize and interact with specific people
Learns your name
Interactive games where your child and Cozmo play together, not just your child playing with Cozmo
Specs
3 pounds
Many different expressions
Comes with Cozmo, 3 play cubes, and a guide
Free app compatible with most operating systems
6. Fisher-Price Think & Learn Teach N' Tag Movi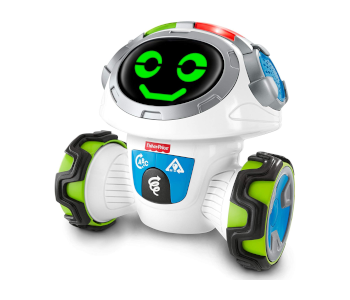 View on Amazon
Editor's Rating: 4.6/5
Movi is another, somewhat simpler, Fisher-Price robot. The similar design between the two toys is intentional since they're targeted at the same age range, but different skills and development, a child that enjoys one is likely to enjoy the other. That way, your kids can get the most out of both developmental tools.
Movi does a combination of helping children learn important foundations like ABC's, colors, and shapes, with more complex associations like animals behavior and colors. It's a fantastic tool for helping your child get a head start on their learning, and making repetitive learning tasks more fun as well as more informative.
It's also great for providing multiple styles of learning. For instance, as it teaches your kids about shapes, like a circle, it'll also lead them in a circle. Helping your kids get up and moving while they learn makes lessons more fun, and more effective.
He has 60 different faces and many primary colors and interactive features. Your kids can learn about how others react to their actions spending time with Movi as well.
Pros
Great tool for basic early learning
Emotive and interactive, Movi will respond to your child
Makes early learning goals easier
Combination of different learning and gameplay styles will keep your kids engaged longer
Cons
Your kids will likely grow out of this toy within a few years
Requires batteries, and runs through them quickly
Specs
Requires batteries
60 different emotive expressions
Engages kids with a combination of speech, movement, and LED display
Has some spontaneous movement and behaviors
Weighs about 3 lbs
Conclusion:
Hopefully, after reading this article, you have a better sense of what makes a great robot toy. We've discussed some of the best robot toys you can get right now, we've also talked about what you should look for in a robot and why they can be a great toy for your kid to have.
We've also selected toys geared toward a wide range of ages and interests. No one robot is going to be a great toy for every kid, so we'll leave it to you to decide which robot will work best for your child.
We are confident, however, that we've given you the tools you need to pick the perfect robot present. We hope that you, and your family, get to enjoy hours of fun and learning with your new toy.