5 Best SD Cards of 2020
3D Insider is ad supported and earns money from clicks, commissions from sales, and other ways.
Portable data storage is something that allows us to enjoy many of the consumer devices that we have become so used to nowadays. With a good high-capacity SD card, we can walk around with thousands of photos, hours of videos, several video game titles, and dozens of mobile apps all in the safety and convenience of devices that fit into our pockets.
For most people, picking an SD card for their device is a process that takes way too much thought or practically no thought at all. After all, what could be different across these SD cards that all look the same? Well, we're here to help you make a more informed decision for your SD card needs.
Things to consider when buying an SD card
1. What will you use it for?
The first question to ask before you buy an SD card is: what device are you going to use it for? Different devices have different demands when it comes to storage, but high-resolution video capture is certainly the most intensive. Because the storage of videos needs to be done seamlessly, you will want to invest in an SD card with a high-speed rating. If you will primarily be using your SD card for file storage or for still photography, it would be more practical to focus on capacity rather than speed.
There's another factor to consider aside from speed and capacity: endurance. There are SD cards that are specifically designed for heavy-duty uses, making them the perfect choice for security cams, dash cams, and sports cameras. Not only are high-endurance SD cards able to endure harsh environments, but they are also rated at higher read and write cycles before they start to fail.
2. What speed rating should you get?
The speed rating of an SD card is an indicator of its write speed capability. Again, this will probably only matter if you are using the SD card on a 4K camera or similar. The most basic speed ratings are denoted by numbers – a Class 2 card will write at 2 Mbps, while a Class 10 card will write at 10 Mbps.
There's also the UHS (ultra high speed) Speed Class ratings, which are prefixed by the letter U. Although seemingly more complex, a UHS rating is pretty simple to understand. A U1 or UHS-1 rating pertains to a 10 Mbps write speed, while a U3 rating pertains to a 30 Mbps write speed.
Even fancier is the Video Speed Class, the ratings of which are prefixed by the letter V. This rating is fairly straightforward – a V6 rating means that the SD card can write at 6 Mbps, while the fastest rating of V90 pertains to a 90 Mbps write speed.
Which speed rating to get depends largely on the resolution of videos you are capturing. SD videos should have no problem at write speeds of 10 Mbps or lower, while write speeds of at least 30 Mbps are recommended for 4K videos. For high-end professional work where videos can go up to 8K resolution, an investment for V60 or V90 SD cards might be a good idea.
3. What capacity do you need?
This is a simple matter and one that you've probably already determined based on how you will use your SD card. If you will be using the SD card as backup storage for your phone or tablet, then a 32 GB capacity should be more than enough. Handheld video game devices will benefit from higher capacity SD cards, as they will let you save more game files and save files.
Storage capacity is non-negotiable if you're doing any sort of professional photo or video work. In fact, you might need a handful of SD cards with at least 64 GB capacity for maximum reliability and efficiency while you are doing a shoot.
4. SD vs SDHC vs SDXC vs microSD
The business of SD cards is one that seems to get more convoluted with every new upgrade and iteration, resulting in all these abbreviations. In a needlessly complicated way, these acronyms simply refer to SD cards with different capacity values. Standard SD cards only go up to 2 GB, SDHC cards fall between 2 GB and 32 GB, while SDXC cards go from 32 GB to 2 TB. A microSD card, as its name implies, is simply a smaller version of these SD cards that are used for small devices such as phones and tablets.
The top 5 best SD cards that you can buy in 2020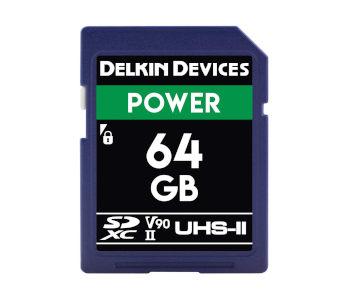 Our top pick for this list is this 64GB SD card from Delkin Devices that has just about all the premium features we could possibly look for. It features the latest in speed class technology while boasting of waterproof and shockproof construction, giving it endurance in the harshest environments.
This SD card is ideal for professional photographers and filmmakers who always find themselves on the go, traveling from one location to the next to do their gigs. The durable build of the SD card means that your data is safe even when the SD card goes through the physical stress of near-constant travel. The SD card is also X-ray proof, eliminating any worries that your data will get damaged when your stuff goes through X-ray scanners.
On top of its top-of-the-line endurance, the Delkin Devices SD card also reads and writes data at impressive speeds. The 250 Mbps write speed is fast enough for 4K or 8K recording, while the 300 Mbps read speed makes offloading the data quick and easy for all those on-site editing requirements. Just a slight disclaimer, though: the SD card usually cannot record videos at the published write speed, although there shouldn't be a problem even when the speed is diminished.
The Delkin Devices V90 SD card may boast of great specs, but it also comes at a high price. This 64 GB version costs around $100, easily about four times more expensive of more budget-friendly options. Still, it's one of the best SD cards that money can buy and is a worthwhile investment for anyone who will use it professionally.
Tech Specs
Type: SDXC
Speed rating: V90
Capacity: 64GB
Write speed: Up to 300 Mbps
The Pros
Waterproof, shockproof, and X-ray proof
Very fast read and write speeds
The Cons
Expensive
Write speed is not maxed out for video recording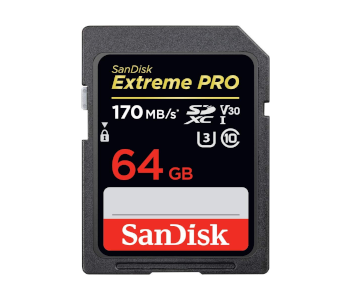 The SanDisk Extreme Pro line of SD cards is proof enough that you do not need to spend a huge amount for a solid and reliable SD card. This 64 GB version only costs around $20, and the series goes up to 512 GB, which you can buy for less than $200.
At no point does using a SanDisk Extreme Pro feel like you're settling for an inferior product. The 90 Mbps write speed if good enough for seamless recording of 4K UHD video and for burst photography. Depending on the device you are using, you may be able to access a performance option designed for real-time video recording on UHS-enabled host devices.
The SanDisk Extreme Pro also boasts of a transfer speed of up to 170 Mbps, which should come in useful for all those clutch moments when you simply need to get that data into your computer for post-processing as quickly as possible. While there are certainly faster alternatives out there, none of them can claim to be as budget-friendly as the Extreme Pro.
What we find most surprising about the SanDisk Extreme Pro, given its low price, is that it promises a waterproof, shockproof, and X-ray proof. This is great news for professional photographers who need to have multiple SD cards on hand. Given how reliable and cheap the SanDisk Extreme Pro is, it's no surprise that it's one of the most widely used SD cards today.
However, the popularity of this SD card comes with an unintended consequence – there are now a lot of counterfeit versions of the ExtremePro. Just to be sure, make sure that you are buying your SD card from a licensed retailer of SanDisk products.
Tech Specs
Type: SDXC
Speed rating: V30 / U3
Capacity: 64GB
Write speed: Up to 90 Mbps
The Pros
Inexpensive
Up to 170 Mbps transfer speeds
Waterproof, shockproof, and X-ray proof
The Cons
Lots of counterfeit versions
Requires proprietary technology to achieve maximum speeds
When it comes to durability, it's going to be hard to compete with an SD card series that the Sony has called the "Tough-G." Sony claims that this is the first SD card made using a one-piece mold construction. With a high hardness material, the Tough-G has about 18 times the bend strength of a standard for SD card. We bet that's durable enough for you.
More than the physical durability of the Tough-G, Sony also made a few design changes that make the Tough-G resilient against harsh conditions. The monolithic structure gives the Tough-G the highest level of waterproofing and dustproofing. It also eliminates the ribbed construction and the locking switch found in most SD cards in an effort to reduce the potential points of failure.
Aside from strength, the Sony Tough-G also boasts of power. With a U3 and V90 speed ratings, the Tough-G has a write speed of up to 299 Mbps. Its read speed is only a notch higher at 300 Mbps. Actual speed values during testing top at around 235 Mbps, which is still plenty fast even if it was not as advertised.
The only major complaint we've heard about the Tough-G seems related to the fact that it's an SD card with a completely overhauled design. In a few devices, the Tough-G might prove to be a tight fit. This does not make the SD card unusable, fortunately. At worst, this is just a minor inconvenience.
The Sony Tough-G is not a cheap SD card. However, for the excellent performance and superior durability it offers, we think that this product gives excellent value for money.
Tech Specs
Type: SDXC
Speed rating: U3
Capacity: 64GB
Write speed: Up to 299 Mbps
The Pros
Extremely durable
Waterproof and dustproof
High read and write speeds
The Cons
Can be a tight fit in some devices
Somewhat expensive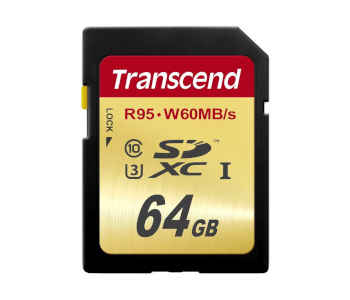 At first glance, the Transcend 64GB Memory Card might have modest specs. With write speeds of only up to 60 Mbps, this SD card seems like a few notches lower than the other entries in this list. However, there's a good reason why it's one of the most popular SD cards today – it's cheap and very reliable for the price.
First off, the 60 Mbps write speed may seem underwhelming when you consider how jacked up the numbers are on more expensive SD cards. The reality is that an SD card recording at a reliable 60 Mbps rate is good enough for a seamless recording of 4K videos. We have to give plus points to Transcend for being upfront about what the SD card can deliver. It does not over-commit, and the product is all the better for it.
What the Transcend SD card does not offer is any sort of endurance-enhancing features. It's not waterproof or shockproof, so you would want to be very careful in handling them. The experience of many users has also shown that the Transcend SD card has a higher than normal failure rate after repeated cycles of reading and writing. To counter this effect, it's best to use the SD card conservatively – just continue storing files on them and deleting them only when absolutely necessary. This might seem like a deal-breaker to some, but the fact that the Transcend SD card is so cheap is apparently enough to offset its drawbacks.
Tech Specs
Type: SDXC
Speed rating: Class 10 / U3
Capacity: 64GB
Write speed: Up to 60 Mbps
The Pros
Inexpensive
Delivers on promised read and write speeds
The Cons
High failure rate
Lacks durability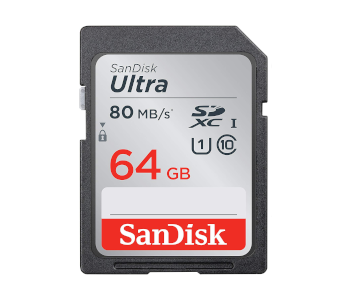 We've been focusing a lot on the value of these SD cards for professional work, but the truth is that the market for SD cards is still dominated by casual users. These people just need an SD card for their point-and-shoot cameras, handheld game consoles, or mobile phones. Surely spending too much on some fancy SD card would be out of the question for them.
The SanDisk Ultra SD Card makes no lofty claims. The Class 10 U3 speed rating means that it can write data at speeds of up to 60 Mbps. From experience, this is good enough for recording videos at 1080p resolution, but you may run into problems if you're going up to 4K. Burst shooting would probably also be a bit too much for this SD card.
For this reason, the SanDisk Ultra isn't exactly the type of SD card that we would recommend for professional filmmakers and photographers. However, if you're just going to bring a digital camera to document your vacation, then the SanDisk Ultra isn't going to disappoint.
We appreciate that SanDisk does not compromise on durability, even for such an inexpensive SD card. The SanDisk Ultra has some degree of resistance against water damage, X-rays, extreme temperatures, and magnetic fields.
For an SD card that you can get for just a sliver over $10, it's hard to find a fault in the SanDisk Ultra. Just keep in mind that you get what you pay for – you may occasionally run into corrupted files, and it would be best to be conservative with how many read and write cycles you put the SD card through.
Tech Specs
Type: SDXC
Speed rating: Class 10 / U3
Capacity: 64GB
Write speed: Up to 60 Mbps
The Pros
Very cheap
Fast enough for Full HD video recording
The Cons
Not suitable for professional work
Modest read and write speeds
Final thoughts
SD cards are so common nowadays that it's easy to fall into the trap of getting one without thought of the specs that you will be needing. If you're a professional user, then you need to get an SD card that can keep up with the demands of your work and will not fail you when you need it the most. If you just need an SD card for casual use, then you would not want to spend too much for an SD card that has advanced features that you will not need. Either way, it pays to be smart and understand how the different specs and features of SD cards work.