8 Best Selfie Cameras for all Budgets
3D Insider is ad supported and earns money from clicks, commissions from sales, and other ways.
My latest guide reviews 8 of the best selfie camera choices around right now. The 'selfie' is now the most popular of all photographic genres. Gone are the days of asking strangers to take snaps for us. Now we have full control of the photos we take of ourselves, either alone or with others. Best of all is that we can see the image on big LCD screens before we hit the shutter.
Budget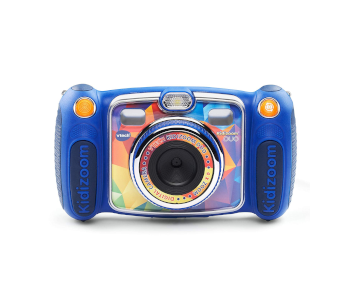 VTech Kidizoom Camera
4.6/5.0
Camera Type: Point & Shoot
LCD Size: 2.4-inch
Color LCD, multi-shoot, records video & audio, expandable memory.
Check Amazon
Best Value
DJI OSMO Camera Bundle
4.7/5.0
Camera Type: Action Cam
LCD Size: 2.2-inch
HDR video, outstanding stabilization, 8x slo-mo, time-lapse.
Check Amazon
Top Pick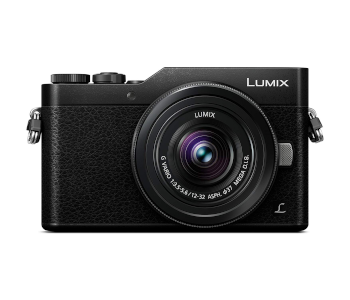 LUMIX GX850 4K Selfie Camera
4.8/5.0
Camera Type: Mirrorless
LCD Size: 3.0-inch
4K selfies, interchangeable lenses, filter effects, built-in flash, low light AF.
Check Amazon
What Is the Best Selfie Camera for You?
The best selfie camera depends on lifestyles and personal expectations. Modern smartphone cameras are all that most people need and have come a long way in recent years. Many of these devices produce exceptional stills and video quality. Although smartphones are undoubtedly the most convenient, real digital cameras offer more photographic versatility.
Phone Camera VS. Digital Camera
Phones are always with us, no matter where we are or what we're doing. Selfies taken with smart devices are quick to edit and easy to share on social media. Phone screens are also big, bright, and detailed compared to most digital cameras. However, phones have much smaller sensors than most digital cameras. Sensor size matters for a range of reasons.
Why Bigger Is Better
A bigger sensor is better for natural low-light photography and fast action shots. It also captures a greater dynamic range and gives more control over bokeh effects or background blur. Larger sensors let in more light and that increases versatility in a variety of ways. Also, digital cameras have better lenses. That's especially true with the stock options that you can switch with some camera bodies.
The Purpose of YOUR Camera
Do you want a camera that can do more than take eye-catching selfies? If yes, make a note of what you need it for, and be as specific as you can. A checklist with columns is sure to help you make better buying decisions. For example, one column for Must-Have features, and another for Would-Like. The idea is to find a camera that has everything you need and most of what you want.
About My 'Best Selfie Camera' Guide
The type of camera you need depends on personal preferences and uses. Most photos taken nowadays are of ourselves with friends and family. The products in this guide include 4 types of cameras with exceptional selfie capabilities for their class. I've included popular options for action cams, smartphones, DSLRs, mirrorless cameras, and point-n-shoot.
Selfie Cameras Comparison Table
1. VTech Kidizoom Duo Selfie Camera | Best Value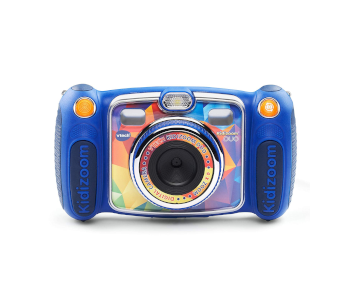 View on Amazon
Editor's Rating: 4.6/5
The Best Value selfie camera pick goes to the VTech Kidizoom. It's a fun product that offers a great introduction to photography with a real working device. It also happens to be super cute.
Best feature 1: Fun, cute selfie camera for kids
Best feature 2: Front and rear-facing cameras
Plus points: Color LCD, multi-shoot, records video & audio, games, expandable memory
Minus points: Average photos, a tad bulky for tiny hands
VTech Kidizoom Selfie Camera Highlights
The Kidizoom Duo is a toy-like camera but with real features and functions. It has a 2.4-inch LCD color screen for one. Front and rear-facing lenses let users compose regular snaps and selfies with ease. There's a Photo Optimization function that takes several shots at once. Thus, kids can save the snaps they like most. The camera shoots video and audio, the latter having 5 fun voice-changing effects.
More than just a Camera
VTech's Kidizoom is more than just a camera—it has 5 exciting games installed as well. Three of those games are motion-controlled that add further to the fun. This camera can withstand drops and knocks, so parents don't have to worry about rough handling. Other highlights include the 256MB built-in memory and a slot that can take MicroSD cards up to 32GB.
The Not So Good
It's best to view this product as a training camera. The image quality—though perfectly viewable—won't blow you away. The maker's recommended age starts at just 36 months. I think the camera is far too bulky for tiny hands and better suited to 6 years and above. Only the battery cover seems weak and may not last with rough handling. That's something to think about with boisterous kids.
Tech Specs
Camera Brand: VTech
Image Stabilization: None
Card Storage: MicroSDHC Max 32GB
Battery: 4 x AA
LCD Screen: 2.4" color display
Articulating Screen: No
Camera Weight: 13.6 oz.
Dimensions: 6.4 x 3.6 x 2.3"
Warranty: 1 year
The Pros
Fun, cute selfie camera for kids
Front and rear-facing cameras
Color LCD screen
Photo optimization
Shoots video
Records audio
5 voice-changing effects
5 games (3 motion-controlled)
Internal memory
MicroSD card slot
The Cons
Average quality pics
Tad bulky for tiny hands
Weak battery door
2. DJI OSMO Selfie Action Camera | Best Value
View on Amazon
Editor's Rating: 4.7/5
DJI makes the Best Value selfie camera pick with its digital OSMO Action Cam. But is it a realistic rival for established brands like GoPro? This short review should help.
Best feature 1: Front-facing LCD display
Best feature 2: Competitive video quality
Plus points: HDR video, outstanding stabilization, 8x slo-mo, time-lapse, voice commands
Minus points: Short battery life, no constant power ON icon, no live streaming
DJI OSMO Action Cam Bundle Highlights
There are selfies, and there are selfies. The most impressive photos and videos are action shots rather than the everyday 'Say Cheese' poses. That's where action cams step in. The DJI OSMO here comes with dual full-color screens. That means you can see yourself as the camera points at you, thus avoiding those hit-n-miss selfies. And water-lovers can take this puppy down to a depth of 36ft (11m).
Another of OSMO's unique features is its HDR mode that improves shadow and highlight details. There's also a significant improvement in the colors when compared to standard video mode. DJI's RockSteady combines with EIS to deliver shake-free footage even with extreme action. And the camera's 8x slow-motion shot at 1080p, 240fps, takes your adventure world to a new level.
Big Features in a Small Package
Custom exposure settings, time-lapse and timed shooting are three more options available. Using this powerful little camera gets even easier with the Quick Switch (QS) button and SnapShot. The SnapShot feature powers the camera ON and starts to record in under 2 seconds. And let's not forget those time-saving voice commands for when your hands are otherwise occupied.
The Not So Good
Short battery life is par for the course with tiny action cameras. That doesn't make it any less annoying, though. This one is unlikely to give 90 minutes on a single charge. There's no remaining battery power indicator during normal usage until it's almost empty. Another disappointment with this otherwise exceptional action camera is that it doesn't offer live streaming.
Tech Specs
Camera Brand: DJI
Sensor Size: 12MP 1/2.3
Images: Raw (DNG) & Jpg
Video Resolution: 4K
Image Stabilization: EIS
Front LCD: 1.4
Rear LCD: 2.2 touchscreen
Cards: MicroSD/SDHC/SDXC 256GB
Battery: 1300mAh Li-Ion
Max Battery Life: 90 minutes
Charging Timer: 80+ minutes
Articulating Screen: No
Camera Weight: 3.52 oz.
Dimensions: 17.3 x 6.9 x 6.4"
Warranty: 1 year
The Pros
Front-facing display
Competitive video quality
HDR detailed video
Outstanding stabilization
8 X slow-motion
Time-lapse recording
Voice activated control
SnapShot instant recording
Quick Switch (QS) button
Custom exposure settings
Waterproof down to 36ft
The Cons
Short battery life
No constant power display
No live stream feature
3. LUMIX GX850 4K Mirrorless Selfie Camera | Top Pick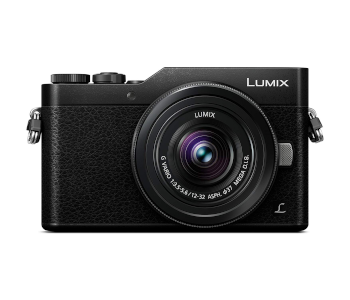 View on Amazon
Editor's Rating: 4.8/5
Panasonic gets the Top Pick with its Micro Four Thirds Lumix GX850. It's an exceptional entry-level mirrorless interchangeable lens camera, with a bright, selfie-friendly tiltable LCD.
Best feature 1: Selfie-friendly 3" 180° tiltable LCD screen
Best feature 2: Compact and lightweight
Plus points: 4K selfies, interchangeable lenses, filter effects, built-in flash, low light AF
Minus points: Confusing names (see review), low battery life, no mic jack, no hot-shoe
LUMIX GX850 Mirrorless Camera Highlights
A few things are absent from this camera—feature-wise—so why the top slot? Because it excels as a selfie camera, and that's the primary purpose of this guide. It's one of the most selfie-friendly mirrorless models around right now. You can take stunning 4K selfies using advanced functions like Panorama and Beauty Retouch, to name but two. There are 22 creative filters for people and scenes.
The travel-friendly LUMIX GX850 is small, neat, and comfortable to hold. It has a little hidden flash that pops up whenever it's needed. And the low light autofocus keeps photos sharp even in tricky lighting. Remember, it's an interchangeable lens camera too. Being able to mount lenses with different focal lengths gives it far more versatility than the fixed-lens alternatives.
The Not So Good
This camera goes by other names, which makes it hard to follow. It should be the Panasonic Lumix GX850 in the US, but it also goes by GX800 and GF9. The camera has a below-average battery life at just 210 shots per charge. There isn't a microphone jack, so users must rely on the tinny built-in mic for their audio. Lastly, there's only the built-in flash, and no hot shoe for external units.
Tech Specs
Camera Brand: Panasonic
Sensor Size: 16MP Four Thirds
Image Stabilization: None
Video Resolution: 4K
Card: MicroSD/SDHC/SDXC 32GB
Battery Life: 210 shots
Recording Time: Approx. 105 mins
Articulating Screen: 3" 180°
Max ISO: 25600
Camera Weight: 9.5 oz.
Dimensions: 1.3 x 4.2 x 2.5"
Warranty: 1 year
The Pros
Compact, travel-friendly camera
Tiltable, selfie-friendly LCD
Interchangeable lens mount
Takes striking 4k selfies
22 creative filter effects
Built-in flash unit
Low-light autofocus
Wi-Fi for quick social Sharing
The Cons
Too many names (confusing)
Low battery life
No microphone jack
No flash hot shoe
4. YISENCE Underwater FHD Selfie Camera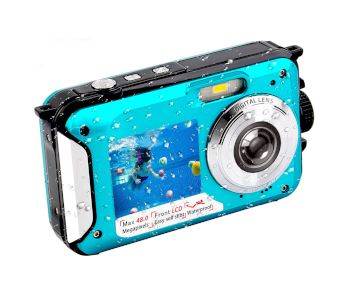 View on Amazon
Editor's Rating: 4.7/5
Dry-land selfies are the norm, but this camera is for those who like to get wet and wild. Meet the YISENCE. It's an affordable picture-taking selfie camera that works down to a depth of 10ft.
Best feature 1: Purpose underwater selfie camera
Best feature 2: Built-in electronic stabilization
Plus points: Front/rear LCDs, 16x zoom, 10ft waterproofed, sharp photos, smooth video
Minus points: LCD not very bright, no MicroSD card included
YISENCE Underwater FHD Camera Highlights
Underwater selfies guarantee to stand out, unlike many of the dry land shots that dominate social media. This camera has a 1.8" front-facing color screen and rear 2.7" rear LCD. It can function down to a depth of 10ft (3m), which makes it perfect for swimming pools. The YISENCE underwater cam takes 48MP stills and shoots full HD 2.7K videos. Its self-timer offers 2, 5, and 10-second delays.
The 16x digital zoom lets you alter perspective and zoom-in while filming others. Electronic anti-shake stabilization helps to steady the camera underwater and keep the video smooth. It also has a built-in mic and waterproofed speaker. The 650mAh battery should last for around an hour when filming under ideal conditions. Charging time is on the high side of average at 3+ hours.
The Not So Good
The LCD screen at the back needs to be brighter. It's okay for clear pools, but almost impossible to see in the murkier fresh or salt waters. All you can do is point the lens in the general direction and hope for a good result. The camera takes a MicroSD card up to 128GB but doesn't include one in the box. It's not a major setback, but new buyers need to have a card ready to use the camera.
Tech Specs
Camera Brand: YISENCE
Photo Resolution: 48MP
Video Resolution: 1280 x 720P @ 30fps
Image Stabilization: EIS
Zoom: 16x digital
Card Storage: MicroSD up to 128GB
Battery: 650 mAh Lithium-ion
Battery Life: 60 minutes
Charging Time: 3 hours
Articulating Screen: No
Camera Weight: 11.2 oz.
Dimensions: 4.13 x 2.5 x 0.97"
Warranty: 1 year
The Pros
Cute design appeals to kids
Purpose underwater selfie camera
Waterproofed to a depth of 10ft
Built-in electronic stabilization
Sharp underwater photos
Smooth, pleasing video
Front/rear LCD screens
16x digital zoom
Continuous shooting
Self-timer with 3 settings
Built in mic and speaker
The Cons
LCD screen not very bright
No memory card included
5. Polaroid SNAP Touch 2.0 Selfie Camera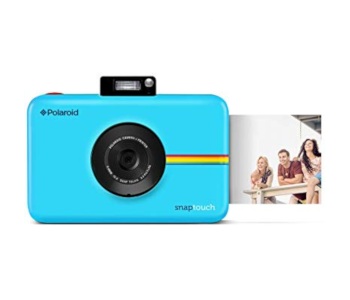 View on Amazon
Editor's Rating: 4.6/5
Polaroid has been around since 1937, and that already tells us something about the brand. This review is for its SNAP Touch 2.0. It's a versatile and portable 13MP selfie camera with a twist.
Best feature 1: 2-in-1 camera printer
Best feature 2: Ideal for selfie shots
Plus points: Rear touchscreen, selfie mirror, 10x optical zoom, in-camera filters, Bluetooth
Minus points: Average build, slow printing, lackluster touchscreen
Polaroid SNAP Touch 2.0 Camera Highlights
This is a fun-loving camera that comes in 6 vibrant colors. It's small, lightweight, and super-easy to use. On its rear is a bright 3.5″ LCD touchscreen. On the front is the discreet selfie mirror for when you need to capture those spontaneous shots. Polaroid's Snap Touch 2.0 has a 10x optical zoom that lets you get closer to faraway action. The camera shoots smooth HD 1080p video.
Not just a Camera
This camera is unique as it doubles as a mini photo printer. Yes, you did read that right. You can take photos and print them directly from the camera without ink or toners. The printed images have a sticky back should you wish to put them up somewhere. There is also a plethora of in-camera filters, frames, and emojis to choose from. Bluetooth connectivity lets you post your snaps directly to social media.
It's also possible to connect to a smartphone or tablet via Bluetooth. That means you can send a photo from the phone to the camera for printing if you want to.
The Not So Good
The build quality is average at best. That was quite a surprise considering the price of the camera. Touchscreen displays are always welcome, and this one is big and easy to use. The problem is that the LCD details are a tad lackluster. Lastly, the instant prints are misleading because they're too slow to own that title. Printing is fine—it's just that it takes a while, that's all.
Tech Specs
Camera Brand: Polaroid
Sensor Size: 13MP 1/3.2″
Video Resolution: 1080p
Maximum Aperture: F/2.8
Zoom: 10x optical
Image Stabilization: Digital
Card Storage: MicroSDXC max 128GB
Battery: Built-in 1 Lithium-ion
Articulating Screen: No
LCD Screen: 3.5" touchscreen
Dimensions: 4 x 1 x 3"
Warranty: 1 year
The Pros
Cute camera, easy to use
6 colors to choose from
Doubles as a printer
No ink or toners needed
Perfect for selfie shots
Rear touchscreen display
Front-facing selfie mirror
10x optical zoom
In-camera filters and frame
Bluetooth Connectivity
Works with smart devices
Instant social media sharing
The Cons
Average build quality
Slow printing
Lackluster touchscreen
6. GoPro Hero 8 Black Edition Action Selfie Cam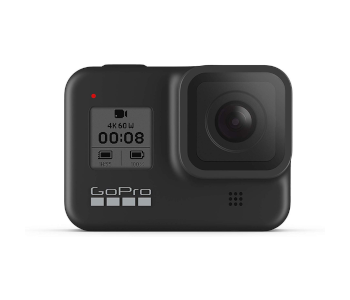 View on Amazon
Editor's Rating: 4.5/5
GoPro action cameras provide users with the ultimate selfie potential. The advanced HERO8 Black Edition here captures you wherever you are, whatever you're doing, and in striking 4k video.
Best feature 1: Stunning 4K video and tack-sharp 12MP stills
Best feature 2: HyperSmooth video stabilization
Plus points: Built-in mounting, super-light, waterproof, 3 lens views, presets, on-body ports
Minus points: HOT while charging, average battery life, weak card slot
GoPro Hero 8 Black Edition Highlights
Action cameras started the selfie craze, and they continue to be popular for that purpose. Keep reading if you want to capture some incredible self-footage to save for posterity. GoPro's HERO8 Black comes with some impressive enhancements to its predecessor. It has built-in mounting, weighs 14% less, and boasts enhanced audio. And this tiny cam is waterproofed down to a depth of 33ft (10m).
Smooth just Got Smoother, Says GoPro
This GoPro has a feature called Time Warp 2.0 that auto-adjusts to speed based on the subject's motion. Hero 8 Black is the company's most stabilized product to date. Its Hyper Smooth 2.0 has 3-level stabilization to ensure silky smooth results with every shoot. Be sure to watch the company's promotional video for demonstrations if you're interested.
Views, Ports, and Presets
Digital lens views include Super-View, Wide, Linear, and Narrow. Users can choose from 3 preset video modes, i.e., Cinematic, Activity, and Slow-Motion. The on-body ports are a 3.5mm mic port, HDMI-out port, and USB-C port. The camera also has a couple of cold-shoe mounts. There's much to explore and marvel over with the GoPro Hero 8 Black Edition, but it's not perfect (see next).
The Not So Good
This little action camera gets too hot for comfort when charging. The company obviously doesn't think it matters, but it doesn't feel right. Hero 8 uses a lot of power to run at its full potential, and the battery can drain in less than an hour. Spare batteries are essential if you expect to shoot for a few consecutive hours. The last gripe is with the memory card slot that is both cramped and flimsy.
Tech Specs
Camera Brand: GoPro
Sensor Size: 12MP
Video Resolution: 4K
Video Stabilization: HyperSmooth 2.0
Card Storage: MicroSD to 128GB
Battery: 3.85 VDC rechargeable
Display Type: 2" LCD touchscreen
Max Shutter Speed: 1/16000 sec
Max ISO: 6400
Articulating Screen: No
Camera Weight: 4.13 oz.
Dimensions: 2.4 x 1.3 x 1.8"
Warranty: 1 year
The Pros
Small and feature-packed
Super-lightweight
2 cold shoe mounts
External mic port
HDMI-out port
USB-C port
Stunning, smooth 4K video
Tack-sharp 12MP stills
HyperSmooth video stabilization
Speed-adjustable Time Warp 2.0
Built-in mounting
Fully waterproofed
3 lens angle views
3 preset video modes
The Cons
Camera gets hot while charging
Low average battery life
Awkward memory card slot
7. Google Pixel 3a Smartphone Selfie Camera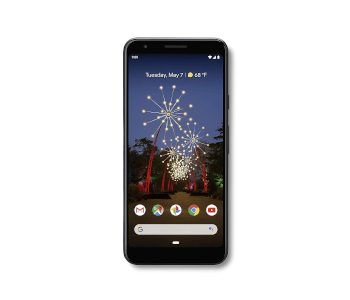 View on Amazon
Editor's Rating: 4.4/5
The penultimate review goes to the Google Pixel 3a Smartphone. It sells well mainly because of its camera quality and ease of taking impressive selfies. However, it has plenty more to offer.
Best feature 1: Superb selfie camera
Best feature 2: Exceptional image clarity and rich color reproduction
Plus points: Excellent low-light performance, fast charging, headphone jack, fingerprint reader
Minus points: No wireless charging, plastic body, no memory card slot
Google Pixel 3a Smartphone Highlights
All modern smartphones are selfie-capable, but they're not all equal. Google's Pixel 3a has a fast f/1.8 lens and a 12.2MP sensor. That sounds a tad meager compared to some products, but don't let it deter you. This camera still produces insanely crisp and detailed photos. And its color reproduction is simply outstanding. Thus, it brings selfie shots to life when taken against multi-colored backdrops.
The only downside—for some at least—is that there's no option to shoot wide-angle selfies. Wide selfie modes are necessary for group shots as they can fit more people into the frame.
The Google Pixel 3a also produces pin-perfect photos in low light without flash. That's thanks to its Night Sight mode, which can even brighten up selfies taken in the pitch dark. The 15-minute fast charging is also worth mention. There's a handy headphone jack, reliable fingerprint reader, and an option to shoot RAW format. And let's not forget free, unlimited storage offered by Google Photos.
The Not So Good
There's no wireless charging, though most won't let that influence their buying decision. Even so, wireless charging is fast becoming a sought-after feature. A more serious gripe is the plasticky polycarbonate finish of this tall camera. Despite that, it feels better in the hand than it looks. Lastly, there's no MicroSD card slot, but then the unlimited storage compensates for that.
Tech Specs
Camera Brand: Google
Sensor Size: 12.2MP
Video Resolution: 4K
Max Aperture: F/1.8
Image Stabilization: Optical (OIS)
Card Storage: None
Battery: 3,000mAh
Screen Size: 5.6"
Camera Weight: 12 oz.
Dimensions: 6 x 2.8 x 0.3"
Warranty: 1 year
The Pros
Tall design, easy to handle
Excellent low-light performance
Outstanding image clarity
Flawless color reproduction
15-minute fast charging
Built-in headphone jack
Fingerprint reader
Free, unlimited storage
3 years of OS Updates
Great overall value
The Cons
No wireless charging
All-plastic body
No memory card slot
No wide-angle for group selfies
8. ASUS ZenFone 6 Selfie Smartphone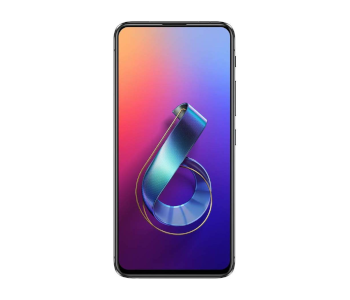 View on Amazon
Editor's Rating: 4.3/5
Last up is another smartphone favored for its tack-sharp images and selfie capabilities. It's a big, powerful device packed with a plethora of unique features.
Best feature 1: Dual cameras, primary and ultra-wide
Best feature 2: Motorized flip camera system
Plus points: Infinity screen, Gorilla Glass 6, fast charging, 1-click smart key access
Minus points: No WiFi charging, heft
ASUS ZenFone 6 Smartphone Highlights
Consider the ASUS Zenfone 6 if you want a gorgeous camera that performs beyond expectations. That's how many owners of this quality smartphone view it. It has a dual system with a 48MP primary camera and a 13MP secondary selfie. The latter has an ultra-wide lens to cater for group shots. Wide lenses also capture more of the scene and make some photos extra interesting.
A gorgeous infinity style screen occupies a full 92% of the phone's facade. Furthermore, it's protected by the nearly indestructible, chemically-strengthened Gorilla Glass 6.
Users In Control
The Flip Camera gives you control of its position from 0–180°. That's useful for shooting awkward camera angles. ASUS' Zenfone 6 boasts a powerful 5000mAh battery that supports QuickCharge 4.0., so you're always connected. The Smart Key access button on the side lets you navigate the phone with one hand. Enhanced sound features include dual speakers, dual smart amps, and an audio wizard.
Point to note: This device is incompatible with CDMA Networks, e.g., US Cellular, Verizon, and Sprint.
The Not So Good
Despite its high-tech appeal, the Asus Zenfone 6 doesn't offer wireless charging. The phone is big and thick because of all that goes into it. But heft is something to think about for those with small hands.
Tech Specs
Camera Brand: ASUS
Sensor Size: Sony 48MP + 13MP
Video Resolution: 4K
Image Stabilization: Electronic
Card Storage: MicroSD
Battery: 5000 mAh
Screen Size: 6.40"
Screen Type: Touchscreen
Protection: Gorilla Glass
Camera Weight: 6.4 oz.
Dimensions: 6.3 x 3 x 0.3"
Warranty: 1 year
The Pros
Sleek, rugged design
Primary and wide angle selfie cam
Motorized flip angle camera
HDR+ Technology
Snapdragon 855
High-capacity battery
Gorilla Glass 6 protection
One-handed operation
Enhanced audio features
The Cons
No WiFi charging
Heft