6 Best Smart Light Bulbs of 2019
3D Insider is ad supported and earns money from clicks and other ways.
Are you still on the fence about jumping onto the home automation bandwagon? If so, starting out small is the best way to embrace this new & exciting field. Why not start paving the way towards an improved 21st century home with the humble smart bulb? They're very affordable as smart gadgets go, a breeze to install & use, and can change your home in an impactful way with minimal effort.
Smart light bulbs are basically LED lights which can connect to your smartphone via Bluetooth. Many of them also integrate with a number of home automation solutions through a gateway or pre-existing hub. They're much better for the environment than the incandescent bulbs of yesteryear. Smart bulbs can literally operate for decades without needing a replacement while having only a fraction of their predecessors' power needs. You can treat your phone or virtual assistant as their on/off switch, but can also delve much deeper into the smart aspect and start to orchestrate elaborate scenes once you get comfortable.
There are smart light bulbs out there for everyone! From clean and energy-efficient light sources to replace old bulbs with to intricately customizable bulbs with millions of colors to choose from, we've got you covered. Picking out the best smart light bulbs wasn't easy as there are many good ones out there. In the end, we've settled on the six models below as the prime examples of how smart light bulbs can transform your home for the better.
Budget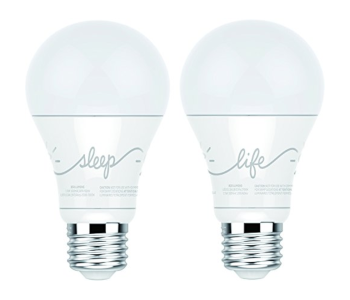 GE C-Life and C-Sleep Smart LED
4.4/5.0
Requires hub: Optional
Brightness (in lumens / equivalent watts): 850 +800 / 60
Two bright bulbs at a great price.
Check Amazon
Best Value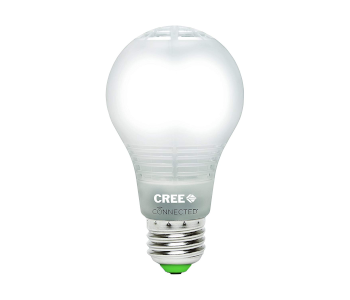 Cree Connected LED Bulb 6-pack
4.7/5.0
Requires hub: Yes
Brightness (in lumens / equivalent watts): 815 / 60
Exceptional value for the money.
Check Amazon
Top Pick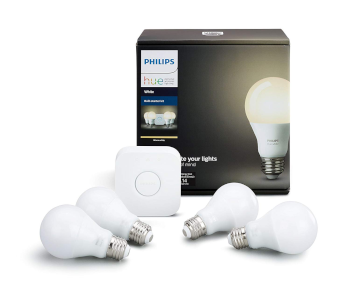 Philips Hue White Smart Bulb
4.8/5.0
Requires hub: Yes (included)
Brightness (in lumens / equivalent watts): 800 / 60
Cheap and emits bright white light.
Check Amazon
What to Look for in a Smart Light Bulb?
Brightness & Dispersal
Wattage & Cooling Efficiency
Color temperature
Smart Light Bulbs Comparison Table
#1 Best Overall – Philips Hue White Smart Bulb Starter Kit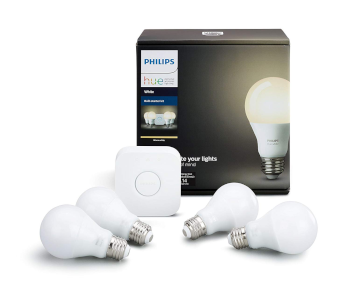 View on Amazon
Editor's Rating: 4.8/5
We loved Philips Hue Lux when it came out, but its steep price and the fact that you had to buy an additional hub gave us pause in recommending this already expensive bulb. The Hue White is Philips' newest and most affordable line, and the ideal gateway to a smarter illuminated home. While you can buy the bulbs separately like any other entry in our list, the starter pack includes the hub, and is among the best deals out there.
The Smart Light Champ
Unlike some of its competitors, the Hue looks very much like a traditional light bulb. The only major difference is its white plastic base which is neither see-through, nor has any kind of heatsinks. The bulb screws easily into any standard E26 socket, and emits a pleasant white light with the strength of 800 lumens. It uses just 9.5 watts per hour while on, making it one of the most cost-effective smart bulbs on the market today.
This starter pack contains four Hue White bulbs plus the hub you need to connect them to your Wi-Fi. Since a single bulb retails for $15 and the hub costs more than $50, you're saving more than a bulb's worth right off the bat! The hub supports up to 50 Hue bulbs and recognizes each of them effortlessly. You actually only have to set the hub up once, and each new bulb is added automatically.
You control the Hue White with the Hue app, a sleek and streamlined version of the one used for the Lux line. You start by assigning rooms to bulbs, which can then be turned on/off, dimmed, or set to work on a schedule either by selecting a room, or a single bulb within it. The Hue series also supports the most 3rd party smart home systems including HomeKit, Amazon Alexa, and IFTTT. This allows you to set up scenes where the bulbs work together with other smart gadgets to create a warm ambience or deter burglars. You can also give them voice commands via Siri and Alexa directly, or create IFTTT recipes that notify you of the bulbs' activity.
Are There Drawbacks?
This time we had to look really, REALLY hard to find something to hold against the Philips Hue White. It's bright, affordable, and easy to use after all. If we had to nitpick, the only downside to it is that you can't choose the color temperature of the light. Other models allow you to set the temperature from a bluish cooler tint to an orangy warmer one, while you're stuck with only one preset when using this one.

Tech Specs
Dimensions: 4.2 x 2.4 in.
Brightness: 800 lumens / 60 watts
Wattage: 9.5 watts
Color: White
Requires hub: Yes
Compatible with: Amazon Alexa, Apple HomeKit, IFTTT, Nest
The Pros
Affordable
Emits bright white light
Easy to connect
Excellent companion app
Energy-efficient
Integrates with wide variety of 3rd party products
The Cons
Fixed color temperature
#2 Best Value – Cree Connected LED Bulb 6-pack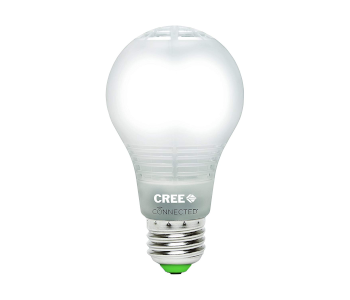 View on Amazon
Editor's Rating: 4.7/5
Even the cheapest smart bulbs cost more than five times as much as their incandescent alternatives. Therefore if you want to fully upgrade the lighting in your home, especially a larger one, you're going to have to spend a considerable amount. Manufacturers like Cree are well aware of this, and offer functional yet relatively affordable bulbs that allow anyone to get on the smart bulb train. This six-pack is an even better deal than Philips' starter kit, and should be your go to option if you're keen on installing smart bulbs on a larger scale.
A Brighter Home at an Excellent Price
Cree bulbs could easily pass as regular incandescent A19 models. The telltale sign that they're not however is the ribbed base, a design that helps the bulbs dissipate heat better. Unlike the Hue White and a lot of other bulbs, this part is also transparent and the bulb gives off more diffuse light, making for a cozy ambiance. At 11 watts they're among the more power-hungry models, but that's still nothing compared to what a 60-watt equivalent bulb would consume.
Although you need a hub to make use of their smarts, the price of entry is very reasonable. Cree bulbs support Wink, whose original hub is now available for as little as $30. Pairing follows the trend of easy detection once the app has been installed and you turn on the light which hasn't been registered yet. Each bulb requires you to repeat detection, but the process takes less than a minute.
The Wink app makes it very easy to control your Cree bulbs. Tap on one to turn it on/off, or slide your finger to adjust its brightness. Detailed reports of the bulbs' activity are also available, as are Robots, Wink's alternative to IFTTT. You can use Robots to group bulbs or pair them with other devices, and then tell them to behave a certain way. Turning a bulb on once a motion sensor is triggered or off when you leave the house are just a few of the many possibilities that await you.
What Could Be Improved?
Here's another product we really can't fault with much! If you've got dimmer switches controlling the Cree bulbs' brightness via the app can be a bother. The only other issue is the fixed temperature that's bothered us about the Phillips Hue White as well.

Tech Specs
Dimensions: 4.4 x 2.4 in.
Brightness: 815 lumens / 60 watts
Wattage: 11 watts
Color: White
Requires hub: Yes
Compatible with: Amazon Alexa, Samsung SmartThings, Wink
The Pros
Exceptional value for the money
Looks very much like an ordinary bulb
Wink hub is cheap
App offers extensive controls
The Cons
Doesn't work well with dimmer switches
Fixed color temperature
#3 MagicLight Pro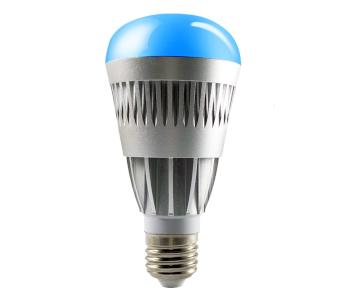 View on Amazon
Editor's Rating: 4.7/5
The advent of LEDs has finally brought some color into the otherwise pristine world of light bulbs! There are loads of colored lights out there, but none are quite as advanced as MagicLight's Pro Bluetooth LED smart bulb. With 16 million dimmable colors, music sync, and different scheduling modes at your fingertips, it's the most versatile hubless smart bulb you can buy.
Get the Party Started
The MagicLight Pro is in itself a cool-looking smart bulb with prominent gray heatsink fins and a colorful glass top. It is rated at 800 lumens, and the manufacturer claims that it puts out light equivalent to an 80-watt incandescent bulb. As the MagicLight consumes only 10 watts, the difference in your power bill will be significant. After screwing it in, you only need to download the MagicLight BT app to get started.
The app connects your Android or iOS phone to a maximum of 50 various MagicLight bulbs. In it you'll find a prominent color wheel that you can navigate to set the perfect color, or choose between a few different white temperature presets when you're using it as a regular light source. Each bulb can be dimmed and its color adjusted individually, but they can also be linked and manipulated together.
The two most interesting features in the app are "Music Sync" and "Sunrise". Music Sync lets you sync up the light's color and on/off pattern to the beat of your favorite songs, creating a nightclub ambience at home. There are twenty presets to choose from, and you can design your own as well. When on, Sunrise will gradually make the light brighter as your day starts and dim it as you fall asleep.
What's Bad About It?
If you buy multiple MagicLights and pair them, you can't set some of them to work like RGB lights and others to be white, so you'll have to adjust a room's ambience one bulb at a time. RGB mode is also noticeably dimmer than white mode.

Tech Specs
Dimensions: 4.5 x 2.7 in.
Brightness: 800 lumens / 80 watts
Wattage: 10 watts
Color: White + RGB
Requires hub: No
Compatible with: N/A
The Pros
Easy setup
Extensive color customization
Music sync and sunrise features
Bright white light
The Cons
Grouped bulbs can function either in RGB or light mode only
Colored light is dimmer than white light
#4 LIFX Wi-Fi Smart LED Light Bulb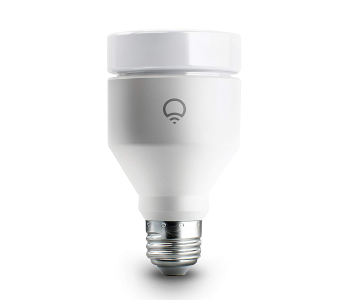 View on Amazon
Editor's Rating: 4.5/5
LIFX made many of us nod with approval when they introduced LIFX+ back in 2016. This bright yet stubby bulb was noteworthy for having infrared LEDs that help your security camera's night vision get brighter. Two years later they've issued a somewhat stripped-down yet cheaper bulb that's as powerful as ever, and can connect to almost as many 3rd party devices as the Philips Hue series.
The Brightest Bulb Around
The LIFX is one of the most oddly-shaped smart bulbs, sporting a puck-like light with a smaller surface than that of most other models. Don't worry about it not being bright enough though – the bulb packs a powerful 1,100 lumens, the equivalent of a 75-watt incandescent bulb. The beam is a bit limited because of this design, but definitely bright enough to comfortably illuminate an entire room.
The app features a very nuanced color selection wheel, the ability to create ambient lighting that's in tune with whatever song you're playing, and a couple of mood presets that you can add to and customize. Naturally, you also get to schedule the bulb's work hours, and can set the white temperature to change as the day progresses. The overall design is very intuitive and any family member shouldn't take long to get the hang of all the features LIFX has on offer.
While a hub is not required to control the bulb, if you've already got something like Amazon's Echo or an Apple TV, you can give it voice commands, and Alexa / Siri / Google Assistant will do its best to comply.
What Are the Downsides?
Even though this new version is cheaper than the LIFX+, it's still one of the most expensive smart bulbs on the market. This may prevent you from getting one for each socket and opting mostly for less expensive models instead. The light it emits is brighter than most, but limited in direction, so expect the ceiling to be dark if you're hanging it up and vice versa.

Tech Specs
Dimensions: 4.5 x 2.5 in.
Brightness: 1100 lumens / 75 watts
Wattage: 11 watts
Color: White + RGB
Requires hub: Optional
Compatible with: Amazon Alexa, Apple HomeKit, Google Assistant (with hub)
The Pros
Exceptionally bright
Versatile app with lots of features
Wide smart home integration
The Cons
More expensive than most competitors
Light direction is limited
#5 Philips Hue Go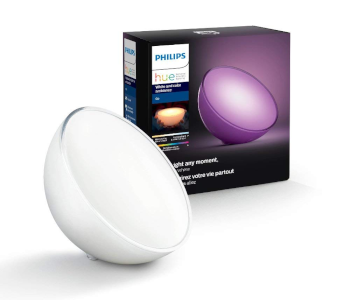 View on Amazon
Editor's Rating: 4.4/5
You might be able to control some smart light bulbs from anywhere in the world thanks to the wonders of Wi-Fi, but you can't take them along with you. In a stroke of genius, Philips has augmented their Hue line with the Go, a superbly portable smart bulb you can use to liven up a party or bring a touch of home to a hotel room.
Personalized Lighting on the Move
The Hue Go won us over with its warm bowl-like shape and the pleasant, diffuse light it emits. At 300 lumens it isn't the brightest of the bunch, but will do more than adequately as an ambient light. Its independence is enhanced even further by the built-in Li-ion rechargeable battery. One charge is good for three continuous hours of mood lighting, but you can always leave it plugged in and use it as a fixed / night light as well. Finally, you can use the Go even in damp environments like your bathroom since it is water-resistant.
Apart from being portable, the Hue Go is also standalone – you don't even need a smartphone to access its basic functions like selecting among various color presets and a couple of white temperatures. Other than the presets, you can cycle through all of its 16 million colors and stop at any you like. The Go remembers your last choice even if you've never connected it to anything.
The Go really starts to shine once you pair it with your phone. The Hue app is similar to the White's but understandably has better functionality since you can now control the color output as well as brightness. You can "inspire" the bulb with a photo stored on your phone, and it will shine in a tone that's present on the photo. Alarms, scheduling, and notifications work without a hitch too, as we've come to expect from Philips.
What Could Have Been Better?
To justify its price, you really have to enable the Go's smart features. Otherwise, it's just an overpriced LED ambient light. The 300-lumen brightness seems to be true while the Go is plugged into an outlet. Once it's running on batteries alone, the light grows considerably dimmer.

Tech Specs
Dimensions: 5.9 x 3.1 in.
Brightness: 300 lumens / 40 watts
Wattage: 6 watts
Color: White + RGB
Requires hub: Optional
Compatible with: Amazon Alexa, Apple HomeKit, Google Assistant (with hub)
The Pros
Portable
Water-resistant
Useful both within a smart environment and on its own
Versatile app
The Cons
Expensive
Doesn't reach full brightness while on battery power
#6 Best Budget Option – GE C-Life and C-Sleep Smart LED Light Bulb Combo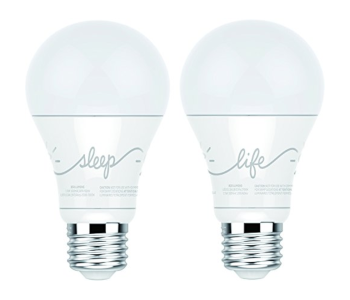 View on Amazon
Editor's Rating: 4.4/5
Do you often wake up groggy in the morning or are tense and can't fall asleep at night? Whatever else might ail you, chances are that the lighting in your home isn't doing you any favors either. GE is here to put a stop to this with their innovative C-Sleep smart bulb! For just around $20, you get one C-Sleep and one C-Life bulb in a combo pack whose price can't be beat.
Go to Bed Relaxed, Wake Up Refreshed
The secret behind the C-Sleep bulb is its automatic temperature adjustment based on the time of day. In the mornings, it glows with a cool light at a temperature of 7,000K. As the day goes on, the temperature adjusts itself to a standard white 2,700K during the daytime, and slides down to a warm orange 2,000K at night, filling your room with soothing light you can take in to relax before going to bed.
This two-pack also contains a C-Life bulb with a fixed color temperature of 2,700K making it ideal for kitchens, living rooms, and other hubs of activity. Speaking of hubs, neither bulb requires one to work, and they use Bluetooth to communicate with your smartphone once the GE app has been installed. You can still opt to get the C-Reach smart bridge though to give the bulbs voice commands through Alexa.
The app is very well designed and its home screen is divided into three sections. The first shows you blue bubbles with different scenes in them, allowing you to set specific brightness levels and color temperatures in case of the C-Sleep for different activities and times of day. The second part is where you create rooms and add bulbs to them. The bottom third is reserved for shortcut keys which guide you to the most used settings and give you control over scenes, rooms, and individual bulbs with one tap.
What We Didn't Like
These bulbs' only major drawback are connectivity issues. When it does work, the app is great. More often than not though, you'll be frustrated at its inability to recognize some or even all of your bulbs. We hope that GE will take a serious look at this problem and come up with a solution.

Tech Specs
Dimensions: 4.5 x 2.5 in.
Brightness: 800 + 850 lumens / 60 watts
Wattage: 11 watts
Color: White
Requires hub: Optional
Compatible with: Amazon Alexa (with hub)
The Pros
Two bright bulbs at a great price
Don't need a hub
Variable color temperature
Cleverly-designed app
The Cons
Frequent connection issues