7 Best Smart Outlets in 2019
3D Insider is ad supported and earns money from clicks, commissions from sales, and other ways.
Ingenious ways of automating your home have been around for a while now, but some people are still intimidated by smart cameras, thermostats, and other advanced gadgets. If you've been wanting to get on the automation bandwagon but don't know how, why not start off small?
A smart outlet is the ideal gateway gadget for a modern living space – its use is as straight forward or complex as you want it to be, and just being able to say something like "Alexa, turn the bedroom lights on!" will be enough to sway even your old-fashioned grandparents to give it a shot. Conversely, smart outlets are the best way of bringing the remainder of your "dumb" appliances into the fold of an already smart home.
In this guide, we take a look at the best smart outlets you can get in 2019.
Budget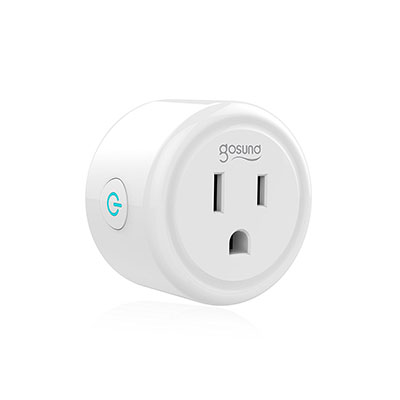 Gosund Mini Smart Plug
4.2/5.0
1 outlet
1 year limited warranty
Doesn't obstruct 2nd outlet. Has scheduler and timer.
Check Amazon
Best Value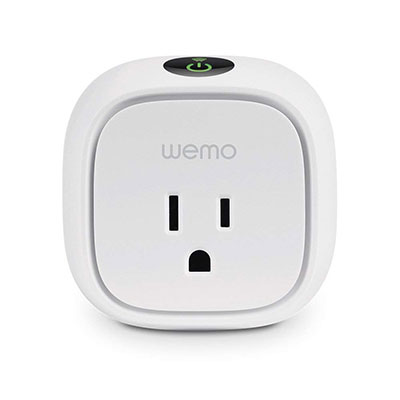 Belkin WeMo Insight Smart Plug
4.7/5.0
1 outlet
1 year limited warranty
Thorough power consumption and integration options.
Check Amazon
Top Pick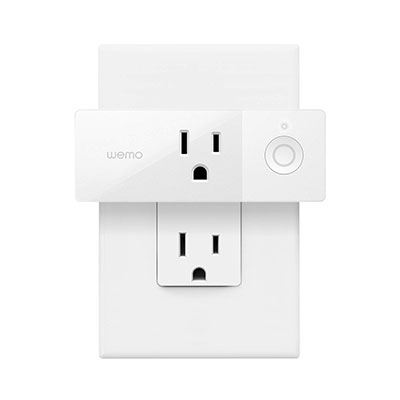 Belkin WeMo Mini Smart Plug
4.8/5.0
1 outlet
1 year limited warranty
Integrates with all major home automation systems.
Check Amazon
Many smart outlets are available today and separating great ones from poor quality or even dangerous junk isn't easy. We've spent a good deal of time plugging devices into many of them and yelling at various home automation services to power them off and on. You can read about the results and best smart outlets below, and familiarize yourself with what makes a good smart outlet once you're done.
7 Best Smart Outlets Comparison Table
1. Belkin WeMo Mini Smart Plug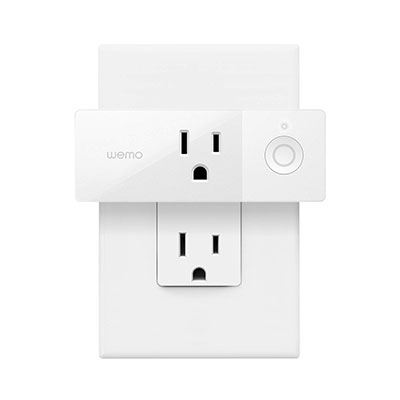 View on Amazon
Editor's Rating: 4.8/5
Belkin's original WeMoSmart Plug was elegant and responsive, but there was still much room for improvement in its design. A particular issue customers who bought it had were its dimensions – you couldn't plug two things into a double outlet if you installed it, and the blue on light could be quite annoying at night. Enter WeMo Mini, the sleek small outlet that can turn any old electrical appliance into a smart one.
Improved Design &Better Connectivity
Design-wise the WeMo Mini is quite an improvement. It's wide rather than tall, ensuring that you can plug another one or any other device into a double outlet. The power button is smaller & round now, and the on light glows a faint white that won't bother you while sleeping.
The WeMo Mini supports a wide array of home automation systems. Owners of Apple's HomeKit, Amazon Echo, or Google Home will find that the only thing they need for it to be recognized and integrated into the system is a working Wi-Fi connection. What's more, WeMo offers a variety of other home automation products like lights, cameras, baby monitors etc. that the outlet can be paired with for greater control.
The Android / iOS apps let you schedule working times, turn on away mode to periodically turn plugged in lights on and off while you're away, and allow you to control every aspect of the WeMo product family in one place. Their minimalistic design and clear interface make finding the right setting for each product easy and quick.
What We Didn't Like
Establishing a Wi-Fi connection is generally easy for the WeMo Mini, but once you move it to another outlet the connection needs to be reestablished, which sometimes causes hiccups. If you were hoping to connect the outlet to Apple's HomeKit, you'll need to purchase a separate dongle, making the highly appealing price of a standalone WeMo Mini come into question.

Tech Specs
Dimensions: 3.8 x 1.4 x 2.4 in.
Number of outlets: 1
Compatible with: Amazon Echo, Apple HomeKit, Google Home, IFTTT, Nest, other WeMo devices
Warranty: 1 year limited
The Pros
Small dimensions
Affordable
Clean and intuitive app
Integrates with all major home automation systems
The Cons
Reestablishing connection can be problematic when moving
Apple HomeKit support requires dongle purchase
2. Belkin WeMo Insight Smart Plug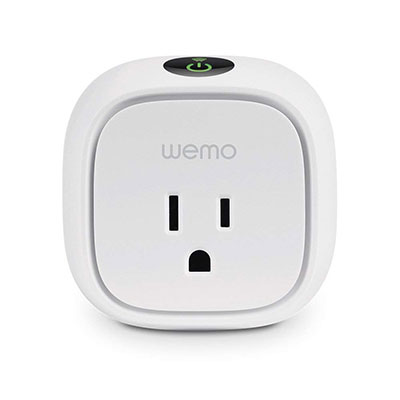 View on Amazon
Editor's Rating: 4.7/5
The second great idea to come as an improvement over the first WeMo Smart Plug, the WeMo Insight is an outlet whose main appeal lies in its power-saving capabilities. Thanks to integrated sensors, the Insight can provide an extensive power use overview and let you know just how much certain devices are contributing to your monthly power bill. Couple that with the functionality of the WeMo Mini, and you've got a versatile and useful smart tool that will pay for itself in no time.
Brings Bills Down and Makes Your Home Smarter
The Insight received an updated design, albeit in a different way than the Mini. It is noticeably smaller than the original, but not enough to allow the simultaneous use of both outlets. It features a prominent green power button which can act as a night light, and a micro-USB port that currently doesn't have a use, but may get one in the future.
The Insight is noticeably more expensive than the Mini because of its power sensors. These let the plug monitor the power consumption of devices plugged into it and give you a thorough overview in the app. There you can see how long the device has been active today and on average, how much energy it has consumed, and how much this will cost you on a monthly basis. Reports can even be exported into CSV files and viewed as spreadsheets on a computer.
Integration has the same strengths and quirks as the Mini's does, with the notable exception of ITTT. Using that app gives the Insight two much-needed features – the ability to turn a device off after a set number of minutes are exceeded for the day, or to do so once the daily energy cost reaches a set limit. With settings like these, nuanced budgeting and parental control are easier than ever.
What Needs Improving?
We hope to see a slimmed-down version of the Insight that will be small enough for a 2nd outlet to be used. Future updates to the app should also include the two power-saving recipes that are now only available through IFTTT to eliminate the need of hopping between two apps.

Tech Specs
Dimensions: 2.5 x 2.5 x 2 in
Number of outlets: 1
Compatible with: Amazon Echo, Apple HomeKit, Google Home, IFTTT, Nest, other WeMo devices
Warranty: 1 year limited
The Pros
Gives thorough power consumption overview
Extensive integration options
Looks nice
The Cons
Obstructs the 2nd outlet
Needs IFTTT to reach its full potential
3. Geeni Switch + Charge Smart Wi-Fi Plug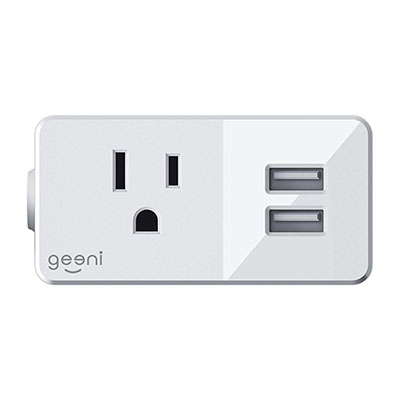 View on Amazon
Editor's Rating: 4.5/5
If you live in a small apartment, chances are that all of your outlets are already occupied and you always have to stop using a fan or lamp when you need to charge up your phone. Geeni's smart plug will not only let you charge two of them at once but also control whatever you've plugged into it remotely at the same time.
A Smart Approach to Outlet Use
The plug's looks are nothing to write home about. It's a small white box with a power button on one side and the outlet / USB ports in the front. It is small enough for two to be plugged into the same double outlet without a hitch.
Whether you're using one or more, the Geeni app takes care of plug control. Once you download it and create an account, you can register and control each mini plug individually, or integrate them into your automation network. There's no support for HomeKit, but you can control the device via Microsoft's Cortana, a feature that doesn't seem to be common with other smart outlets.
Are there Downsides?
Geeni's app could use a little work. It's not always clear where to find functions like scheduling, and even when you do find it setting up a schedule requires you to put in separate start & stop times instead of a single time frame.

Tech Specs
Dimensions: 2 x 3.2 x 1.6 in.
Number of outlets: 1 + 2 USB ports
Compatible with: Amazon Echo, Google Assistant, Microsoft Cortana
Warranty: 1 year
The Pros
Two can be used with the same outlet
Has two USB ports
Supports Cortana
The Cons
App isn't intuitive
On and off times are scheduled separately
4. iDevices Wall Outlet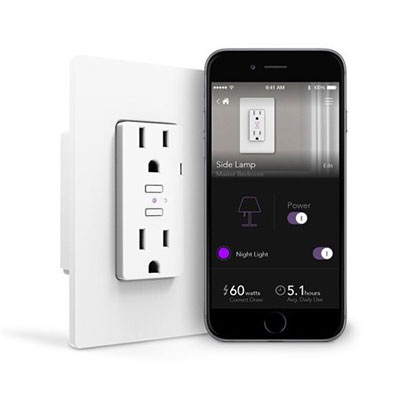 View on Amazon
Editor's Rating: 4.5/5
It doesn't matter how small or well-designed they are – smart plugs are still gadgets you plug into a regular outlet and can clash with the room's appearance. What if you could replace the outlet itself with one that supports all the smart features that make switches so great? iDevices have an answer to that – the smart wall outlet that blends seamlessly into your home.
Easy to install, Even Easier to Use
Don't be intimidated by the fact that this is an outlet – it installs almost as easily as a plug. All it takes is removing a regular outlet and connecting three of the smart one's wires to your home's power grid. While calling an electrician to do it for you is a good idea if you've never changed an outlet before, the straightforward instructions will guide even a novice every step of the way.
The outlet requires no hub to work, just a regular Wi-Fi connection. Best of all, it has two outlets you can control and monitor individually. There's even a small night light whose color and intensity can be controlled through the app. As an interesting touch, iDevices have included the code you'll use to pair the outlet with HomeKit into its side. The code can be extended when it's time to put it in and retracted again so that it becomes unseen.
The app is straightforward. You can use it to name each outlet and assign functions like light or fan to it, control the night light, and get an overview of your home's power consumption. Unlike WeMo's app, the data can't be exported though.
What Needs Improving?
Although a physical outlet is by far the most elegant way of controlling your home's electronics, it is definitely not cheap. When not on sale, one of iDevices' outlets will set you back close to $100, making multiple purchases very expensive. The outlet can encounter connectivity problems if there's a lot of interference from other nearby Wi-Fi networks, so it may not be the best option for people living in crowded apartment buildings.

Tech Specs
Dimensions: 1.8 x 1.7 x 4.1 in.
Number of outlets: 2
Compatible with: Amazon Echo, Apple HomeKit, Google Assistant
Warranty: 2 years limited
The Pros
Seamless fit
Supports two devices at once
Customizable LED light
Power management features
The Cons
Expensive
Can lose connection if surrounded by many Wi-Fi networks
5. iDevices Outdoor Switch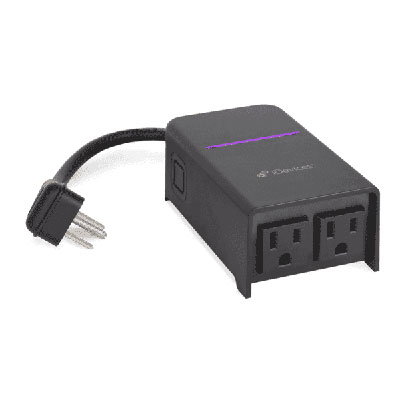 View on Amazon
Editor's Rating: 4.4/5
Wouldn't it be great if there was a smart outlet that would let you control things outside of your home with the same ease as those within it? The people at iDevices have been wondering the same thing, and have produced an outlet that targets the almost untapped niche of external automation, giving you the power to control the porch lights or light up a dazzling Christmas display without freezing.
Bringing Home Automation Outside
A smart outlet for outdoor use needs to be built with considerably more attention to materials and detail. iDevices delivers by enveloping theirs in a strong & waterproof black outer shell. There are two outlets which face downwards when secured to a wall, minimizing exposure to the elements. An LED strip adds the finishing touches to the already solid-looking gadget. You'll have to make do with only one color though.
Apart from subtly signaling your daughter to end the date and get inside from within the house, you can set the Outdoor Switch to work on a schedule, or link it to HomeKit, Alexa etc. to enable voice activation. Unlike other outlets that can't be controlled remotely unless you're on the same Wi-Fi network, iDevices integrated scenic mode into theirs, allowing users to access the outlet from anywhere in the world.
What Should Be Improved?
For some inexplicable reason, the two outlets can't be controlled separately like those seen on the iDevices Wall Outlet, and we hope they'll fix this ASAP. Since they will probably be separated by a thick outer wall, weaker routers might not have enough signal strength for the outlet to work reliably.

Tech Specs
Dimensions: 2.5 x 8.2 x 7in.
Number of outlets: 2
Compatible with: Amazon Echo, Apple HomeKit, Google Assistant
Warranty: 2 years limited
The Pros
Waterproof and robust build
Has two outlets
Can be controlled from other networks
The Cons
No individual outlet control
Needs strong Wi-Fi signal to work properly
6. iHome ISP8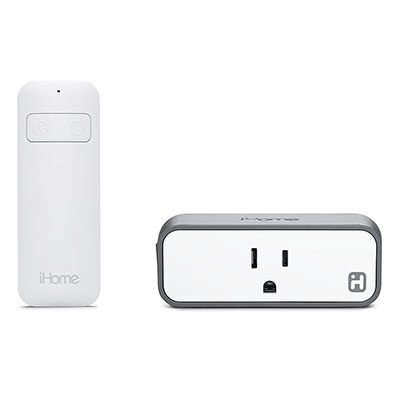 View on Amazon
Editor's Rating: 4.4/5
iHome's SP5 was a decent smart plug which failed to distinguish itself among contenders like iDevices and Belkin due to the limited number of supported devices, lackluster app, and annoying connection issues. The ISP8 manages to address most of the earlier model's flaws and brings its own share of useful features, but is this enough to go head to head with the giants of the industry?
The King of Connectivity
The main selling point of the ISP8 is the remarkable number of services and systems it integrates with well. Hooking it up to your HomeKit or Nest eco-system is a breeze, but it also supports Wink and SmartThings, becoming part of your home's smart hub. It can be designated as part of a zone or room, triggered alongside other smart devices, or scheduled in tandem with them.
Although you'll be interacting with the ISP8 mostly through its app, iHome has decided to also include a remote as part of the deal. It is a very basic model that can only turn the plug on and off, but as it has a range of 35 feet and line of sight isn't required to use it, controlling the plug from anywhere inside the house is easy even when your smartphone isn't nearby.
What We Didn't Like
The app the ISP8 comes with could use an upgrade, both functionally and aesthetically. Basic settings are accounted for, but there's no support for IFTTT, which would have made the plug far more useful.

Tech Specs
Dimensions: 2.2 x 3 x 1.3 in.
Number of outlets: 1
Compatible with: Amazon Echo, Apple HomeKit, Google Assistant, Nest, SmartThings, Wink
Warranty: 1 year limited
The Pros
Supports wide array of home integration services
Maintains strong W-Fi connection
Two can be used on same outlet
The Cons
Clunky app
No IFTTT support
7. Gosund Mini Smart Plug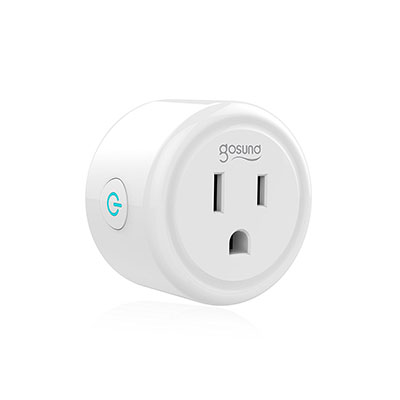 View on Amazon
Editor's Rating: 4.2/5
The last smart outlet in the guide might turn out to be your first choice! The price of the Gosund Mini outlet makes it perfect for large-scale home automation, and the app which controls it offers all the essential features. If you don't have HomeKit and don't care much for consumption tracking, then look no further than this small, affordable device.
Bringing Your Home's IQ up on a Budget
The outlet's design is minimal – apart from a brightly-lit blue power button and its puck-like shape, there's nothing to distract the eye. As its dimensions are so small, an additional device can be plugged into the wall outlet at the same time. Sadly, the plug is just a little too big for two to be able to fit.
After downloading the app and detecting the outlet, you're ready to go. Devices can be controlled either through it or Alexa / Google Home, and you can also set a schedule for the plug to follow when you're not home or don't want the kids playing on their computer. If you experience any problems with the outlet within the first 90 days of purchase, you can send it back to Gosund for a no-questions-asked replacement, and take advantage of their limited 1-year warranty too.
What's Bad About It?
The power button located on the plug itself isn't reliable and can stop working, forcing you to use your phone to power it. Similarly to iDevices'Wall Outlet, you may experience connection issues due to other Wi-Fi networks' interference.

Tech Specs
Dimensions: 2.1 x 1.9 x 1.1
Numberof outlets: 1
Compatible with: Amazon Echo, Google Home, IFTTT
Warranty: 1 year limited
The Pros
Affordable
Doesn't obstruct 2nd outlet
Has scheduler and timer
Generous replacement policy
The Cons
Physical off button can stop working
Connection issues when near multiple Wi-Fi networks
What to Look for in a Smart Outlet?
Compatibility
Stand-alone or Part of a Family?
Power Management
Size