6 Best Soundcards of 2020
3D Insider is ad supported and earns money from clicks, commissions from sales, and other ways.
Whether you're a gamer or a true music lover if there's one thing you know, it's this: sound quality matters. Sound quality can be the difference between fully immersed in your favorite game and being distracted by the real world in the critical moment of a boss fight.
There's nothing quite like great headphones and a high-quality sound card for hearing every strum of the guitar, every beat of the bass of your favorite song. Let's face it, the integrated sound card that comes with your computer or home theater system is unlikely to be up to par.
Fortunately, you can get high-quality sound cards to install into your system that will immediately improve the quality of your audio. Whether you are tech-savvy enough to open up the computer and install that way or would prefer a USB plug and play model, there's something for everyone.
If you're looking for a new sound card, or want to install an upgrade for the first time, you're in the right place. We'll discuss some of the best sound cards you can get right now, along with their pros and con.
After reading, you'll be empowered to sort through the jargon and pick out the best sound card for you.
Budget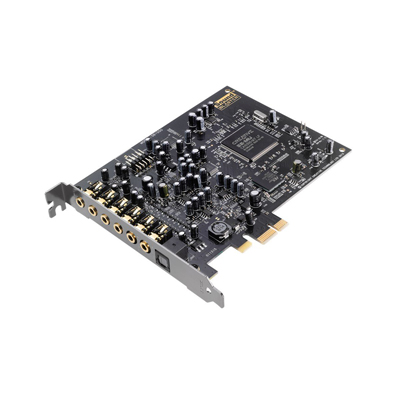 Creative Sound Blaster Audigy
4.4/5.0
Channels: 5.1 OR 7.1
Best Feature: High signal to noise ratio
Highly affordable and works for a wide variety of operating systems.
Check Amazon
Best Value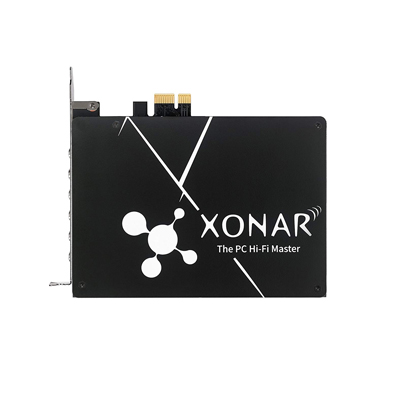 ASUS Xonar AE Sound Board
4.4/5.0
Channels: 7.1 Channel
Best Feature: Best all-around sound quality
Provides a balanced dynamic range of sound, good signal to noise ratio.
Check Amazon
Top Pick
Creative Sound Blaster ZxR Audiophile
4.9/5.0
Channels: 5.1 Channel
Best Feature: Crystal Voice FX and Gaming Audio
Perfect for gaming, video conferencing, and recording audio files.
Check Amazon
Buying Guide
These below 6 sound cards represent some of the best of what's on the market. While we've only included 1 USB sound card, we do want to note that USB sound cards are usually more laptop-friendly, and require less know-how to install.
With that in mind, let's talk about some basic things you should look for in a sound card.
Channels
The number of channels in any sound system refers to the number of speakers that the system can handle. More channels usually means more dynamic sound, better sound quality in a large space, and more accurate directional sound.
If you've ever been watching a movie and wanted to look behind your back to see what just made that creaking noise, it's the directional sound giving you that sensation.
Channels tend to matter more for HTPC's than other computer types. But, if you have a surround-sound gaming room, you should still consider it.
Ease of Use
It may seem strange to think about this with a device that you'll hopefully only have to install once, but it's actually very important.
Opening a stock computer to install new hardware often voids the warranty on that computer. Especially if you are installing new hardware into a laptop, where space is at a premium, you're going to lose your warranty in the process.
So, when you buy a new sound card, you should have an installation plan. If at any point you aren't sure whether what you're doing will hurt your computer, stop. Many tech stores offer professional computer servicing and installation. They'll help make sure your computer isn't damaged.
After installation, it's also important to consider whether you get a control panel, have to download new drivers, and other considerations. The more you have to download, the more space and processing power your new soundcard is likely to eat.
6 Best Soundcards Comparison Table
6 Best Sound Cards for True Audiophiles: Detailed Review
View on Amazon
Editors Rating: 4.9/5
While the ZxR is often targeted at gamers, this is a top-quality sound card for music lovers, gamers, and home theaters. Not to mention, this is one of the better cards you can get for sound recording and editing.
One of the big advantages for gamers, audio creators, and work-from-home business people is the voice processing system.
Crystal Voice FX, the voice processing system built-in the ZxR, captures and processes your voice. Instead of a computer-processed sound, where too much compression can make you sound tinny and takes a lot of the depth and emotion out of your voice, Crystal Voice FX lets you sound like you.
It also features a separate headphone amp, which preserves audio quality even in headphones. In addition to high-quality sound on your speaker or surround system, you can enjoy the same quality on your headset.
The card also comes with a set of audio cables. You need a total package of quality audio hardware to really reap the benefits of a high-end card. Including those cables cuts down on what you need to purchase for your new system.
Movie lovers and gamers will both be blown away with Scout Mode. Scout Mode changes your audio setting so you can hear more subtle inputs and sounds. In movies, you'll feel every moment of creeping tension as the score builds, or as you watch the protagonist creep across a near-silent screen.
As you game, Scout Mode will let you hear your enemies long before they hear you. Directional audio will also give you a sense of where your enemies are, not just that they're there.
You can also preserve cords and ports for your speakers and headphones. Instead of switching what system is plugged in at any time, use the built-in switch to go back and forth.
It comes with Dolby Digital Live and DTS Connect audio processing formats, both high-quality systems. Unfortunately, the biggest downside of ZxR is that it's only a 5.1 channel sound card. Limited channels means that you get slightly less dynamic range in your audio with this card.
Tech Specs
Dimensions: 14.58 x 4.12 x 7.92 in
Weight: 2.75 lbs
Package Contents: Sound Blaster ZxR sound card, sound Blaster DBpro card, sound Blaster Audio Control Module, 1x Optical Cable, 1x Stereo(3.5mm)-to-RCA cable, 1x DBpro cable, Quick Start Leaflet
Installation CD containing: Drivers for Windows 7 and Windows 8, Creative Software Suite, User's Guide
The Pros
Perfect for gaming, video conferencing, and recording audio files
Crystal Voice FX preserves your voice's character and dynamic range
Comes with high-quality audio cables
Scout mode perfect for online games, horror games, and more
Extremely high signal to noise ratio
Headphone and speaker switch for ease of use
The Cons
Need to download drivers for Windows 10, updated driver not included
Secondary included sound card isn't always used by audio
Only 5.1 channels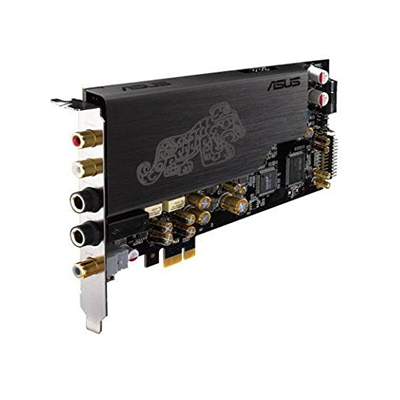 View on Amazon
Editors Rating: 4.7/5
This is another excellent option if you're looking for high sound fidelity across a range of media platforms.
The Essence line of sound cards has been around for a while. While different versions have had their strengths and weaknesses, they've consistently been among the best sound cards for their time. The STX II, the latest version of the Essence line, is no exception.
The STX II matches the ZxR for top of the industry signal to noise ratio. Sitting at 124dB, you get especially clear sound without much interference.
But, there's always been a risk with especially clear sound that other aspects of sound quality are lost. That isn't the case here. There is a balance between the crispness of sound and dynamic and emotional quality. The STX II does a good job of meeting multiple challenges.
It's also one of the better sound cards for music creators. If you're editing and arranging complex musical scores, this soundcard will help you hear the full range of every track.
It's also easily adjustable, both in software and in hardware. If you prefer a different tone and quality in your sound or need a different setting you can do that. If you want to change the sound quality in hardware, it does take some tech-savvy, but the user's manual walks you through the process.
They also provide an Op-Amp switch kit, so you can easily change the microchip without getting additional tools.
Unfortunately, this card does have some notable weaknesses. Its software isn't yet well-optimized for Windows 10, and there isn't much customer support can do to assist. This sound card also often runs into volume control issues when you switch inputs.
Tech Specs
Weight: 1.56 pounds
Dimensions: 6.6 x 4.2 inches
Processor Count: 1
Computer Memory Type: DDR3 SDRAM
The Pros
Good sound fidelity
Wide dynamic range
Great processing and range for music creation and editing
Some of the best signal to noise ratio in the business
Comes with an op-amp switch kit
Dolby Digital Live
Dolby Virtual speaker
Dolby Pro-Logic II
Op-Amp Swap kit
The Cons
The software doesn't play nice with Windows 10
Doesn't always handle output transitions well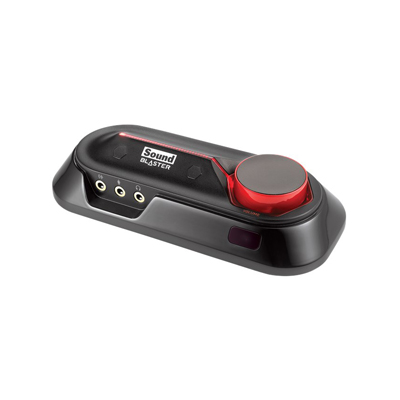 View on Amazon
Editors Rating: 4.6/5
The Omni is the first sound card on our list that uses a USB port for instant connection. Instead of opening up your computer, laptop, or another device, simply plug the USB in and the sound card will walk you through the installation process.
Like the ZxR it offers 5.1 channel surround sound. That's a reasonably dynamic channel range, best suited so smaller speaker systems and headphones. While 5.1 works for home theaters, it's most effective for smaller spaces that need less simultaneous audio input.
That said, this USB sound card is still a wonderful addition to your HTPC (home theater PC), gaming computer, or other media players.
There are some pros and cons with USB sound cards. The Omni is a good example of a sound card that mostly overcomes the cons of that design while taking advantage of the pros.
The biggest con to external sound car options, like a USB connection, is increased latency in your sound. Latency can lead to different audio tracks, like the voice track, background noise track, and the score, going out of sync.
Mild audio sync issues are harder to hear but to get a sense of how important synced audio is, imagine what happens when your audio and visual output gets out of sync. When the main character of your favorite TV show appears to mouth words half a second before you hear what they're saying.
Fortunately, the Omni avoids most of the latency issues that come with an external USB sound card. However, it's just as important to have a processor and other hardware supporting the sound card with a USB car as it would be with an internal card.
This is also one of the first sound cards on our list that is compatible with Windows 10. You won't have to download a different driver or software patch with this sound card.
It also uses crystal voice technology to help preserve the sound and range of the spoken word.
Overall, the Omni is a good option for users who are looking to significantly improve their audio quality and audio fidelity (how close to the original sound the processed sound is), without directly installing new hardware.
Tech Specs
Dimensions: 9.06 x 2.95 x 6.1 inches
Weight: 14.4 ounces
Compatibility: Compatible with Windows 7-10 and a wide range of other platforms
The Pros
Easy, quick installation
Low latency
Widely compatible, including Windows 10
Easy to use control panel
Dynamic sound range
Includes a built-in headphone amplifier
600-ohm headphone amplifier
The Cons
Only 5.1 channels
Some gaming sounds are processed as a 'popping' sound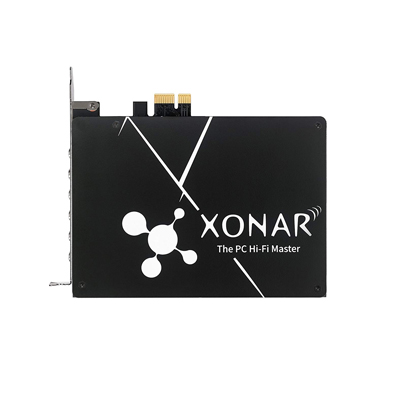 View on Amazon
Editors Rating: 4.4/5
If you're looking for a quality sound card for gaming or a home theater, but don't want to pay an arm and a leg, Asus's Xonar is a good option.
Xonar is a powerful sound card for its price point. It comes in three different decibel ratings. Each version is a powerful sound card, so don't feel limited to any one rating.
The signal to noise ratio on the Xonar isn't as good as some of the sound cards on our list, but 110 SNR is still a great ratio in a card. It also provides an EMI shield on the back, which will increase the longevity of the card.
Xonar also offers a pretty good headphone amplifier. It doesn't quite match some of the more expensive sound cards out there, but it's still a significant improvement over most stock sound cards.
A superior ground, built into the sound card, also reduces signal interference.
The sonic studio, this sound card's control panel, is fairly easy to use. It also gives you a wide range of options. You can make substantial tweaks to the sound and range of your system's audio.
Overall, the Xonar doesn't focus on any one aspect of sound quality above another. It's not marketed toward gamers, or music lovers, or any one specific type of consumer. That's an incredible strength and weakness all at once.
You'll get significant performance improvements, but it doesn't specialize in any one type of sound.
One serious advantage, however, it's one of a very few 7.1 channel sound cards this affordable. That means that this affordable sound card will work with home surround sound systems.
While it doesn't quite match some others for headphone dynamic sound range, the amplifier system does do a lot of heavy lifting to get you close. Whether you have a home surround sound or not, you'll benefit from a 7.1 channel system like this.
It's also another Windows 10 compatible sound card.
However, if you aren't tech-savvy, this may be a difficult card to install. Even with the user's manual, installation is a little tricky. If you aren't comfortable installing the sound card yourself, we'd recommend having a professional handle the installation.
Tech Specs
Dimensions: 2.52 x 0.71 x 6.69 in
Weight: 2.5 ounces
The Pros
Affordable option
7.1 channels
Provides a balanced dynamic range of sound
No particular focus on one type of media
Compatible with Windows 10 and other operating systems
Good signal to noise ratio
110 SNR
192kHz/24-bit, 7.1 channel high-resolution audio
Includes Perfect Voice
Sonic Studio control panel
EMI shield backplate built-in
The Cons
Difficult to install
Doesn't shine in any particular area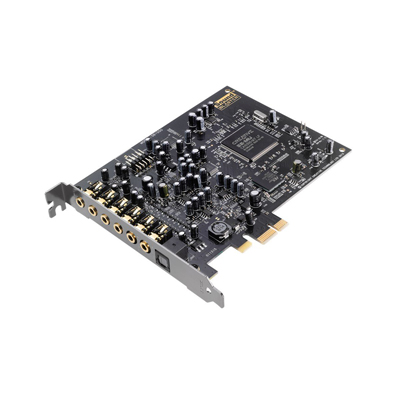 View on Amazon
Editors Rating: 4.4/5
The Audigy sound card is a great selection if you're looking for the best in sound quality for a minimum possible cost. It comes in both 5.1 and 7.1 channel varieties. Whether you have a surround sound system or prefer to listen with headphones, Audigy has you covered.
Now, there is a price difference between the two channel counts. We recommend the 7.1 since it gives you a few more options and increases your dynamic range. However, if you don't have or want a surround sound system, the 5.1 should work equally well.
It has a 106 dB SNR. You'll probably notice that that's slightly lower than most of the sound cards on our list. It is. But this ratio is still high enough to provide a superior quality of sound.
Audigy is a good option if you're looking for improves music or gaming experience. The 7.1 channel version is suitable for home theater systems.
It's also widely compatible, working with Windows XP – Windows 10.
The included E- MU chipset also helps with audio processing. Audio processing, like visual processing, can bog down your CPU. If you don't have a gaming-quality computer, that becomes an important feature.
That also means that the Audigy is compatible with a wider range of computers than most of the offerings on our list. The best sound card in the world won't be able to do its job if the other hardware in your computer isn't up to the job.
The dedicated control panel app provides a wide range of customization. While you may not be able to tweak it as much as a higher-end sound card, you do get more customization than most sound cards at this price point.
Overall, the main reason this sound card got out the best bargain rating is that it shines well above its price point. This card will work for most gamers, audio editing and processing, and home theaters.
You can also decide how many channels you need for your listening style. That flexibility gives you more control over price point than most sound cards.
Tech Specs
Dimensions: 5.7 x 4.7 x 0.7 inches
Processor Count: 1
Memory Type: DDR3 SDRAM
Weight: 9.6 ounces
Compatibility: Compatible from Windows XP – Windows 10
Includes: Comes with warranty, installation disk, quick start guide, et
The Pros
Highly affordable
Choice of channel options
Relatively simple to install
Works for a wide variety of operating systems
Good control panel
600 OHM headphone amplifier
106 SNR
E-MU chipset
The Cons
Slightly lower SNR than other high-quality sound cards
7.1 channel system works best with Creative speakers – not competitors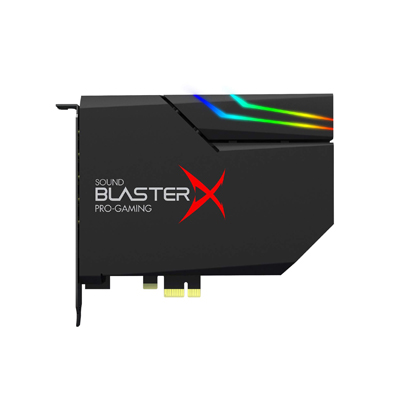 View on Amazon
Editors Rating: 4.7/5
The AE-5 is one of the most complete sound packages you can find. It works well for speaker setups and headphones alike. You'll likely even see some improvement using your computer's built-in speaker system, although that will be limited by the quality of the speakers themselves.
The AE-5 also introduces a new headphone audio processing system. Xamp, an audio amplifier designed specifically for use with headphones, help eliminate the quality difference between great headphones and great speaker systems.
Xamp helps increase the dynamic range of audio as heard through headphones. By amplifying each individual sound channel, it increases sound fidelity for a more lifelike sound experience.
Sound channels are usually talked about with surround sound systems since additional channels mean more speakers for the system. But, with Xamp, higher channel counts help with headphone audio fidelity too.
This system is marketed toward gamers, specifically, since high audio fidelity helps with game immersion. It can even help with gameplay in situations where directional audio is important (horror games especially).
But, that doesn't mean it's only effective for gamers. High audio quality, directional audio, and other improvements in the AE-5 will increase the impact of movies, TV shows, and other media. You'll also get clearer sound from music.
That means greater enjoyment all around.
Tech Specs
Dimensions: 5.7 x 0.8 x 5 inches
Weight: 7.5 ounces
The Pros
High sound fidelity
Low latency
Works well with both speakers and headphones
Increased audio realism and quality in headphones
Reasonable price for quality
Dynamic sound range
32-bit 384kHz playback
122dB DNR
3D surround sound
SABRE class Hi-Resolution PCI-E DAC
Xamp Headphone Amplifier
Requires use of the Molex connector
The Cons
Software is a bit buggy, needs occasional restart
Conclusion
We've covered a lot of the other important considerations in the main article as they came up with each sound card. But, at the end of the day, the most important things are these:
Does it do what you need it to?
Can your computer effectively run the sound card?
If you can check those boxes, you're in good shape. Our best card may not be the right one for you. But, we're confident that you'll be able to find a good card with the information in this article.
Enjoy your new, amazing, sound.