Top 10 Best Super-Sized 3D Prints
3D Insider is ad supported and earns money from clicks, commissions from sales, and other ways.
Most 3D printers have fairly small build volumes, greatly restricting the size of any single piece that you can 3D print. However, this does not mean that you cannot just split a massive model, print them in parts, and glue them back together. These super-sized 3D prints can make for very fun projects that show off your 3D printing skills.
3D printing super-sized models take a lot of time and work, but the results are usually worth the effort. If you need a huge project to sink your teeth into for the next couple of weeks, check out some of these ideas.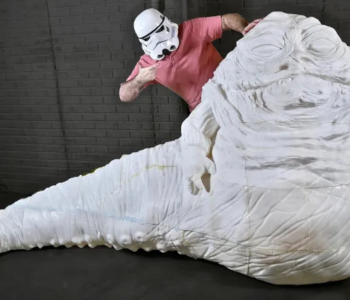 The former crime lord of the planet Tatooine is certainly an intriguing subject for a super-sized 3D print. This free-to-download model measures about 10 feet long and 5 feet tall, so you better have a lot of open space in your house to display it. The creator of the model has also made a miniature version, just in case you're not quite prepared to have this behemoth occupy an entire room.
Unfortunately, the model has not been pre-divided into more manageable chunks. This is still somewhat of a good thing, as it means that you can just split the model to fit the build volume of any 3D printer. Printing Jabba the Hutt is going to be a massive undertaking, but at least its assembly should be fairly intuitive.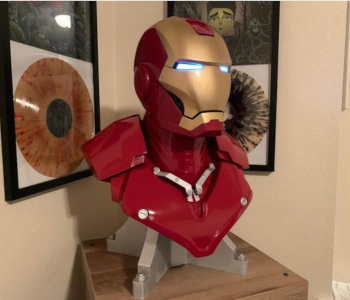 Printing something that is super-sized does not necessarily mean that you need to print the entire body of a popular character. This bust of the Iron Man Mk3 armor is life-sized and should make an excellent display piece in your home. Although the final product looks complex, it is actually a fairly simple printing job with just seven separate files.
As you can tell from the look of the finished product, much of the work for this project will be in post-processing. If you want the bust to really look like Iron Man, you will have to spend a lot of time sanding, polishing, and painting the printed parts. The model comes with a prop stand for a convenient display of the bust. You can also greatly enhance the final look with some strategically placed LED lights inside the head of the armor.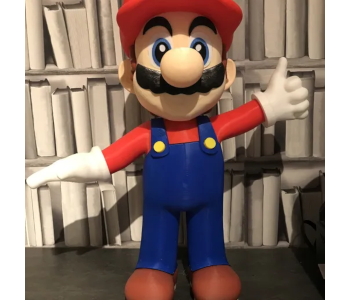 Everyone's favorite high-jumping Italian plumber would make an impressive display piece in your hobby room with this life-sized printable model. The model measures about a foot tall, so it's not so large as to be intimidating. However, it will still be a fairly involved project made of 86 separate files.
The great thing about Mario is that the character's colors are quite simple. You can just print each part in the prescribed color, which reduces the time needed for post-processing. The model has already been pre-split into parts designed for 3D printers with build volumes of 300 x 300 x 400 mm. The creator of the model states that they are working on a version with parts that will fit smaller build volumes.
The signature weapon of ex-SOLDIER Cloud Strife has always been larger than life, even by video game standards. With this downloadable model, you can have your very own full-scale 3D-printed copy of this piece of video game history.
The Buster Sword is a fairly simple build. The model comes in 15 separate files that are designed to slot into each other. However, you will need to glue the parts together. The blade component is made to be printed at low infill to keep it light. The idea is for you to be able this Buster Sword copy using just one hand, exactly the way that Cloud Strife would like it to be done. You will feel like a proper badass just swinging this around – if you can find a space large enough!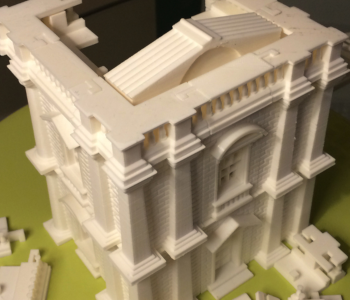 Architectural models are always fun to make with 3D printing. This model of a Victorian Town House is one of the best downloadable architectural models out there with its brick-laden finish and intricate details.
The full model measures around 24 centimeters long and 16.5 centimeters high, so it's not excessively big. This is a large model that you can make even if your 3D printer has a limited build volume. The piece is made of 15 separate pieces that are made to assembled together. There is also the possibility of printing as many beams, floor slabs, roofs, and walls as you like and making a custom Victorian home.
This fully customizable model makes a great educational tool for young students who are into architecture and design. It may not be gigantic in its base form, but it really is only limited by the imagination.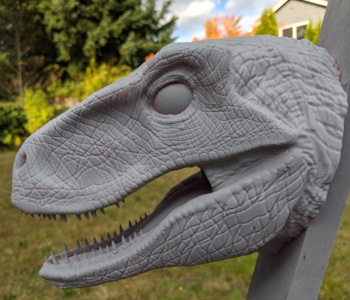 Is there a better model for a large-format 3D printer than a dinosaur? Well, this is just the head of a dinosaur but it captures the essence. This model is for the head of a velociraptor, one of the most kickass and recognizable dinosaurs that we know of.
In contrast to the other models in this list, this velociraptor model prints as a single piece. This means that you will need an appropriately large 3D printer as well. The model looks great with its scaly texture and sharp teeth. The gaping mouth portion is probably the most challenging to print and will likely require some supports.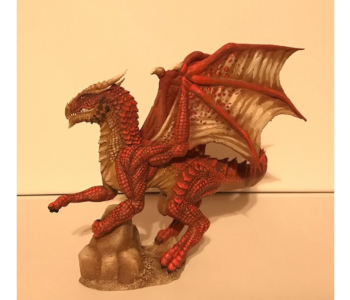 From the historical, let's move to the mystical. If you're into high fantasy, then you would probably have fun printing and painting this large model of a red dragon. This majestically designed dragon with open wings and a textured body will make an impressive display piece in your home and will probably be a focal point of conversation.
The red dragon comes in 5 separate pieces that need to be glued together. The great thing about this dragon is that it does not have to be red – it's basically a blank canvas for you to paint and design. If you're looking for a project to practice your artistic flair on, then this is something you can sink your teeth into.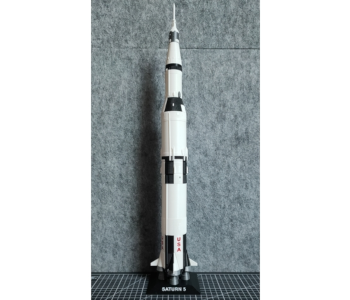 The Saturn V is one of the most recognizable rockets in history and has cemented its place in bringing people to the moon. If you know anyone who is into space travel, then this large-scale model of the Saturn V model will certainly blow their minds.
This massive model requires putting together 58 pieces across 36 3D printable files. When put together, the rocket measures more than 50 centimeters high. It also comes with a display base that features the name of the rocket prominently.
Most of the parts of the Saturn V are fairly easy to print. Assembly is certainly the more fun part of this project. It's also a great way to teach kids about engineering, design, and space travel.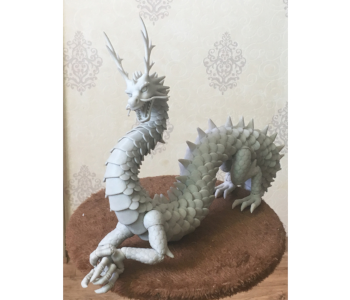 Yes, we already have a dragon on the list but this large articulated dragon is just too good to pass up. This design takes the principle of print-in-place articulated dragons and scales it up massively. The result is a huge dragon model that can be posed in almost infinite ways.
With its size, this dragon is most certainly no longer print-in-place. Instead, you will have to print the individual segments separately and put them together. Each piece is intricately detailed and will take a few hours to print. The creator of this model warns that this is a project that will likely take you several weeks to complete.
This is easily one of the most detailed large-scale projects that we have seen. If you're confident in your 3D printing skills and are looking for a challenge, we recommend taking a stab at this articulated dragon.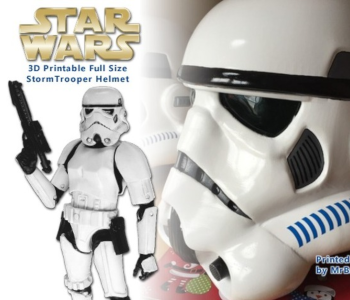 This is the second Star Wars-themed item on this list, but who can resist printing a Stormtrooper helmet? For all of their performance inadequacies, Stormtroopers have some of the best designs ever created in science fiction.
This design allows you to print your very own wearable Stormtrooper helmet. The standard measurement should fit most heads, but you can always scale the model up or down as needed. There are 20 separate files to 3D print but assembly is pretty easy. You will want to spend considerable time sanding and polishing the finished product to really get that Stormtrooper look.
This Stormtrooper helmet has consistently been one of the most popular models in Thingiverse, which speaks of how well-designed it is. It is an incredible piece that truly captures the spirit of a classic design.
Final thoughts
Super-sized 3D printing projects are great for those times when you feel like you're up for a challenge. There is also something satisfying about working on a project that takes weeks to complete. Doing those small steps that add up to a big result makes us feel accomplished and fulfills our need to see progress.
Any of the super-sized projects we have featured here are appropriately challenging and satisfying. Just a word of warning – each project will take a lot of work, time, and filament.
Warning; 3D printers should never be left unattended. They can pose a firesafety hazard.