The Best Drones for Surveillance and Security in 2020
3D Insider is ad supported and earns money from clicks, commissions from sales, and other ways.
It's fairly common knowledge, but we tend to forget that the same technology found in mainstream consumer-grade drones is the one used by the military for surveillance of high-risk areas and warzones. Now that drones have become more accessible to just about everyone, drones continue to be valuable tools for security and surveillance – given ample oversight, of course.
For law enforcement agencies or landowners, a drone acting as an "eye in the sky" can greatly simplify their surveillance needs and reduce risks. However, not all drones are equipped with the features for this job. If you're looking for good drone models for use in security or surveillance, then we've prepared a list of five of the best models.
What to look for in a security drone
A cheap $100 drone probably won't do much if you need to monitor the movement of suspicious people on the ground or if you want to keep eyes on a valuable property. Security drones will need to have some of the best hardware and features that the drone market has to offer. Before you splurge on a drone for security, these are some of the factors you should consider.
1. Camera quality
In most cases, security and surveillance involve taking photos and videos of activities on the ground from the unique vantage point that only a drone can provide. These photos and videos can only be as good as the drone's onboard camera. There's no reason to hold back here – you will almost certainly want a drone with a 4K camera. How the drone performs in low light conditions is also something you may need to consider, especially if you anticipate using it at night.
2. Flight time
Most drones will only stay airborne anywhere between 25 to 35 minutes, after which you'll need to ground it again to swap for fresh batteries. This downtime provides a window when you temporarily don't have eyes keeping watch on your area of surveillance. You will want to keep this window as small as possible. To do this, it would be optimal to have a drone that can stay flying as long as possible. Of course, it would still be a good idea to have two or three fully charged extra batteries every time you're on a stakeout.
3. Range
One of the best things about flying a drone for security is that you can keep watch over distant places from a single take-off point. This is an advantage you will want to leverage. For this reason, you may need to take a look at the effective range of bot the drone's remote controller and real-time video transmission. The longer the better is the general rule of thumb, although the context of your specific application should also be considered.
4. Autonomous flight
Some surveillance jobs need to be done regularly and repetitively, such as keeping an eye out for intruders in a large farmland. For these types of conditions, it would be more convenient to have a drone that can follow pre-determined flight paths and waypoints instead of having a drone pilot manually fly it every single time. The bare minimum requirement for this feature is an onboard GPS module complemented by the appropriate flight modes in the drone's firmware.
5. (Optional) Thermal imaging
There are times when the human eye is no longer the most reliable means of keeping watch, especially during at night or in places where there are lots of canopy cover. Fortunately, some drones come pre-equipped or are compatible with thermal imaging cameras. These cameras are sensitive to the infrared radiation emitted by humans, making them particularly suitable as surveillance tools in low-visibility conditions. Thermal cameras are quite costly, but they are excellent investments for anyone in the line of security and surveillance.
The top 5 best drones for surveillance and security
1. DJI Mavic Air 2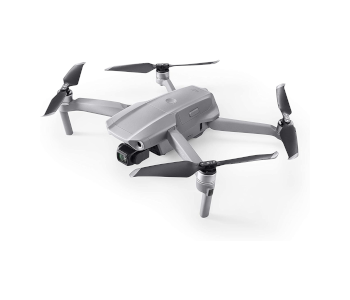 View on Amazon
The Mavic Air 2 is the predecessor to DJI's massively popular Mavic Air – arguably the most successful drone ever released by the China-based brand. The Mavic Air 2 has features that make it more appropriate for professional work. Its small footprint and compact design make it a great fit for security and surveillance work where being inconspicuous is essential.
The camera of the Mavic Air 2 is among the best in the field of ultra-portable drones. The 4K camera is supported by an impressively high bitrate, which means that it's capable of recording videos at higher framerates. Its slow-motion feature – 1080p at 240 fps – is among the best we've seen in any of the prosumer-grade drones.
Through the years, DJI has been making strides in the fields of battery life and controller range, and the results are demonstrated in the Mavic Air 2. The 34-minute flight time and the 10-kilometer controller range via OcuSync 2.0 technology will certainly come in handy when remote or inaccessible areas need to be monitored.
The Mavic Air 2 is also a remarkably smart drone. It can identify subjects to track, follow a pre-determined flight path, or fly through a series of waypoints with no pilot input. These automatic flight modes are complemented by an advanced AI-based obstacle avoidance system.
The biggest downside of the small size of the Mavic Air 2 is that it leaves no room for customization. The Mavic Air 2 does not support thermal imaging unless you're willing to have the drone customized by a third-party service.
Specs
Camera: 4K @ 60 fps
Flight time: 34 minutes
Range: 10 km
Relevant camera modes: FocusTrack, Course Lock, Waypoints
PROS
Compact design
Inexpensive
Has advanced obstacle avoidance
CONS
No thermal imaging compatibility
2. Yuneec H520 with CGOET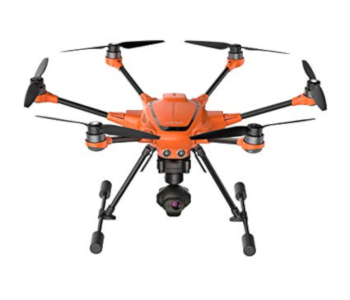 View on Yuneec
The H520 was designed by Yuneec to be a drone primarily for professional use. This huge hexacopter may already seem impressive at first glance, but there's a lot more under the hood that shows why it's one of the best options for a security drone.
The first thing to know about the H520 is that it allows for a hot-swappable payload. This means that you can choose from any of Yuneec's excellent removable cameras. We recommend going for the CGOET, a dual thermal and imaging camera that is perfect for low light. If you just need an optical camera, then the E30Z is an excellent alternative with its up to 30x optical zoom.
Due to the unique build of the H520 (and other Yuneec drones), its camera can pan over a whole 360 degrees without the drone's landing gear getting in the way. This should certainly be useful for aerial surveillance jobs.
The H520 is a drone that's far from being beginner-friendly. It does not come with the fancy camera modes of other prosumer drones or have pre-set automatic flight modes. What it offers instead is an SDK module so you can program your own modes and applications. You can set the drone to behave in certain ways based on its telemetry data, responses from its various sensors, or the images that its camera sees.
A downside of the H520 is that it's still pretty expensive, especially since you'll need to buy the payload separately from the drone. There's also the matter of some of its technology being outdated – despite being a premium drone, its range and flight time numbers are very underwhelming compared to more recently released models.
Specs
Camera: 1080p low-light camera and thermal imaging camera
Flight time: 25 minutes
Range: 1.6 km
Relevant camera modes: Team Mode, SDK-enabled features
PROS
Versatile payload options
Compatible with thermal imaging
360-degree camera provision
Very stable flight
CONS
Expensive
Large and bulky design
Limited transmission range
Limited flight time
3. Autel Robotics Evo 2 Dual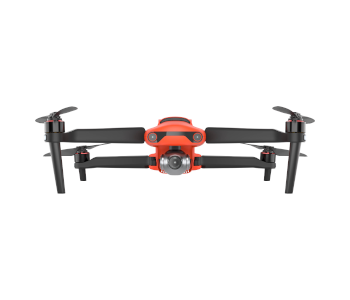 View on Autel
Autel Robotics launched the Evo 2 at the start of 2020, effectively drawing the focus of a huge portion of the drone market. The Evo 2 is another take on the concept of ultra-portable drones that seeks to be better than the Mavic 2 drones released several months before by DJI. Whether they achieved this goal is still arguable, but we have to say that they did one hell of a job.
For security and surveillance, we're going with the Evo 2 Dual. This variant comes with a dual-camera that has a combination of an 8K optical camera and FLIR Boson thermal camera. This is a killer combination – like the CGOET but on a much smaller and lighter drone. Even the 8K camera by itself is already very impressive and sets a new benchmark for the rest of the pro-level ultra-portable drones.
As far as ultra-portable drones go, the Evo 2 Dual is quite large and heavy. This is probably to give space for the massive 7100 mAh battery which gives this drone a flight time of up to 40 minutes. With a controller range of more than 8 kilometers and an omnidirectional obstacle avoidance system, the Evo 2 Dual should have no problem flying in autonomous mode.
The drone's tracking system, called Dynamic Track 2.0, is an AI-assisted technology that can identify and keep track of up to 64 different subjects in the drone's surroundings. This should come in handy for keeping tabs on people on the ground.
The biggest disadvantage of the Evo 2 Dual is that it's very expensive, especially compared to other ultra-portable drones. This isn't really surprising given the capabilities of this drone, but it's probably outside the comfortable price range of a good number of drone pilots.
Specs
Camera: 8K optical camera FLIR Boson thermal imaging camera
Flight time: 40 minutes
Range: 8.8 km
Relevant camera modes: Dynamic Track, Parallel Track
PROS
Compact and lightweight build
Comes with built-in dual optical and thermal camera
Very long flight time
CONS
Expensive
New and untested drone brand
4. DJI Mavic 2 Enterprise Dual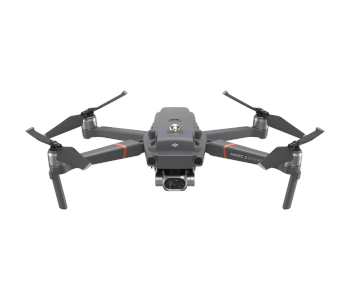 View on DJI
A somewhat late addition to the DJI Mavic 2 family, the Enterprise model is geared towards drone pilots who are looking for something more professionally oriented. We're featuring the Enterprise Dual version which comes with a built-in dual radiometric thermal camera from FLIR beside an optical camera that can record 4K videos at 30 fps.
Another unique feature of the Mavic 2 Enterprise models is the extended port which can support any of three attachments – a super-bright beacon, a spotlight, and a speaker. Although these were primarily included to help in search and rescue operations, they can also be used as warning signs in dangerous areas.
The dual thermal and optical camera has the power of combining visual and thermal imagery so you can better identify anomalies on the ground. With just a few clicks on the companion app, you can take spot temperature measurements of anything within view of the drone's camera and make quick area measurements.
Aside from these unique features, the Mavic 2 Enterprise also has some of the best characteristics of the other Mavic 2 drones – an omnidirectional obstacle avoidance system, innovative camera modes, and autonomous flight modes. The only downside is that the Mavic 2 Enterprise is very expensive. At close to $3000, this may not be a top-of-mind option for those who are shopping on a budget.
Specs
Camera: 4K optical camera and FLIR Radiometric thermal camera
Flight time: 31 minutes
Range: 8 km
Relevant camera modes: Quick temperature estimates and area measurement
PROS
Comes with built-in dual optical and thermal camera
Has a versatile auxiliary port
Omnidirectional obstacle avoidance
Lightweight and compact build
5. DJI Mavic 2 Zoom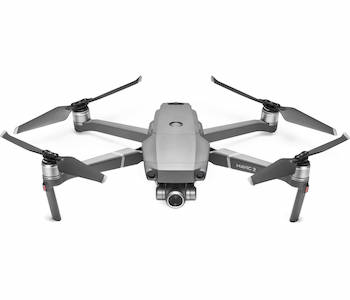 View on DJI
We're scaling it back a little with our last entry – the Mavic 2 Zoom. This drone has been out for more than a year now, so most drone pilots have probably heard a lot about it. While the Mavic 2 Zoom isn't exactly what we would call a cheap drone, it's still a lot less expensive compared to the other entries in this list.
The 4K camera of the Mavic 2 Zoom, though impressive, is not its distinguishing characteristic. What makes it stand out is a powerful zoom function that combines 2x optical zoom and 4x lossless digital zoom. The camera also has an adjustable aperture and a fairly standard ISO range. The Mavic 2 Zoom is quickly going to prove its worth when you have to monitor an area from afar.
Like the other Mavic 2 drones, the Zoom version comes with an omnidirectional obstacle avoidance system. This is perfect for flying the drone autonomously which can be done in any of several modes that the drone offers including Course Lock, Waypoints, and Active Track, DJI's signature subject tracking technology.
Compared to other security drones, the Mavic 2 Zoom is quite "basic." It does not come with a thermal camera, nor can it be outfitted with one unless you go to a third-party service. However, its powerful zoom lens alone makes it a valuable drone for inconspicuous surveillance.
Specs
Camera: 4K @ 30 fps
Flight time: 31 minutes
Range: 8 km
Relevant camera modes: Active Track, Course Lock, Tap Fly, Waypoints
PROS
Moderately inexpensive
Excellent optical camera
Powerful zoom capability
Omnidirectional obstacle avoidance
Diverse camera and flight modes
CONS
No provision for interchangeable payload
No thermal camera
Final thoughts
Surveillance is one of the first reasons for the development of drone technology, so there's no reason that modern drones can't be used for the same purpose. After all, none of its security-enhancing features have gotten lost in the translation to the mainstream market – they are still small, easy to maneuver, and come with high-quality cameras. If anything, modern drones are even more capable of security and surveillance.
As we have demonstrated with this list, there is no shortage of professional or prosumer-grade drones that can be used reliably for security. Just make sure that you have the authority to use these drones for this purpose. Watching over your own property is fine, but spying on your neighbors is generally frowned upon.