Best Tripods Under $200 in 2019
3D Insider is ad supported and earns money from clicks, commissions from sales, and other ways.
No matter how skilled a photographer you are, there are shots you just can't pull off without a tripod. Having one is crucial for situations where the camera has to remain perfectly still for a long time. Without a tripod landscapes would look dull & flat, nighttime images would be riddled with noise, and those long exposure shots of traffic lights merging into continuous streams are literally impossible.
Budget
BONFOTO B671C
4.4/5.0
Weight 2.5 lb.
Maximum height 55.1 in.
Extremely lightweight tripod. Responsive ball head.
Check Amazon
Best Value
MeFOTO Roadtrip
4.6/5.0
Weight 3.6 lb.
Maximum height 61.6 in.
Doubles as a monopod and comes in lots of colors.
Check Amazon
Top Pick
K&F Concept TC2534
4.7/5.0
Weight 3.3 lb.
Maximum height 66 in.
Exceptionally light and great maximum height.
Check Amazon
You could end up spending hundreds of dollars on a tripod, but there's a healthy selection of less expensive ones to pick from. You can expect to get a sturdy and affordable tripod that will do the job just as well. Here are our candidates for best tripod under $200 at a glance:
Best Tripods Under $200 Comparison Table
You'll discover why each is a solid choice by delving into their respective reviews and can have a quick look at the info section to get a better idea of what every good tripod should be bringing to help improve your craft.
1. K&F Concept TC2534
View on Amazon
Editor's Rating: 4.7/5
Apart from being rock-steady, an excellent tripod needs to have what it takes to work flawlessly under extreme conditions. That's why photographers who pay frequent visits to far-flung corners of the globe should give K&F Concept's TC2534 a chance. Its rugged yet light build, easy setup, and great height range make this the tripod to take with you out into the wild.
An Intrepid Explorer
It's with tripods like the TC2534 where carbon fiber's advantages over aluminum are evident. It weighs less than aluminum models featured in the guide, can extend to an impressive 66 inches, and hold a jaw-dropping 22 pounds of weight. This allows professional photographers to employ their heaviest and most treasured DSLR and lens combinations to the greatest effect. At a little under 20 inches, its fold-up length is outstanding too. Everything feels so well made! Did we mention that this was a sub-$200 carbon fiber tripod yet? You'd expect stats like this from better-known brands at much steeper prices.
Unfolding the TC2534 and setting it up is a pleasure. Its legs start off folded over the QR plate. Each has three rotating locks that fit into your hand and can be unscrewed in unison. Do that to all three legs, let them fall forward, and watch as they unfold into a rigid trio not even a blizzard will budge, especially if you reinforce the tripod with a weight attached to its spring-loaded hook.
The ball head it comes with is very versatile too. It lets you pan and tilt the camera in fine increments, switch from landscape to portrait modes, or remove the ball altogether and screw it under the support column for shots that are closer to the ground. A mount in the Arca-Swiss style complete with bump stops rounds out the experience.
Are There Drawbacks?
One of the TC2534's legs can be turned into a monopod. It may sound exciting but the results – at least in the case of this tripod – are shaky and underwhelming. MeFOTO and Bonfoto both score better with theirs, so consider either if you insist on a monopod option.


Tech Specs
Maximum height: 66in.
Height when folded: 19.7in.
Weight: 3.3lb.
Weight capacity: 22lb.
Leg sections: 4
Material: Carbon fiber
The Pros
Exceptionally light
Great maximum height
Quality construction
Can carry a lot of weight
2. MeFOTO Roadtrip Travel Tripod / Monopod
View on Amazon
Editor's Rating: 4.6/5
You might not have heard about MeFOTO before, but will surely remember the name if you try out one of their travel tripods! The Roadtrip is the middle of three of their best-selling models and offers a great balance of size, carrying capacity, and price. You get a good ballhead as well as a monopod / tripod combo for well under $200, which is an amazing deal! Plus, you can choose the color of its aluminum version and are finally able to match your tripod with your outfit.
Innovative and Dependable
When fully erect the Roadtrip stands at over 5 feet tall, yet it is only 15 inches long when not in use. MeFOTO was able to achieve such a compact form by allowing its legs to tilt up a full 180 degrees and close around the plate. We haven't seen many manufacturers take its approach before, but other than not being able to lock the legs together in this position, it works well. The 17.6-pound carry weight ought to be enough for any mirrorless camera & lens combo and most DSLRs too.
Setup of the Roadtrip is fast as all it takes to extend its legs and the base column is loosening their rubber stoppers. The legs can take up a standard angle and can be spread out at a much wide one, bringing the tripod closer to the ground while not losing out on stability. You can also convert the Roadtrip into a monopod! One of its legs can be screwed onto the base column to form a fully functional tripod whenever you need it for dynamic photoshoots.
Are there Downsides?
When in place, the Roadtrip's legs hold firm. While transporting it though you may have trouble with them since segments are prone to twisting off. You'll need to carry the tripod in its case or under your arm since nothing is keeping its legs from flopping outwards.


Tech Specs
Maximum height: 61.6in.
Height when folded: 15.4in.
Weight: 3.6 lb.
Weight capacity: 17.6lb.
Leg sections: 5
Material: Aluminum
The Pros
Easy to set up and fold
Takes up little space
Great value for the money
Doubles as a monopod
Comes in a lot of different colors
The Cons
Nothing holds legs in place while folded up
Legs prone to unscrewing
3. Pakpod Packable Tripod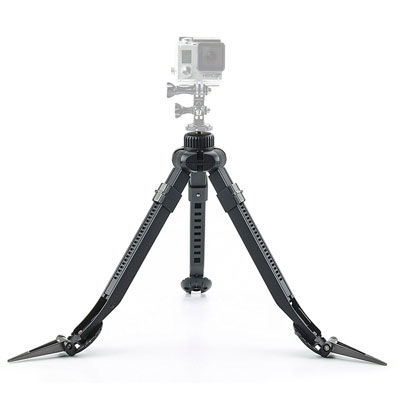 View on Amazon
Editor's Rating: 4.3/5
As every other tripod in the guide is great for meticulous and slower-paced photography, we thought it would be fun to include one that mixes things up and caters to the action camera crowd. The Pakpod is ideally suited for the adventurer who doesn't mind getting his hands or his GoPro dirty to make a standout photo or clip. It's an unusual tripod to be sure but performs its job successfully.
A Brand New Perspective
Keep in mind that the Packpod adapts to the shift in mentality action cameras have brought with them – not content to be left on the sidelines, it makes your camera part of the experience by being able to be set up almost anywhere. Its three legs can be incrementally extended to different lengths and end with interchangeable spikes. As these are sharp and can latch on to nooks ordinary tripods wouldn't dream of reaching, you can take shots from the treetops, in the middle of raging rivers, or with your camera suspended upside down from zip lines.
Constructed from durable ABS plastic and rust-resistant stainless steel, the Packpod can take both sand and surf in stride, provided your camera can too. Moving parts were kept to a minimum and the legs have a completely open side so if mud or sand do manage to get in, washing them out is easy. Carry weight and max height are naturally smaller than those of other tripods. The nature of cameras best used with it addresses the former, while the Packpod's versatile placement options more than make up for the latter.
What We Didn't Like
The one glaring flaw in the Packpod's construction is the lack of a ball head. Sure, its spiky feet let you adjust it to a wide degree, it's just that a ball head would have made it this less of a hassle and more intuitive.


Tech Specs
Maximum height: 17.8 in.
Height when folded: 12.8in.
Weight: 15.5 oz.
Weight capacity: 11lb. (5.5 lb. when feet are fully extended)
Leg sections: 2
Material: Stainless steel / ABS plastic
The Pros
Very durable and resistant to the elements
Feather-light
Can be set up in a lot of creative ways
Versatile spikes offer good stability
Low maintenance
The Cons
Lacks a ball head
4. Manfrotto MKBFRA4-BH BeFree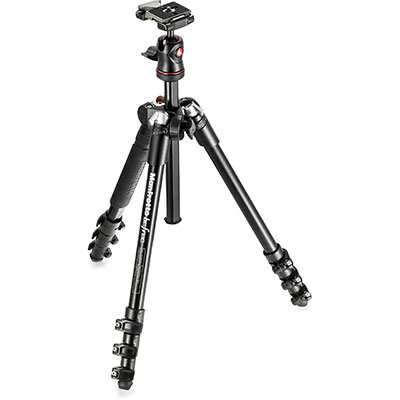 View on Amazon
Editor's Rating: 4.4/5
If your photography kit is already light, you wouldn't want a bulky tripod to cramp your style, would you? Manfrotto are respected for making some of the best photography accessories in the world and have a small, lightweight tripod that's perfect as a reliable stabilization tool for your camera on the go.
Compact Frame, Excellent Performance
The BeFree was designed to accompany you everywhere as it measures at just above 13 inches when folded up. To produce such a compact tripod, Manfrotto made the legs envelop its ball head, saving precious space in the process. The tripod arrives in a nice carrying case, and will even fit into carry-on luggage so you can keep it with you during flight.
Not every tripod comes with its own ballhead, and Manfrotto's is well-designed to boot. You can shift it between landscape and portrait modes with a button press, or make fine adjustments so you can pan the camera. If you ever need to replace it, the ball slides right out, as does the camera's quick release plate. There are dual locks on it which prevent your camera from releasing along with the plate.
Its legs have four sections and can be placed at two different angles to each other for quick perspective adjustment. Each leg has a rubberized foot for extra stability and one even has a grip for quick and secure transportation. Since room for the ballhead had to be made, the legs are a bit further apart than other tripods'. You'll have to get used to not being able to grab all of their releases at the same time, but with a little practice, the BeFree can be deployed quickly nevertheless.
What Needs Improving?
Even though it is a lightweight travel tripod, the BeFree could benefit from a higher carrying capacity. At just 8.8 pounds, you can forget about mounting your beefier DSLR-s or telephoto lenses. The BeFree is a little short as it is, and the fact that you should keep the bottom-most leg sections folded up for the most stable results will make for some serious stooping.


Tech Specs
Maximum height: 56.7in.
Height when folded: 13.4 in.
Weight: 3 lb.
Weight capacity: 8.8 lb.
Leg sections: 4
Material: Aluminum
The Pros
Takes up little space
Comes with a ball head
Adjustable feet angle
Good build
The Cons
Lackluster capacity
A bit short
5. Vanguard VEO 265AB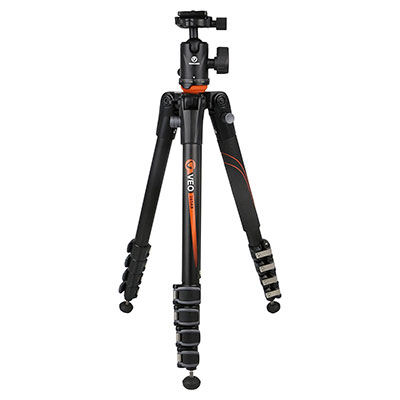 View on Amazon
Editor's Rating: 4.3/5
VEO is Vanguard's line of tripods designed to offer the traveling photographer a stable platform for any type of challenging shot. Whether you're documenting the life of an ant colony at practically ground level or setting up for a long time-lapse, the 265AB is a compelling choice due to its appealing features and more than reasonable price.
Finding the Right Angle
Most of the 265AB's stats are comparable to MeFOTO's Roadtrip – same carry weight and fold-up height, similar max height etc. Here it's the central column that does the gymnastics as it can be folded completely under the tripod's legs. ATBH-50 ball head adds extra value to the tripod, is easy to adjust, and has a bubble level to help you determine the camera's current angle.
The legs are where the 265AB comes into its own. Equipped with four flip locks each for instant release, they can be set to one of three angles. Combining the widest one with a shorter version of the central column that's also part of the deal brings your camera a mere 7 inches from ground level. The legs end with rubber feet that have retractable spikes, so stability on grassy or muddy areas isn't an issue.
What's Bad About It?
Photographers used to shooting in windy situations might find the 265AB prone to shaking and producing blurry images. Since there's no way of giving the tripod extra weight other than attaching a camera to it, use in mild weather is recommended.


Tech Specs
Maximum height: 59.1 in.
Height when folded: 15.4 in.
Weight: 3.7 lb.
Weight capacity: 17.6 lb.
Leg sections: 5
Material: Aluminum
The Pros
Compact
Comes with a decent ball head
Three leg angles
Feet have retractable spikes
5-year warranty
The Cons
Not suitable for use when windy
6. BONFOTO B671C Carbon Fiber Travel Tripod
View on Amazon
Editor's Rating: 4.4/5
Our last entry is the B671C from Bonfoto, a somewhat smaller tripod than others in the guide when extended, but which has the distinction of being made out of carbon fiber and coming in at an unbeatable price. If those extra few inches aren't as important to you as shaving off as much of your tripod's weight as possible, this is both an excellent and a thrifty choice.
Cheap, Yet Far from Cheaply-made
For close to 100 bucks, the B671C offers outstanding build quality! As it is carbon fiber, you can attach the tripod to one of your bags and not feel much of a difference in weight. Being slim doesn't prevent it from easily handling equipment weighing up to 17-ish pounds, offering enough support for anyone but professionals with high-grade DSLR-s and accompanying lenses. Speaking of weight, Bonfoto was wise to include a hook on the tripod's support column to give it more stability and offset its lightness.
The accompanying ball head features a bubble level and full 360-degree panning scale. A series of knobs keeps both a camera and a quick release plate in place. You can tilt the camera up or down and then lock the ball joint for even finer angle control. Like with the Roadtrip, a leg detaches from the tripod and forms a monopod with the base column. Height adjustment is done by twisting the legs' adjustment mechanism.
What Should Be Improved?
The tripod starts having issues if you put a camera on it that's close to the weight limit. The ball head starts to sag and its controls become less accurate, meaning that your camera might not be secured properly even though you've twisted the knob as far as it will go. The B671C's quick release plate is tightened by a flimsy screw which you're better off replacing right away.


Tech Specs
Maximum height: 55.1 in.
Height when folded: 15.4 in.
Weight: 2.5 lb.
Weight capacity: 17.6 lb.
Leg sections: 4
Material: Carbon fiber
The Pros
Extremely light
Great value for the very low price
Responsive ball head
Has a weight attachment hook
The Cons
Has trouble holding heavy equipment reliably
Low-quality QR plate screw
What to Look for in a Tripod?
Weight & Weight Limit
Deployment & Stability
Height and Its Variations
Ball Heads