6 Best Vlogging Cameras of 2020
3D Insider is ad supported and earns money from clicks, commissions from sales, and other ways.
Vlogging might have seemed like a quaint pastime a decade ago, but today it's a serious field where passionate individuals from all walks of life can tell their story and be seen by millions. Camera manufacturers have seized this exploding trend and are developing video-centric models with a vlogger's needs at the forefront.
A vlogging camera has to get many things right. The videos it shoots need to be sharp and true to life, but that's just one prerequisite and a basic one at that. Such cameras need to either be portable so you can take them anywhere and start shooting at a moment's notice. Alternatively, beefier models should have lots of intuitive controls for quick adjustments in a studio. They need to handle shifting lighting conditions well and last through countless takes and bloopers. Finally, good vlogging cameras need to make getting your videos out there as quick and painless as possible.
We already discussed the best vlogging camera choices last year. While the products featured in that article are still great, a lot has changed since then. Take a look at our fresh picks and get a cutting-edge vlogging camera, or revisit the other article and score some of our old favorites at even better prices.
Budget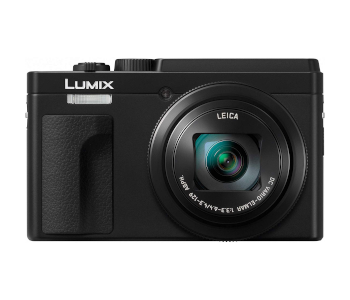 PANASONIC LUMIX ZS80
4.3/5.0
Type: Compact
Sensor: 1/2.3 inch
Compact camera with an excellent zoom lens.
Check Amazon
Best Value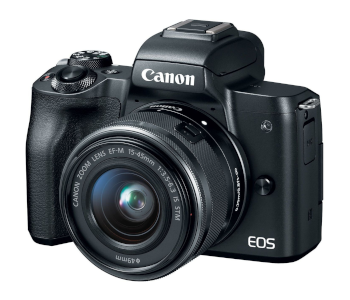 Canon EOS M50
4.5/5.0
Type: Mirrorless
Sensor: APS-C
Simplified controls and menus beginners will love.
Check Amazon
Top Pick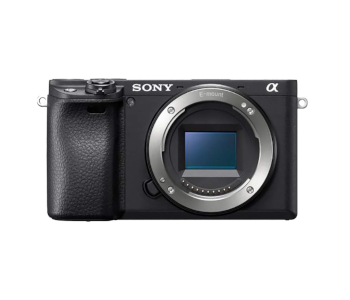 Sony Alpha a6400
4.8/5.0
Type: Mirrorless
Sensor: APS-C
Outstanding video quality & limitless recording time.
Check Amazon
Vlogging Cameras Comparison Table
1. Best Overall – Sony Alpha a6400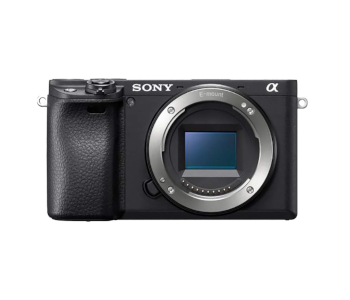 View on Amazon
Editor's Rating: 4.8/5
Vloggers are the target demographic for Sony's latest a6000 series camera. It shoots wonderfully detailed 4K video without time restrictions or overheating issues. Sharing and file transfer options are aplenty, and there's a 180-degree touchscreen to top it all off. Your wallet might not be happy about its purchase, but you and your audience definitely will.
Overview of Features
The a6400 is a small mirrorless camera made from magnesium alloy. It's not 100-percent weather-sealed but should survive a drizzle without issue. Its control scheme is the same as the a6300, meaning there are few buttons and dials. You'll do most tweaking through the camera's menu system which benefits from My Menu and My Dial features that allow the mapping of diverse settings for quicker access.
The Touchscreen isn't the most detailed, especially at this price point. It does rotate a full 180 degrees, though, letting you see how you present on camera and make adjustments in real-time. Its aspect ratio is 16:9 and shows how most of your viewers will experience a video. The screen is complemented by an EVF with 3.2 million dots and 0.7x magnification. The camera also houses a pop-up flash and has a hotshoe mount. These three features are representative of mirrorless cameras, but it's a rarity to find all of them on a single model.
If the a6400's two screens aren't enough, you can always turn your smartphone into an additional viewfinder with the Sonny PlayMemories app. You can connect the camera via Bluetooth and NFC or share videos right to social media if you've got good Wi-Fi.
The a6400 is straightforward when it comes to video production but gives the seasoned user lots of options to enhance the experience. There's a micro HDMI port for playback on external devices along with a 3.5mm jack for a dedicated microphone. You may also choose between several log profiles to either enhance a video's look right away or give yourself maximum leeway for contrast and color correction in post-production.
The battery is decent for a mirrorless camera as well. It gives you two hours of recording time and is rechargeable straight from the camera. 4K videos are taxing and usually have a 30-minute recording limit. The a6400 places no such restriction since it manages heat dissipation well.
What We Didn't Like
The a6400 lacks in-body image stabilization, meaning you'll have to use it with a tripod if you want to avoid jittery videos. The camera uses UHS-I memory cards, which have slower read and write speeds than the second generation.
Tech Specs
Dimensions: 4.7 x 2.6 x 2.4in.
Weight: 18.3 oz.
Type: Mirrorless
Sensor: APS-C
ISO range: 100 – 32,000
Max still resolution: 24.2 MP
Max video resolution: 4K, 30fps
The Pros
Outstanding video quality and limitless recording time
Sturdy build resistant to the elements
16:9 articulating screen
Has a headphone jack
The Cons
No image stabilization
Doesn't support UHS-II
2. Best Value – Canon EOS M50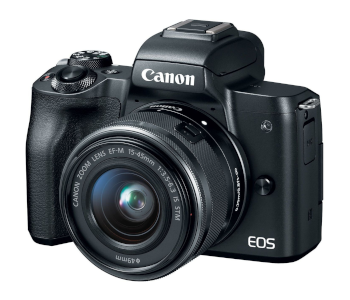 View on Amazon
Editor's Rating: 4.5/5
The EOS M50 is a beginner-friendly camera and the first to feature the Digic 8 processor, allowing it to shoot burst photos at 10fps as well as 4K video. It has an intuitive menu system that explains everything for first-time users. However, it's also a camera you won't outgrow once you're familiar with the basics.
Overview of Features
The M50 is much lighter than our overall winner. Its body is made out of durable polycarbonate that feels cheaper than it actually is. The grip and controls are well proportioned and won't overcome beginners. There's only one dial for mode adjustments, and the back of the camera has only a directional pad and a handful of buttons.
Canon did not skimp out on the viewfinder and LCD. The viewfinder shares its housing with a flash and has a beautiful 2.3-million dot display. Its high refresh rate and color fidelity make setting up scenes in bright light a breeze. The LCD is a vari-angle display that rests on two hinges. It flips out and rotates through a wide range of angles, letting you monitor yourself or capture a live performance by shooting over others' heads.
The M50 comes with the same AF technology we've seen on the 90D, so expect vlogs to stay in focus regardless of lighting. Face and eye tracking are part of the package and work well as long as you don't make quick sudden movements. Setting an autofocus point up on the screen is effortless, and you can do so while looking through the viewfinder.
Videos shot with the M50 are of good quality. Image stabilization helps with shaky hands, and the large APS-C sensor lets you push ISO into quadruple digits for noiseless footage in low light. 4K is limited to a cinematic 24fps while 1080p runs at a smooth 60.
What's Bad About It?
The M50 applies a crop factor of 1.6x to 4K footage. That means you'll have to use wider lenses than expected to get the desired result. The battery is rated at 85 minutes of video, forcing you to be more mindful of unusable takes. Having spares at the ready helps too.
Tech Specs
Dimensions: 4.6 x 3.5 x 2.3 in.
Weight: 17.1 oz.
Type: Mirrorless
Sensor: APS-C
ISO range: 100 – 25,600
Max still resolution: 24.2 MP
Max video resolution: 4K, 24fps
The Pros
Great all-around performance at a reasonable price
Simplified controls and menus beginners will love
Excellent EVF and touchscreen
Quality autofocus
The Cons
Heavily cropped 4K footage
Poor battery life
3. Canon 90D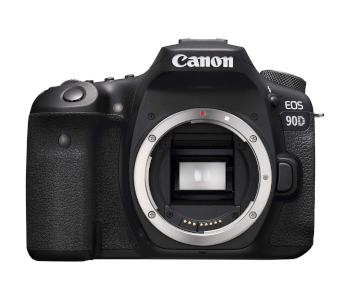 View on Amazon
Editor's Rating: 4.7/5
Mirrorless cameras are more prominent in the vlogging world than DSLRs. They're lighter and have quicker autofocus that allows them to keep up with moving subjects. Canon's newest entry in the x0D series is about to turn that stereotype around. Yes, it's bulky and therefore better suited for studio work. Still, the image quality, responsive autofocus, and overall flexibility it offers are why it's so high up on the list.
Overview of Features
There's no getting around the fact that the 90D is massive. Surprisingly, this ends up being in the camera's favor as its large surface and grip make it more comfortable to hold and operate than many smaller rivals. The best thing about its bulk is an abundance of physical controls. You've got dedicated buttons for AF, drive, and ISO selection as well as a black & white display on top that displays pertinent info at a glance.
The articulating screen flips sideways and to face the front. While this isn't as usual as flipping up, it does let you record vertical videos easier. The screen is easy to control and vibrant, reproducing what your vlog will look like even when the day is bright. It features Canon's Dual Pixel CMOS AF system adopted from the company's mirrorless cameras. The autofocus is speedy, accurate, and there are eleven types to choose from. You can focus on the faces and eyes of people or animals, but also designate areas of the screen or a single point.
The 90D is futureproof as far as video goes since it shoots in uncropped 4K at 30fps. Lack of cropping means that the entirety of the sensor's width is used, resulting in superior image clarity and accurate results true to the lens. No more cramped wide-angle shots! Video quality is excellent; the dynamic range is wide, so contrast is handled well. There are no white balance issues either. You can step the resolution down to 1080p and shoot in 4x slow-motion, or set the framerate to 24fps and give your vlogs a recognizable movie look.
Are There Drawbacks?
The 90D works best as a stationary camera paired with subjects that don't move much. It lacks optical image stabilization and is prone to distortion in video mode if panned too quickly. Here's only one memory card slot, so keep an eye on disk space when shooting 4K.
Tech Specs
Dimensions: 5.5 x 4.1 x 3 in.
Weight: 42.9 oz.
Type: DSLR
Sensor: APS-C
ISO range: 100 – 25,600
Max still resolution: 32.5 MP
Max video resolution: 4K, 30fps
The Pros
Superb video quality without cropping at 4K
Lots of physical controls
Responsive articulating touchscreen
Speedy autofocus performs well for pictures and videos alike
The Cons
Single SD card slot
Not suitable for shooting on the go
4. Sony Cyber-shot DSC-RX0 II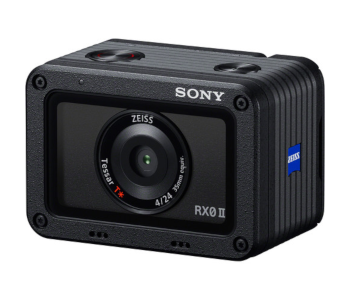 View on BH
Editor's Rating: 4.5/5
Action cams have become an essential tool for active vloggers. The first one we'll talk about is Sony's DSC-RX-I II, a model that shares many features with its larger cousins but fits in the palm of your hand. It's remarkably tough, delivers sharp videos and images in good light, and shares your escapades with the world.
Overview of Features
The RXO II is built to go wherever you do and can take serious punishment. Whether you're dropping it from eye level or shooting next to a coral reef, the camera keeps on going without complaint. Its body is made from tough metal and ribbed on the sides to help you maintain a firm grip with slippery fingers. The touchscreen and front protective cover aren't as durable, but you can replace the latter if you ever scratch it. There's a standard tripod screw on the bottom if you need extra stability.
In an impressive feat of engineering, Sony made the scream articulate. It can flip out 180 degrees like ones on a standard-sized vlogging camera and can be used to shoot over crowds too. It has a sunny weather option that counteracts glare, but you should avoid being directly in the sun's path all the same.
The RXO II's subject tracking is superb. On the one hand, you've got an autofocus system ripped from Sony's other cameras that even includes Eye AF. On the other, onboard image stabilization helps smooth out those whitewater rapids videos. It's not as advanced as the IS seen on the latest GoPro HERO models, but it gets the job done.
The best thing about the RXO II is its lens. Its fixed focal length is 24mm, perfect for a wide shot that gives context to your vlogs. More importantly, its viewing angle is 84 degrees. That means a standard video look is preserved. At the same time, the fish-eye view and telltale barrel distortion you see from other action cameras aren't apparent.
What We Didn't Like
The RXO II struggles to focus in low light and exhibits noticeable noise on ISO as low as 800. It also has a pathetic battery life of only 35 minutes, forcing you to carry around an extra battery or three.
Tech Specs
Dimensions: 2.3 x 1.6 x 1.4 in.
Weight: 4.1 oz.
Type: Action cam
Sensor: 1-inch
ISO range: 80 – 12,800
Max still resolution: 15.3 MP
Max video resolution: 4K, 30fps
The Pros
Video quality of a standard camera in a tiny package
Durable body that withstands all manner of extremes
No barrel distortion and fish-eye look
Flippable screen
The Cons
Very bad battery life
Poor low-light performance
5. GoPro HERO8 Black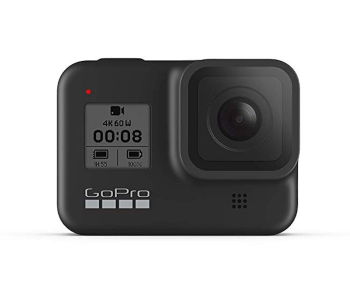 View on Amazon
Editor's Rating: 4.5/5
The eighth iteration of the GoPro HERO is a godsend for vloggers who are on the go. Doubly so if they want to seamlessly switch from reporter-style clips to being at the center of the action and capturing it as smoothly as possible. While its refinements over the HERO7 are incremental, the newest flagship GoPro offers enough of an incentive to upgrade, especially once mods finally become available.
Overview of Features
The HERO8 is a familiar sight to anyone who's used the last three generations of GoPro. Its minimalist design is characterized by a rectangular body with two physical buttons that power the device on and change shooting modes. Like the RXO II, it is waterproof down to 33 feet and resistant to both damage and temperature extremes. Mounting clips that are now built into the bottom are the most significant change in the GoPro's design. They extend out to accommodate an array of mounts and are held in place by magnets when not in use.
Vloggers will appreciate the GoPro's flexibility. Its new Capture Presets offer specific sets of recording settings for action shots, vlogs, slow motion, and more. You can toggle between them or create your own. GoPro even helps with editing as the camera can create compilation videos from footage you feed it. These include snazzy transitions, royalty-free music, and a decent selection of title styles. This is perfect for when you just want to get some content out there but can't be bothered to edit it.
A powerful processor lets the HERO8 Black shoot in 4K at60fps. Better yet, electronic image stabilization through HyperSmooth is supported even at the highest quality. Image stabilization is now available for time-lapses too, and slow-motion videos can be slowed down 8x at 1080p to capture split-second moments in high fidelity.
The HERO's microphone array is nothing special, and its screen can't tilt like that of Sony's model. However, GoPro will rectify these problems by introducing mod support. Three mods are already in the works. One provides an eternal microphone and two cold shoe mounts. The second is a portable flash, while the last one adds a front-facing screen for your vlogging needs. The mod s are yet to be released but promise an increase in the HERO8's already admirable versatility.
What's Bad About It?
The HERO8 Black is at its best when shooting outdoors on a bright day. Its autofocus slows down as soon as you're indoors, and the camera becomes unusable in low light. You can control the GoPro either via its touchscreen menus or by using your voice. The second method is spotty, as commands aren't always recognized even if you're speaking clearly in a quiet place.
Tech Specs
Dimensions: 2.4 x 1.3 x 1.8 in.
Weight: 4.1 oz.
Type: Action cam
Sensor: 1-Chip CMOS
ISO range: 10 – 6,400
Max still resolution: 12 MP
Max video resolution: 4K, 60fps
The Pros
Smooth 4K videos at 60fps
Capture presets let you quickly toggle between different video types
Edits videos into stories ready for publishing
Minimalistic and highly durable
The Cons
Poor low-light performance
Doesn't always respond to voice commands
6. Best Budget Option – PANASONIC LUMIX ZS80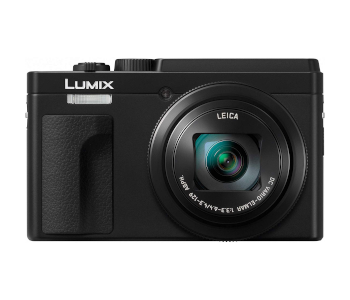 View on Amazon
Editor's Rating: 4.3/5
Panasonic's ZS80 is a budget-friendly compact camera ideally suited for beginner vloggers used to shooting videos with their smartphones. It's got an edge on the best of them in terms of picture quality and zoom range especially. However, it's still light, portable, and easy to control. You'll love to use it for traveling and bringing-far away sights closer to your viewers, but the ZS80 performs equally well indoors.
Overview of Features
The ZS80 isn't the smallest compact camera around, as evidenced by its dimensions and a weight of 11oz. Forget about putting it inside your pants pocket, but a purse or jacket will do nicely. Part of its size has to do with a pronounced grip textured with leather that prevents your hand from slipping. While Panasonic couldn't cram as many controls onto it as on a DSLR, the ZS70 has four customizable buttons. You can map a command onto the lens ring too.
The viewfinder and touchscreen are of excellent quality given the ZS80's price. You can tilt the LCD up for vlogs and assign focus points with one tap. The viewfinder takes over when it gets too sunny. It renders colors accurately and has a high resolution. Leaning in to use it also disables the LCD once you're close enough.
The 24-720mm equivalent lens shines when zoomed in on far-away landmarks. Videos captured at maximum zoom are sharp and detailed, just make sure there's enough light to account for the decrease in aperture size. Conversely, the 24mm setting is ideal for shots that establish your surroundings. You can also use the ZS80 for macro wok, making it a great budget choice for vloggers specializing in product reviews or tutorials.
Videos benefit from accurate subject-tracking autofocus and are hot in crisp 4K. The camera tends to blow brighter parts of a scene out when filming outdoors, but that's nothing you couldn't fix with some EV compensation and better positioning. Indoor scenes are managed better since the ZS80 automatically applies a dark exposure when working with bright subjects against dark backgrounds.
Are There Drawbacks?
The ZS80 has a confusing menu system novice vloggers might have trouble navigating due to lots of options and a deep menu hierarchy. You'll need to take care not to touch the LCD with your nose when looking through the viewfinder since its touch AF function isn't disabled.
Tech Specs
Dimensions: 4.4 x 2.7 x 1.6 in.
Weight: 11.5 oz.
Type: Compact
Sensor: 1/2.3 inch
ISO range: 80 – 3,200
Max still resolution: 20.3 MP
Max video resolution: 4K, 30fps
The Pros
Compact camera with an excellent zoom lens
Great for indoor and outdoor work
Can be used for macro shots
Comfortable build and customizable physical interface
The Cons
Adjusting to the menu system takes a while
Using the EVF doesn't disable the LCD's touch functionality