6 Best Vlogging Microphones of 2020
3D Insider is ad supported and earns money from clicks, commissions from sales, and other ways.
Vloggers often focus on the look and presentation of their videos while the sound takes a backseat. However, you can have unique and appealing content yet still not get the ratings you deserve. No one enjoys listening to garbled voices or the noise your computer fans make. Luckily, this annoying problem is easily fixed by purchasing a dedicated vlogging microphone.
Smartphones and even DSLRs with four-digit price tags have mediocre microphones at best. Investing a few dozen dollars into a standalone microphone pays dividends as it allows your audience to focus exclusively on your presentation, intonation, and message. People will find it easier to connect with your views and content if your voice sounds natural. Plus, getting used to a new microphone is easy since it doesn't require additional technical knowledge at this level.
Below are the six best vlogging microphones currently available. Vlogging is anything but a uniform creative field, which is why we've included models suitable for several situations. Whether you do weekly wine reviews from home or keep your audience enthralled by visiting exotic places, there's a vlogging microphone among our pics that's perfect for your needs.
Budget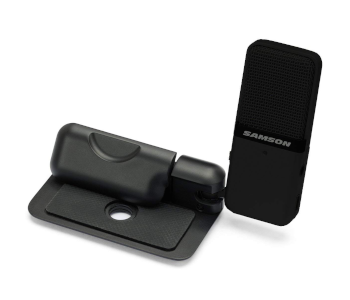 Samson Go Mic
4.3/5.0
Weight: 3.5 oz.
Type: Condenser mic
Two polar patterns, excellent price, and no DSP.
Check Amazon
Best Value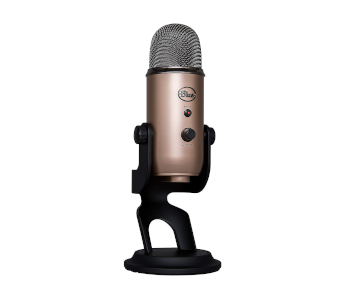 Blue Yeti
4.6/5.0
Weight: 3.2 lbs.
Type: Condenser mic
Has great sound quality for a USB mic.
Check Amazon
Top Pick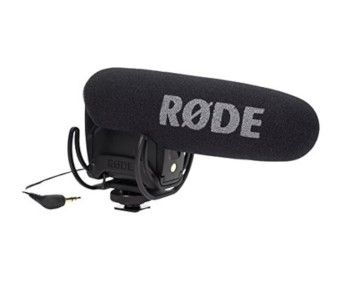 Rode VideoMic Pro
4.7/5.0
Weight: 3 oz.
Type: Shotgun mic
This is excellent at mitigating camera noise.
Check Amazon
Vlogging Microphones Comparison Table
1. Best Overall – Rode VideoMic Pro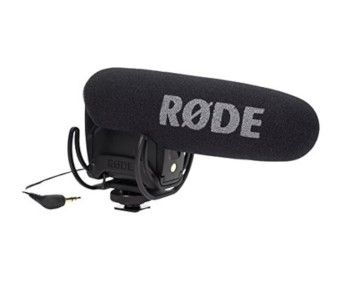 View on Amazon
Editor's Rating: 4.7/5
A shotgun mic is a must if you're a vlogger who spends most of her time documenting what's going on in the world around you. Rode is a renowned manufacturer of well-made yet accessible shotgun mics. The VideoMic Pro is among its best offerings, and its combination of specs and price is precisely what budding and long-time vloggers alike will appreciate. It isn't affected by camera noise, works long hours thanks to its own battery, and delivers fantastic recordings of your voice while ignoring distractions.
Overview of Features
The VideoMic Pro is a compact shotgun mic that easily fits onto DSLR and mirrorless cameras with dedicated 3.5mm audio jacks. It weighs only three ounces and doesn't extend so far out from the camera that it would end up in a shot. The mic attaches to your camera's hotshoe but uses its own 9-volt battery. A full charge lasts for 70 hours, and swapping a dead battery out can quickly be done on-site.
Camera noises and vibrations can break immersion, which is why the VideoMic Pro is outfitted with a unique shock mount. Dubbed the Rycote Lyre, it straps on to the VideoMic Pro with rubber straps and neutralizes vibration transfer. You can decrease camera noise further by minimizing its internal audio levels and boosting the microphone's gain by 20dB. Conversely, loud environments like sports games or concerts can still be recorded without compromising the quality if you lower the gain by 10dB.
As it's a shotgun mic, the VideoMic Pro has a supercardioid polar pattern. That means it records sounds in front of itself in a narrow beam. Positioning yourself the right way will result in your voice being recorded with crystal clarity without picking up noises from your surroundings. This opens up exciting possibilities like vlogging from busy squares or near waves & waterfalls while still being heard. Moreover, the VideoMic Pro has a low-pass filter. It ignores sounds with a frequency lower than 80Hz when active, leading to cleaner recordings and capturing voices more faithfully.
What We Didn't Like
The battery compartment door is fiddly and takes some effort to close. Also, the microphone is susceptible to RF radiation and might pick up faint hissing if near a source. You'll need to make sure that the environment you're recording in has as little RF radiation as possible to minimize this.
Tech Specs
Dimensions: 9 x 3 x 5 in.
Weight: 3 oz.
Type: Shotgun mic
Polar patterns: supercardioid
Frequency range: 40 – 20,000Hz
The Pros
Compact and lightweight
Excellent at mitigating camera noise
Records dialogue while ignoring everything else
Long-lasting battery
The Cons
Battery compartment door can be hard to close
Records hissing when near strong RF waves
2. Best Value – Blue Yeti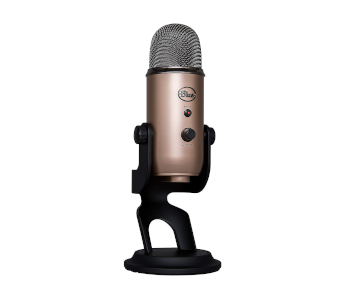 View on Amazon
Editor's Rating: 4.6/5
Condenser mics are ideal for vloggers who produce most of their content from a home or studio environment. The Blue Yeti is a fan favorite for many reasons, its straightforward plug & play approach to recording being first among them. The microphone looks stylish, has heft so it won't fall off the desk, and features a wide selection of polar patterns you can easily switch between depending on the situation.
Overview of Features
The first thing you'll notice about the Blue Yeti is its thoughtful packaging. Blue did an excellent job of presenting the microphone's core features on the box and making it easier for newbies to understand what they can expect. The mic itself is massive and comes with a small stand. At 3.2 pounds, it is heavy enough not to fall over if you accidentally jostle it. There are more than a dozen colors to choose from, which is a big plus if your brand identity makes use of a particular one.
The Yeti's base is well made but short. You can use the standard thread on its bottom to connect either a larger stand or a boom pole in seconds. There's also a 3.5mm headphone jack used to connect monitoring headphones for more precise adjustment during recording. The mic's physical interface is straightforward; there's a mute button and headphone volume control on one end along with dials for polar pattern selection and gain on the other.
Installing the Yeti is a matter of plugging its USB cable into a computer. No additional software is required, and audio recording programs recognize it instantly. The sound quality the Yeti puts out is phenomenal. You'll feel the difference right away if you've been using a run-of-the-mill microphone until now, especially once you start experimenting with its polar patterns.
There are four patterns at your disposal. Solo vloggers will get the most out of cardioid since it focuses on picking up sounds in front of the Yeti while ignoring distractions like fan noise. Omnidirectional picks up everything in a radius and is perfect for when you're hosting roundtable discussions. Stereo is excellent for live music performances while Two-way works best when talking with guests one on one.
What We Didn't Like
The yeti's USB port is prone to breaking, forcing you to be gentle with handling. You'll have to deal with Blue's customer service if you encounter this or other issues. They're notoriously bad at answering calls and resolving tickets, so prepare for long back and forth exchanges along with unhelpful responses.
Tech Specs
Dimensions: 4.9 x 4.7 x 11.6 in.
Weight: 3.2 lbs.
Type: Condenser mic
Polar patterns: Omnidirectional, two-way, cardioid, stereo
Frequency range: 15 – 20,000Hz
The Pros
Easy to set up and use
Weighty and attractive
Four polar patterns to choose from
Great sound quality for a USB mic
The Cons
USB port prone to breaking
Bad customer service
3. Sennheiser MKE 400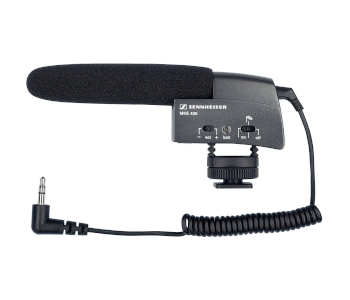 View on Amazon
Editor's Rating: 4.4/5
Anyone who's ever tried to record clean audio outdoors knows that a gust of wind can ruin an otherwise perfect take. If you're afraid the same might happen during your vlogs, Sennheiser's MKE 400 is the right choice. It has a dedicated setting that cancels out most wind noise and even comes with a deadcat for further reduction. The microphone is lightweight, lasts hundreds of hours on a single battery, and is easy to use straight away.
Overview of Features
The MKE 400 is a shotgun microphone with two polar patterns. We've already talked about the benefits of supercardioid, but this one also has lobar. The lobar pattern is similar but has an even greater emphasis on frontal coverage and picks up sounds in a 20-degree arc in front of the mic. Noises from the sides and back register slightly, but anything at a 45-degree angle to the MKE 400 is severely muffled.
While it doesn't use Rycote Lyre, the MKE 400 has an effective noise-canceling suspension. Its body is suspended on two rubbery feet which absorb motion and prevent it from registering as sound. Like the VideoMic Pro, the MKE 400 benefits from sensitivity adjustments. You can increase its gain by 8dB by flipping a switch while bringing camera audio levels down for even less movement. As for sound tolerance, the MKE 400 performs well when capturing audio that's quieter than 126dB.
This is another microphone with intuitive controls. There's the sensitivity setting and a three-way switch that turns it on or off and engages the wind filter. That last position is particularly useful in windy conditions since it cuts out rumbling bass and lets your voice come through more clearly.
The microphone draws power from an AAA battery and connects to cameras only through a 3.5mm cable. The cable is coiled and extends 20 inches when uncoiled. A single battery powers the MKE 400 for a whopping 300 hours and indicates when it's about to run dry with a light on the mic's housing.
Are There Drawbacks?
The shock mount is adequate for noise mitigation but is fragile. The rubbery feet are flimsy and will break if you mishandle them. The deadcat you get with the MKE 400 doesn't reduce wind impact much and will easily fall off during bad weather.
Tech Specs
Dimensions: 2.4 x 2.4 x 5.2 in.
Weight: 3.2 lbs.
Type: Shotgun mic
Polar patterns: supercardioid, lobar
Frequency range: 40 – 20,000Hz
The Pros
Great at canceling out wind noise
Lobar pattern provides even more ambient noise cancelation
Effective shock mount
Exceptional runtime per battery
The Cons
Shock mount is fragile
Deadcat falls off easily
4. Zoom H1n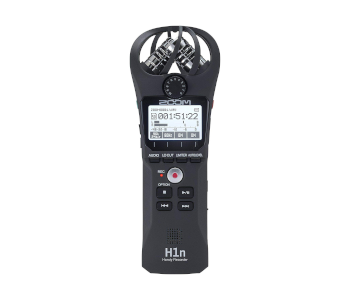 View on Amazon
Editor's Rating: 4.4/5
Versatile vloggers need a recording tool that can keep up. Neither shotgun nor condenser mics are ideal if you're recording from home one day and a busy mall the next. That's where Zoom's H1n comes in. It's a digital audio recorder that has an excellent array of stereo microphones. The device is easy to use thanks to an intuitive menu system and LCD. It is battery-powered, records high-quality MP3 or WAV files, and can connect to your other hardware through USB.
Overview of Features
The H1n is a small rectangular recorder that easily fits into your hand or pocket. It features a plastic basket-like set of arches that protect two microphone capsules from harm. There's also a 1.25-inch LCD screen with great contrast you can use even in direct sunlight. You'll find prominent buttons for recording and playback control under then screen along with specialty buttons we'll cover shortly.
The best thing about the recorder is its versatility. You can hold it in-hand or mount it to a tripod or boom pole. There's a headphone as well as an audio in jack. That means you can monitor audio as it's recorded or even connect another microphone type to the H1n if you need a different polar pattern. Best of all, USB lets you connect the H1n to your computer or laptop and use it as a reliable recorder in a controlled environment.
The H1n's audio quality is excellent since it records in 24-bit WAV. Even better are the numerous options that surround the recording. For example, Pre-record captures a few seconds of audio before you hit the REC button, while Autolevel ensures that the gain remains consistent even if you move farther from or closer to the mic. There's also an Audio Limiter function that prevents sound distortion when you're speaking too close to the device. Sound Mark is another handy feature that plays a beep, which makes it easier to synchronize the audio with your camera's video.
Are There Drawbacks?
The H1n is powered by two AAA batteries that last for ten hours. It can connect to a powerbank, but keeping spare batteries around is advisable. The device is limited to memory cards with 32GB or less. You'll have to keep track of its capacity and have more cards nearby as 32GB fills up quickly, especially on the highest quality settings.
Tech Specs
Dimensions: 5.4 x 1 x 6.4 in.
Weight: 2.4 oz.
Type: Digital voice recorder
Polar patterns: Stereo, cardioid
Frequency range: 20 – 20,000Hz
The Pros
Suitable for a wide variety of recording situations
Supports other microphones and can be plugged directly into computers
Intuitive and comprehensive controls
Numerous audio customization options
The Cons
Batteries need frequent replacement
Small memory capacity
5. Shure MVL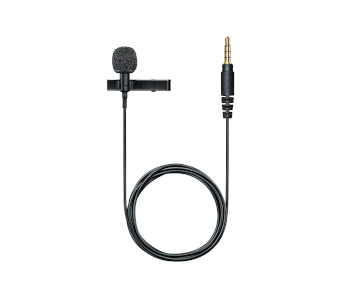 View on Amazon
Editor's Rating: 4.2/5
Today's smartphones are viable vlogging tools, but their audio quality leaves much to be desired. Lavalier or lav mics are the best choice for when you want to keep filming with a smartphone but drastically increase its audio quality. Shure's MVL is an unobtrusive yet powerful lav mic that snaps to your clothes and records your immediate surroundings with admirable quality. The microphone itself is great, but it's the app it comes with that really seals the deal.
Overview of Features
The MVL is a tiny yet well-made lav mic that's held firmly in place thanks to a clasp. You might find the clasp too large if you've used other lav mics before, but it's something one quickly gets used to with practice. The mic comes with a plastic cover that reduces wind noise. The quality of all of these is excellent, so expect the MVL to be unaffected by occasional rough handling.
A lavalier mic uses the omnidirectional polar pattern. Even though that means sound is recorded equally from all sides, closer sounds and voices are given priority. You won't be able to negate ambient noise completely, but your voice and the voices of people you're speaking to can be heard over other noises effortlessly while retaining their natural sound.
The MVL ends with a TRSS jack designed to work with smartphones. You'll get the best use out of it if you also install the Shure Motiv app. Its most useful features include an equalizer and gain adjuster that lets you regulate the loudness of different speakers. The app will also tell you how many more minutes of audio you can record based on the phone's remaining storage. Once you're done, you can trim excess parts and share files either to social media or with other devices.
What's Bad About It?
Unlike the MVL itself, its cable is poorly made. It tends to twist and snag, so you'll need to take care not to damage it with sudden movements. The MVL isn't suitable for crowded and otherwise noisy environments since its maximum volume is low.
Tech Specs
Dimensions: 1.6 x 3.3 x 5.2 in.
Weight: 2.1 oz.
Type: Lavalier mic
Polar patterns: Omnidirectional
Frequency range: 45 – 20,000 Hz
The Pros
Great for use with a smartphone
The mic itself is well made
Has excellent companion app
Captures voices naturally
The Cons
Short, flimsy cable
Low max volume
6. Best Budget Option – Samson Go Mic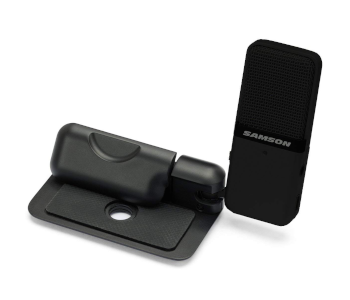 View on Amazon
Editor's Rating: 4.3/5
Samson's Go Mic is proof that a little investment into your vlogging gear can go a long way. It's a miniature condenser mic that audibly improves upon the quality of the device built into your laptop or smartphone. Its size and fantastic clip make the microphone a great choice for content creators who are always on the go. It's not the best model on review, but the Go Mic performs exceptionally well for its price.
Overview of Features
The Go Mic continues the trend of small, unobtrusive microphone vloggers depend on and love. It is silver and square-shaped and has a comparably large grille that helps minimizes noise. There's an LED under the grille that lets you know the mic is on and flashes red if you're talking so loudly that the recording will be distorted. You can prevent this by either talking more quietly or turning on padding, a feature that decreases the sensitivity by 10dB.
The best thing about the Go mic is its stand. It's made from a zinc alloy and padded underneath to counteract vibration. When in use, the microphone extends out from the stand and is connected to it with a hinge. Rotate the stand, and you can even clip it onto a laptop's screen. As the combo is small, there's a universal mount screw on the bottom. Finally, the stand acts as a protective case when you tuck the microphone into it. You also get a separate zippered traveling pouch for extra protection.
Setting the Go Mic up is as easy as plugging one end of the supplied cable into its mini USB slot and the other into your computer. The microphone has two polar patterns – cardioid for solo use and omnidirectional for when you want to capture sounds from the surroundings. Recordings are made at 44KHz in 16 bits. While a larger bitrate would have been preferable, the quality is decent for its price. Additionally, the microphone doesn't have Digital Signal Processing or DSP. Not having DSP means you're getting a raw, unprocessed sound you can alter with audio recording software later.
Are There Drawbacks?
Not having DSP comes at the cost of increased exposure to unwanted noises. Hissing and popping that result from normal speech are a particular problem that requires you to position the Go Mic at a specific angle and distance from the speaker. The microphone lacks gain adjustment. While you can increase gain in post-processing, there's no quick way of adjusting it on-the-fly.
Tech Specs
Dimensions: 2.8 x 1.7 x 0.9 in.
Weight: 3.5 oz.
Type: Condenser mic
Polar patterns: Omnidirectional, cardioid
Frequency range: 20 – 18,000Hz
The Pros
Clever stand that increases versatility considerably
Two polar patterns
Excellent price
No DSP
The Cons
No gain control
Picks up plosives