5 Best VR Headsets Under $50
3D Insider is ad supported and earns money from clicks, commissions from sales, and other ways.
For many years, virtual reality has been perceived as the future of entertainment. The technology may exist nowadays, but it is nowhere as popular as many have hoped that it should be. Watching movies and playing games in VR is undoubtedly an amazing experience, but the fact remains that sophisticated VR headsets are still a bit too expensive for casual adopters.
If you want to try out VR on a budget, then the good news is that you can always go back to basics and get a VR headset that costs less than $50. These cheap headsets are a lot better than the cardboard ones that were quite popular in the early ages of VR. Check out our list of budget VR headsets that are sure to give you your money's worth.
What to expect from VR headsets under $50
Whenever we recommend budget options for any technology, our primary piece of advice is for you to manage your expectations. Premium VR headsets from popular brands such as HTC and Oculus can cost at least $400. These cheap headsets can't possibly hold a candle to those much more expensive options. Before you buy a VR headset for $50, then these are the aspects of the experience that you should expect:
1. You will need to use your smartphone
A budget VR headset is basically a vehicle for your smartphone to act as both the console and the screen. Basically, the headsets contain a pair of lenses that allow your eyes to focus on the phone's screen despite its proximity. It will also have a mechanism for holding the phone in front of your face using a system of straps. That being said, the screen resolution and display quality will be determined by the type of smartphone you have.
2. You have less content
Tethered VR headsets like the Oculus Rift and the HTC Vive rely on the hardware capabilities of the gaming PC to which it is hooked up to. There are also standalone VR headsets like the Oculus Go and Oculus Quest that have built-in graphical processors. Creators of VR content specifically tailor their games and videos to what the VR systems can handle. Naturally, a more powerful VR headset (or gaming PC) has more types of different content available to it.
In the case of VR content for smartphones, content creators are much more limited by the hardware that typical smartphones have. Obviously, there's a huge variability in the level of graphics that different smartphones can handle. This can be challenging for VR content creators, as they often have to downgrade their content's requirements to appeal to a wider audience.
If you are going to use a smartphone to play VR content, then you shouldn't expect a vast volume of accessible VR experiences. You definitely will have nowhere near what the PC-based Oculus Rift store offers.
3. Tracking is rudimentary
Sophisticated VR headsets have integrated gyroscopes and accelerators for tracking the movement and position of the users, further enriching the VR experience. Budget VR headsets rely on the same technology, but those that are integrated into your smartphone. The concept is basically the same, but the high-end sensors on the headsets are much more precise and sensitive. It may not be an immersion-breaking experience if you're still new to VR, but it's far from the best that VR technology can offer.
What to look for in a budget VR headset
1. Compatibility with your phone
Since you'll be using your VR headset with your smartphone, the first thing you need to confirm is if your headset is compatible with your phone. Fortunately, most of these budget VR headsets come with adjustable phone containers that can fit typical phone sizes. You may also want to check if you need to remove the phone from its case before you can use it with the headset, as it would be nice to avoid the extra step.
2. Durability
Going cheap doesn't have to mean settling with something low-quality. Budget VR headsets available nowadays are no longer made from cardboard, but rather from strong plastic. Be wary of snap-on plastic enclosures as these tend to become brittle over time.
3. Comfort
You might want to spend a good amount of time with these VR headsets strapped on your face, so take the time to pick one that you can wear comfortably. There are a couple of aspects to determining if a VR headset is comfortable, including the quality and softness of the face cushion, how thick the adjustable straps are, and whether the position of the lenses can be adjusted. It'll be hard to determine this for sure without wearing the headset, so we recommend trying one out for a few minutes before buying it.
The top 5 best VR headsets under $50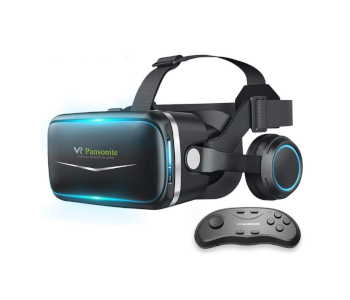 Pansonite has pretty much cornered the market on budget VR headsets. The 2019 version of their VR headset line has been hugely improved from their initial offerings with a set of features that is quite surprising for a product that costs less than $50.
The 2019 Pansonite VR headset is now more comfortable and ergonomic than ever. The addition of a central thong to the head strap means that the headsets partially sits on top of the head instead of completely pressed against your face. The nose area has been deepened and the face cushion has been lined with a breathable leatherette cover.
The Pansonite VR Headset is suitable for just about any user. The focal distance can be adjusted from 37.5 to 46.5 millimeters, and the pupil distance can be adjusted from 60 to 70 millimeters. The large space between your eyes and the lenses means that people with glasses can use them readily.
The phone slot of the Pansonite headset can accommodate phones measuring up to 6 inches diagonally, which covers almost all standard-sized smartphones in the market today. The integrated headphones are also a nice touch that helps create immersion.
Pansonite throws in a small handheld controller with this headset, which damages the product instead of benefits it. The controller feels very cheap and unresponsive to the point where you would rather not use it. The build of the headset itself also feels a bit too thin and flimsy.
PROS
Wide range of compatible phones
Adjustable focus and pupil distance
Ergonomic T-shaped strap
Integrated headphones
CONS
Flimsy build
Poorly designed controller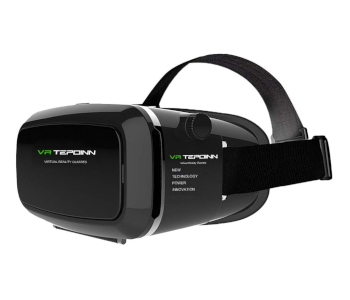 Even in a list full of budget options, we can still come up with a cheapest recommendation. The Tepoinn VR Headset costs just a hair above $10 and is perfect for an impulse purchase or as a gift to a young kid who's bound to break them eventually.
The Teiponn is just a step above cardboard VR glasses. The T-shaped strap, foam-lined face bad, and deep nose cutout are quite comfortable for prolonged use. The phone slot can fit any smartphone that measures 3.5 to 6 inches diagonal, so your smartphone is most probably good to go. The focal distance can be adjusted 5 millimeters either way, and the pupil distance can be set at any of three pre-set values (55, 65, and 75 millimeters).
The removable front cover that can be removed and reattached using a magnetic connector is also a nice, thoughtful touch. Those phones tend to get very hot after just a few minutes of playing any VR content.
It seems unfair to judge the Tepoinn on the features that it lacks because it's such an affordable product, but these bear mentioning. This VR headset does not have an interaction button, eliminating its compatibility with many Google Cardboard apps. It also does not come with integrated headphones but rather has a 3.5-mm jack to connect your own audio device.
The image quality you're going to get with the Tepoinn is far from the best. Aside from the fact that the face cushion does not fit snugly enough to prevent light leakage, the lenses also seem to transmit images that are not as sharp we would have wanted them to be.
PROS
Very cheap
Wide range of compatible phones
Removable front cover to cool the phone
Adjustable focal and pupil distance
CONS
No integrated headphones
Lenses do not create sharp images
Light leakage around the face cushion
No button for interaction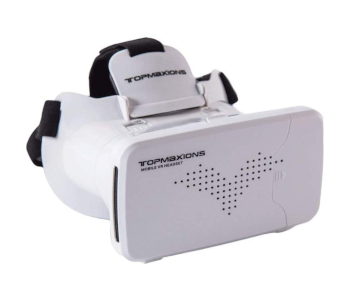 Our pick for the best value for money is this headset from OPTOSLON, a massively popular product that has received hundreds of good feedback. The price tag for the OPTOSLON headset sits almost midway to our $50 maximum, making this a very interesting option for this list.
The OPTOSLON headset doesn't offer anything exceptional. Instead, it does a satisfactory job in the areas that are most important in VR headsets: comfort, compatibility, and quality. To start off, this headset sets itself apart with a white, blocky design that feels like it belongs to a science fiction universe.
This headset is light enough for prolonged use and helped by an adjustable T-shaped strap and a soft foam cushion. In a nice touch, the phone slot for the OPTOSLON headset opens forward, making it so much easier to put your smartphone in.
Any phone measuring 4.7 to 6.2 inches will work well with the OPTOSLON headset and will be protected from scratches by a small pad of cushioning that separates it from the rest of the headset's body.
Like many other cheap VR headsets, the OPTOSLON headset does not come with an interaction button that can be used for Google Cardboard apps. The manufacturer also provides no information on whether this headset has an adjustable focus or pupil distance. Still, we like how this headset offers something a bit different from the sea of similar-looking cheap VR headsets that have flooded the market.
PROS
Unique and standout design
Front-opening phone slot
CONS
No interaction button
No info on adjustable focus or IPD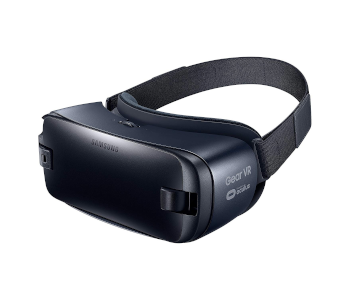 Samsung got on the VR headset game early on with the Gear VR, a headset specifically made for selected Samsung models. The headset was developed in partnership with Oculus, which partially explains why it was so impeccably designed in terms of 3D image quality.
Samsung maintains a dedicated marketplace of experiences, games, and videos for the Gear VR. Since the Gear VR is only compatible with a short list of Samsung phones, these VR experiences were designed with consideration of what the hardware of these phones can handle. Thus, these VR experiences perform beautifully – with minimal latency, crystal clear resolution, and seamless interaction.
The lack of a central thong on the straps of the Gear VR is slightly disappointing, especially since most other cheap VR headsets have them. The Gear VR is light enough that you won't feel too uncomfortable wearing it for short periods, but the added support would still have been nice.
Perhaps the biggest downfall of the Gear VR is that it is only compatible with a very small number of smartphone models. Not only do you need to have a Samsung phone to use the Gear VR, but you also need to have the RIGHT Samsung phone. With this decision, Samsung massively narrowed down the market of the Gear VR to a very small portion of the population, not all of which may be interested in VR.
PROS
Tons of dedicated content
Great build quality
Well-designed interaction panel
Adjustable focus and pupil distance
CONS
Can only be used with selected Samsung phones
Strap has no central thong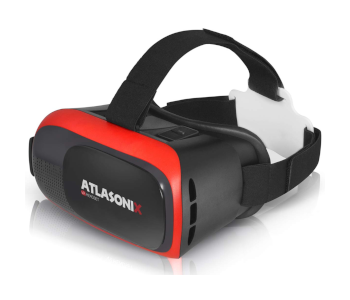 Rounding up this list is this VR headset from Atlasonix, similarly a very popular option because of its price tag and overall quality. Again, this isn't a VR headset that will blow you away but is certainly good enough that you won't regret the amount that you spent on it.
The phone slot of the Atlasonix can fit any smartphone that measures between 4 to 6.3 inches diagonally. This is large enough even for large phones like the Galaxy Note series. The T-shaped strap and soft and breathable face cushion are comfortable enough, although we wish that the nose cutout was deepened a bit as the weight of the headset tends to settle on the bridge of the nose.
The headset does offer adjustment panels for the focal distance and pupil distance, allowing any user to maximize the quality of VR experience that it can offer.
Again, the lack of an interaction panel in the Atlasonix headset means that it cannot be used with many Google Carboard VR experiences. Instead, the headset provides a QR code that points to several recommended VR apps. This is something we really appreciate as it does not leave the user to figure out which content the headset is compatible with.
The Atlasonix suffers from the same pitfalls as most other cheap VR headsets. The content is limited, the build feels cheap and low-quality in some places, and the comfort isn't top-notch. It's a good starter VR headset that will tide you over until you're ready to move on to a fancier (and more expensive) model.
PROS
Compatible with a wide selection of phones
Adjustable focus and pupil distance
Comes with exclusive content
CONS
Shallow nose cutout
No interaction button
Final thoughts
VR entertainment doesn't need to be expensive – all it takes is a pair of good lenses, a smartphone, and a way to reliably and comfortably hold up the smartphone close to your face. What we've described is basically what these VR headsets that cost less than $50 do. They're cheap, so they don't really do much but give you a preview of what VR technology can offer.
That being said, going cheap doesn't have to mean settling with a poor-quality product. The VR headsets we have highlighted above are just about the best that you can get within this price range. We're not working with a lot, so you'll do well to temper your expectations.1