The Top 5 Best Waterproof Drones
3D Insider is ad supported and earns money from clicks, commissions from sales, and other ways.
For most drones, water is considered a mortal enemy. Drone pilots tend to land their drones at the first sight of rain because drones have so much exposed circuitry and moving parts that can be easily damaged by even a little humidity. A crash on water is pretty much a death sentence for the usual drone.
Uncommon they may be, some drones are more equipped to handle the hazards of the water-borne kind. If you fancy flying your drone under the rain or over the ocean, then here are some of the best drones that could survive the trip.
What to look for in a waterproof drone
While there may not be a huge selection of waterproof drones, that's no excuse for you to grab the first one you find without thought. Since not all waterproof drones are the same, here are the factors you need to consider before you come to a decision.
Is it waterproof or splash-proof?
A distinction needs to be made between a truly waterproof drone and one that is merely splash-proof. A splash-proof drone can handle a bit of rain and the spray from the sea. Even if you're caught in a downpour in the middle of your drone operations, you can probably retrieve a splash-proof drone without it suffering any long-term damages.
A truly waterproof drone, on the other hand, can be literally submerged in water and come back to the surface unscathed. Due to the lightweight nature of drones, they are unlikely to sink. However, they might still take a quick dip should they crash in water. Naturally, a waterproof drone can also survive a massive downpour.
Can it land on water?
If you're planning to use a drone to capture photos of your surfing or boating, then you might now have a lot of solid surfaces to land it on should you need to take a break. This isn't a problem with the right waterproof drone, as some of them come with landing gear that allows them to float just a bit above the surface of the water. It's even possible for these drones to take-off from the water – very useful for when there's no solid ground around!
Is the remote controller also waterproof?
To capture the action during watersports, you will likely need to control your waterproof drone while being out on the water yourself. This emphasizes the need for a remote controller that is also waterproof – lest you end up with no means to control your fancy waterproof drone. Just in case, your remote controller slips from your hands, you will also want it to float in water and survive being totally submerged.
Can it take underwater photos?
Just like most drones, waterproof drones typically have their cameras installed at the bottom side. This presents a unique opportunity to capture underwater footage, even while using a drone. If this sounds like something you would be interested in, then a waterproof drone with a bottom-mounted camera with waterproof housing is absolutely something you should get.
There's one thing you need to remember: a high-quality drone built with waterproofing is probably going to be more expensive than a standard drone with comparable specs. This does not mean that you'll need to spend a fortune to buy a drone that can withstand crashing in water. As you shall see, there are waterproof mini-drones that cost less than $100.
Top 5 best waterproof drones available in 2020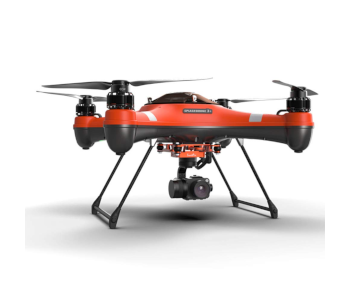 The market segment for waterproof drones is a very small part of the overall drone market. Within this small niche, the Swellpro is brand is considered one of the most popular. Their line of waterproof drones with different form factors have fared well over the years, eventually culminating in the 3rd generation of their flagship product – the Splash 3 Plus Drone.
This professional-grade drone comes with a 4K camera and a three-axis mechanical. It's also incredibly rugged. Most of its body is made with durable reinforced ABS which has been treated to reduce the effects of saltwater corrosion. The drone was designed specifically to operate in weather conditions that other drones cannot – at winds of up to 18 mph and gusts up to 31 mph.
The Splash 3 Plus can crash in water without suffering any permanent damage. Should it crash on its top side, the patented power-flip feature will put it at the right orientation instantly. From this position, the Splash 3 Plus can take-off again, even while floating on water.
The drone comes bundled with a remote controller that comes with all the usual control options. Should you need to concentrate on other activities, you can active cruise control which allows you to fly the drone using just a single joystick.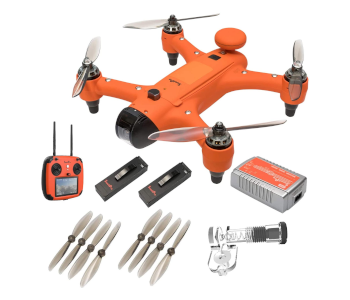 Another entry from Swellpro, the Spry Plus is the brand's answer to the wave of ultraportable drones that seem to have flooded the market in the past years. In many ways, the Spry Plus is just a much smaller version of the Splash drone. It does not have foldable arms – probably a compromise to keep the drone completely waterproof.
The onboard camera of the Spry Plus can capture 4K videos at 30 fps and 12 MP photos. Its mechanical gimbal is restricted to movement in the vertical direction but is augmented with an electronic image stabilization system.
Along with the Spry Plus drone comes Swellpro's first completely waterproof remote controller. Flying the Swellpro in heavy rain won't be a problem. This remote controller can survive getting dunked in rainwater and will even float.
If you want more action in your flight, then the Spry Plus offers the ACRO flight mode especially for you. In ACRO mode, all of the drone's stabilizing technologies are disabled – the GPS, gyroscopes, and barometers. This means that you need to take full control of the drone lest it drift away from position or loses altitude. It may sound intimidating, but this mode can be a lot of fun for the experienced drone pilot.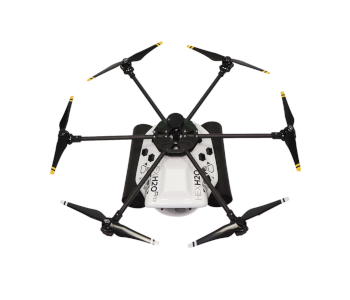 The HexH2O Pro might be one of the most expensive options for those who are looking for waterproof drones. This drone is undoubtedly professional-grade. From the six-motor propulsion system to the optional payload release and epoxy fiber composite material, everything about the HexH2O looks like it means serious business. A HexH2O Pro drone isn't ready-made. Instead, a QuadH2O technician builds every drone according to the requirements of the buyer.
Maximizing the potential of the HexH2O Pro will take a bit of DIY proficiency. Although QuadH2O will assemble the drone for you, you will need to find a few other third-party accessories – namely, the DJI X3 camera, the DJI Matrice 600 gimbal mounting bracket, and DJI Lightbridge for the remote controller.
Therein lies the problem with the HexH2O – for such an expensive drone, it might come as a shocker that you'll need to buy a few other premium drone accessories. The drone itself costs around $2000, but you can expect to spend at least $5000 for an entire working setup.
In terms of performance and weather protection, the HexH2O is top-notch. It's easily one of the best waterproof drones and should be a very reliable tool for professional drone work. If you need to fly in hell or high water, then you'll be glad to have the HexH2O in your arsenal.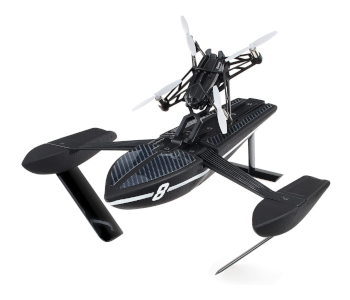 The Parrot Hydrofoil is a truly unique drone. It's basically two drones in one – a standard mini-drone with a VGA camera, and a hydrofoil drone that cruise across water. This is an incredibly fun drone that you can bring along on a lazy weekend down the lake or just to shoot a few photos in your backyard. While you aren't going to get any professional work done with this drone, it's also an incredibly cheap way to experience drone flight anew.
To turn the mini-drone into a hydrofoil, all you need to do is to clip it onto the hydrofoil assembly. The hydrofoil is much too heavy for the drone to lift, so we'll have to dash any hopes of taking off into the air after zipping around the water.
While the hydrofoil is built sturdy enough to cut through water and is sufficiently sealed to prevent water intake, the mini-drone itself does not have any waterproofing. Fortunately, the wide base of the hydrofoil should provide enough protection against the entire assembly flipping over.
The Parrot Hydrofoil is one of only a few drones that you can fly without FAA registration. If you're looking for a uniquely fun drone that's not too expensive, then the Parrot Hydrofoil should be worth a shot.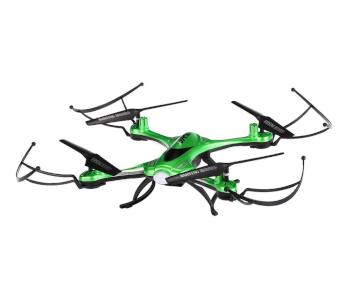 Although the Goolsky H31 drone is advertised as being waterproof, we'll come out and say that it's only splash-proof at best. This drone will survive spray from the sea and light rain but will die a quick death if it crashes into water. For a drone that costs less than $100, asking for true waterproofing may seem a tad unrealistic.
Aside from the slightly more robust water resistance, the Goolsky H31 has exactly the features you would expect out of any mini-drone. It has six-axis gyro, a host of beginner-friendly modes, and a handful of one-button tricks. It also has no camera, pretty much making it a toy.
The Goolsky H31 drone would make a great gift to someone who has not operated a drone before and who is also prone to crashing it. It's a little hardier than the usual starter drones and also has a Headless Mode to make it easier to establish the drone's attitude. The drone comes with a basic controller which should help a beginner drone pilot get familiar with drone control basics.
The Goolsky H31 is far from the gold standard when it comes to waterproof drones – it isn't even completely waterproof, despite the name. It does offer a little bit of water protection. That should be enough for a drone at this price range.
Final thoughts
It would be great if all drones were waterproof, as we no longer need to worry about water damage. Alas, that is far from the truth, so we have to settle with landing our drones immediately at the first sign of rain. This does not need to be the case if you get any of these waterproof drones.
The quality of waterproofing of the drones we have listed here span a wide range. From drones that can withstand crashing into water to those that are meant to resist mere splashes, there are several options for waterproof drones depending on your use case and budget. However, it's very comforting that brands are working on creating and improving on the technology of waterproof drones. Perhaps they can be more common in the future and we no longer need to be on our toes every time our drones fly over water.