6 Best Biometric Door Locks of 2019
3D Insider is ad supported and earns money from clicks, commissions from sales, and other ways.
As technology advances, so does the craftiness of would-be burglars. Traditional keys are barely hindrance to them anymore, and protecting your home's front door with a strong password isn't guaranteed to work either. However, there is an addition that dramatically improves any lock's security – a biometric sensor.
Biometric locks are founded on the principle that each person has a unique set of features that are impossible to recreate. Identification through fingerprints is the most widespread and accessible, but voice prints and retina scans are used too. Using a fingerprint scanner to access your home is secure, quick, and means you don't need to call a locksmith if your keys are misplaced.
These are the six best biometric locks you can buy today. Some of them can be unlocked in multiple ways, while others come with useful apps or integrate into your smart home. See what makes each of them special and upgrade your security to the next level.
Budget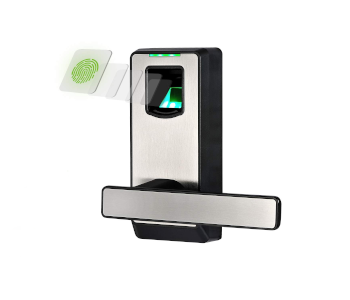 ZKTeco BL10
3.8/5.0
Stored fingerprints: 100
Has app: Yes
Cool-looking, minimalistic aesthetic.
Check Amazon
Best Value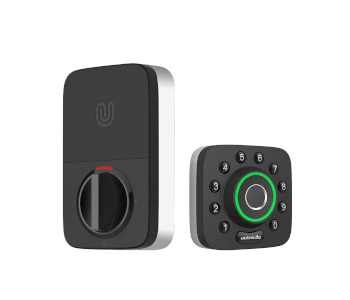 ULTRALOQ U-Bolt Pro
4.5/5.0
Stored fingerprints: 120
Has app: Yes
Easy to install and has a hidden keyhole.
Check Amazon
Top Pick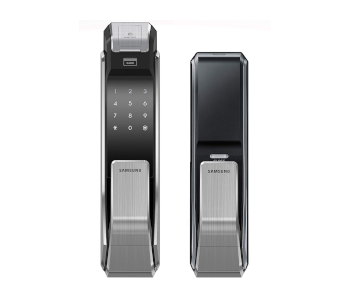 Samsung SHS-P718-LMK
4.7/5.0
Stored fingerprints: 100
Has app: No
This quickly and accurately reads prints.
Check Amazon
Biometric Door Locks Comparison Table
1. Best Overall – Samsung SHS-P718-LMK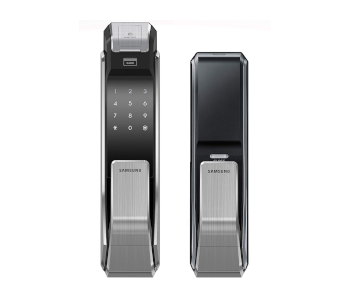 View on Amazon
Editor's Rating: 4.7/5
A biometric lock is supposed to restrict entry to those you trust, but Samsung's SHS-P718-LMK demonstrates how the best can do so much more. It comes alive as you approach, can warn you if someone is tampering with it, and potentially save your life with its built-in fire alarm. Outfitting your home or office with more than one will be an expensive undertaking. However, the peace of mind this lock brings makes it worth every penny.
Overview of Features
The SHS-P718-LMK is a study in minimalism. It's thin and sleek and doesn't have a handle. Instead, you access it through your preferred method and then push or pull the door depending on which side you're on. That's both easy to do if your hands are full and more hygienic since you won't be touching a handle that can teem with bacteria. This is a mortise lock, meaning you'll have to make adjustments to your door or call a professional to install it. On the other hand, the latch mechanic inside of it is more robust than a traditional cylinder lock.
You can store a maximum of 100 fingerprints and 31 numeric codes or use a key. The SHS-P718-LMK has a proximity sensor and lights up as you approach. It scans your finger quickly, and sweat or grime have little effect on its accuracy. If you're more of a PIN person, the lock has a random code feature that lets you type two random numbers before entering the actual combination.
Samsung outfitted the SHS-P718-LMK with an impressive array of anti-theft deterrents. For example, the proximity sensor can startle thieves and will activate the alarm if they loiter near the lock for a few minutes. Bumping or picking the SHS-P718-LMK is next to impossible. The alert also activates if someone tries to enter forcefully or puts in a wrong key combination five times in a row.
You might be forgetful, but the SHS-P718-LMK isn't. It will lock the door automatically after three seconds if you haven't and cam warm you if the door is ajar while it's still locked. Eight AA batteries power the SHS-P718-LMK for a year, assuming you use it ten times daily. There's a warning when power is low, and you can gain entry by hooking up a 9-volt battery to access it if the power runs out entirely.
What We Didn't Like
The SHS-P718-LMK suffers from one major annoyance – you can't delete fingerprints individually. You should therefore give guests and service people PINs so that you don't have to re-enter your own prints once their access is no longer relevant. Samsung doesn't provide official technical support for this lock. You'll need to troubleshoot any issues with a local locksmith if and when they arise.
Tech Specs
Dimensions: 17.7 x 4.7 x 12.6 in.
Stored fingerprints: 100
Other means of entry: physical keys, numeric passcodes
Has app: No
The Pros
Doesn't have handle
Quickly and accurately reads prints
Versatile set of alarms
Proximity and temperature sensors
The Cons
Fingerprints can't be deleted individually
No technical support from the manufacturer
2. Best Value – ULTRALOQ U-Bolt Pro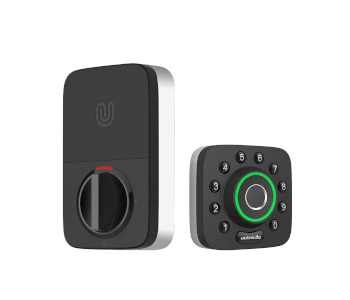 View on Amazon
Editor's Rating: 4.5/5
Ultraloq is a biometric door lock manufacturer dedicated to security and innovation. We were impressed with two of their models, starting with the U-Bolt Pro. As its name suggests, this is a deadbolt lock. It can be opened in six different ways, has clever burglar deterrents, and is backed by a superb app that lets you use the lock from anywhere.
Overview of Features
The U-Bolt Pro looks nothing like traditional deadbolts. It has a large rectangular outer case that houses numbers spread out in an arch with a fingerprint reader in its center. The lock is powered by four AA batteries but has a MicroUSB slot at the bottom for emergency access. Installing it is straightforward and doesn't require alterations to your door. You set the latch mechanism inside your existing deadbolt housing and then screw in the front and back parts with a pair of screws each.
U-Bolt's design makes the lock hard to pick. You can use a traditional key if all else fails, but the keyhole is hidden behind the bolt's face, so burglars won't even consider looking for it. Passkey users can take advantage of an infinite string of digits to confuse onlookers. You'll unlock the deadbolt if you enter a correct combination no matter how many keys you press before or after.
Fingerprint use needs to be set up in the Ultraloq app. You may create profiles for 60 users, each with one or two fingerprints. Flexibility is the best thing about the U-Bolt Pro's fingerprint reader as it works regardless of the angle at which you place your finger. It's easy to add or remove individual fingerprints as well.
Having an app increases the U-Bolt Pro's usefulness exponentially. On the one hand, it makes the management of passkeys and fingerprints much easier. On the other, it gives you access to a detailed activity log. The log keeps an entry record that shows when the lock was accessed, by whom, and by which method. Your phone's Bluetooth ordinarily restricts the app, but you can buy a Wi-Fi adapter that removes all range limitations.
What's Bad About It?
The fingerprint reader has trouble recognizing prints if your hands are wet or dirty. It will work eventually, but you'll need to press it a couple of times. The app sometimes has connection issues and gets stuck on the loading screen. Luckily, the delay doesn't happen every time you try to connect.
Tech Specs
Dimensions: 10.5 x 5.5 x 4.9 in.
Stored fingerprints: 120
Other means of entry: physical keys, electronic passkeys, numeric passcodes, app, phone shake
Has app: Yes
Connection type: Bluetooth, Wi-Fi
The Pros
Easy to install
Hidden keyhole
Great companion app
Can be unlocked from anywhere in the world through Wi-Fi
The Cons
Fingerprints work best with clean hands
Intermittent connection issues
3. Lockly Secure Plus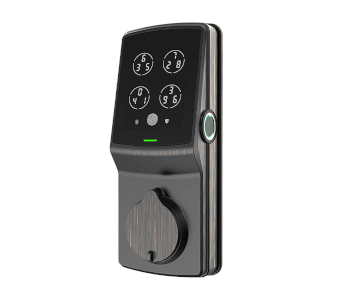 View on Amazon
Editor's Rating: 4.4/5
Lockley's Secure Plus is a capable biometric lock – but it's also the best one for people who don't want to give fingerprint access to just anyone. The lock features an ingenious PIN-asking system that makes it impossible for anyone to guess the right code. Moreover, it has one of the most responsive fingerprint readers on the market and is supported by an intuitive app.
Overview of Features
There's nothing remarkable about the Secure Plus's design at first glance. It's a nice-looking lock whose escutcheon has a large screen that points upwards at an angle. You can get it in three color variants, various trim styles, and either cylindrical or deadbolt versions. The lock is battery-powered but can be jump-started with a 9-volt battery if you forget to replace the AAs.
An ingenious code entry system known as the Pin Genie is the lock's best feature. Rather than presenting you with a traditional numeric keypad, it divides the touchscreen into four groups of three numbers. Some numbers are repeated to maintain the ruse. The numbers shift positions randomly each time you enter one. That makes it impossible for someone to recreate your combination even if they're standing next to you as you enter it.
The fingerprint reader is located on the lock's side. It responds to a maximum of 99 prints and is as quick & accurate as our overall winner. You add more prints through the app in a process similar to Ultraloq's. Keep in mind that your phone's scanner won't work for that purpose – users need to be present in person and register by pressing down on the scanner.
The app has a sparse design and gets you where you need to go quickly. Its home screen is dominated by a lock/unlock button that significantly simplifies the action. There's a History tab where you can examine entry events on a timeline. Autolock is a useful setting that automatically locks the door anywhere from 5 seconds to as many minutes after you've closed it. Finally, you use the app to send out passkeys to others via email or text message.
Like the U-Bolt Pro, The Secure Plus has a Bluetooth and a Wi-Fi version. The latter costs more but lets you access the lock from anywhere. Additionally, it includes a door sensor that sends out an alarm if the door is left ajar. Getting the Wi-Fi version also makes the lock work with Amazon Alexa and lets you integrate it into your smart home.
Are There Drawbacks?
The Secure Plus is hard to install. It comes with parts that are balanced weirdly, and some require you to line them up precisely without support. Registering new passcodes is needlessly complicated. They're ten digits long, and parts of the codes need to be entered twice in a row the first time.
Tech Specs
Dimensions: 3.1 x 1.9 x 7.4 in.
Stored fingerprints: 99
Other means of entry: physical keys, electronic passkeys, numeric passcodes
Has app: Yes
Connection type: Bluetooth, Wi-Fi
The Pros
Responsive fingerprint scanner
Ingenious PIN protection system
Comes in lots of styles and mounting options
App is comprehensive and simple to use
The Cons
Hard to install
registering new passcodes is complicated
4. Ultraloq UL3 BT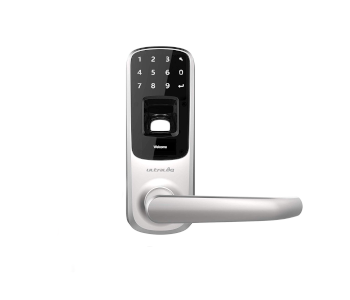 View on Amazon
Editor's Rating: 4.2/5
Do you like the technology behind the U-Bolt Pro but want a more conventional handle lock instead? Ultraloq has got you covered with the UL3 BT. This lock shares many security features with our value pick, including an excellent fingerprint reader, pin protection system, and versatile app. However, the UL3 BT has a few tricks up its sleeve that make it a great buy in its own right.
Overview of Features
The UL3 BT has the most traditional design of all the locks reviewed so far. There's a big and easily readable keypad, a thin escutcheon, and a handle that fits well in your hand. The lock has an IP rating of 65, meaning it's dustproof and water-resistant. You can install the lock on your front door and not worry about the effects being exposed to the elements will have on it. This model is as easy to install as the U-Bolt Pro and comes with extensive instructions if you get stuck.
The lock stores 95 fingerprints that can be used permanently or assigned temporarily. The app lets you set an expiration date for them as well as usage hours for each day of the week. That's particularly useful if you're renting your property to tourists or frequently have guests. You can set new fingerprints and codes up either through the keypad or app.
Alternately, there's an option to disable the pad and fingerprint reader and use one of the three provided physical keys instead. The keyhole isn't as well hidden as the U-Bolt's. Still, it's hard to guess the UL3 BT has one since it's located on the escutcheon's underside.
We've already talked about the app when reviewing Ultraloq's deadbolt, and its functionality remains the same for this model. There's an access history, intuitive user management, and automatic locking. Don't want to fiddle with your phone to unlock the door? Enable the Magic Shake feature and shake the phone a set number of times to open it instead.
What We Didn't Like
The UL3 BT is not a good option if you live in a cold climate. The fingerprint reader stops working when temperatures approach freezing, and the keypad becomes sluggish too. Some units have a factory error and keep insisting that the battery is low even when you install fresh ones. Sending it back to Ultraloq will get you a replacement, but waiting for it is a hassle.
Tech Specs
Dimensions: 7 x 6.3 x 3.5 in.
Stored fingerprints: 95
Other means of entry: physical keys, electronic passkeys, numeric passcodes, app, phone shake
Has app: Yes
Connection type: Bluetooth
The Pros
Resists dust and moisture
Electronic entry can be disabled
Same app as U-Bolt Pro
Opens by shaking your phone
The Cons
May have a factory error that requires a return
Not suitable as outdoor lock in cold climates
5. ARDWOLF A10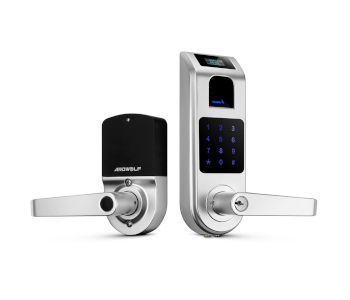 View on Amazon
Editor's Rating: 4/5
The locks we've reviewed so far support a varying number of prints, but what if you need a reliable lock for an office building with hundreds of workers? That's when you get the Ardwolf A10, an inexpensive yet robust lock that keeps track of 256 fingerprints and 300 users. Its build quality is excellent, and the lock brings advanced security features while being straightforward to use by anyone with a modicum of technical literacy.
Overview of Features
The A10's look inspires confidence – it has a massive front escutcheon with a large number pad under the reader. It's made from heavy-duty stainless steel and hard to damage. Even though the A10 is meant for indoor use, it can withstand temperatures from -22 to 151 degrees Fahrenheit. The lock will run on four AAs for a year and warn you ahead of time when it's due for a replacement. Putting in new batteries doesn't erase saved prints and PINs.
This is the perfect office lock since it tracks 256 prints and 300 key combinations. Keys range from four to twelve digits in length. There's an audit trail that displays a timeline and means of entry. The audit feature is invaluable to help track daily comings and goings or narrow down the list of suspects if there's an incident.
There are three modes of entry, and you can combine two for even greater security. For example, you may want to set the lock up to require a code and a fingerprint to open, or prints from two different people. Autolock is turned on by default and locks the door a few seconds after use. You may also enable pass-through mode, which temporarily gives unrestricted access.
What's Bad About It?
The a10 is another lock whose installation you should leave to the professionals. It comes with a set of instructions, but these are written poorly and hard to follow. You should not use this lock in humid environments. It isn't waterproof, so water can condense under the fingerprint sensor and ruin it.
Tech Specs
Dimensions: 10.9 x 8.1 x 3.7 in.
Stored fingerprints: 256
Other means of entry: physical keys, numeric passcodes
Has app: No
The Pros
Remembers large number of keys and prints
Sturdy build
Dual security feature
Entries can be tracked
The Cons
Not suitable for outdoor use or humid environments
Complicated installation and poor instruction manual
6. Best Budget Option – ZKTeco BL10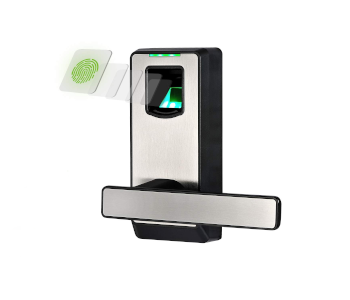 View on Amazon
Editor's Rating: 3.8/5
Our least expensive recommendation is a lock that looks and works as good on your bedroom door as it does in an office building. ZKTeco's BL10 is an elegantly-designed lock with an accurate fingerprint reader and fun companion app. It works well as long as you keep it away from the elements, and its attractive price makes outfitting every inside door in your home with one a sound investment.
Overview of Features
ZKTeco was definitely going for simplicity when designing the BL10. Its box shape and brushed metal finish are minimalistic and fit the modern home or office aesthetic well. Surprisingly, there's no keypad. The fingerprint reader is the lock's most prominent feature, coming to life with a green light as you place a finger on it.
There are only three entry methods due to the lack of a keypad. Using your finger is the most straightforward, and pressing the large unlock button once you install the app works too. Traditional keys are the last resort but don't pose a security risk since the keyhole is hidden. You have to remove the handle to access it, otherwise no one will suspect it's there.
The ZKBioBL app is nothing special, but it's laid out logically, and all of its features are in easy reach. Timetables and a detailed user log are implemented well. Timetables allow you to set schedules for any of the 100 registered users. They work daily and for as many time slots in one-hour increments as you need. History lists each access event and can be sorted by user and time to find an instance you're interested in more quickly.
Are There Drawbacks?
The fingerprint reader is slow to respond. It takes a couple of seconds from the moment you activate it to the door being opened, which might prove dangerous if you're ever in an emergency. Connecting to the app is equally, if not more frustrating. It searches for the lock each time you turn it on, so opening a door isn't any quicker this way, either.
Tech Specs
Dimensions: 5.9 x 7.9 x 5.5 in.
Stored fingerprints: 100
Other means of entry: physical keys, app
Has app: Yes
Connection type: Bluetooth
The Pros
Cool-looking, minimalistic aesthetic
Hidden keyhole
App has comprehensive access history
The Cons
Suffers from connection issues
Slow to open door after recognizing prints