Black Friday 2019 Luggage and Suitcase Deals
3D Insider is ad supported and earns money from clicks and other ways.
If you are someone who loves to travel or foresee moving away from home either for college or work, then you need some strong and well-designed luggage pieces. These bags can also be used as storage containers in case you need to keep stuff in it for a few months or years.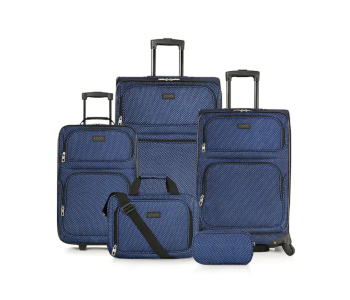 Luggage pieces generally can be classified into two types, hard-sided and soft-sided. Hard-sided luggage pieces have a tough exterior on the outer side. These luggage pieces may either have a zip or locks which can be latched. Hard exteriors are great for added security and for storing fragile things in the bag. However, you cannot overstuff hard-sided luggage pieces very easily since the outer side isn't very flexible.
Soft-sided luggage pieces are generally made with strong polyester material. Even though the word "soft" might suggest weak, the soft-sided luggage pieces are pretty strong. One cannot rip it using a knife. The advantage of using soft-sided luggage is that it is lighter and more flexible. You can stuff just a little more luggage in a soft-sided piece. This type of luggage piece has a zip to close and securely pack your things.
Many people use soft-sided luggage pieces these days because airlines are very particular about weight limits. However, luggage pieces are not cheap. They can easily cost you a few hundred dollars. Hence, if you get a significant discount on luggage pieces, then you end up saving a lot of money.
This Black Friday, both Walmart and Kohls have some enticing offers on luggage pieces. They are putting on sale some brand-name products of Samsonite, American Tourister, Prodigy, Chaps, iFLY, and Protege. Below is a list of deals for hard-sided and soft-sided luggage pieces.
Hard-Sided Luggage Pieces
iFLY Hard-Sided Fibertech 20-inch White – $39 (was $80)
Samsonite Ziplite 4.0 Hardside Spinner – $99 (was $259)
American Tourister Burst Max – $41 (was $159 to $239)
Skyway Oasis 3.0 Hardsided Spinner – $41 (was $159 to $239)
Samsonite Lite Lift DLX Hardside – $85 (was $359)
Prodigy Resort 20-inch – $25 (was $119)
Soft-Sided Luggage Pieces
Protege 5 Piece Spinner Luggage Set – $54 (was $116)
includes 28-inch upright, 20-inch upright, 24-inch rolling duffel bag, 15-inch boarding tote, utility bag
Prodigy Forest 5-piece set – $58 (was $249)
includes 28-inch upright, 21-inch carry on, wheeled duffel, tote bag, travel kit
Samsonite Hyperspin 3.0 – $83 (was $199 to $359)
Chaps Alvaston 5-piece set – $82 (was $399)
includes large spinner upright, small spinner upright, wheeled carry-on, overnight travel bag, utility kit