Black Friday Hoverboards
3D Insider is ad supported and earns money from clicks and other ways.
Hoverboards are the coolest gadgets of 2017. They are self-balancing scooters that have become the ultimate way ride around. They are at the top of the list for best Christmas present. A ton of hoverboards have been released for Black Friday. We look at the best Black Friday hoverboards below. These deals are only available for a few days. If you want to get one for Christmas you should get it now.
The best deal for a hoverboard is the GOTRAX Hoverfly which is on Amazon for $179. It has a retail price of $230, so you can save up to $50 this Black Friday. This is one of the cheapest hoverboards on our list and it can travel up to 12 miles at speeds approaching 7.4 mph. Amazon has a lot of other hoverboards on sale for Black Friday too.
Walmart has the cheapest hoverboard for Black Friday. At just $148, the Hover-1 Freedom is the best deal that we have found. It retails for $298, which means that you can save 50%. Quantities are sure to be limited and there's no saying how many Walmart will have. This hoverboard has a max speed of only 6.2 MPH and can travel up to 5 miles on a single charge. For an upgrade, consider the Hover-1, also from Walmart that costs $198 ($100 off). It can go quite a bit faster at 10 MPH for about 12 miles.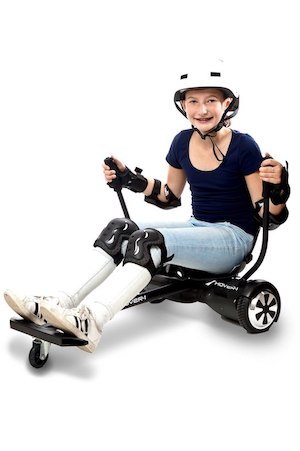 Toys R Us has the Hover-1 and Buggy Combo Kit that allows you to turn the hoverboard into a wagon. They have it for $199, which is a $100 discount.
Target is selling the Jetson V12 All-Terrain. This is a well-built hoverboard with great specs. It's selling for a $100 off at $199. It can reach speeds of up to 10 MPH and travel a maximum of 12 miles. Overall, it is very similar to Walmart's higher end Hoverboard.
The Swagtron T580 is for sale at Best Buy. It retails for $250 but you can get it for $199 on Black Friday. The claim to fame on it is that it's Bluetooth enabled and you can play music and light up the LED lights on your phone. It can only go 7.5 MPH and a maximum of 8 miles.
Hoverboards are a lot fun to ride and they are a good way to get your kids to go outside and play. Riding around on a hoverboard never gets old. With these recently announced Black Friday deals, it's much easier to afford a hoverboard. The amount of inventory in each store is always up in the air. You can check to see if these offers are valid online if you want to avoid waiting in line.