Blink Security Camera Black Friday 2018 Deals
3D Insider is ad supported and earns money from clicks and other ways.
Smart home systems have really taken off, and Blink is right in the middle of it. Blink is a home automation company that specializes in security cameras. If you're looking to boost your home security system, these Black Friday deals are particularly helpful.
Blink's first indoor security camera started out as a Kickstarter campaign and raised over $1 million. Blink later announced new cameras and products. In December 2017, Amazon acquired the company.
This year's Black Friday deals will help you save up to 40% on Blink's home security system. Blink makes the best security camera for people who want a truly wireless option that has a long lasting battery they won't have to think about replacing for a long time.
Blink XT 1-Camera System
Black Friday Price: $75 Retail Price: $129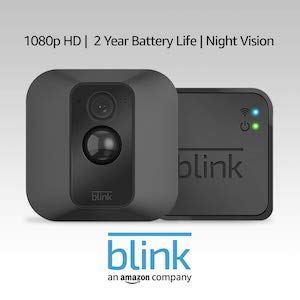 The Blink XT is a wireless minimalist device that's so small that it can fit in your hand. It's inconspicuous and everything is fitted in a matte-black rectangular box so you can install it inside or outside your home and no one will notice it. The device is also rated IP65, which means it's weatherproof so you can install it anywhere.
One of the most important features of the Blink XT is that it's wireless so you can position them virtually anywhere. It is powered by 2 AA batteries, which Blink claims will last for 2 years of standard use. The battery estimate is based on 10 second videos recorded 10 times a day. There is an option to power your camera with a micro USB cord, although the cord is not included out-of-the-box.
The Blink XT camera system also comes with a separate indoor sync module that looks like a smaller camera. This allows you to link up to 16 cameras to your Wi-Fi network so you can easily monitor them.
The Blink XT captures 1080p high-definition videos with a 110-degree field of vision to eliminate blind spots. Daylight indoor videos are clean, bright, and detailed. Video quality outdoors is acceptable with some trouble with backlighting and shadows.
As with most security cameras, the Blink XT has night vision capabilities. The camera is equipped with an infrared filter that allows it to capture videos in the dark. The indoor night mode performs well and captures identifiable details; however, it's difficult to pick out details in outdoor night videos.
The Blink XT is also equipped with a microphone that captures sound within 5 to 8 feet around the device.
There is a motion sensor on the Blink XT. It works well and sends push notifications to your smartphone whenever the sensor detects motion. It does not, however, have sound detection or face detection. The Blink XT has a temperature sensor. It can display the current ambient temperature in the app and you can turn on temperature alerts.
Storage is a problem when it comes to security cameras such as the Blink XT. It comes with 120 minutes of free cloud video so you don't have to worry about physical storage as long as it's connected to your home Wi-Fi. If you're using the standard capture method, you'll use up your cloud storage in over a month. You can, however, delete unimportant clips to free up space.
The Blink app provides you with the essential information you need to keep track of your cameras. The app is very responsive when it comes to detected motion and alerts you quickly with push notifications.
One interesting feature of the Blink XT is that you can integrate it with your other smart home devices. You can arm and disarm it using Alexa.
You can also get a bundle on sale for Black Friday:
$229 for Blink XT 3-Camera System (was $320)
$349 for Blink XT 5-Camera System (was $500)
Blink Indoor Home 1-Camera Security
Black Friday Price: $67 Retail Price: $99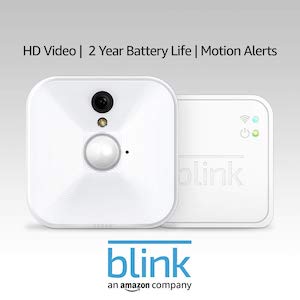 The Blink Indoor Home is the entry-level device. Compared with the Blink XT it is only equipped with a 720p HD camera. It has a similar field of view of 110 degrees and also has infrared motion detection. The camera also has night vision capabilities using an LED illuminator.
Similar to the Blink XT, the Indoor Home is small and minimalist and it comes with a sync module that helps you control your cameras. It also runs on 2 AA batteries and lasts up to two years in standard capture mode.
The big difference between the two is that the Indoor Home isn't weatherproof compared to the Blink XT so you really need to install it inside your home. The two cameras though, can work together so you can have a couple of Blink XT's outside and some Indoor Home's inside so you capture everything that's happening.
This Black Friday, you have options if you're interested in buying either Blink XT or Blink Indoor Home cameras. You can get 3-camera systems or even 5-camera systems for any of the cameras at discounted prices.
$149 for Blink Indoor Home 3-Camera System (was $230)
$229 for Blink Indoor Home 5-Camera System (was $350)
Overall, Blink makes fantastic security cameras that are durable and provide long lasting battery life. Black Friday is the best day of the year to get one.