Blink Security Camera Cyber Monday 2018 Deals
3D Insider is ad supported and earns money from clicks and other ways.
Blink is a home automation company that specializes in smart security cameras. The company's first indoor security camera started as a Kickstarter campaign, which raised over $1 million. After the success of their first camera, they later announced new products to add to their home security range. Amazon acquired the company in December 2017 adding it to their line of smart home devices.
Blink has continued their Black Friday deals through Cyber Monday and you can save 40% on a camera right now. If you're looking to start securing your home using Blink cameras, then these Cyber Monday deals are a good reason to get one.
Blink XT 1-Camera System
Cyber Monday Deals Week Price: $79 Retail Price: $129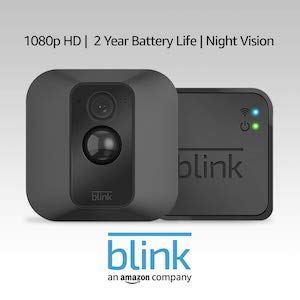 The Blink XT Camera is a small device that can fit in your hand. Its matte-black rectangular box design is inconspicuous, perfect for a security camera. It is weatherproof so you can install it anywhere around your home, even outside and exposed to the elements.
The wireless design allows you to position your Blink cameras virtually anywhere. The batteries come in the form of two AA batteries, and the company has claimed that it can last up to 2 years. You can also power your camera using a micro USB cord, but it's not included so you'll have to buy it separately.
The Blink XT has a separate control unit called the indoor sync module that allows you to link up to 16 cameras to your Wi-Fi network so you can control and monitor them easily.
The Blink XT sports a 1080p high-definition camera with a 110-degree field of view, so a single camera can monitor a wider area by eliminating blind spots that might compromise your security. Video quality in indoor conditions during the day is clean and detailed. Video quality in outdoor settings is not perfect as it has a difficult time with backlighting and shadows.
The Blink XT camera also has a night vision mode. Night mode with indoor conditions is excellent, and the camera picks up details that allow you to identify facial features. Night mode in outdoor conditions is also troublesome as it's difficult to pick out all of the details.
The Blink XT has an embedded microphone that can capture sound from as far as 5 to 8 feet away from the device. The microphone allows you to hear what the camera is picking up. However, it does not have a speaker so you won't be able to interact with whoever is on the other end of the camera.
As with other security cameras, the Blink XT comes with a motion sensor that notifies you via push notifications if it detects movement. It also comes with a temperature sensor where you can set temperature alerts so the device alerts you when the ambient temperature hits your set points.
One thing that's a concern with security cameras is storage. Video tends to take up a lot of storage space and the Blink XT comes with 120 minutes of video in free cloud storage. There is no need to look at physical storage options as long as the device is connected to your Wi-Fi network.
The Blink XT is integrated with Alexa, which means you can link with it other smart home devices. Alexa integration means you can activate or deactivate your camera using voice controls.
You can also get these different Blink XT bundles:
$229 for Blink XT 3-Camera System (was $320)
$349 for Blink XT 5-Camera System (was $500)
Blink Indoor Home 1-Camera Security
Cyber Monday Deals Week Price: $67 Retail Price: $99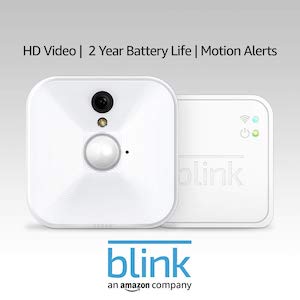 The Blink Indoor Home is a budget version of Blink's smart home security cameras. A major difference with the XT is that the Indoor Home is only equipped with a 720p high-definition camera. It also has a 110-degree field of view and has a night vision mode using infrared LED illuminators.
The Indoor Home camera is built similarly to the Blink XT and it comes with a sync module that enables you to control the cameras installed in your home. The Indoor Home also runs on 2 AA batteries that last up to two years in standard capture mode.
One of the main differences between the two cameras is that the Indoor Home is not weatherproof so it is built for installation inside your home.
These are the different Blink Indoor Home bundles available this Cyber Monday.
$149 for Blink Indoor Home 3-Camera System (was $230)
$229 for Blink Indoor Home 5-Camera System (was $350)
Blink manufactures high quality and durable smart security cameras. Cyber Monday is your last chance to get them at a 40% discount.