16 Best Blue Snowball Accessories
3D Insider is ad supported and earns money from clicks, commissions from sales, and other ways.
Blue is a respected brand when it comes to their microphones. They carry a variety of different types from entry-level to professional with each one exceeding expectations on quality and performance.
The Blue Snowball is the company's entry-level product aimed at those who want to get started streaming, podcasting, or recording. The main difference between the Snowball and their other more expensive products is the number of capture patterns.
All-Around Studio-Quality Microphone
The Snowball, even with its small size, is a quality piece of equipment. Even though it is the most affordable product in Blue Microphone's line, it continually delivers high-quality audio. This is the reason why many budding producers use this as their first microphone since it is undoubtedly a decent investment.
Blue Snowball Accessories
There is no question that the Blue Snowball is an exceptional microphone. However, it will not be able to give you perfect quality audio without a few additions. Even the most expensive microphone will not be able to do it, and that is why you need to complement it with great accessories.
Adding a few Blue Snowball accessories to your set up will enable you to take advantage of the microphone's features. You will be able to record better quality audio and save you a lot of time in post-production since you do not have to clean up your recording significantly. Accessories can also give you peace of mind when you are using the Snowball for live sessions since you know that it will only pick up the sounds that you want.
Desktop Microphone Stand
The Blue Snowball comes with a stand of its own. However, it does have its own set of shortcomings. The built-in stand does not have a lot of flexibility when it comes to adjusting its height.
As a cardioid microphone, you want it to be as close to your mouth as possible whenever you are using it. The best way to reposition it is by adjusting the stand. You can also fit some accessories to it that will significantly enhance the audio quality, and this is why getting a quality desktop microphone stand is crucial.
Why Get a Desktop Stand for Your Blue Snowball
It may seem counterintuitive, but getting a good quality desktop microphone stand allows you to save desktop space.
You can have a more solid microphone setup compared to using the Snowball's built-in stand.
A microphone stand minimizes the pick up of unwanted desktop noise, and you can further boost that by adding other accessories such as shock mounts and pop filters.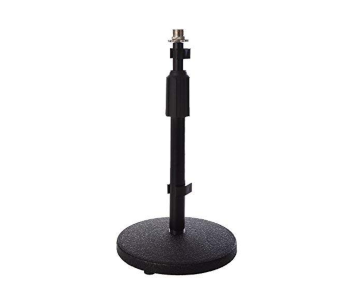 Retail Price: $16
The advantage of the Blue Snowball over other microphones is its lightweight nature. It is significantly lighter than the Yeti or other similar ones in the market that finding a quality stand for it is not that hard. The LyxPro desktop microphone stand is the perfect one that can accommodate your microphone plus a few accessories.
The LyxPro microphone stand is a versatile piece of equipment that is ideal for recording, podcasts, and live interviews. It is possible because of its adjustable height that you can alter between 9 and 14 inches. The stand is an exceptional feature so you can set the microphone at a height that is closest to your mouth so it can pick up your voice efficiently.
The stand comes with a 6-inch round cast iron base that weighs 2.2 pounds for added stability. It is certainly enough for the Snowball that only weighs about a pound. You can still add a couple of additional bits like a shock mount and a pop filter, and the base will be able to support it easily.
The LyxPro is a useful microphone stand for all sorts of activities, and it is fully compatible with the Blue Snowball.
Our Rating: 4.5/5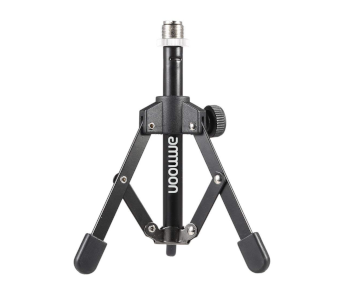 Retail Price: $10
The Ammoon MS-12 foldable desktop microphone stand is undoubtedly an excellent upgrade to the Blue Snowball's built-in one. This stand is suitable for a lot of activities like podcasts, live gaming streams, and voice recording.
Its foldable design allows you to carry it and store it quickly so you can bring it with you wherever you like to work. Its tripod design gives it additional strength so it can easily support your Snowball and other accessories you choose to get with it. It also comes with non-slip rubber feet that will protect your desk from scratches no matter how heavy your entire set up gets.
You will have no problem screwing in your Snowball or a compatible shock mount since they will fit on the stand without any difficulty. The Ammoon MS-12 is genuinely a versatile microphone stand that will be ready to use as soon as you mount your Snowball and fire it up.
Our Rating: 4/5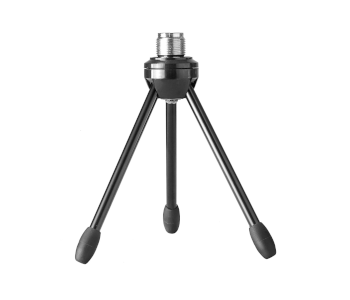 Retail Price: $10
The Neewer desktop microphone tripod is a stand that is ideal for home, even studio use for podcasts, interviews, live streams, and voice recordings. Its low profile design also makes it a perfect stand for instruments such as kick drums and acoustic guitars.
The stand can fold its legs, so it remains compact, lightweight, and portable, making it easier for you to move it around between desks or studios. This feature makes it the perfect companion for your Blue Snowball because of its small size so you can quickly relocate your set up.
The downside of the Neewer stand is that it does not have a telescopic arm where you will be able to adjust the height. The height is fixed so you have to ensure that your desk is perfect and your mouth is level with your Snowball for optimum sound pick up.
The Neewer foldable microphone tripod is perfectly compatible with your Blue Snowball out of the box. All you need to do is screw your microphone on the stand and plug it into your computer so you can start. It is a relatively simple setup that will not give you problems.
Our Rating: 3.5/5
Microphone Boom Arm
Microphone boom arms is an alternative to the desktop stand. They are similar to the stands where they are used to support the microphone and its other accessories. However, that is where the similarities end, since boom arms are much more than just microphone holders. They are more flexible and versatile compared to stands since you can quickly move your set up around so that you can position the microphone near your mouth for the best audio quality.
Why Get a Boom Arm for Your Blue Snowball
A boom arm is a lot more flexible than other types of stands, so you can position the microphone at a better angle in front of you to maximize its pick up pattern.
It can save you a significant amount of desk space since boom arms are usually clamped to the side of your desk and hangs your microphone from the top.
Getting a boom arm virtually isolates your microphone from your desk, so it picks up fewer sounds like keyboard and mouse clicks.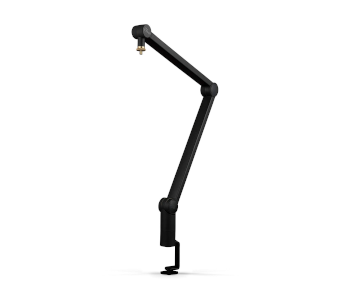 Retail Price: $99
A microphone boom arm from the makers of the Snowball is something that you will surely consider since you know that you will have no problems when it comes to compatibility. It is compatible with all Blue Microphone products, which makes it your best choice if you own one.
The Blue Compass screams premium product right from the get-go. Internal springs and built-in cable management make it a broadcast-ready device so you can show it on camera without worrying about how it looks. Its sleek black finish makes it one of the best-looking boom arms on the market.
As one of the boom arms that supports heavier microphones, the Compass effortlessly holds the Snowball and other accessories. Pair your Snowball with the Ringer shock mount, and you have a professional setup for a lot of different broadcast activities like podcasting, live streaming, and voice recording.
One thing that the makers made sure with the Compass is its studio-grade design. There are no squeaky noises or flimsy arms whenever you adjust it so it holds well and will not disrupt your session whenever you move it. It also has 360-degree rotation capabilities, so you can move it however you wish. The quiet operation makes it the perfect equipment if you are into live streaming so you do not produce annoying noises that your audience will surely hate.
The Blue Compass is designed to be in front of the camera. The clean and sleek look allows you to put your Snowball where you want it without annoying your audience with unnecessary noise or as an overall eyesore.
Our Rating: 5/5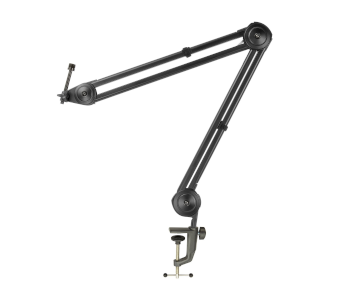 Retail Price: $59
The best way to produce quality audio content is with comfort, and this means using quality equipment so you can position yourself comfortably as you speak into your microphone. This is what the Knox Gear studio stand does for any of your broadcast activities.
It is fully adjustable and extendable so you can create an environment where you are most comfortable. You will be able to quickly move your Snowball into a position where you will be able to speak clearly into it with the right posture.
There are two-axis swivel mounts that you can fasten on the edge of your desk, and it comes with full 360-degree rotation capabilities that allow you to move your microphone around without any problem. The boom arm is also fully extensible, up to 30 to 38 inches in both horizontal and vertical directions so you can use it no matter how large or small your desk is.
The Knox Gear microphone studio stand is an excellent option for your Blue Snowball. It's instantly compatible, so you can screw it in with your accessories and start using it for all your audio projects. Record comfortably and stream effortlessly without worrying about the sound quality you are producing.
Our Rating: 4.5/5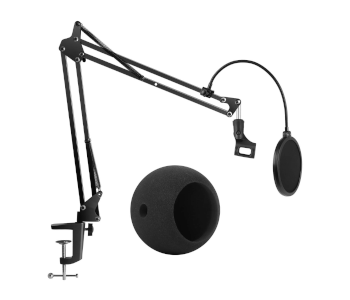 Retail Price: $19
If you are looking for a budget boom arm for your Blue Snowball, then this stand from InnoGear is one of the best out there. It is sturdy, made of metal with double-braced arms for added stability so this can easily hold your microphone and a couple of accessories effortlessly.
Compared to other boom arms, compromises have been made to keep the price for the InnoGear significantly more affordable. It is not as flexible as other similar products since it is only capable of 180-degree rotation, compared to the full 360 of others. However, if you set this up correctly, you will not even miss the remaining half.
The boom arm clamps to your desk with no trouble, and a protective layer of sponge protects your table from nicks and scratches from tightening mount. You can quickly attach this to desks up to two inches thick, and that is pretty much every work desk.
The InnoGear is an excellent budget option if you are starting. You do not need to invest a lot to see if you will be able to work with this boom arm. You can start your podcasting or live streaming career without spending unnecessarily.
Our Rating: 4/5
Microphone Isolation Shield
A microphone isolation shield, commonly known as a sound absorber, is a device that boosts audio quality by minimizing distracting sounds for a cleaner recording. It dramatically removes the echoes and other sound sources that eventually become noise so that the microphone only picks up your voice.
Sound shields may not be the best accessory when you are live streaming or podcasting, but it is an exceptional tool when you are doing voice-over recordings. Getting it can undoubtedly slash a significant amount of time in the editing process.
Why Get an Isolation Shield for Your Blue Snowball
An isolation shield considerably improves recording quality since it minimizes ambient noise, so your microphone picks up your voice without the disturbance.
Isolation shields act as reflection filters so it absorbs sound that would echo back ruining your recording.
It is a smaller version of a recording studio so you can get similar results anywhere, even at home.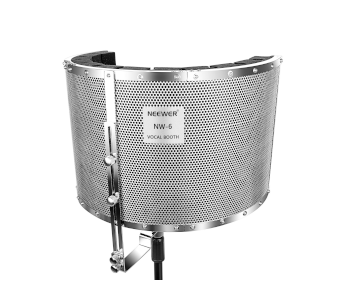 Retail Price: $75
The Neewer vocal booth is an isolation shield and sound absorber that can significantly reduce unwarranted sounds from getting picked up by your microphone. You get the best sound quality as you speak rather than fixing it all up in editing. Made up of high-quality soundproofing materials such as foam and aluminum sheets for support, the Neewer breaks up room sound reflections and absorbs noise for the best recording experience.
The isolation shield is compatible with almost all microphone stands with 3/8- and 5/8-inch thread adapters so you can immediately attach and use it on your recording rig. Think of it as a small version of a recording studio, only compact and portable.
You can virtually use just about any microphone as long as you position it in the right spot, so you effectively minimize the background noise as you are recording. These shields tend to be large, so make sure that you have enough desk or floor space to accommodate these.
The Neewer microphone isolation shield and sound absorber is an excellent accessory to get if you want to achieve professional studio quality recordings in a home setting. It is excellent for home use since it does not take up a lot of space compared to a whole room-sized isolation booth.
Our Rating: 4.5/5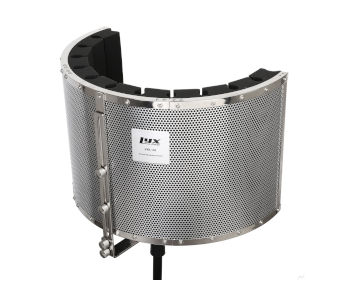 Retail Price: $75
The LyxPro VRI-20 is a portable isolation shield that helps preserve the clarity of your voice or instrument. It eliminates sound bounce back from the walls whenever you record, so you always get pristine and crisp sound every time.
It is made of high quality sound absorbing foam insulation with a perforated aluminum back panel so the sound can diffuse through and not bounce back into your microphone. With the VRI-20 in your arsenal, you can create an ideal recording condition in your home or anywhere you choose to. You can now make any place in your recording studio.
This isolation shield comes with all the standard mounting and hardware for a quick setup and works well with the Blue Snowball since it is one of the most comfortable microphones to get started so this pairs up beautifully.
The LyxPro VRI-20 gives you a lot of flexibility when it comes to your audio setup. You can quickly slap your Snowball in front of the shield and start speaking, and it will consistently give you quality audio.
Our Rating: 4/5
Retail Price: $36
The Tonor microphone isolation shield is a foldable sound absorber that will give you the flexibility and versatility you need for your home studio. Its three-panel design allows you to move it on a desk or tabletop, and it can be mounted to a stand so you can use it even when you are upright. This isolation shield is an excellent accessory to have when you are into vocal or acoustic recording, even podcasting.
Its design also allows you to install it quickly with all its mounting parts included so you can grab your stand and screw it in. It will give you optimal audio isolation so even with using a microphone such as the Snowball. You will still get a clear and crisp playback without spending a ton of time on editing.
Made with absorbing cotton insulation, it considerably reduces echoes and unwanted noise that will not get picked up by your microphone. Using this shield will significantly cut your editing time since you do not have to worry about cleaning up the noise.
If there is something to note about the Tonor isolation shield, it is lightweight. Coupled with the Snowball, you can easily mount this on boom arms that can support a much more massive load, so your set up remains clean and organized since it is all screwed on one stand.
The Tonor microphone isolation shield is an excellent accessory for its price. For a home studio, its size is just about perfect and can eliminate all the unwanted noise for the best recordings.
Our Rating: 4.5/5
Microphone Shock Mount
Microphones such as the Blue Snowball are known for their recording sensitivity. Even the slightest sound can get picked up. One type of noise that audiophiles do not like are mechanical vibrations that travel up to the microphone's capsule and get converted to audio signals. Sensitive microphones are prone to this, and if you are not careful, your recording will be full of these noises that are a pain to clean up.
The good news is that you can remove all this with a simple accessory called a shock mount. This little holder isolates your microphone from your stand and ultimately the desk. It does this by surrounding the microphone with a series of rings with vibration dampeners, like rubber bands. This setup eliminates vibrations from traveling up the stand and getting picked up by the microphone since the dampeners quickly diffuse them.
Why Get a Shock Mount for Your Blue Snowball
Shock mounts isolate your microphone from the rest of your set up, and this substantially minimizes vibrations that travel up your stand and reaching your mic's diaphragm.
Getting a shock mount dramatically reduces the need for any post-recording work since your microphone will not pick up any unwanted noise.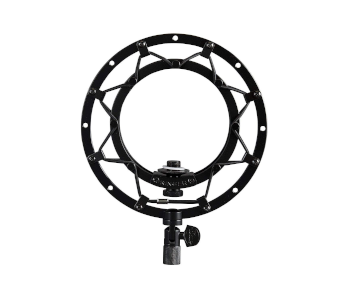 Retail Price: $59
The Blue Ringer is a custom-designed shock mount for the company's spherical microphones like the Snowball. Apart from that, it is also an excellent accessory for other microphones as long as it fits through the Ringer's loop.
One feature of shock mounts made by Blue Microphones is that they make sure that their products are camera ready. It shows with the vintage-style design and suspension that does a great job at isolating your microphone but also looks great on camera whenever you are live streaming.
Made of solid brass and coupled with impeccable craftsmanship, the Ringer is the perfect shock mount for your Snowball. It eliminates vibrations that travel up your boom arm or stand, giving you confidence whenever you are using it. You can be sure that it will produce the best possible audio with minimal noise.
The Blue Ringer shock mount is an essential accessory to have for improved audio for every situation. Whether you are podcasting, live streaming, or recording it will be able to provide you with consistency in terms of sound quality.
Our Rating: 4.5/5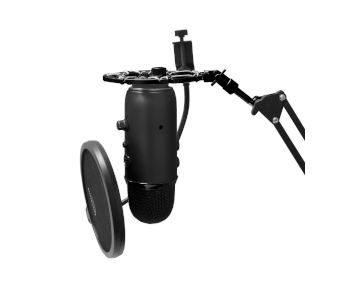 Retail Price: $27
Even though the name does not suggest it right away, but the Auphonix Black shock mount is perfectly compatible with the Blue Snowball. It is a little more affordable than the Blue Ringer, so it is a great budget option.
When it comes to performance, the Auphonix does a great job eliminating keyboard thumps and mouse clicks, so it does not ruin your live streaming or recording sessions. It is going to save you a substantial amount of time when it comes to editing or merely making sure that your sound is as clear as you want it to be.
The Auphonix is made using lightweight aluminum, so it is light that it will not pose a problem with your stand or boom arm, and most of all, it takes a lot less visual space, so it does not become the center of attention on your live stream.
The Auphonix Black is an excellent budget shock mount that you can pair with your Blue Snowball. It is lightweight and compact and will not put any undue stress on your stand or boom arm for a better recording experience.
Our Rating: 4.5/5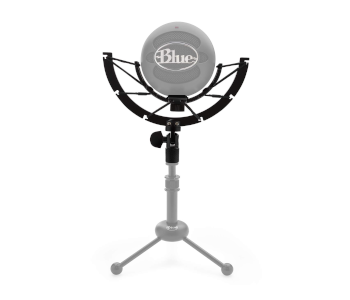 Retail Price: $19
At first glance, you will instantly see what makes the Knox Gear shock mount different from the others. Traditional shock mounts usually have a circular design where you place your microphone in the center. The Knox Gear, however, was designed with the Blue Snowball in mind, so they made it in a way where there is only half a mount.
Even though it seems like there is only half, it provides the same level of performance as others in the market. It absorbs vibrations that travel up your boom arm or microphone stand, so it does not get picked up. The Knox Gear's frame is predominantly steel, so it is going to last you a long time, even a lifetime if you know how to take care of it.
The Knox Gear is genuinely an outstanding shock mount for your Blue Snowball. It is small and lightweight, slashing about half its size and weight, and this gives you a lot of flexibility in terms of installing it on a variety of stands. The Snowball being as lightweight as it is and the shock mount, you will have an audio rig that is quick to set up and relocate if the situation calls for it.
Our Rating: 4/5
Pop Filter and Windscreen
Pop filters and windscreens are simple noise protection accessories for your microphones. Typically used in recording studios, but when you are handling sensitive microphones like the Blue Snowball, having one is handy to make sure that it only picks up the sounds that you want.
These accessories are primarily used to eliminate popping sounds that are caused by fast-moving air that reaches the microphone's diaphragm. These sounds include harsh speech plosives like the "P," "B," and even breath sounds. You can get rid of these during editing, but it is a challenge when you go streaming as these are sometimes painful to listen to.
Why Get a Pop Filter or a Windscreen for Your Blue Snowball
It is especially useful if you use your microphone in a way that it is in front of your mouth, a pop filter can remove breathing, and harsh speech sounds that can irritate your audience.
It helps protect your microphone from getting too wet when you are speaking close to it.
They are incredibly helpful in reducing wind and other ambient sounds if you are recording or using your microphone outdoors or in a windy environment.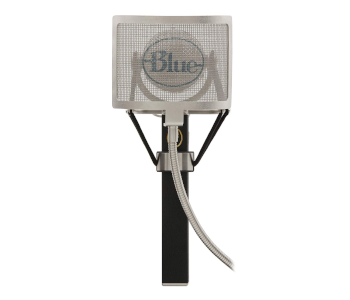 Retail Price: $19
Blue Microphone's own The Pop is a universal windscreen for all of their microphones including the Snowball. It is also compatible with other microphones as long as you can clamp it down to a stand and position it in front.
The Pop's design is a bit of a throwback, with wire mesh and frame as its primary materials. It is quite different from the dual cloth mesh build of more contemporary pop filters, but this allows Blue's The Pop to be more durable. It can last you a lifetime as long as you take care of it properly.
A thing to note with this pop filter is that it is significantly heavier than those cloth mesh designs since it is made up of predominantly metal. If you want to use this for your audio set up, make sure that you get a boom arm or stand that can support the added weight.
It might be more cumbersome, but it does match the look of most Blue microphones like the Yeti and the Snowball, making it the perfect accessory that can significantly improve your sound quality and look good on camera at the same time.
Our Rating: 4.5/5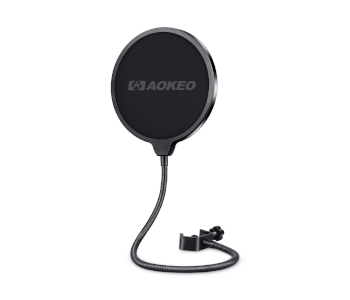 Retail Price: $17
The Aokeo pop filter is different from The Pop in terms of design since it looks like what you expect from one. The circular double-layered mesh screen is something that you will find in recording studios. One thing that this design is so popular is that it is efficient in its function. It reduces and even eliminates those harsh sounds that your audience will not want to hear.
The design makes a lot of sense when you think about it since the first screen slows the air significantly so that by the time the sound reaches the second screen, it is a lot clearer. This design efficiently disperses the air so you do not have to worry about how it will sound, especially when you are streaming and will not be able to clean up your audio.
An advantage of a design similar to that of Aokeo's pop filter is that it is compatible with a lot of different microphones. A clamp allows you to hook this up to just about any microphone stand or boom arm. It also comes with an adjustable gooseneck so you can quickly adjust the angle and distance between the mesh and your microphone for optimum performance.
The Aokeo pop filter is a great Blue Snowball accessory that is excellent for streamers and podcasters that allows you to extract the best possible performance from your microphone.
Our Rating: 4/5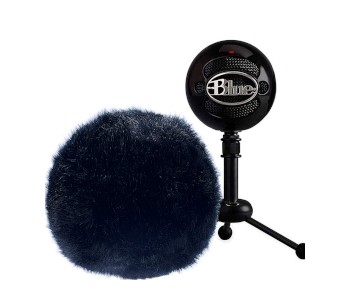 Retail Price: $12
The Folai furry windscreen looks significantly different than pop filters, but they do perform similar functions. This windscreen is a perfect fit for the Blue Snowball since it covers the entire microphone head. It reduces wind noise and other noise interference for better audio quality, whether you are recording or live on air.
It is not as effective as the double mesh pop filters, but it can reduce plosive sounds, so they are not as harsh to listen to. The environment where windscreens, such as the Folai shine, is outdoors in windy conditions. It also works perfectly great when you switch to the Snowball's omnidirectional recoding pattern since it covers the entire microphone.
The windscreen is easy to install, and all you need to do is slowly fit it into the microphone. The windscreen comes with cut-outs in all the right places, so you can still attach it to a microphone stand and cables.
The Folai microphone furry windshield is the perfect accessory to get for your Blue Snowball. It will help you consistently produce excellent audio by minimizing wind noise and harsh speech plosives. It is also a great solution if you are recording outdoors and with an omnidirectional pattern.
Our Rating: 3.5/5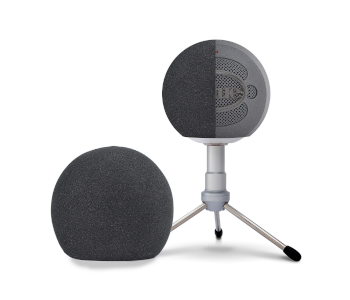 Retail Price: $10
The Sunmon is a professional-quality windscreen for the Blue Snowball microphone. It reduces wind, crackle, and other noises and considerably improves the sound quality of your projects. It also helps you to minimize hissing and lisping sounds when you pronounce the letter "S" and speech plosives that come with "B" and "P."
The windscreen, apart from moderating unwanted noises, it also prevents dust and saliva from entering the microphone diaphragm extending its life. In terms of protection, since it wraps around your Snowball, it does provide more of it compared with pop filters, and it is beneficial when you switch to the omnidirectional recording polar pattern.
Installing the windscreen is simple, it comes a little tighter, so you need to carefully stretch it out and slowly work it around the microphone until it fits snuggly. You will be able to stretch it down covering the whole grill.
The Sunmon windscreen is the perfect fit for your Blue Snowball. It helps improve audio quality and protects your microphone from dirt, scratch, bumps, and even water damage since it can filter all of these for you.
Our Rating: 4/5
Blue Snowball Accessories for Quality Sound
The Blue Snowball is an affordable and versatile microphone that you can use for a lot of things. It is the perfect equipment if you are starting with your podcasting, live streaming, or video production career.
To get the most out of your Blue Snowball, you need to use a couple of accessories. Getting this to work with your microphone will enable you to extract every ounce of performance that it can give you. This will take all your projects to the next level.
Not only will these Blue Snowball accessories improve the performance of your microphone, but they will also make your life a lot easier. You will not have to spend a lot of time post-recording since you have eliminated all possible sources of noise. If you are live streaming, these accessories can give you peace of mind because you know that you are producing the best possible audio.
Whether you are a home studio type user or a professional and love the Blue Snowball for its compactness and versatility, getting the right accessories will give you the best sound quality for all of your projects.