17 Best Blue Yeti Accessories Guide to Upgrade Your Recordings
3D Insider is ad supported and earns money from clicks, commissions from sales, and other ways.
The Blue Yeti is widely considered to be one of the best USB microphones in the market. One of the things that makes it a favorite of everyone working with audio is that it is an excellent microphone out of the box. The moment you plug it into your computer, it will be able to provide you crisp and clear professional-quality audio.
A Very Versatile Microphone
One of the main reasons why it's a favorite is its versatility. It is a microphone that you can use for just about anything as long as it has got something to do with sound recording. Some devices have their own specialties, while the Blue Yeti does them all excellently.
It is a favorite of podcast and video producers, gamers, voiceover actors, and even singers. Couple it with its plug-and-play capabilities, and it is hard to see why you would choose anything else.
The Yeti's Built-in Stand
The Blue Yeti, as excellent as it is of a microphone, does have a chink in its armor. The good news is that it is not recording quality related. It might seem like the manufacturers have focused all of their resources on making the best microphone that they have appeared to disregard the built-in stand.
The stand that the Blue Yeti comes in is simply too short. It sits low on the table, and users are experiencing a hard time speaking into it since your mouth needs to be as close to the microphone as possible to get the best results. If the stand is too low, it means that you will have to lean down to get the best quality recording. The low-lying nature of the stand also means it is close to the desktop, and it picks up just about anything, including keyboard and mouse clicks ruining the overall sound quality.
Blue Yeti Accessories
Addressing this issue is simple, you just forego the use of the built-in mic stand, and this is where accessories come in. As with other similar devices, to get the best out of your Yeti, you will need to get some accessories to boost the high quality it already produces. These are not required purchases to enjoy your microphone, but they are definitely going to allow you to get the most out of it.
Microphone Boom Arms
Since the standard mic stand that your Blue Yeti comes with is so low, it is recommended that you get an alternative. One of those is a microphone boom arm. This allows you to position your microphone anywhere you want. Attaching your Yeti to the end of this device will negate all the downsides of its built-in stand.
Here are some of the advantages of getting a microphone boom arm for your Blue Yeti:
Clear up desk space since your mic will not be using any desktop real estate
Allows you to quickly adjust the position of the mic at a better angle in front of you
Reduces pick up of desktop sounds like keyboard and mouse clicks
Allows you to see what is in front of you, like your computer monitor or a script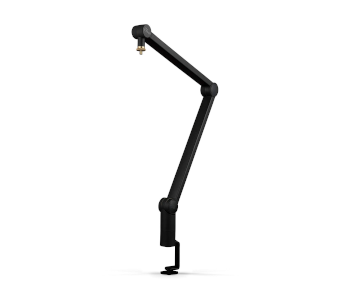 Retail Price: $99
The Blue Compass broadcast boom is a premium desktop arm for microphones such as the Blue Yeti and Blue Yeti Pro. It is compatible with a lot of other microphones as long as the weight clocks in at under 2.4 pounds. This can support the mic and all its other attachments like shock mounts and pop filters for better quality audio.
Studio-Grade Design
At first glimpse, you will instantly notice the premium-grade design of the Blue Compass boom arm. Its all-tube design makes it lightweight and sturdy at the same time. All its springs are internal and hidden from view, so if you like to show off your setup on stream, one will notice any of those unsightly parts. The same goes for its cable management system that's also out of sight.
The Compass uses a C-clamp to attach it to your desk, it is robust and doesn't budge easily. Clamping it down gives you the freedom to move your microphone around and even rotate it 360 degrees.
Versatile Piece of Equipment
One difference between the Compass and other boom arms is that this one is designed to go on-screen. You can feature it front and center to wow your audience. You can use this on just about any application, but it works tremendously well whether you are game streaming on Twitch or YouTube, podcasting, voiceovers, or broadcasting.
The Blue Compass is truly a premium broadcast boom arm that you will not hesitate to show on the air. Its sleek design, coupled with ingenious systems, makes it one of the best microphone arms for your other Blue microphones.
Our Rating: 5/5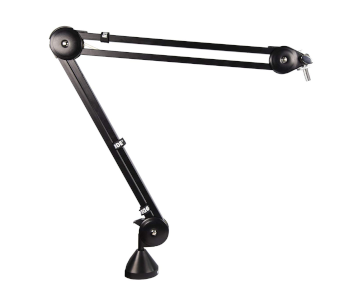 Retail Price: $93
The Rode PSA1 is a professional studio boom arm for use in radio, broadcast, or home use. It is a versatile piece of equipment that can handle a lot of microphones, most notably the Blue Yeti. The PSA1 is a sturdy arm that can support microphones of up to 2.4 pounds. With the Blue Yeti weighing 1.2 pounds, the PSA1 is the perfect boom arm to use since you can quickly add other attachments such as shock mounts and pop filters.
Flexibility
As a boom arm, you want it to have a good stretch so you can position your microphone anywhere around your work station. The PSA1 can be stretched vertically up to 33 inches and 32 inches horizontally from its base. It is designed to be flexible so you can rotate it a full 360 degrees. This adjustability gives you more freedom to where you want to position your Yeti so you can be as comfortable as you want in your sessions.
Two Ways to Mount
The arm can be mounted both ways, either with a desk clamp or desk-insert attachments. It gives you a choice on how you want to install it. It is a versatile boom arm stand that will support your Yeti without any trouble at all.
The Rode PSA1 is an accessory that you will definitely want to consider for your Blue Yeti. Compatibility is not an issue as you can install your microphone into the boom arm with all the other attachments you have in minutes.
Our Rating: 4.5/5
Retail Price: $109
The Heil Sound PL-2T overhead broadcast boom is another arm that is compatible with the Blue Yeti out of the box. It uses internal springs to give the entire installation the perfect balance, this gives your desktop a much cleaner, more professional look.
The PL-2T supports heftier microphones such as the Blue Yeti easily as it has a load capacity of 3.5 pounds. This gives you a lot of wiggle room when it comes to installing other attachments for your microphone.
Hidden Cables
One big difference between this boom arm and the Rode PSA1 is that you can hide the microphone cables within the body of the PL-2T. All you need to do is remove the top and back plates so you can thread the cable inside the boom. No more unsightly wires on your desktop. This comes in handy if you are a streamer and want to keep your desktop tidy at all times.
Attaching the boom arm to your desk is quick and straightforward as it comes with a standard C-clamp mount so you can start using it in minutes after you unpack it. The PL-2T is fully compatible with the Blue Yeti and its shock mounts, meaning you do not need anything else to get everything bolted and secure.
The Heil Sound PL-2T is definitely an alternative to the Rode PSA1 if you are looking for a professional-level audio recording installation.
Our Rating: 5/5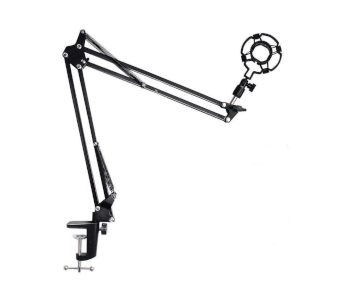 Retail Price: $19
If you are looking for a budget but reliable option, it is time to consider the Eastshining adjustable microphone suspension boom arm. It comes with solid springs but is easily adjustable so you can set it to a position that is comfortable for you.
A really cool inclusion of this package is that it comes with its own shock mount, which you can replace with a different one if you desire. However, with the mount it comes with, you can simply adjust it to fit different kinds of microphones including your Blue Yeti.
The boom arm comes with its own table clamp that you can quickly attach to any desk that is up to 2.15 inches thick. You will not need any additional tools to install this, just clip it in and tighten the clamp, and you are good to go.
The Eastshining is pretty flexible with its 14.5-inch adjustable arms, you can extend it by up to 27.6 inches horizontally and vertically. Coupled with the swivel mount, this will give you the suppleness you need to tweak your microphone to a comfortable position.
Eastshining's microphone boom arm is undoubtedly on the affordable side. Do not let that fool you though, as it remains an excellent alternative if you cannot afford to get more premium options like the Blue Compass or the Rode PSA1. It remains a decent choice and one that you can use on any project, including live game streaming, video recording, voiceovers, and broadcasting.
Our Rating: 4.5/5
Desk Stands
The big downside of the Blue Yeti is its built-in stand. Desktop microphone stands easily solve that, similar to boom arms. The main difference between the two is that the stands are significantly more affordable. They allow you excellent microphone placement and the capability to add a shock mount for better audio quality. Although desk stands will not provide you the flexibility of boom arms, they perform similarly at a fraction of the cost.
Here are some of the benefits you will get when you mount your Blue Yeti on a desktop microphone stand:
Enable you to adjust the position of your Yeti to a more comfortable spot near your mouth
Give your microphone additional height to steer clear of desktop sounds
The ability to install a shock mount will improve microphone pick up reducing vibrations
Significantly more affordable than boom arms
Retail Price: $35
The Gator Frameworks microphone stand is short with a weighted base to counterbalance a heavy load at the end like a Blue Yeti. It is a versatile stand that you can use on just about any audio project that you will undertake.
Even though it is short, you will be able to adjust the height to about 23 inches above your desktop, and this should be enough to mount your Blue Yeti. You will be able to position it close to your mouth thanks to its 16-inch single section boom arm. The stand comes with cable management clips and a vibration-reducing gasket, so none of the desk noise is picked up by your microphone. This can be further eliminated by installing a shock mount to isolate your Yeti totally.
Although we did focus on the Blue Yeti, the Gator Frameworks stand can accommodate other microphone brands and models as well. It is undoubtedly an excellent alternative to boom arms if you are not yet fully committed to that level of technology.
Our Rating: 4.5/5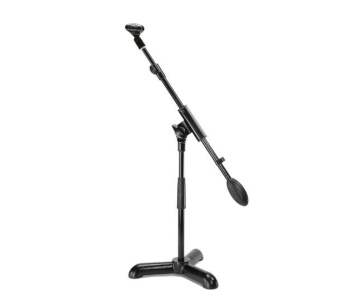 Retail Price: $24
The Samson MB1 is initially designed for speaker cabinets and drum sets, but this low profile allows it to be the perfect desktop microphone to stand where you can fit your Blue Yeti to. The stand can be adjusted between 16 to 21 inches from the floor to the arm. This comes in handy to find the perfect position for your microphone. The boom also extends to between 15 and 28 inches, giving you more flexibility in terms of placement.
The MB1 does not have a counterweight for balancing purposes. This could come in handy since the Blue Yeti is quite a large microphone. Attach a couple of additional accessories to it, and without proper balance, your entire setup might tip over. Although it makes up for it with its quality construction and polished finish.
The Samson MB1 is an excellent desktop microphone stand for your home studio. You can use this for any type of audio activity like game streaming, podcasting, and recording voiceovers. Definitely an accessory worth considering for your Blue Yeti.
Our Rating: 4/5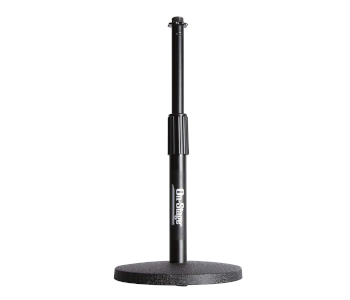 Retail Price: $16
The On-Stage adjustable desktop microphone stand is a piece of great equipment to start off your YouTube or podcasting career. It has everything you want in a stand except for the cost. It is affordable and can surely handle a few different microphone options like the Blue Yeti. It does come with a 2-pound counterweight as its base so the balance should not be much of an issue.
One of the most notable things about the On-Stage microphone stand is its compact footprint. It does not take up a lot of space. It does not carry a horizontal boom, though, so that limits its versatility in terms of optimum microphone placement.
The On-Stage microphone stand is definitely a great starter stand to get your feet wet in audio broadcasting. Whether you are recording for a podcast, live streaming, or doing voiceovers for your YouTube video, it is something worth considering. It is probably not the long term solution you are looking for, but as a start, it is a setup you want to check out.
Our Rating: 3.5/5
Shock Mounts
The Blue Yeti is an excellent microphone for a multitude of audio activities, and the thing that makes it great is its pick up sensitivity. It picks up the slightest vibrations, and it is because of this that you need to get a shock mount for your microphone. Little taps on the stand or boom arm or even mouse and keyboard clicks can be easily picked up and heard by your audience.
The function of the shock mount is to substantially isolate your microphone from all types of vibrations that can travel up the stand or boom arm. It dampens them, so you get clean and crisp audio from your intended source.
Here are some of the advantages you will be able to enjoy when you install a shock mount for your Blue Yeti:
Minimize the noise from vibrations traveling up your mic stand or boom arm from your desk
Reduced post processing work like noise reduction as it is eliminated from the start
Provide professional sound quality especially if you are into live streaming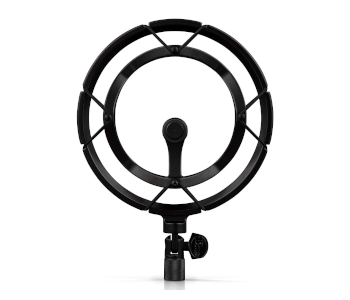 Retail Price: $84
The Blue Radius III is a custom shock mount intended for the Yeti and Yeti Pro models. It is made by the same manufacturers as that of the microphone, so you can tell that they know what it needs in terms of vibration dampening. On top of that, it is designed, so it looks good when you show it live whenever you are streaming.
The mount is also relatively light when compared side by side with others. This helps in making sure that boom arms and stands can support this on top of the weight of your Blue Yeti and other attachments.
If you want to take your recording and streaming to the next level, the Blue Radius III is the perfect accessory so you can get the most out of your set up. You will surely have a better sound quality and fewer hours working on your mixing software to get rid of unwanted noise that the mount can easily take care of.
Our Rating: 4.5/5
Retail Price: $69
The Blue Radius II is an older iteration of the Radius III but still holds up well compared to other shock mounts in the market. The main difference between the two is that the Radius II is significantly heavier, so make sure that your boom arm or stand can support it and the Yeti.
In terms of performance, they are quite similar in improving the overall sound quality that you will produce with your Blue Yeti. It isolates it from the rest of your gear, so it does not pick up any unwanted noises due to vibrations you make on your desk. It will not completely eliminate keyboard and mouse clicks, but it will significantly lower them by giving you more time to produce content rather than editing.
Shock mounts tend to be a little rigid when attached with your microphone, but with the Radius II's improved hinge, you can quickly achieve positioning flexibility. Couple it with a quality boom arm or stand, you can reposition the set up anytime to where you are comfortable.
The Blue Radius II can be considered an older model, but its performance still holds up to other similar mounts. You can record and stream with confidence, knowing that your audio rig will be able to give your audience a smooth and velvety sound every time.
Our Rating: 4.5/5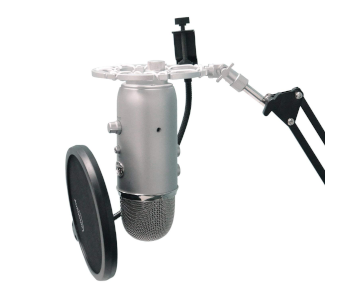 Retail Price: $25
If you are looking for a mount that is outside of the Blue family of products, then the Auphonix Silver shock mount is one that you will want to consider. It is fully compatible with the Yeti and the Yeti Pro, so you do not really have to look far for a quality mount for your microphone.
The Auphonix Silver is made using lightweight aluminum and is designed in a way that reduces its visual footprint. It is compact and will not take up a lot of space when included in your video. It is also significantly lighter so you will not have a problem installing this on boom arms.
If you are on a budget and still want a shock mount that will remove vibration noises, then the Auphonix Silver is undoubtedly something you want to check out. It will get the job done and give you superior sound quality at a fraction of the price.
Our Rating: 4/5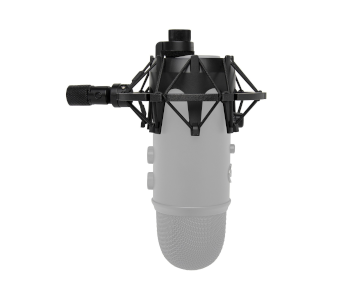 Retail Price: $19
Another quality accessory that you can get that will not break the bank is the Knox Gear Blue Yeti shock mount. It is an excellent choice if you are podcasting at home or even in a professional studio. The mount is designed specifically for the Yeti and the Yeti Pro and can be attached to most boom arms.
The Knox Gear shock mount is made of aluminum with high tension elastic cords that help isolate your microphone from everything it attaches to. This allows the mount to absorb a significant amount of vibrations so your Yeti can only record your pristine voice. The neat feature of this mount is that you can adjust the angle so you can comfortably position your entire rig.
It is significantly more affordable than other options out there and provides optimum vibration dampening features. The Knox Gear shock mount will definitely get the job done and deliver excellent audio quality, whether you are in a home or professional studio setting.
Our Rating: 4/5
Windscreens and Pop Filters
In audio recordings, there is only so much you can do with post processing. Harsh consonant sounds like "P," and "B" are sometimes so explosive that they ruin the entire recording. It is equally irritating in live sessions since you will have no way to avoid it. There is an accessory that will help you control that sound, so it comes out pleasing to your audience's ears.
This is where windscreens and pop filters come into the picture. They are particularly useful when you pair them with sensitive microphones such as the Blue Yeti since they can generate pristine sound without the annoying pops. These accessories are also helpful to eliminate whooshing sounds from nasal consonants like "M" and "N" sounds.
Here are some of the most essential reasons why you need a windscreen or a pop filter for your Blue Yeti:
They protect the microphone's diaphragm from the steady input of air as you speak
Reduce irritating vocal pops from hard consonants, so it is eventually more comfortable to listen to
Reduce background noise from moving air such as a fan or even your breath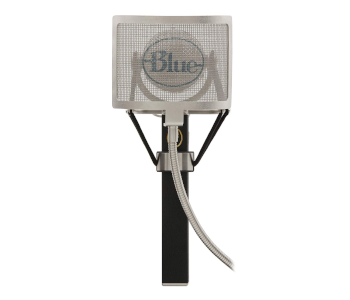 Retail Price: $58
The Pop is Blue Microphone's take on what a pop filter should be like. It does not look like your conventional filter since it is not shaped or made to similar filters that are circular with a nylon fabric mesh. This one looks like a bent rectangle, and the mesh itself is made of metal wires.
The quality of The Pop filter is most definitely top class, and this is due to its robust construction and overall control of speech plosives. The screen can significantly reduce the pops yet still allow the sound to propagate and reach the microphone clearly.
One thing to look out for with The Pop is that since it is made of metal, it can add significant weight to your set up. Some boom arms may not be able to support the weight of the Yeti, The Pop, and a shock mount.
It sure looks a lot different than other conventional filters in the market. Blue Microphone's The Pop does give that vintage vibe. Visually, it pairs beautifully with the Yeti and performs to expectation.
Our Rating: 4.5/5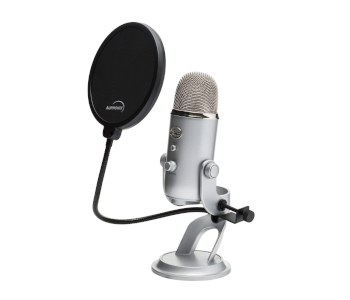 Retail Price: $29
Most pop filters are made to attach to the boom arm, so when you do not have that set up yet, you will not be able to use them. The Auphonix microphone pop filter is designed to attach to the Blue Yeti's built-in stand via a clamp. You can simply fasten it without fear of ruining your microphone. You can even clamp it to your table as long as it gets close enough to your microphone.
It uses a double screen mesh, so it filters all the harsh plosives and pops without lowering the quality of your voice. It will do its job and give you the best audio results, saving you time cleaning it up later on.
The Auphonix microphone pop filter is indeed a versatile piece of accessory that you can use on a lot of brands, especially the Yeti. The clamp and its flexibility give you a lot of freedom so you can position it whichever you like.
Our Rating: 5/5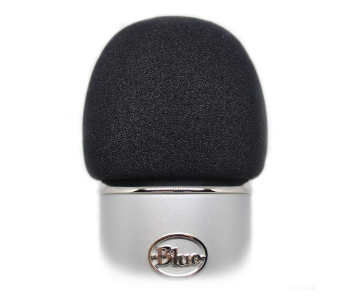 Retail Price: $12
Foam windscreens are an alternative to your standard circular mesh pop filter. It does a similar job filtering and reducing out all those harsh sounds so your voice will sound pleasing to your audience. On top of that, it reduces unwanted background noise so that they don't reach your microphone and ultimately into your recording.
Vocalbeat's professional foam windscreen for the Blue Yeti is something worth considering. It is specifically designed to fit the Yeti and the Yeti Pro and is compatible with other microphone models as well.
The advantage of foam windscreens such as this one from Vocalbeat over conventional mesh pop filters is that it is a lot easier to get on your microphone. All you need to do is gently install it by applying force from the top so you will not accidentally rip the foam apart.
Also, this foam windscreen is excellent when you set your Yeti to an omnidirectional pick-up pattern as it will be able to filter unwanted sounds from all around. It also protects your microphone from moisture damage when you speak into it.
The Vocalbeat foam windscreen is capable of producing flawless audio without the unwanted popping sounds. This accessory is particularly useful when you are recording an interview with only one microphone.
Our Rating: 4/5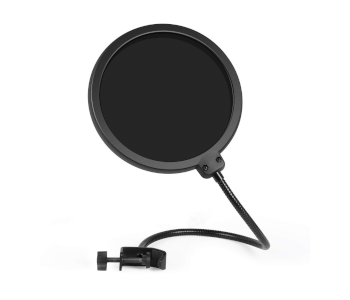 Retail Price: $9
Among the different types of Blue Yeti accessories, we have always provided you with a quality budget option. The InnoGear pop filter is precisely this – a quality clip-on shield that will give you excellent results at a fraction of the cost.
The InnoGear pop filter is a dual layer, circular pop filter and windscreen that you can effortlessly attach to boom arms and stands. It is composed of two layers of nylon fabric, much like other filters in the market. The first layer slows down fast moving air, this eliminates most of the plosive sounds and the second layer helps disperse the air, so your voice hits the microphone softly and still comes out crisp and pristine.
The entire filter is mainly made up of fabric, reducing its weight so you will not have trouble installing this on any boom arms or stands since they will be able to support the added weight. Even though it is a budget option at a portion of the cost of other filters, it will positively improve your recording capabilities.
Our Rating: 4/5
Carrying Cases
One feature of the Blue Yeti that is often overlooked is its portability. It is a small microphone that is packed with features and is able to provide you with outstanding sound quality. If you both need a professional and home studio and rely on the Yeti for your audio needs, you can surely live on just getting one and traveling with your microphone. You will undoubtedly need a sturdy carrying case so you can easily transport your hardware.
A case is also an excellent investment when you love to travel and still need your Yeti by your side at all times. Whatever the case may be, you might simply want to store your microphone and keep it away from as much dust and moisture as possible, then you will want to get a proper quality container to hold it and its other attachments.
Here are some of the advantages of why you should get a high-quality carrying case for your Blue Yeti microphone:
Keep your microphone away from dust and moisture that can wreak havoc on its internal parts
Protective container that will keep your microphone and accessories safe as you travel
Have a single place where you will be able to store your microphone and accessories so you will not misplace them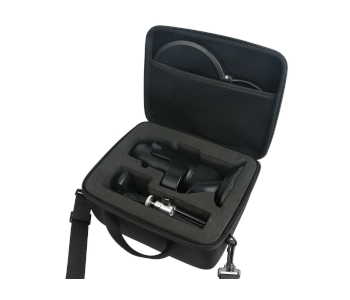 Retail Price: $36
The Khanka Carrying Bag for your Blue Yeti is a perfectly-sized case where you will be able to fit the microphone and other accessories. You can easily store your pop filter and shock mounts together with your microphone, so when you get to your destination, you simply unpack everything, put them together, and start recording.
The bag has a soft interior to keep your microphone and accessories safe and protected. You can comfortably carry the bag, even swing it around, and be sure that nothing will happen to your precious cargo. The pack also comes with a mesh pocket, and that is the perfect spot to slide in your pop filter.
A hand strap is also provided so you can carry the bag with all its contents with ease. Opening and closing, it only takes a quick zip, and you are going to have access to what is inside the case.
The Khanka carrying bag is a convenient way to put your Blue Yeti and all its accessories in one place. This bag is handy if you travel a lot and need to carry your microphone with you.
Our Rating: 4.5/5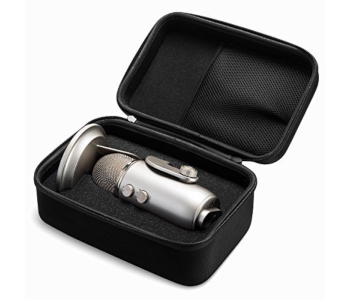 Retail Price: $17
The Caseling Hard Case Bag for the Blue Yeti is a case that can perfectly accommodate your microphone. It is considerably smaller than the Khanka, and will not fit all of your accessories, but it can surely take your microphone to place safely.
The case is water-resistant, shockproof, and dust-proof to protect your device in storage or as you travel. It has a comfortable grip handle so you can quickly pick up the bag and carry your microphone with you wherever you go.
The interior is padded to make sure that your microphone will not hit the walls and keep it safe and protected at all times. It also has a small mesh pocket that you can use to store small accessories like wires and connectors.
The Caseling Hard Case Bag is more suited to storing your microphone because of its ability to keep dust and water out. However, it is small enough that if you do not need to carry accessories like a pop filter or a shock mount, you can get away with using this bag.
Our Rating: 3.5/5
Take Your Recordings to the Next Level
The Blue Yeti is indeed a marvel of a microphone. The features that are packed into its small frame are genuinely exceptional. A microphone of that size should not be able to produce clear and pleasing audio, but it does. It is particularly excellent when it comes to recording voices.
There is no question that on its own, the Yeti is an outstanding device. As with most equipment, there is still room for improvement, and you can take everything to the next level by using accessories that further boosts the quality of your audio projects.
These accessories make your life significantly more comfortable as it will reduce the amount of time you will spend on your editing software to remove the imperfections. Accessories such as shock mounts and pop filters will get rid of all those for you.
Other accessories such as the boom arm and microphone stand eliminate one of the Yeti's primary weaknesses, its built-in base. These accessories, when put to work together with the Yeti, can produce professional level audio even for the home user.