6 Best Bluetooth Alarm Clocks of 2019
3D Insider is ad supported and earns money from clicks, commissions from sales, and other ways.
Has your trusty old alarm clock finally beeped its last? Do you want a reliable alternative to setting your smartphone's alarm? If so, you need a new alarm clock. You could spend a couple of dollars on an old-fashioned one and have it break in a year, or you could embrace the 21-st century and invest in an alarm clock that can connect to your phone through Bluetooth!
Modern-day Bluetooth alarm clocks are much more advanced than the wind-up ringers your parents used. They'll not only wake you up – they'll do so in a way that's scientifically proven to ease you out of slumber and let you wake up refreshed naturally. Bluetooth alarm clocks also excel at multitasking! All of them stream music with excellent quality, while some act as night lights, phone chargers, white noise machines, or speakerphones.
Which Bluetooth Alarm clock to choose depends on the additional features you find most interesting. We've made the choice easier by narrowing it down to six models with the most exciting capabilities. They vary in price, sound quality, and by how much emphasis is placed on their other features. Choose a favorite and start seizing the day in style!
Budget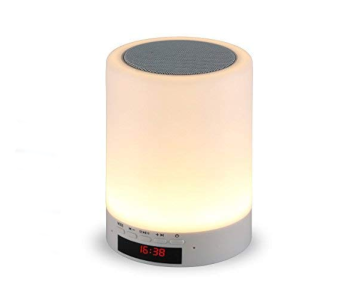 Tranesca Night Light Bluetooth
3.8/5.0
Simultaneous alarms: 1
Simulates sunrise: No
Night light, speaker, and alarm in one.
Check Amazon
Best Value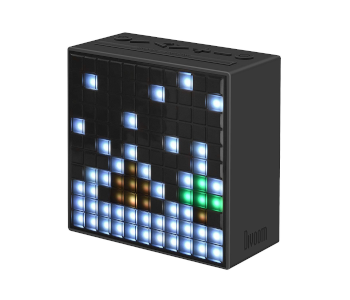 Divoom Timebox
4.7/5.0
Simultaneous alarms: 3
Simulates sunrise: Yes
Good sound quality and comprehensive app.
Check Amazon
Top Pick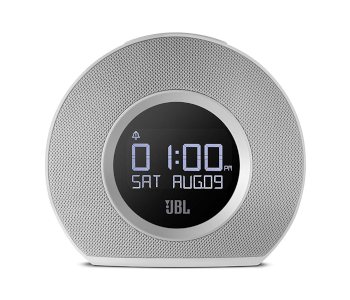 JBL Horizon
4.8/5.0
Simultaneous alarms: 2
Simulates sunrise: Yes
Supports 2 alarms and charges 2 phones at once.
Check Amazon
Bluetooth Alarm Clocks Comparison Table
1. Best Overall – JBL Horizon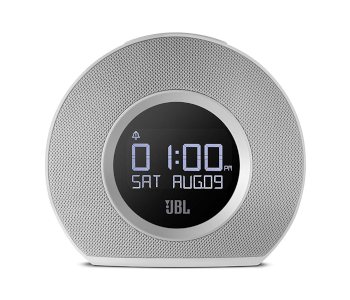 View on Amazon
Editor's Rating: 4.8/5
JBL is among the world's best speaker manufacturers, and they've decided to use their expertise to also create a Bluetooth alarm clock. The results are fantastic! Horizon not only boasts a speaker that blows other clock radios out of the water, but it also comes with enhanced features like a gradually brightening ambient light. The clock is stylish, simple to use, and sophisticated. Immerse yourself in its features and start every day out right.
Overview of Features
JBL's Horizon sports a minimalistic modern design which makes it look like a speaker rather than an alarm clock. There's an LCD screen showing the time, date, and day in the center. It is surrounded by a powerful circular speaker. On the back end, there's a JBL logo in the middle and an ambient light around it. All of the clock's buttons are located along the rim – alarm & audio controls are on top while USB charging and FM antenna ports are at the bottom. It's a clean design that gives equal importance to aesthetics and function.
There are plenty of ways to wake up with the Horizon's help. You can set an alarm time can be woken up by either an FM radio station, your favorite playlist that streams via Bluetooth, or an old-fashioned buzzer. The clock plugs into an outlet but also has batteries which will turn the buzzer alarm of in case of a power outage. Whichever way you choose, it's a good idea to take advantage of the ambient LED too. This circular light gradually gets brighter as the alarm time nears, simulating a sunrise and letting you wake up more easily. The alarm sound also gets louder the longer it keeps ringing.
It's not surprising that the speaker is outstanding. Its quality is on par with standalone JBL Bluetooth speakers in the same price range. This means crisp and vibrant sound whether you're tuning into the news or getting pumped for the day with an energetic song. The stereo speaker is loud enough to fill even larger bedrooms with rich mids. You'll want to turn the Horizon down if it's next to your head though.
What We Didn't Like
For all its beauty, the Horizon's design does have one flaw – its alarm off button isn't raised. You might have a hard time finding and turning it off while you're groggy from sleep. There's no way of setting an upper loudness limit to the alarm. It will get louder and louder unless turned off, which won't go over well with neighbors and family members who don't need to wake up yet.

Tech Specs
Dimensions: 5.8 x 8.5 x 7.3 in.
Weight: 3 lbs.
Simulates sunrise: Yes
No. of phone chargers: 2
No. of alarms: 2
The Pros
Excellent sound quality
Stylish design
Ambient light simulates sunrise
Supports 2 alarms and charges 2 phones at once
The Cons
No alarm loudness limit
Alarm button is hard to find
2. Best Value – Divoom Timebox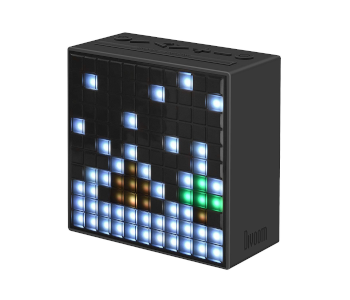 View on Amazon
Editor's Rating: 4.7/5
Using your alarm clock just to wake up in the morning is boring! That's the design philosophy behind the Timebox, a clock the word versatility doesn't even begin to describe. Its main draw is the 11×11 pixel screen that acts as a clock, sound visualizer, message receiver, image gallery… The clock is packed with innovative features but also does its primary job well as it can keep track of alarms for three people at the same time. Add a reasonable price and long-lasting battery to all of that, and it's easy to see why the Timebox is our value pick.
Overview of Features
The Timebox is essentially a large cube made up of 121 smaller ones. Each little cube comes with an LED capable of displaying millions of colors, which turns the clock face into a low-res display. All of the clock's controls are on top. They include an on/off button, standard playback & volume controls, and a snooze button. Each button has a premium plastic feel. They are both large and textured, so it's impossible to hit the wrong one.
The back panel holds aux in & out jacks and a MicroUSB port. The 2,000 mAh rechargeable battery lasts for 4 hours of playback on the loudest setting. On its own, the Timebox can be used as an FM radio and an alarm clock. You'll need to download and pair the Timebox app with it to access more advanced features.
The clock's display is a unique feature that ensures you'll be using it for much more than an alarm clock. It can display pre-loaded images or animations, and you can create new ones from the app's editor. The screen turns into an easy to read clock or a thermometer. It syncs to your music's beat and provides a handful of visualizations that are great for parties. It even acts as a notification screen for your social media sites and lets you send or receive text messages from other Timebox users. Since its brightness can be adjusted, the display also acts as a sunrise simulator.
You'd think that a clock which focuses so much on the visual would have a mediocre speaker, but here's where the Timebox impresses yet again. The speaker is loud enough for enjoyable up-close listening or filling your bedroom with ambient sounds. Speaking of which, there are a handful of nature sound presets like the pitter-patter of rain, blowing wind, etc. that will soothe you to sleep. Music is delivered with appropriate punch, especially in songs with pronounced highs.
What's Bad About It?
While powerful, the Timebox app isn't the most intuitive. There are many menus and sub-menus to sift through, and some of them change how your phone's navigation buttons behave. The LEDs are big and bright, so people used to entirely dark rooms might have trouble falling asleep next to the clock. Even the lowest brightness is enough for the Timebox to double as a nightlight.

Tech Specs
Dimensions: 5.8 x 8.5 x 7.3 in.
Weight: 14.1 oz.
Simulates sunrise: Yes
No. of phone chargers: 0
No. of alarms: 3
The Pros
Exceptionally versatile screen
Good sound quality
Excellent value for the money
Comprehensive app
The Cons
App can be hard to navigate
LED display is very bright
3. WITTI BEDDI 2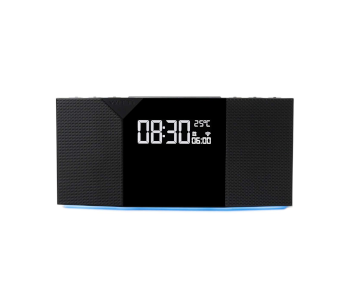 View on Amazon
Editor's Rating: 4.5/5
Witti's original BEDDI was one of the smartest alarm clocks of its time. It was also a hassle to operate since the clock lost all of your alarms and settings if you unplugged it. The second BEDDI doesn't suffer from this flaw and has other improvements like a built-in white noise generator. It is among the more expensive clocks on offer, but the BEDDI's reliability and ease of use make it worthwhile.
Overview of Features
The 2nd-gen BEDDI is a modern-looking, minimalistic alarm clock made from quality materials. The front houses its stereo speakers and a large display with the time and temperature displayed in easy to read numbers. There's a stand for your smartphone on top along with basic button controls. There are three buttons reserved for custom actions you can set in the app. These are numerous and include useful tools like letting your phone beep to locate it or setting the ambient light to a custom preset.
Diverse alarm options are what stands out most about BEDDI 2. It supports four alarms at once! Three of these can be programmed for each day of the week or set to toggle between weekday & weekend modes. There's an LED light that runs along the BEDDI's bottom and which gets brighter the closer the alarm time gets. If you have trouble getting to sleep, you can turn on the white noise generator and drift away to the sounds of one of five soothing tracks.
The BEDDI app is the best Bluetooth alarm clock app we've tested! It comes with a slew of settings that rivals the Timebox, but navigating it makes much more sense. You're greeted with a straightforward dashboard which shows you currently active alarms, what's streaming through Spotify, and quick-access light controls. Tapping on any of these or one of five screen icons will open up a more advanced menu that lets you change alarms, adjust the brightness and color of the LED, etc.
BEDDI2 is also smart. Its app can be used to access and control thermostats, room lights, and other smart devices directly or through IFTTT.
Are There Drawbacks?
You can set the LCD display's brightness in increments. Sadly, it will reset itself each time the alarm goes off, forcing you to fiddle with the settings each day. The BEDDI 2 weighs only 1.3 ounces, so it's easy to knock over accidentally.

Tech Specs
Dimensions: 8.7 x 2.2 x 4.1in.
Weight: 1.3 oz.
Simulates sunrise: Yes
No. of phone chargers: 2
No. of alarms: 4
The Pros
Customizable buttons
Four alarms with weekend settings
Excellent companion app
Good sound quality
The Cons
Light and easy to knock over
Brightness settings reset to defaults after each alarm
4. InstaBox W33 Wireless Charging Alarm Clock Radio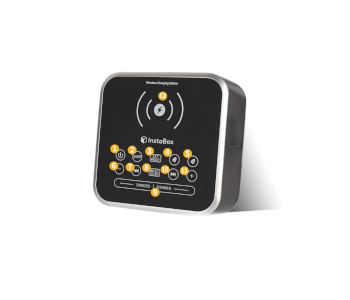 View on Amazon
Editor's Rating: 4.3/5
All the clocks with charging capabilities we've reviewed until now do so through a USB cable. The InstaBox W33 can top off your phone wirelessly! All you need to do is place the phone onto the clock and it works, even through a thick case. The clock has dual alarms, a dimmable display, and a remote control to play your music from anywhere. It's a worthy model to get if you aren't hung up on sunrise simulation.
Overview of Features
True to its name, the W33 is a box-like alarm clock with plenty of room on top for a phone and 11 buttons. The buttons are all clearly labeled, but they're also level with the W33's top surface. This might make reaching for the snooze button tricky. The clock is powered by the included adapter but can also work on a provided coin cell battery. A remote control completes the list of accessories and contains all of the buttons found on the W33 in clickable form.
Both of the W33's top selling points have to do with the way it interacts with your phone. On one hand, there's the wireless charger which is intuitive and works like a charm. On the other, the W33 has a built-in microphone and can act as a speakerphone! Connecting your phone involves turning Bluetooth on and selecting the W33 from a list of devices. The connection is both strong and stable, allowing you to keep the phone 30 feet away and still make calls or stream music reliably.
This model doesn't have an ambient light. On the other hand, its LED display has three brightness levels. The brightest setting is visible on a clear day while the dimmest one is perfect for people who have to get up while it's still dark. Two people can wake up to an FM radio station, a Spotify playlist, or a chipper tune at different times each day.
The W33's sound quality is good, especially the powerful base delivered by its 6W speaker. You can turn the music up to respectable decibel levels without losing clarity, and the remote makes controlling volume & playback easy. Chances are you'll be using the W33's speaker as much as its alarm!
What's Bad About It?
This is another model whose alarm loudness can't be adjusted. It blares loudly when set off and will likely wake your partner too. Every feature and key is thoroughly explained in the manual. However, the font is so small that you'll need a magnifying glass to actually be able to read anything.

Tech Specs
Dimensions: 5.5 x 5.5 x 2.6 in.
Weight: 2.2 lbs.
Simulates sunrise: No
No. of phone chargers: 1
No. of alarms: 2
The Pros
Wireless phone charger
Dimmable time display
Comes with handy remote
Good speaker quality
The Cons
Fixed alarm loudness
Text in manual is tiny and hard to read
5. iHome iBT29BC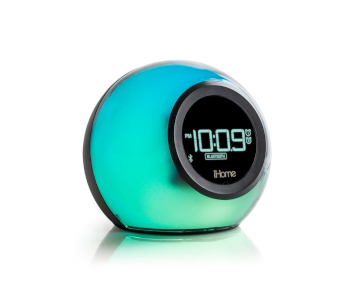 View on Amazon
Editor's Rating: 4.1/5
Would you like to add some color to your dreary mornings? Then get an alarm clock that will bathe your bedroom in soft, colorful light, like iHome's iBT29BC. This magic 8-ball-inspired clock features a large display, a capable Bluetooth speaker, and the ability to choose between various lighting presets. It also supports two alarm schedules at once with four ringtones for each.
Overview of Features
The iBT29BC looks like a ball with a flat bottom. Its most prominent feature is the LED light that surrounds a central LED screen. The time is displayed in large white numbers that are easy to see from across the room even with the ambient light turned on and in daylight. You control all of the clock's settings via a series of 12 buttons on the top of its rim. They're logically grouped into fours and the snooze button has pips on both sides, so it's easy to push when you suddenly awake.
The light is bright & vibrant but more limited than the LEDs inside the Timebox. Each LED has six color settings you can either cycle through to cause a gradual rainbow effect or set them all to the same color for a cool monochrome experience. There are no brightness settings, but you do get to sync the lights up with what's playing.
The iBT29BC has a strong FM radio capable of picking more radio stations up than the competition. It's also a loud alarm clock that will easily wake people in other rooms in your home if you don't adjust its volume. The alarm can be set for two people and either turns the radio or music on or plays a set tune. There's a backup battery that will let the iBT29BC beep when there's no electricity.
Bluetooth connection is established quickly and without issue. The iBT29BC supports the Melody app, meaning you can access countless songs or radio stations by pressing a dedicated button on it and giving Melody voice commands. You can also stream music directly from your phone.
Are There Drawbacks?
Setting and adjusting alarm times isn't intuitive. It involves a roundabout process you won't figure out until you cave and read the manual. The fact that the buttons have tiny print that's hard to read won't help either. The iBT29BC's sound quality is mediocre and comparable to smartphone speakers. It will do for an alarm, but don't expect to use it as your main speaker if better options are available.

Tech Specs
Dimensions: 13 x 10.3 x 6.5 in.
Weight: 2.8 lbs.
Simulates sunrise: No
No. of phone chargers: 0
No. of alarms: 2
The Pros
Bright time display that's visible from far away
Large adjustable ambient light
Easily connects to Bluetooth
Backup alarm battery
The Cons
Setting the alarm is complicated
Sound quality isn't the best
6. Best Budget Option – Tranesca Night Light Bluetooth Speaker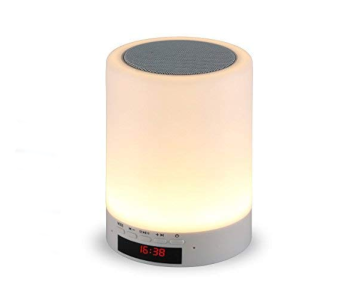 View on Amazon
Editor's Rating: 3.8/5
Tranesko's Night Light Bluetooth Speaker is the most affordable item in the guide, yet it is also among the most versatile. Marketed as a portable night light, it's actually much more. This model combines regular and alarm clocks with Bluetooth connectivity and a color-changing light. You get all of this for under $25! This is the model you should buy if you're looking for an inexpensive but reliable Bluetooth alarm clock or want to surprise loved ones with great matching gifts.
Overview of Features
This cylindrical gadget looks like a standard Bluetooth speaker with a built-in LED light which takes up the majority of its surface. There's a small gray ring on its bottom where a red-shining clock and physical control buttons are located. The bottom of the speaker hides a hook you can use to fasten it to a pole or wire and illuminate a camping tent! Power is supplied by a 1,800 mAh rechargeable battery with enough charge to provide 4.5 hours of music playback.
The most attention has been given to this model's night light feature. There are seven colors to choose from, all of them monochrome. The standard white preset also has three brightness settings which make it ideal as a soothing baby light. You can set the light to a single color or have it continuously cycle through them all.
Portability is another welcome feature. Since it is battery-powered, you can place the speaker anywhere. It comes with an aux cable and can be connected to your Hi-Fi as an external speaker. Bluetooth also lets you stream music from a phone or tablet. To top it off, the speaker has an SD card slot so you can fill up a card with music and play your favorite tunes even without internet access.
Are There Drawbacks?
The numbers on the clock's time display are small and hard to read in daylight. The clock supports only military, i.e. 24-hour time. Making an adjustment is easy, but people used to am/pm may be put off by this slight oversight.

Tech Specs
Dimensions: 5.9 x 4.8 x 4.8 in.
Weight: 14.1 oz.
Simulates sunrise: No
No. of phone chargers: 0
No. of alarms: 1
The Pros
Portable
Affordable
Streams music via Bluetooth or acts as external speaker
Night light, speaker, and alarm in one
The Cons
Clock is small and hard to make out in daylight
Only displays military time