6 Best Bluetooth Mouse Picks for 2020
3D Insider is ad supported and earns money from clicks, commissions from sales, and other ways.
Bluetooth mice have the edge over other wireless rodents since they connect to your computer or smartphone through built-in antennas. That means you don't have to rely on a tiny receiver that's easy to misplace and often has a spotty connection. Bluetooth Low Energy also uses less power to maintain the connection and results in less money spent on batteries.
These are the six best Bluetooth mouse picks on offer today. We've covered models for gaming and productivity alike. You'll find mice with anywhere from one to fifteen buttons along with ones that look more like pieces of art than fully-functional peripherals. See which mouse fits your needs the best and cut the cord for good.
Budget
Microsoft Sculpt Comfort Mouse
4.1/5.0
Buttons: 4
Ambidextrous: No
Has a stable Bluetooth connection.
Check Amazon
Best Value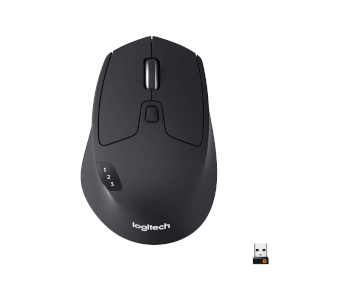 Logitech M720 Triathalon
4.4/5.0
Buttons: 8
Ambidextrous: No
Fantastic battery life and great ergonomics.
Check Amazon
Top Pick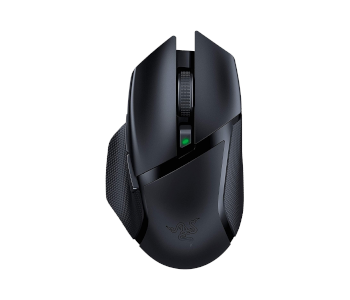 Razer Basilisk X HyperSpeed
4.6/5.0
Buttons: 6
Ambidextrous: No
Comfortable to use for long stretches.
Check Amazon
Bluetooth Mice Comparison Table
1. Best Overall – Razer Basilisk X HyperSpeed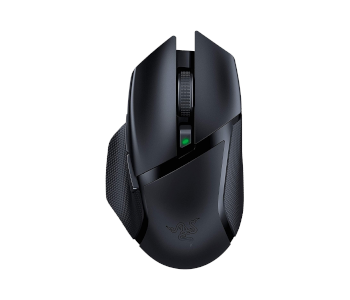 View on Amazon
Editor's Rating: 4.6/5
Razer's Basilisk X HyperSpeed has everything you could ask for in a Bluetooth mouse. It's made for gaming performance but doesn't have flashy RGB, you can use it for hours without getting tired, and the battery lasts so long in Bluetooth mode that you'll only have to change it once or twice a year. There are more sophisticated gaming mice and ones that specialize in office work, but none displays excellent all-around performance as elegantly.
Overview of Features
We love the Basilisk X HyperSpeed's gamer-friendly but subdued design. The broad thumb rest is the first thing you'll notice about it, followed by the pleasing pointiness of its left and right mouse buttons. The thumb rest gives the Basilisk X HyperSpeed an ergonomic boost and holds your thumb securely thanks to strategically-placed dimples. Lefties are out of luck, but right-handed users of all hand sizes and grip styles will enjoy using the mouse.
Razer built the Basilisk X HyperSpeed to last, as evidenced by its thick plastic buttons and sturdy shell. Its scroll wheel is textured and subtly clicks as you use it for maximum precision. Other buttons included two programmable ones and a DPI selector under the scroll wheel that shifts between five settings. Some gamers might miss RGB, but we find that its lack and the barely visible Razer logo help the mouse blend into office surroundings.
The Basilisk X HyperSpeed connects via Bluetooth and can last 450 hours on a single AAA battery. That's a lot of CS:GO matches or spreadsheet revisions, depending on your use case. You may also connect it to PCs through a wireless dongle. This drains the battery faster, but it is more convenient if you don't already own a Bluetooth dongle.
Customizing the Basilisk X HyperSpeed is straightforward through the Synapse configuration utility. There's not much to choose from; you can set the DPI and assign functions to buttons. The mouse has enough memory to store one profile and doesn't require Synapse to run on computers you use occasionally.
The Basilisk X HyperSpeed doesn't have Razer's latest sensor and can reach a max of 16,000 DPI. That doesn't stop it from being an excellent performer in games and less enjoyable tasks alike. FPS players will find it easy to position their sights for precise headshots while MOBA lovers can always count on the pointer being where they need their hero to move. Being wireless doesn't hamper the mouse's responsiveness, and connection issues are rare & easy to resolve.
What We Didn't Like
Serious gamers might object to the Basilisk X HyperSpeed's lack of customization. It only has two side buttons and lacks alternate modes other razer mice gain through HyperShift. You have to register an account and provide an email to use Synapse, which is an unnecessarily invasive practice other manufacturers don't use.
Tech Specs
Dimensions: 4.5 x 2.9 x 1.8 in.
Weight: 4.6 oz.
Buttons: 6
DPI: 100 – 16,000
Ambidextrous: No
Battery life: 450 hours
The Pros
Excellent all-around performance
Maintains strong wireless connection
Great battery life
Comfortable to use for long stretches
The Cons
Limited button customization
Using Synapse requires account creation
2. Best Value – Logitech M720 Triathalon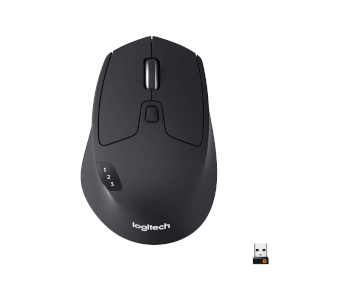 View on Amazon
Editor's Rating: 4.4/5
Do you work with multiple computers and often have to copy files between them? You'd typically have to transfer data over the cloud or from a USB stick, but Logitech's innovative M720 Triathalon lets you do so intuitively by switching the pointer from one device's screen to another. The mouse is superbly comfortable, lasts two whole years on a single battery, and comes with a simple yet effective configuration program.
Overview of Features
The M720 Triathalon is a productivity-oriented mouse that's nevertheless pleasant to behold. It has a mid-sized shell that arches gracefully forward to provide optimum palm support. It's made from matte—black plastic that keeps your hand in place without contributing to sweat build-up. There are three buttons above the comfy thumb rest; two are set to forward and back by default while the third one toggles between three connected devices.
The mouse comes with Logitech's Unifying receiver, a wireless dongle that automatically recognizes and supports Logitech peripherals. The receiver is small and fits in a space inside the mouse so you don't lose it. Bluetooth is an option as well and works reliably in a 10-foot radius. Pairing through Bluetooth is easy as you just need to hold the toggle button and wait for the mouse to be recognized on your device.
Flow is the M720 Triathalon's ultimate convenience feature. It lets you switch seamlessly between two computers connected to the same network by scrolling to the edge of one of their screens. It speeds up your workflow immensely by allowing you to control either device or transfer files between them via simple copy-paste. Best of all, the M720 Triathalon works with a wide range of devices, including PC & Mac as well as Android and iOS phones & tablets.
The M720 Triathalon has a fixed DPI of 1,000. It's adequate for navigating webpages or text documents but would do in a pinch if there's no gaming mouse nearby. Everything works as soon as a connection is established, but you can enhance the experience by installing and playing with Logitech Options. The software keeps track of battery life and lets you adjust settings like pointer speed, scroll direction, and the type of scroll used. Smooth scroll works like its name implies while normal scrolling provides tactile feedback.
What's Bad About It?
Bluetooth doesn't work with devices running iOS as the M720 Triathalon doesn't appear in the list of recognized peripherals. You'll have to use the Unifying receiver instead. The scroll wheel acts as three buttons in one. However, it's too easy to engage its left or right button mode when the only thing you want is to press down.
Tech Specs
Dimensions: 5.2 x 3 x 1.7 in.
Weight: 3.6 oz.
Buttons: 8
DPI: 1,000
Ambidextrous: No
Battery life: 24 months
The Pros
Excellent value for the money
Connects to three devices and seamlessly transitions between them
Fantastic battery life
Great ergonomics
The Cons
Bluetooth doesn't work on IOS devices
Unreliable scroll wheel button functionality
3. Logitech G604 Lightspeed
View on Amazon
Editor's Rating: 4.6/5
Our next Logitech mouse caters to hardcore gamers. As such, its design is completely different but no less impressive than the M720's. It has buttons galore, is backed up by excellent configuration software, and works flawlessly for all kinds of games. FPS players might find the button extravaganza a bit overkill, but MOBA and MMO enthusiasts will come into their own.
Overview of Features
An abundance of buttons is the first thing you'll notice when looking at the G604 Lightspeed's imposing frame. There are six buttons on the left side, two on the left mouse button, and two behind the scroll wheel. You use these to switch from smooth to tactile scrolling while the small LMB buttons adjust the DPI. The scroll wheel supports tilt controls, which add up to an impressive fifteen customizable controls.
The G604 Lightspeed's ergonomics are a mixed bag. On the one hand, it has a grippy, textured body that prevents slipping. On the other, its profile is flatter than that of most other rodents, which might cause irritation after a long gaming session. The six side buttons are slightly curved and easy to distinguish, but you can only use the bottom row by pulling them down since they get in the way of the top row otherwise.
Connection options are identical to the M720, except you can use the G604 Lightspeed with one device at a time either through the Unifying receiver or Bluetooth. It's a sophisticated mouse with onboard memory for five profiles, so shorter battery life isn't surprising. Using it with the receiver makes the supplied AA battery last 240 hours, while switching to Bluetooth stretches this to five and a half months.
G Hub is key to unlocking the G604 Lightspeed's versatility and stands among the best configuration programs on the market. The interface is clean and easy to navigate, so changing a setting is only a few clicks away. Button customization takes precedence; you can assign keyboard keys, shortcuts, and complex macros. You can also enable G-Shift, which maps one button as a trigger that activates other buttons' secondary actions when held.
Are There Drawbacks?
The G604 Lightspeed is the most expensive mouse on review. Its price is competitive as wireless gaming mice go, but still. The maximum polling rate or number of times the mouse sends updates to the PC on its position is 125 when in Bluetooth mode. This shouldn't make a difference for all but the choosiest FPSS players, but it's something to keep in mind if you plan on using the mouse for tournaments or with gaming laptops in Bluetooth mode.
Tech Specs
Dimensions: 5.1 x 3.1 x 1.8 in.
Weight: 4.8 oz.
Buttons: 15
DPI: 100 – 16,000
Ambidextrous: No
Battery life: 5.5 months
The Pros
Outstanding customization potential
Excellent companion software
Maintains stable connection
Stores five onboard profiles
The Cons
Expensive
Lower polling rate when used in Bluetooth mode
4. CORSAIR Dark Core RGB SE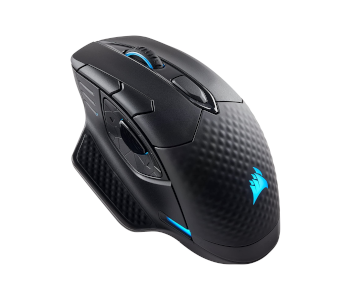 View on Amazon
Editor's Rating: 4.4/5
The rodents we've tackled so far all draw power from long-lasting but ultimately disposable batteries. Corsair's Dark Core RGB SE offers an alternative in the form of QI charging that tops the mouse off when you aren't using it. It has solid ergonomics, is built to last, and can be configured extensively using iCUE.
Overview of Features
The Dark Core RGB SE is one of the most industrial-looking mice on review, and you'd be forgiven for thinking it was a spaceship model when first seeing it. Corsair managed to successfully combine a fluid body with angular buttons and recesses for status LEDs. The result is a peripheral you'll have no trouble grasping or holding onto that's bound to draw looks of envy at tournaments.
Nine buttons are at your disposal. There's the DPI switch, two small buttons on the LMB's side, and a large cluster of three peculiarly-shaped buttons above the large thumb rest. The side cluster is where you'll find a protruding sniper button that decreases the DPI when held to allow for more accurate aiming. The Dark Core RGB SE also has three separate RGB zones that give off a pleasant glow you can customize to perfection.
Qi charging is the Dark Core RGB SE's unique selling point. Corsair chose the widespread technology over its own solution to increase the mouse's appeal since you can charge it on any Qi-compatible pad. Corsair also sells the MM1000 QI mouse pad as a convenient alternative. A single charge of the Li-ion battery powers the mouse for a modest 24 hours, less if you use RGB. However, the issue is moot since recharging is effortless.
iCUE is another well-designed config tool that will get the Dark Core RGB SE up to speed. It features extensive RGB tweaking that lets you create complex patterns or synchronize the mouse with other peripherals. You can play with the DPI settings, enable angle snapping, or assign shortcuts & macros to individual buttons. All of these settings are saved together in profiles. You can create unlimited and game-specific profiles and export them for others to use.
What's Bad About It?
The Dark Core sounds like an excellent and innovative mouse on paper, so why isn't it higher up? Connection issues are the main culprit since the mouse is prone to disconnecting whether you're using Bluetooth or its wireless receiver. It won't happen so often that the mouse is unusable, but losing connection during a heated deathmatch might cost you the round. Qi charging requires the mouse to be still to work, so you can't use it during the recharging cycle.
Tech Specs
Dimensions: 5 x 3.5 x 1.7 in.
Weight: 4.5 oz.
Buttons: 9
DPI: 100 – 16,000
Ambidextrous: No
Battery life: 42 hours, Rechargeable
The Pros
Comfortable and slip-resistant
Lots of RGB settings
Wireless charging on any Qi-enabled pad
Excellent configuration software
The Cons
Occasional connection issues
Can't be used while recharging
5. Microsoft Arc Mouse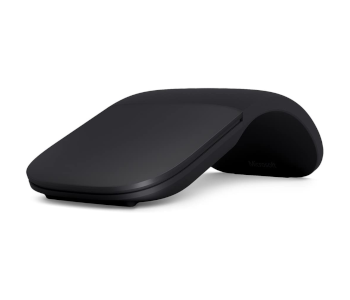 View on Amazon
Editor's Rating: 4.2/5
Microsoft is one of the most innovative tech companies in the world, and the Arc Mouse reaffirms this strikingly. It's the ultimate travel companion as it takes up little space, works on any surface that happens to be at hand, and can power through business tasks without leaving your wrist sore. It's definitely a niche product you shouldn't hesitate to pick up if productivity on the go is important to you.
Overview of Features
The Arc Mouse is by far the most beautiful and elegantly-designed mouse on review. It's a study in minimalism even Apple would approve of; there's only one button and a pleasant curving shape. That's it. The curve is covered in latex and won't slip in your hand. The mouse's ergonomics are sound despite its unusual appearance, and you should have no trouble handling it for hours regardless of your hand's size.
You can set the mouse to one of two modes, each accompanied by a satisfying snap. The horizontal position powers the Arc Mouse off and flattens its profile. This is an excellent solution for travelers since it makes the mouse only 0.6 inches thick and easier to store when bag space is at a premium. It also keeps the batteries from draining needlessly. Curving the mouse turns it on and lets it work for six months per pair of batteries.
The single button might disconcert you, but it can do much more than emulate the LMB. It's actually a touch-sensitive surface area designed to respond to several gestures and clicks based on your finger's location. Clicking left and right simulates the respective buttons on a standard mouse while three fingers register as a middle mouse click. You can also swipe your finger along the surface horizontally or vertically, and the Arc Mouse will recognize both movements and scroll accordingly.
You connect the arc Mouse via Bluetooth and can use it as is. It employs Microsoft's BlueTrack technology, a blue laser that recognizes tricky surfaces like marble, polished wood, or even glass. However, you'll need to install the Microsoft Mouse and Keyboard Center to get the most out of it. The Center allows you to customize left, right, and middle mouse clicks. You may change the DPI from 400 to 1,800 in increments of 200 and change scroll settings. The software is as minimalistic as the mouse it supports, but it does a fine job.
What We Didn't Like
The Arc Mouse is terrible for gaming unless Solitaire is the only game you play. You can't press the left and right mouse buttons simultaneously, and there's noticeable lag between clicking and the execution of your command. Unsurprisingly, the mouse has been designed to work flawlessly with Windows PCs and laptops. macOS and Linux users can only use its basic functions.
Tech Specs
Dimensions: 5.2 x 2.2 x 0.6 in.
Weight: 2.9 oz.
Buttons: 1
DPI: 400 – 1,800
Ambidextrous: Yes
Battery life: 6 months
The Pros
Beautiful, minimalistic design perfect for travel
Single multifunction button
Works well on demanding surfaces
Straightforward configuration software
The Cons
Poor choice for gaming
Doesn't work as well on macOS and Linux
6. Best Budget Option – Microsoft Sculpt Comfort Mouse
View on Amazon
Editor's Rating: 4.1/5
Microsoft's second offering is another unusual-looking mouse that aims to increase your productivity with minimum fuss. The Sculpt Comfort Mouse has a unique touchpad, works without the help of drivers or software, and is effortless to use. It's also much cheaper than the Arc Mouse without being built to a lesser standard.
Overview of Features
Microsoft doesn't shy away from peculiar designs, as evidenced by the Sculpt Comfort Mouse's puck-like shape. It's unusually flat and has a glossy upper surface, neither of which prevents you from grasping the mouse firmly and comfortably. There's an elegant recess for your thumb next to the touchpad that draws immediate attention with its bright blue color and Windows logo. Unlike the Arc, the Sculpt Comfort Mouse has two regular buttons and a scroll wheel.
You have to pair the mouse before using it, and Bluetooth is the only option. You press a button on the bottom to do so, and pairing takes seconds to complete. The mouse's bottom surface is matt and has excellent traction. Couple that with BlueTrack, and you've got a mouse that works with almost any non-standard surface. A single battery powers it for a respectable 10 months.
The Windows button is the Sculpt Comfort Mouse's most interesting feature. Clicking it brings up the Start menu, but you can also use the button as a small trackpad that recognizes horizontal and vertical gestures. These are contextual, so swiping left and right cycles through Start menu items or goes forward and back when you're browsing the web.
Are There Drawbacks?
The Windows button's placement is unfortunate. It sits right next to the thumb recess and is easy to swipe accidentally if you're repositioning your hand. The Sculpt Comfort Mouse has a high left mouse button fail rate. The button will start to miss clicks and eventually stop working altogether. You'll get a replacement if it's still under warranty, though.
Tech Specs
Dimensions: 4.4 x 2.7 x 1.4 in.
Weight: 4.8 oz.
Buttons: 4
DPI: 1,000
Ambidextrous: No
Battery life: 10 months
The Pros
Unusual yet ergonomically sound build
Stable Bluetooth connection
Versatile Windows button
Easy to pair and use
The Cons
Windows button is easy to trigger accidentally
Left mouse button prone to malfunction after a while