6 Best Bluetooth Trackers of 2019
3D Insider is ad supported and earns money from clicks, commissions from sales, and other ways.
Have you ever lost your wallet or car keys minutes before you needed to go to work? The frantic searching, impending sense of dread, and even a curse word or two are something none of us will ever forget or wish to repeat. Fortunately for the forgetful, this problem can be eliminated once and for all with a small gadget.
Bluetooth trackers are helpful devices that come in forms ideal for attaching onto your keychain or placing inside your wallet's credit card slot. They connect wirelessly to your phone and emit loud alarms for easier location. Since Bluetooth range is limited, they also act as reminders to return for your belongings if you go too far without them. Best of all, most models utilize the power of the crowd to quickly locate your stuff even if you don't have a clue where you last left it.
Here are the six best Bluetooth trackers currently available on the market. We've included both keychain and wallet-friendly models at different price points, so choosing the right one is easy. Read the reviews, check out their specs, and make forgotten belongings a thing of the past.
Budget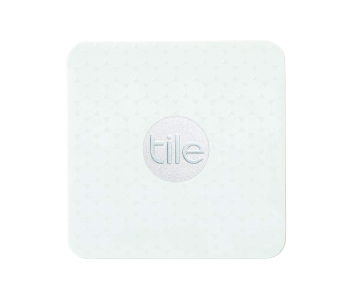 Tile Slim
3.8/5.0
Bluetooth range: 100 feet
Loudness: 82dB
This is backed by excellent Tile app.
Check Amazon
Best Value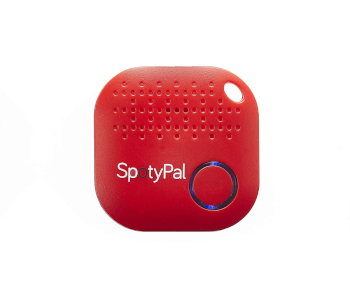 SpotyPal Item Finder
4.6/5.0
Bluetooth range: 210 feet
Loudness: 95dB
It has a solid app with lots of features.
Check Amazon
Top Pick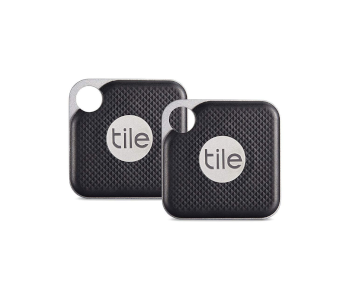 Tile Pro
4.8/5.0
Bluetooth range: 300 feet
Loudness: 100dB
Its other users can help find your belongings.
Check Amazon
Bluetooth Trackers Comparison Table
1. Best Overall – Tile Pro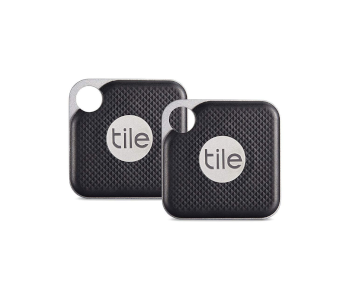 View on Amazon
Editor's Rating: 4.8/5
Bluetooth trackers are useful when you're looking for valuables in a limited area, but what if you've lost something and don't remember where or when? Apart from offering an extended Bluetooth range, Tile Pro helps find your stuff by making other Tile users part of the hunt! It is stylishly designed, has a loud & catchy tune, and you can finally replace the batteries yourself.
Overview of Features
Tile Pro is a stylish, rectangular Bluetooth tracker with a minimalistic design available in black or white. It has a hole for attaching to a keychain, but Tile sells other accessories that let you use it as a luggage tracker or stick it to larger objects like laptops. Its design has been altered to accommodate a replaceable battery. Previous tile versions had an integrated battery which lasted for a year. You had to return the Tile after that and buy a new one at a discount. Now all you need is a fresh CR2032 battery every 12 months, and you're good to go.
The tracker works in tandem with the Tile app. Pairing is a breeze, and you can add as many Tiles as you want. These may be renamed for easier recognition. The app shows the Tile's current location if it is within range. Pressing a button will cause the Tile to start playing a catchy tune. At 100dB, it's loud enough to be heard from several rooms away or when obstructed by couch cushions.
With a range of 300 feet, you'll be able to find the Tile anywhere in your home and large backyard. It even integrates with Amazon Alexa and the Google Assistant! You can ask them to find either your phone or the Tile Pro, and they'll oblige.
The best thing about Tile Pro is how it goes about finding items when they aren't in range. First, the app will tell you when it was last seen and guide you to its location. If that fails, other tile users start passively looking for it. You'll get a notification of its location if any other Tile user comes into range! The process is anonymous and very effective since Tile has a large and active community worldwide.
You get all of these features for free, but there's more if you choose to pay a subscription. $30/year or $3/month gets you smart alerts when your phone leaves the radius of a Tile-protected valuable, an extended 3-year warranty, and free replacement batteries for all of your devices yearly. Another useful benefit is being able to share Tiles between accounts. That way, you could lend one to a friend or family member if they need it.
What We Didn't Like
Tile Pro has a button at its center used to find your phone. It's too easy to press, though. That might lead to uncomfortable situations if you're using it as a key tracker and accidentally press the button since the phone tracking feature can't be disabled. Don't expect to reach the advertised 300-foot detection range indoors. The more obstacles there are, the smaller it becomes. This is true for all trackers, so take their advertised ranges with a grain of salt.
Tech Specs
Dimensions: 1.6 x 1.6 x 0.3 in.
Weight: 0.96 oz.
Bluetooth range: 300 feet
Loudness: 100dB
Has crowdfinding: Yes
Supports AI assistants: Yes
Power source: Replaceable coin cell battery
The Pros
Replaceable batteries
Excellent companion app
Other users can help find your belongings
Loud and unmistakable alarm
The Cons
Find My Phone button is too easy to press
Can't reach advertised Bluetooth range indoors
2. Best Value – SpotyPal Item Finder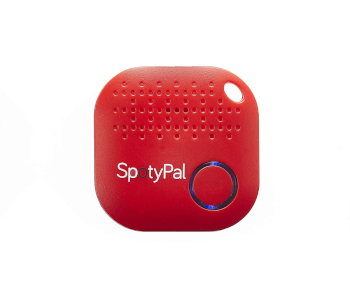 View on Amazon
Editor's Rating: 4.6/5
We love when a gadget has more than one useful function. The SpotyPal item Finder is a Bluetooth tracker, but it also doubles as a panic button. Set up a few trusted contacts in its app, press the Find button, and they'll get emails with your plea for help along with GPS information. Apart from being a potential lifesaver, the Item Finder is excellent at its primary function. It rivals the Tile Pro in many respects while being considerably cheaper.
Overview of Features
SpotyPal is an unobtrusive little pillow-shaped tracker available in three colors. It has a Find button surrounded by a bright blue LED ring which makes it easier to spot in the dark. The tracker uses the same kind of replaceable coin cell battery as our overall winner, and you can expect one to last a full year. You get a small cord along with it for secure attachment to cameras, keys, and other belongings.
You can see the SpotyPal to either find an item it is attached to or your phone. Its alarm is slightly quieter than the Tile Pro's, but, at 95dB, very audible in closed and small open spaces. A cool feature the Tile Pro doesn't have is the Alarm function. Set up an alarm time on your phone, and SpotyPal will ring instead of it. This is particularly useful when the phone is out of reach or charging in a different room.
The tracker's companion app offers much the same functionality as Tile's. It records when the SpotyPal was last seen and will send a notification once the device is within Bluetooth range again. Speaking of which, the maximum is 210 feet out in the open. You can also receive alerts when the phone or item leaves Bluetooth range without having to pay a subscription. There's even an anonymous detection feature for nearby SpotyPal owners which isn't as good as Tiles because there are fewer users in the network.
What's Bad About It?
SpotyPal is packed with features, which doesn't always work in its favor. You'll experience slow loading times and need to trudge through its menus to find the settings you need. Sometimes you'll get more than one notification when the item is located. While not a huge problem, this can be annoying.
Tech Specs
Dimensions: 1.4 x 1.4 x 0.2 in.
Weight: 0.32 oz.
Bluetooth range: 210 feet
Loudness: 95dB
Has crowdfinding: Yes
Supports AI assistants: No
Power source: Replaceable coin cell battery
The Pros
Doubles as panic button
Has bright LED for easier location
Solid app with lots of features
Acts as an alarm
The Cons
App isn't intuitive and loads slowly
You may get multiple unnecessary notifications when items are found
3. Cube Shadow Item Finder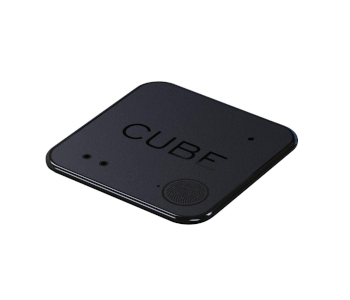 View on Amazon
Editor's Rating: 4.5/5
The trackers we've discussed so far are competent at finding your stuff, but splash them with more than a few drops of water, and they're junk. Cube's Shadow Item Finder is the most durable one on review! It can withstand the elements, has a rechargeable battery, and uses crowdfinding to locate your items faster. Add to that support for Amazon Alexa, and you've got one of the best & most versatile Bluetooth trackers in the world.
Overview of Features
In spite of being among the thinnest, Cube Shadow is the hardiest tracker we've tested. It has an IP rating of 67, meaning that it is impervious to dust and can be submerged in three feet of water without adverse consequences. It's also the only tracker that comes with an adhesive pad rather than a hole for your keychain. This lets you attach the Shadow to electronics, important documents, and any other valuables with a flat surface.
A rechargeable battery powers Cube Shadow! While its running time is a mere four weeks, you'll never have to replace the battery. The tracker's other stats are equally impressive – it covers a radius of 200 feet outdoors and has a loudness of 100dB. You can also use it as a remote shutter for your phone's camera! That lets you set up the phone for a perfect selfie.
The app is intuitive and easy to use, but nothing we haven't already seen. There's two-way tracking, out of range alerts, and an anonymous tracking function that involves nearby Cube users in finding your stuff. Cube shadow is another tracker with support for AI assistants, although it only works with Amazon Alexa.
Are There Drawbacks?
At $40 apiece, Cube Shadow is the most expensive tracker on the list. Cube's output quality isn't consistent, so you might get a unit whose battery drains much faster than advertised. Asking for a replacement will fix the issue, but waiting for its arrival is a hassle.
Tech Specs
Dimensions: 1.9 x 1.9 x 0.1 in.
Weight: 0.32 oz.
Bluetooth range: 200 feet
Loudness: 100dB
Has crowdfinding: Yes
Supports AI assistants: Yes
Power source: Rechargeable battery
The Pros
Rugged and waterproof design
Attaches to flat surfaces thanks to adhesive strap
Rechargeable battery
Well-designed app
The Cons
Expensive
Some units have weak batteries
4. Chipolo Card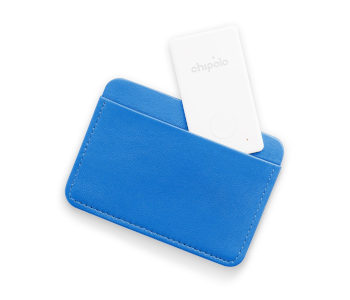 View on Amazon
Editor's Rating: 4.3/5
Chipolo offers an array of products hot on Tile's heels, but the Card caught our eye because it is designed especially for your wallet. The tracker works as reliably as more conventional models yet stays securely in one of your wallet's credit card slots. It has a loud siren, crowdfinding support, and good range.
Overview of Features
The Chipolo Card is larger and noticeably heavier than the competition. This is understandable since it has to fit inside a wallet snugly. The device is shorter than your credit card and as thick as two. Still, you won't feel a difference in the bulk and weight of your wallet, even if you keep it in your back pants pocket. The Card has a button used to find your phone. While you can activate it with the Card in your wallet, you won't do so accidentally since you need to press it hard.
The Card is an above-average Bluetooth tracker in other respects. It covers a lot of ground thanks to a range of 200 feet. You'll hear it fine whether indoors or out as the siren is tested at 95dB. Like Square Shadow, this tracker doubles as a shutter button. You can use it through Alexa and the Google Assistant too.
Pairing the Card takes a few minutes, but the connection is stable. The Chipolo app gives you access to a map of the Card's surroundings complete with its last-known location if it is lost. Community Search is Chipolo's version of crowdfinding and works the same way as Tile's. Unlike smaller competitors, Chipolo has a considerable network of users. That may speed up the retrieval process, especially if you're in a metropolitan area.
What We Didn't Like
The Card's biggest shortcoming is an integrated battery. It lasts a year, and the whole device needs to be replaced after that. Chipolo doesn't offer discounts for return customers as Tile does, so keeping a working Card around can become costly over time. The map could be more accurate. It tells you the general area the wallet is in but isn't precise enough to pinpoint its location.
Tech Specs
Dimensions: 1.5 x 2.7 x 0.1in.
Weight: 1.28 oz.
Bluetooth range: 200 feet
Loudness: 95dB
Has crowdfinding: Yes
Supports AI assistants: No
Power source: Integrated battery
The Pros
Fits perfectly inside wallets
Hard to press accidentally
Supports Alexa and Google Assistant
Maintains stable Bluetooth connections
The Cons
Battery can't be replaced
Vague map
5. Nut3 Smart Key Finder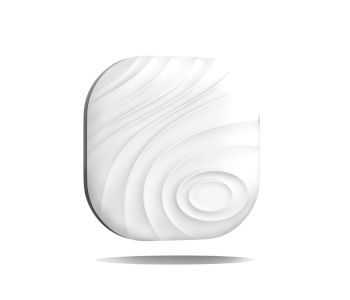 View on Amazon
Editor's Rating: 4.1/5
Do you keep misplacing your keys and need a reliable way to track them down? In that case, you need the Nut3 Bluetooth key finder! It's a small & stylish accessory that fits perfectly on your keychain. The tracker comes in four colors, has a great customizable app, and can find either your keys or phone.
Overview of Features
Nut3 is by far the most stylish tracker on review! One side is flat and uninteresting while the other reveals a beautiful textured pattern. At the center of the design is a button you press whenever you want to locate your phone. Nut3 is advertised as a key finder, but it is small and slim enough to be attached to any number of items. You can get from eight to twelve months out of its coin cell battery depending on your preferred alarm setting.
The best thing about Nut3 are its in-depth customization options. You pair it with the Nut app by scanning a QR code, and then you can define its behavior through several settings. These include the type of alarm used, its loudness, and frequency. You can set an alert to repeat at specified intervals or make it one-use only. Nut3 is as loud as SpotyPal, but it has an edge since there are multiple alarms. These include car horns, sirens, warbling sounds, and more distinct options that will help you tell the alarm apart from background noise.
Nut3 comes with a standard set of location options. The tracker can call your phone and vice versa, and you can set up alerts to trigger when it leaves the 150-foot location radius. A unique thing about the tracker is how its support network works. Rather than relying on strangers, you can let up to 20 friends scan a QR code provided by the app. That way, they can install the app on their phones and actively look for your items to cover more ground. You'll get notifications if any of them finds something. If not, there's always the last seen marker on the map to investigate.
Are There Drawbacks?
The Bluetooth connection Nu3 establishes with your phone isn't reliable. It will disconnect and reconnect randomly, which can be bothersome if you've set up the alarm to beep on contact loss. You can turn the notifications off temporarily through a Do Not Disturb feature. Sadly, this doesn't work for individual Nuts if you have more than one and will disable all of them.
Tech Specs
Dimensions: 1.5 x 1.5 x 0.2 in.
Weight: 0.32 oz.
Bluetooth range: 150 feet
Loudness: 95dB
Has crowdfinding: Yes, but limited to people you trust
Supports AI assistants: No
Power source: Replaceable coin cell battery
The Pros
Excellent app with many customization options
Multiple alarms to choose from
You create your own search network
Stylish design
The Cons
Frequently disconnects and beeps when doing so
Do Not Disturb mode can't be set individually
6. Best Budget Option – Tile Slim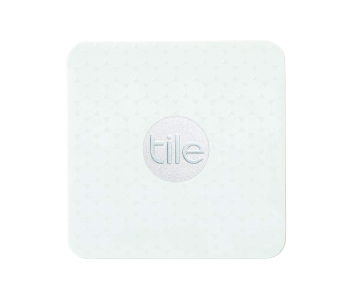 View on Amazon
Editor's Rating: 3.8/5
The Slim is Tile's answer to the Chipolo Card. It is paper-thin, easily fits into passports or wallets, and is priced lower than its competitor. Tile Slim uses the same app as the Pro and offers the same benefits if you choose to subscribe to the Premium program. It's a reliable choice if you're looking for an inexpensive and straightforward compact security solution for your valuables.
Overview of Features
Tile Slim is a square-shaped white wafer with rounded edges ideal for storing in your passport holder or wallet. Its simple design is accented by a central Tile button that activates your phone's alarm if it gets lost. The button is slightly recessed, so you don't need to worry about pressing it if you keep the slim in and sit on your wallet. An IP rating of 57 means the Slim is dustproof and will withstand splashes. It won't survive a drop in the pool but should keep ticking after a storm.
You can take advantage of the excellent Tile app to find the Slim faster. The home screen features a round graphic which is green when the slim is in range. The graphic is circular and divided into eight slices. The closer you are, the more slices light up. That way you don't have to turn the alarm on before you're within hearing distance. Tile Slim has the Find My Phone feature. Unlike the Tile Pro, it is hard to turn it on accidentally since you need to press the recessed button twice in quick succession.
Other aspects of the Slim work exactly like on the Pro. There's voice activation through the Google Assistant and Alexa, crowdfinding, and Do Not Disturb for meetings and other important events. You might want to consider going Premium since you get more support and features including a 30-day history of your belongings' whereabouts.
Are There Drawbacks?
Tile Slim is another tracker with a single-use battery. However, it is more economical than the Chipolo Card since it is less expensive, you get discounts for buying in bulk, and subsequent purchases are cheaper. This is the quietest tracker on review. Its 82dB alarm is loud enough for you to hear from the adjacent room but might not be sufficient if you lose a wallet outdoors.
Tech Specs
Dimensions: 2.1 x 2.1 x 0.1in.
Weight: 0.32 oz.
Bluetooth range: 100 feet
Loudness: 82dB
Has crowdfinding: Yes
Supports AI assistants: Yes
Power source: Integrated battery
The Pros
Slim profile
Backed by excellent Tile app
Hard to press accidentally
Inexpensive and comes with cheaper subsequent purchases
The Cons
Single-use battery
Quiet alarm