The Best Cheap Alternatives to Boosted Boards
3D Insider is ad supported and earns money from clicks, commissions from sales, and other ways.
Modern electric skateboards have become insanely popular thanks to celebrities such as Casey Neistat. Many of his YouTube videos feature his Boosted Boards as he travels around New York City and the world with them. This newfound fame has spurred consumers to try them out and get their own boards.
Electric skateboards made by Boosted have been known to be the best on the market. However, they are also quite expensive, and not everyone can afford to buy them, especially if you're just looking to use them for fun.
The good news is that there are a lot of Boosted Board cheap alternatives available in the market today. The technology is definitely there for other brands to create their own electric skateboards. They may not have the same brand recognition, but their boards can be as fast and as powerful as those sold by Boosted.
There will definitely be a difference in quality and performance between a high-end Boosted skateboard and a cheaper version. It might not have the straight-line speed or power output, but they are in the finer details, such as deck flexibility and remote ergonomics, which makes a ton of difference in ride quality.
More affordable electric skateboard alternatives are undoubtedly a great way of getting yourself into the game without breaking the bank. They are excellent purchases if you just want to try out how it feels to ride on one and use them on occasion recreationally. These alternatives may not be the best in the business, but they can definitely give you an experience close to getting a Boosted skateboard.
We have rounded up some of the best Boosted Board cheap alternatives that you can get your hands on so you can enjoy riding without worrying about the budget. After all, you can always upgrade to a better model later when you have decided that using a high-quality, high-performance electric skateboard can change your daily commute for the better.
The Best Alternatives You Can Get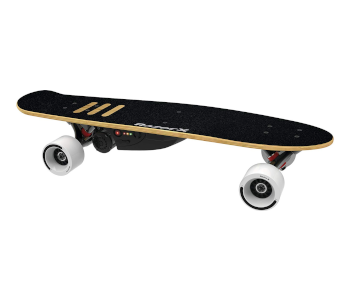 Retail Price: $149
Razor, a company well-known for its personal transporters like kick scooters and hoverboards, has joined the electric skateboard game with their very own cruiser. It's shorter than the typical electric longboards, but it does come with its own set of unique features that make it stand out from the rest of the devices you can get.
At first glance, you'll know that it's an entry-level skateboard. It is ideal for kids aged nine and up, but if you're a lot older don't dismay since you can still ride this as long as you're under their posted maximum load of 220 pounds. It is definitely one of the best options out there if you're a novice and want to get a feel when it comes to riding it regularly.
One of its main selling points is that it's really affordable. It is significantly cheaper than the majority of electric skateboards on the market. Razor's target market for their electric skateboards is generally beginners, so their design has features that help you stay on the board.
Skateboard Specs
The Razor electric skateboard sports a deck that's just short of 30 inches. It's sturdy and is suited to be used on flat surfaces. It does not have the best shock absorbing potential, but as long as you ride on smooth, paved roads, you won't be bothered by unnecessary vibrations and bumps. It's not as long as a longboard, which makes it easier to get used to.
Underneath the board is a 125-watt motor, that's doesn't add a lot of weight to the board so anyone can carry it effortlessly. The motor has the grunt to accelerate the entire device up to 10 miles per hour. It only powers one rear wheel, so it does not have a lot of power, and the acceleration can seem a bit slow, which is perfect for novices and kids. This setup also makes it easier to kick-push when you run out of juice.
When it comes to the battery, this skateboard comes with a 22V lithium-ion pack that provides up to 40 minutes of ride time. It is not the farthest in terms of range, but for an entry-level board, it is definitely enough. It translates to about 7 miles of range and is perfect for going around the neighborhood or short commutes.
Beginner-Friendly Features
A nice feature of Razor's cruiser is that the motor does not kick in until it detects that the board is already moving. You will need to do a few kick-pushes first in order for it to be activated via the remote control. This is particularly helpful so that beginners know that the skateboard won't go running underneath them unexpectedly while they are getting on.
Acceleration and braking are primarily controlled using the remote. It is highly responsive and has a variable speed lever that you can push up or down to control speed and braking. You can basically choose how fast you want to accelerate or how hard you want to brake. This feature on the remote makes it friendly for novices since it eliminates jerky movements that can cause accidents.
For stability, the Razor skateboard is equipped with reverse kingpin trucks, coupled with perforated grip tape on the other side of the deck. This makes it extremely maneuverable and stable even at relatively high speeds.
The RazorX electric skateboard is clearly an outstanding beginner-friendly device that won't break the bank. It is designed and built mainly for kids or if you want to check if a commute on a motorized machine will improve your day.
The Pros
One of the most affordable electric skateboards on the market
Ideal for kids and beginners wanting to learn how to ride an electric skateboard
Motor design makes it possible to kick-push when you're out of battery power
Lightweight that even kids can carry effortlessly
The Cons
Not really built for long-distance commutes
Has a weight limit of 220 pounds, so it's definitely not for everyone
Does not have the best range at 40 minutes of ride time or about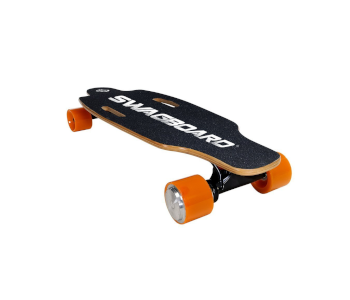 Retail Price: $199
Not everyone is willing to part with their money to get premium electric skateboards like Boosted, not when you have options. Customers who can't afford or are not yet ready to purchase high-end boards want something decent and offer great value for their money. That's exactly what Swagtron's Swagboard NG-1 electric longboard is.
The board is designed for everyday commuting use, especially comfort. It comes in at 32 inches, which is a bit shorter than your average longboard. This shorter length does come with its own set of advantages as it is lighter and more maneuverable. The deck has a width of 9 inches, which gives you ample foot space so you can stand better even if you have big feet.
Skateboard Design
The deck is made with 7-ply Canadian Maple, which means that it's stiff but provides some form of flexibility for shock absorption. It's stable but has a little bit of give so that you remain comfortable at all times, even at high speeds. Riding on a board that's too stiff is punishing to your feet and legs, so having a little flex considerably improves your entire experience.
Overall, Swagtron's NG-1 is remarkably stable at high speeds and capable of turning decently to ensure that you're always in control on the board and not on the ground. Riding this electric skateboard is smooth, and road vibrations are greatly minimized.
An attractive feature that a lot of users love about this board is the side cut-outs on the deck that allows you to carry it. This reduces a small amount of weight, but it helps you immensely since it acts as grips so you can lug it around anywhere you go. This comes in handy when you use it for your commute.
Decent Performance
Similar to the RazorX, this skateboard uses a single wheel hub motor to power it. It has the capability to push the entire device up to 11 miles per hour. These motors are light and have fewer moving parts compared to other types. They are perfect for entry-level machines as they are more reliable and have a longer life cycle, so there is less maintenance cost.
Swagtron is known for their battery technology, and they applied that to the NG-1. The 24V lithium-ion cells they equipped on this skateboard provide it with energy for up to 10 miles. They also did not forget to use their patented SentryShield technology that offers a lot of protective layers to ensure that you and the device are safe at all times. Getting the NG-1's batteries from empty to full only takes 90 to 120 minutes, so it gives you a bit of flexibility if you're out on long rides since you can make a quick stop to charge.
Controlling everything involves a wireless remote where you adjust a slider to accelerate, slow down, or turn on cruise control. The variable speed function ensures that you don't fall off from any instances of sudden acceleration. The remote also has LED indicators that tell you how much power you have left so you can gauge your trip just by stealing a quick glance into your hand.
Weighing only 10 pounds, the Swagtron Swagboard NG-1is a great commuting electric skateboard. It's lightweight so you can carry it on board buses and trains. At its price, it is a great beginner board that you can commit to using for a long time because of its performance.
The Pros
One of the best electric skateboards for novices
Provides optimum speed and range for all types of users
Excellent quality deck for an entry-level board
The Cons
Lacks some features for the intermediate to the expert user, not recommended for those who have a lot of experience on electric skateboards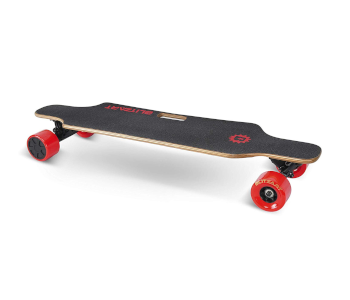 Retail Price: $279
Traveling with your electric longboard has become widespread that a lot have chosen to go in that direction when it comes to their commutes. You will know that a device has become so prevalent since there are a variety of options from entry-level budget ones to premium luxury machines. The Blitzart Huracane electric longboard is right smack in the middle.
The skateboard has got the style and swagger of the higher-end models at a fraction of the price. You won't get the same performance as that of a Boosted Plus or Stealth, but you can definitely get close. If you're looking for a high-quality board, but not ready to commit to something worth a lot, this is the one for you.
Build Quality
This is a skateboard with a deck that's made from two types of wood. It's a 6-ply maple sandwiched between layers of bamboo. This gives the board an excellent stable base that's not too stiff so you can ride bumps comfortably. Having a hard deck lowers the shock absorption potential and will hurt your feet and legs on long rides.
All the materials used in the Huracane are of good quality. Everything feels robust and durable, giving you a more reliable skateboard. This is designed to last, and that gives you the confidence to ride this all the time.
Speed and Range
Similar to most budget electric skateboards on the market, the Huracane is equipped with a hub motor. These motors are generally lighter compared with belt drives, so this ensures that the board remains light. This also means that you can manually kick on it when the battery runs out of power.
The motor is not as powerful as that of Boosted boards, but at 350W, it is enough to push you up to 17 miles per hour. It doesn't have that sudden acceleration, and surely it will take some time to get you to full speed. But, if you're not really after the speed, this is a great cruising skateboard to get you to your destination.
So far, the Huracane packs a punch, however, if there's a place where they compromised it's the batteries and range. It does not have the farthest of range, you can only travel about 6 to 8 miles on a single charge. The beneficial side to this is that the skateboard is not packed with battery cells, so it's significantly lighter, making it easier to carry. It's really a decent commuting board as long as your destinations are within its limited range.
A smaller battery capacity also means a much faster charge time, taking around two and a half hours to get it full. This gives you better battery flexibility since you can commute to work or school that's 4 or 5 miles away and charge there. This will ensure that you have enough power to get you home for the return leg.
Wireless Controls
As with a lot of electric skateboards, controlling it requires a handheld device like a wireless remote. The Huracane has a slim and light one with a wrist strap so you can be sure that it's always attached to you. The last thing you want to happen is your remote accidentally falling off your hand as you ride.
It comes with two ride modes, one is for novices while the other is for advanced users. The settings ensure that you don't go faster than you can handle, especially when you're just starting out.
The remote has an elegant feature called a hold button, what this mostly does is it keeps the wheels in place, so it does not roll suddenly as you're climbing on or off the skateboard. This is particularly helpful to beginners as this keeps the board in its place, minimizing accidents.
The Blitzart Huracane melded a lot of different features from other models and packaged them up. It is quick. However, it's primary knock is its battery life. It just does not have the range and power to maintain the top speed for a long time. It is comfortable to ride and reliable, making this an excellent commuting skateboard provided you're within range.
The Pros
Hub motors maintain the lightweight build
Side cut-outs on the deck make a difference when it comes to portability
Hold button is beneficial in mounting and dismounting the board
Longboard design helps with deck flexibility and ride comfort
The Cons
Range is minimal and can affect the ways you can use the skateboard
Not really a reliable commuter board unless your destination is within its range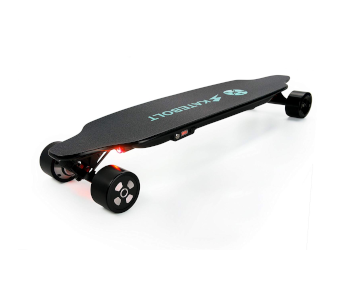 Retail Price: $599
You may think that this is a little on the pricier side, but compared with Boosted boards, you can still consider this a cheaper alternative. The Skatebolt Tornado is a fast one, some even consider it the Formula 1 of skateboards, it's that fast. So, if you're looking for one that can take you to your destination the quickest, this is the machine you need.
Aerodynamic Design
This skateboard was built for speed. It has a streamlined aerodynamic design to minimize drag and give you more speed as you zip through roads. In order for them to achieve that they built this board lower with a much slimmer profile, so it cuts through the air efficiently.
The weight has been shaved to a minimum to maximize the total 1000W power that the motors are capable of. This gives it a high power to weight ratio, and it accelerates faster and climbs steep hills effortlessly.
Controlling the Power
You might think that this is a lot of power to handle and that whoever rides this will just get knocked off. The great thing is that the Tornado comes with a couple of speed modes, one for low and the other for high speeds. You can easily switch between the two, but if you're a beginner, you'll need to start on the lower setting, so you get the hang of it.
Ride Stability
With all that speed, the Tornado is designed to be stable and durable, especially when you're traveling fast. The 8-ply maple wood deck ensures that it's robust with a bit of flexibility, so you don't feel all the bumps on the road. At high speeds, even the smallest pebble will feel like a large pothole if you don't roll through it right.
The deck is wrapped in sticky grip tape to ensure that you always have full control of the board at all times. This gives you the confidence to ride the skateboard at top speed so you can maneuver it smoothly.
Powerful Motor
The Tornado is equipped with a dual 500W motor to propel you to breathtaking speeds. This is one of the fastest electric skateboards out there thanks to its power unit. It is capable of speeds of up to 25 miles per hour, which allows you to reach your destination much quickly compared to riding on other boards. It is even faster than Boosted's Plus and Stealth boards.
Coupled with the motors are the batteries. The Tornado has a range of about 15.5 miles. However, this varies depending on your riding style. It comes with an "Eco" riding mode that can extend your range by sacrificing a little bit of speed. This ride setting is perfect for commuting since you don't need to go really fast anyway.
Premium Features
One feature that you can consider a premium that's on Boosted skateboards and the Tornado is regenerative braking. This is a system that is linked to your brakes that charges up your battery every time you slow the board down. This can extend your range for a couple of miles if used wisely.
The Skatebolt Tornado is on the higher end of the spectrum when it comes to cheap Boosted Board alternatives. It is a sturdy, stable, and reliable machine that you can use to overtake cyclists and other skateboarders on your daily commute or push it to the limit down a free stretch of road.
The Pros
One of the fastest electric skateboards out there, even faster than the Boosted Plus and Stealth
"Eco" ride setting significantly improves range even exceeding it
Regenerative braking capabilities that charge the batteries up extending your range further
The Cons
It is a relatively heavy skateboard, but lighter than Boosted boards
What Makes a Great Boosted Board Alternative
There are a lot of things to consider when choosing the best Boosted Board alternative for you. Each model will have its own set of features that make it stand out from the rest, and there will always be some aspects where they fall short when compared against the best.
In order for you to get the best experience from your Boosted Board alternative, here are some of the things that you need to take into account. Even though it's cheap, you can still make sure that the features listed here of the electric skateboard you're considering buying are up to par.
Power and Battery
Electric skateboards from Boosted are always packed with power. The combination of the motor and battery capacity dictates how fast you can go and how far so it's essential that you get the most decent ones that are within your budget. In choosing for an alternative skateboard, you will need to have a fair amount of performance for both the motor and battery.
The skateboard you are going to get will greatly depend on how you want to use it. If you're going to use it to help you with your daily commute, then you would want to pick one that has enough battery capacity to provide you with an adequate range and a little bit more.
Hill Climbing Capabilities
This feature may appear trivial, but this is one that you need to take carefully into account when getting an electric skateboard. You may not know it, but your commute route may involve climbing a hill or a few.
The hill grade corresponds to the slope of the hill, it's either measured in degrees or percent. No matter how it's calculated, just remember that the higher the number, the steeper the hill. So, if you see an electric skateboard that can handle somewhere between 15 to 25 degrees, it should be able to handle a lot of slopes.
If you're planning to use your board to commute in cities like San Francisco, then you will need one with excellent hill climbing capabilities. However, if you live in a city with flat streets like New York, then this feature is not as important. Think about your route and see if there are any places where an electric skateboard might need to climb.
Control and Maneuverability
Boosted Boards are known for their superior control and maneuverability. This could be due to the fact that they use high-quality materials such as their composite decks that have better shock absorption capabilities than most wooden ones. However, getting a cheap alternative that has similar characteristics to that of Boosted is possible.
One of Boosted's features that customers rave about is their remote. It is intuitive and easy to use so you can jump on and start riding like a pro in minutes. Although other electric skateboard brands can't copy the design, they can definitely make their own that is up to par. Make sure that you choose one that has responsive controls and can easily be maneuvered through dense pedestrian and vehicle traffic.
Ride Comfort
Ride comfort is a lot of things when it comes to skateboarding. It can be about making sure your legs don't feel tired after a long ride, or your body does not ache because of all the bumps and cracks on the road. Being just inches above the road, if you have a stiff board, you will definitely feel every pebble your wheels get in contact with.
Boosted skateboards are known to be very comfortable, and this is mainly due to the mix of different technologies that they use. They use shock-absorbing decks, wheels, and trucks to dampen all the vibrations.
In looking for a cheap but comfortable electric skateboard alternative, make sure to look at those with bamboo decks as they are flexible and have the same dampening characteristics as Boosted boards. You can also make sure that they use high-quality wheels that soften the bumps. If not, you can always choose to invest in great third-party options and replace the ones that come with your board.
Extra Features
Boosted boards are known for their added features. One of the most significant ones is regenerative braking. This is when the board charges up the batteries whenever you're braking, extending your range. Not a lot of skateboards have this feature. So, if you can find one on a cheap alternative skateboard, get it.
Other features that you need to take into account is waterproofing. Now, Boosted boards are known to be of top quality, but this is one aspect that they don't have. They're just not waterproof or at least resistant. If riding over puddles or under the rain is essential to you, make sure you get a waterproof one.
A feature that some cheaper skateboard alternatives can have that Boosted doesn't are quick swap batteries. Some manufacturers include this in their boards to give you better flexibility as you travel since you can extend your range in a matter of seconds. You can swap batteries on Boosted boards, it will just take you some time.
Why Get a Boosted Board Alternative
Skateboard alternatives are mostly cheaper. Boosted is a premium brand, and their boards can come at a price. If you can get better value from other brands and models that can fulfill your needs, then you might not need to get a Boosted.
If you're relatively new to skateboarding, especially the electrified kind, then you might not want to go to the deep end and get a Boosted board. Yes, they are excellent, but you might not like it after a few months, or your commute simply is not a great fit for using an electric skateboard. It is better to try out something that won't break the bank and shift to the more premium brand once you realize that skateboarding is a sustainable activity for you.
Wrap Up
Electric skateboards from Boosted are some of the best on the market. They provide superb performance for their price. However, alternatives can give you the same experience as long as you know what you're looking for. There are a variety of options when it comes to affordable skateboards that you can get without spending a fortune.
Each of these Boosted Board cheap alternatives has its own strengths and weaknesses. Not all of them can compare to a premium skateboard, but if one matches your needs, then it could be the perfect one for you. Whether it's commuting, recreation, or just pure speed, there is a machine that will fit your style.