Bose Cyber Monday Deals
3D Insider is ad supported and earns money from clicks and other ways.
Bose has earned a reputation for making high-quality audio equipment. The company is also known for their high prices. Luckily, the company is expected to extend their Black Friday deals for select products until Cyber Monday. This means you can still pick up Bose products for under their retail price for a limited time.
Bose rarely has their products on sale. It's not likely that the company will have a similar sale for a long time. Some products are selling for 50% off right now, although most items have only seen modest reductions.
There's no guarantee that Bose will sell their devices all the way through Cyber Monday. Some products like the Bose SoundSports have already run out of inventory. If you are looking to get Bose products for a discount, now is your chance.
Bose SoundSport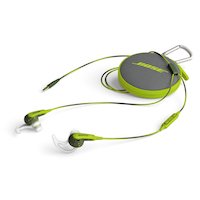 The Bose SoundSports are the company's most heavily discounted item for Black Friday. These earbuds have been selling for 50% off. They normally cost $100, but their Black Friday price is $49. Unfortunately, the company has ran out of inventory since so many people picked them up.
These headphones are designed to be sweat and weather resistant. They are made to survive even the hardest workouts. They have a microphone to answer calls, skip songs, and change volume.
The sound from these earbuds is incredible. The highs are clear and balanced and there's enough bass to please almost everyone.
Bose SoundSport Wireless
Even though the company has ran out of inventory for their wired SoundSports, you can still purchase the wireless version for $20 off. The Bose SoundSport Wireless headphones are now selling for $129.
These headphones have a six hour battery life. Most people don't listen to music for longer than this in one session so it's usually okay. These headphones are identical to the wired pair in sound quality. They have Bluetooth and NFC pairing that can connect to multiple devices.
Smartphones are increasingly removing their headphone jacks. Popular phones from Apple, Google, and Samsung no longer ship with a headphone port. Wireless headphones are a good idea if you want a pair of headphones that will last a few years.
Bose SoundTrue Ultra
The Bose SoundTrue earbuds are the company's highest discounted earbuds after the SoundSports. They are currently selling for $79 or almost 40% off their retail price.
These headphones are noise isolating because the tips form a seal with the ear canal. This blocks out a ton of outside noise which allows you to play the music at a lower volume. The SoundTrue earbuds are not for people who like a lot of bass. These are good earbuds that are a great deal for their price.
Bose QuietComfort 25 (QC25)
Phenomenal active noise cancellation is the one thing that Bose is known for the most. The noise cancelling QC25 headphones are on sale for $179, up to $120 off their retail price. The noise cancellation on these headphones makes the world of a difference on airplanes.
The QC25 headphones can last up to 35 hours on a single battery. These headphones are fantastic and a really good deal. These headphones are not wireless though.
The QC35s are the company's most recent headphone product. The QC35s pair active noise cancellation in a wireless package. Unfortunately, Bose has not released a Cyber Monday deal on these incredible headphones.
If you want a Bose Cyber Monday deal on wireless headphones, then you will want to see the next deal that they released.
Bose SoundLink II
Bose is selling their SoundLink IIs for $199 for Cyber Monday. That's a savings of up to $80.
These headphones are very well-rated and they have a battery life of up to 15 hours. They have a quick charge feature where just 15 minutes of charging gives you another 2 hours of play time. These headphones are a bargain for people who don't need noise cancellation.
Other Bose Products
Bose is having a sale on the Solo 15 Series II TV sound system. They have lowered the price by 10% to $299. They are also discounting their Bose SoundTouch wireless speakers by the same amount.
That sums up the Cyber Monday deals that Bose has released. The company has some great deals this year that are sure to leave fans excited.